For me, soup is the ultimate comfort food. It's warm, it's filling, and it makes you feel better when you're under the weather. What's not to love? But if you don't have hours to let the soup simmer on the stovetop, you can still serve a piping hot bowl of the stuff in a flash without resorting to canned soups.
How?
In the Instant Pot! Check out these instant pot soup recipes!
An Instant Pot has been an absolute time-saver in our busy and hectic daily routine. If you haven't already tried making soup in an Instant Pot, definitely check them out. These Instant Pot soup recipes will be your go-to meals on a cold winter day. Try some out and let us know which one did you enjoy the most? I have listed 15 of our favourite Instant Pot recipes for you to try this winter.
Don't have an Instant Pot? Get one HERE! (affiliate)
Easy and Delicious Instant Pot Soup Recipes
1. The Best Spicy Chicken Enchilada Soup
This Chicken Enchilada Soup is hearty, spicy and so filling thanks to the addition of quinoa.
As far as soups go, this one is quite hearty – almost chili-like. It's loaded with quinoa, beans, sweet corn, etc that absorb a lot of the liquid. If you prefer a more brothy soup, feel free to add another cup or so of stock at the end.
This Instant Pot soup recipe only requires a few minutes of prep to make, in an instant pot or slower cooker, then sit back and enjoy!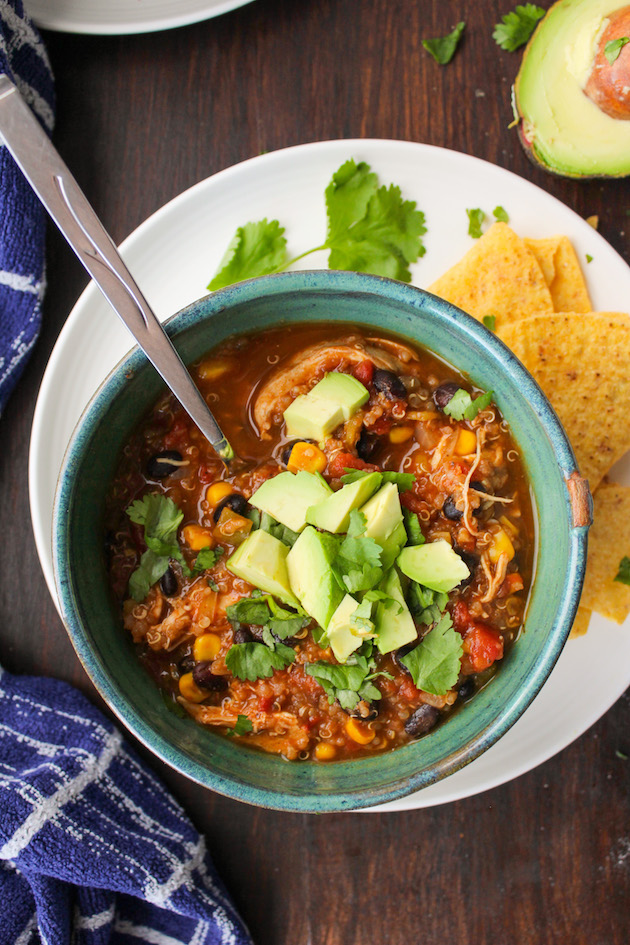 2. Easy Beef and Barley Soup (Instant Pot or Slow Cooker)
Tender beef, good-for-you vegetables, and hearty barley come together in this healthy, comforting Beef and Barley Soup.
This instant pot soup recipe of beef barley isn't just some boring old soup. I'm talking about the kind of soup that hits all the perfect warm and cozy notes with spoonfuls of flavorful broth, tender chunks of beef, veggies, and tender barley. It'll stick to your ribs, give your insides a big hug, and leave your belly extra happy.
3. Loaded Chunky Instant Pot Potato Soup Recipe (Instant Pot)
What could be more comforting than a steaming bowl of Loaded Chunky Potato Soup? Nothing, that's what. It's ready in 15 minutes.
Loaded chunky potato soup is one of life's most popular comfort foods. It's all I can think about as we welcome fall and nights start to cool off.  This soup is creamy, slightly chunky, full of flavor, and topped with all the best garnishes.  Definitely amazing – even more, amazing with a few fresh slices of sourdough bread.   Lately, I have been cutting up sourdough to make homemade croutons – then putting those on top as well.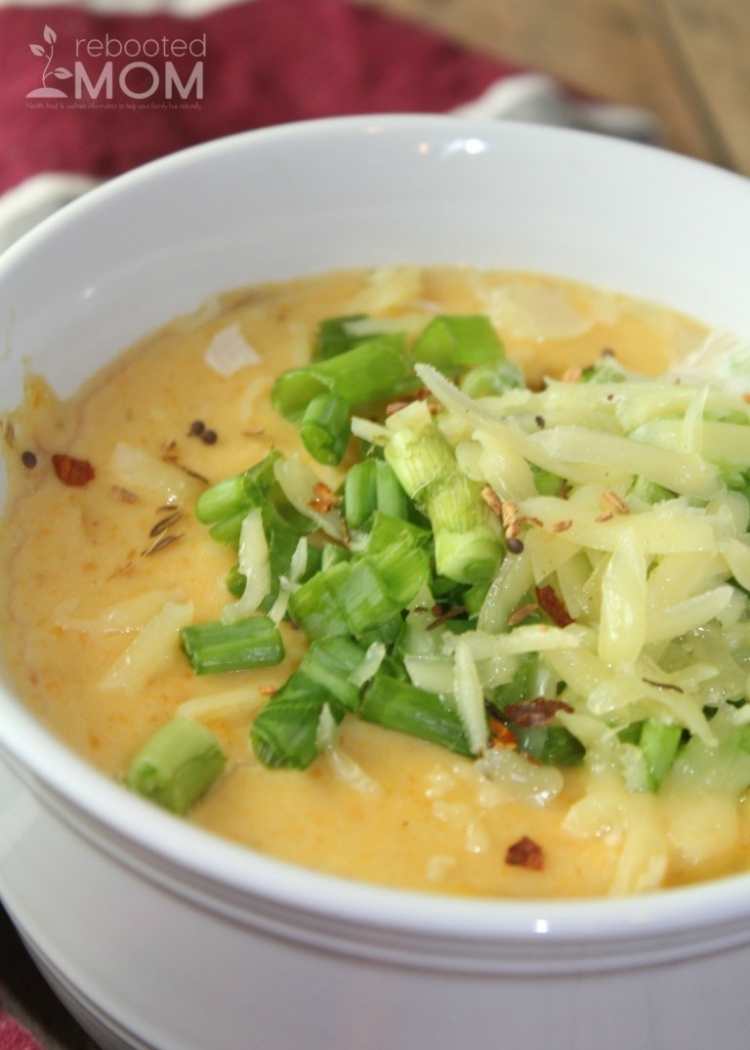 4. A Family Favorite Broccoli Cheddar Cheese  Potato Soup
Cheddar Cheese Broccoli and Potato Soup is an easy crowd-pleasing meal in my family. Who would possibly complain about cheese, bacon, potatoes, and broccoli all served up in a creamy soup? Normally this soup requires several steps, maintenance, and almost an hour of cooking time. Not anymore when you make this soup in the Instant Pot! Or add a big dose of broccoli, like in this Cheddar Broccoli Potato Soup. The bacon is optional, but is it really? Everything is better with bacon!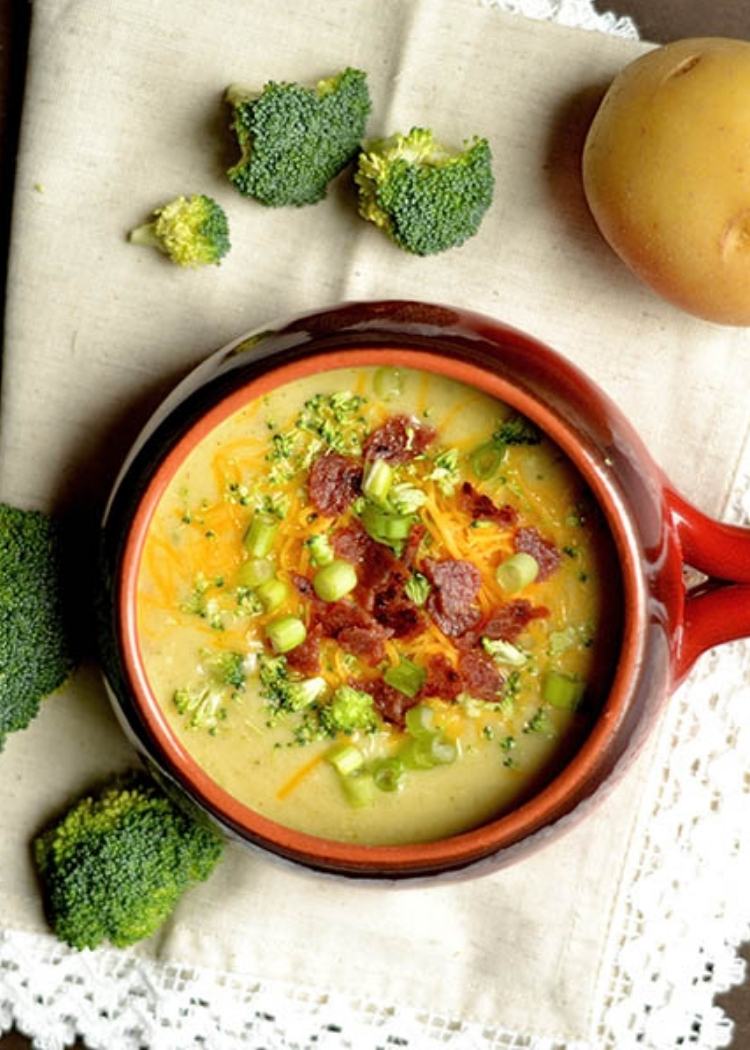 5. Pressure Cooker Chunky Sweet Potato and Cheese Soup
Personally, sweet potatoes rock my socks, so this Chunky Sweet Potato and Cheese Soup are on my menu for this week. Yum.
A creamy, chunky sweet potato parmesan cheese soup loaded with tender chunks of sweet potatoes, russet potatoes, corn, and bacon. Cooking the potatoes on the steamer keeps them chunky and firm giving the soup a great texture.
I love the bright orange pop of color the sweet potatoes gave the soup. If you're trying to get your family to like sweet potatoes, this is a great way to do it.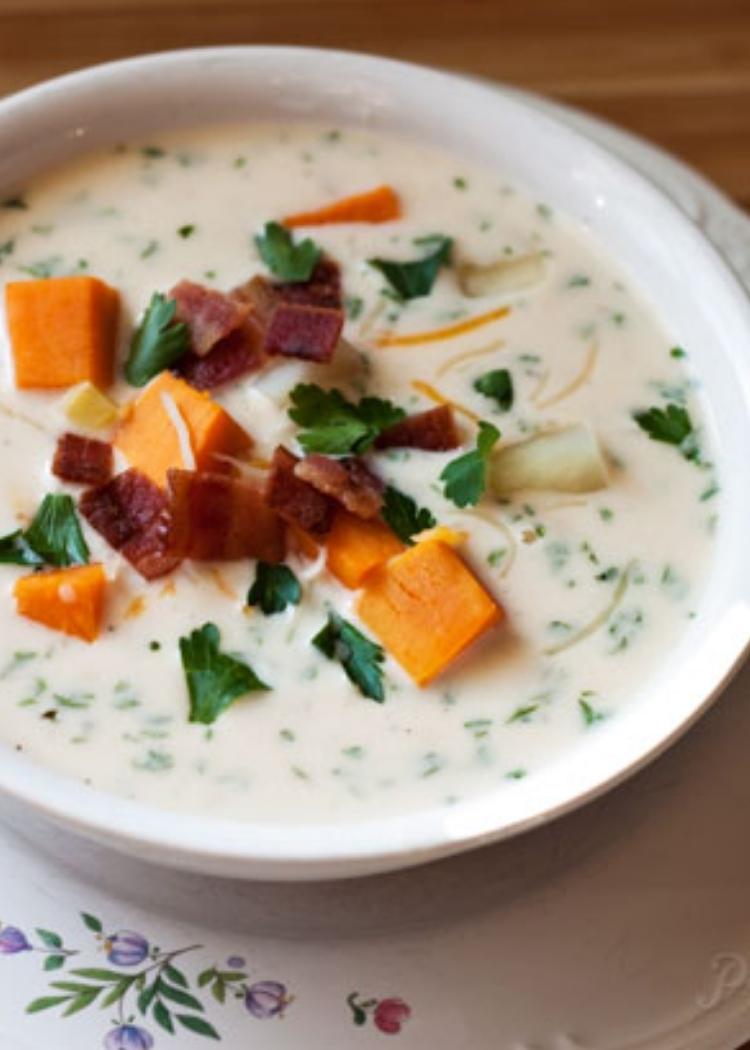 6. Low Calories Un-Stuffed Cabbage Roll Soup
When you're watching your carbs but craving comfort food, make Un-Stuffed Cabbage Roll Soup. It's seriously delicious.
If you've had a reluctant family member not ready to embrace a sugar-free and/or low-carb lifestyle, try comforting recipes like this that they won't even notice is grain-free and healthy! They will hopefully realize it's not that hard to give up processed carbs and sugar.
7. Low Carb Loaded Cauliflower Soup
Here's another option for the low-carbers: Loaded Cauliflower Soup. It's as flavorful as loaded potato soup but without all the unwanted carbs.
Check out this Instant Pot Low Carb Loaded Cauliflower Soup, it was so easy in my Instant Pot.
Don't be fooled, just because this soup is healthy, doesn't mean it is not full of flavor and goodness. The bacon, cream cheese, and cheddar cheese give the soup lots of flavor, that the kids will love!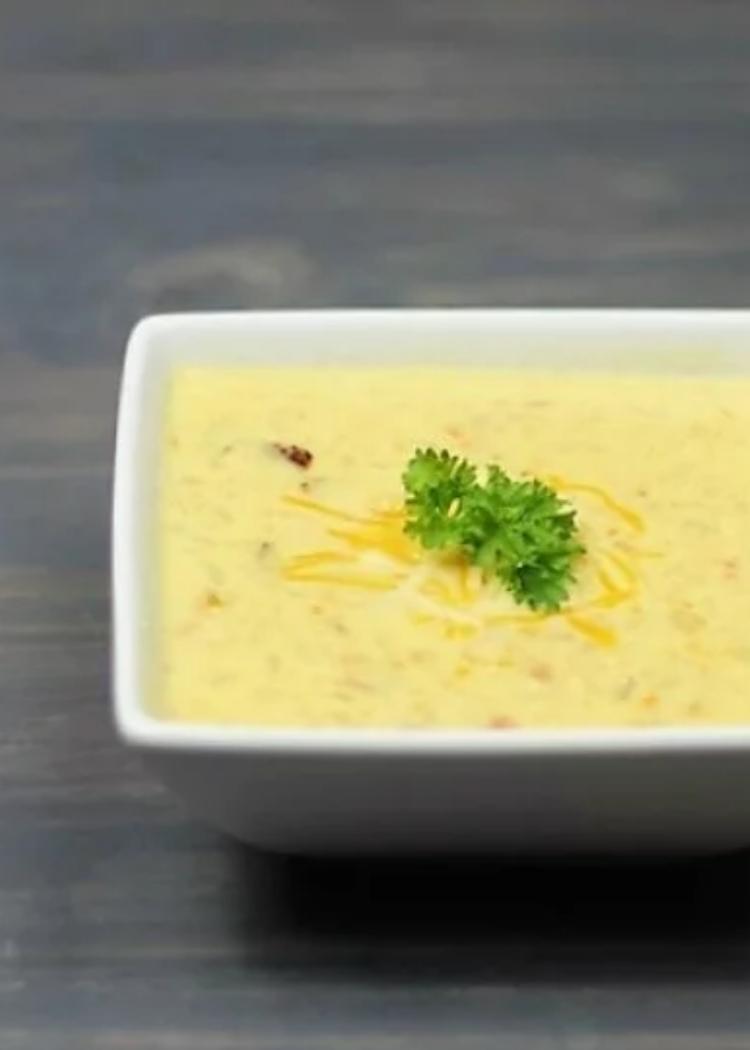 8. Healthy Hearty Chicken and Instant Pot Lentil Soup
This Chicken and Lentil Soup are a surprising 129 calories per serving, so if you're watching your diet, this is the way to go!
Chicken and lentil soup made in the Instant Pot (pressure cooker) – a healthy, nourishing meal that will fill you up and make plenty of servings so you can have leftovers for lunch or freeze the rest!
This soup is so healthy and hearty, it is handy to have some in the freezer whenever you don't feel like cooking.
9. Slow Cooker Italian Tortellini Soup Recipe
So you'll have to wait a while since this Tortellini Soup recipe uses the Instant Pot's slow cooker function, but it's well worth the wait. The sausage, onion, celery, and garlic cooking together will make your mouth water.
Not only does the slow cooker create a vegetable broth for this tortellini soup that tastes flavorful and ultimately craveable, but the perfumed scent of sausage, onion, celery, and garlic that wafts from the kitchen as it cooks will also have you wishing you could give that lid on the slow cooker just a crack to dip a spoon in for juuuuuust a bite for taste testing.
10. Instant Pot Taco Soup Recipe
This Taco Soup is an addictive Instant Pot meal in part because it's as easy to make as it packed with savory Mexican flavor. The whole family will love this Instant Pot Taco Soup. Serve with lots of cheese, sour cream, tomatoes and even some tortilla chips if you're so inclined.
This soup is definitely one of our family favorites.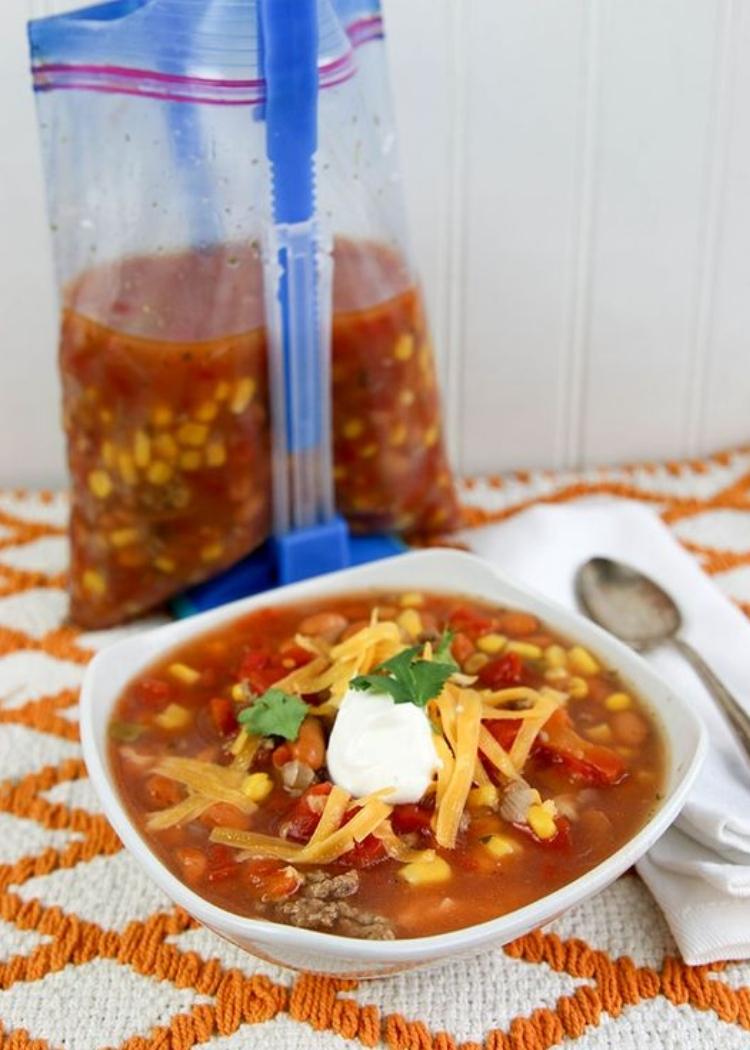 11. A Healthy Instant Chicken Noodle Soup Recipe
When you're under the weather, the next best thing to Mom's chicken noodle soup is this Instant Pot Chicken Noodle Soup made in under 20 minutes. Yes! You saw that right – in under 20 minutes!
For the ingredients, you will need:
chicken breast,
carrots,
onion,
celery,
chicken broth or chicken paste (mixed with water),
uncooked homestyle noodles,
butter,
thyme,
salt and pepper.
I will say that I highly recommend the chicken base. It was so flavorful!! That is what I use.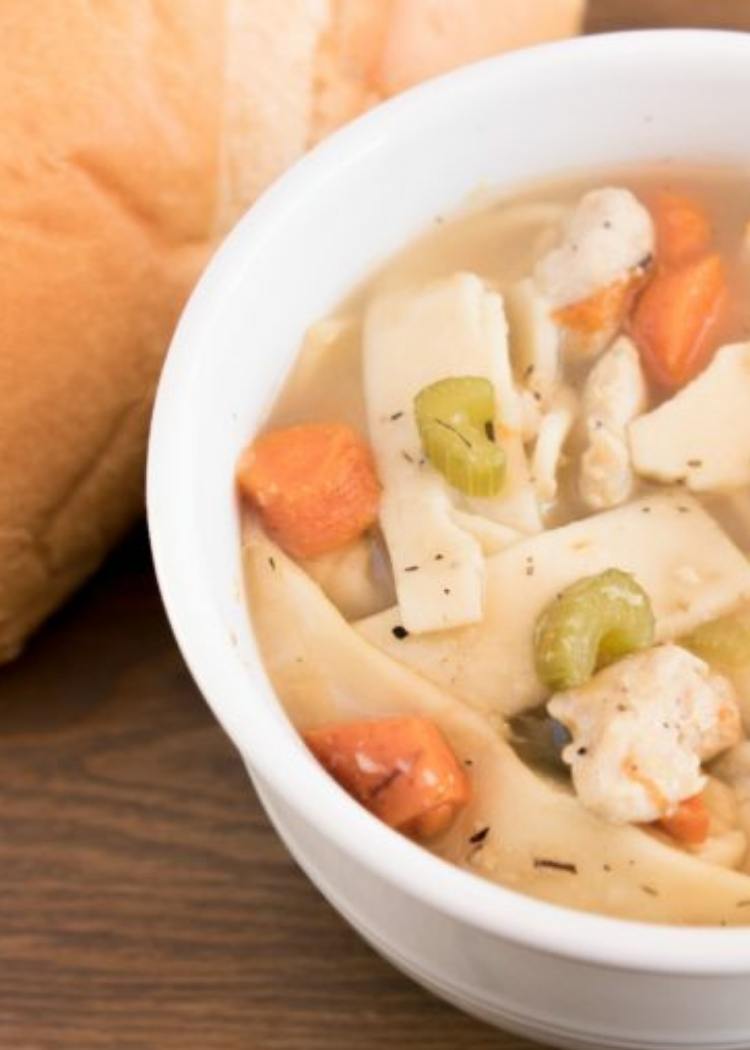 12. Vegetarian Carrot Ginger Soup
Carrot Ginger Soup is a colorful option chock full of vitamins and packed with flavor.
If you want to try eating vegan recipes first, start by making this plant-based carrot ginger soup.
Ingredients include:
red onion
chopped carrots
garlic cloves
peeled and chopped ginger
water
coconut milk
salt
black pepper to taste
13. Making Cream of Asparagus Soup in a Cooker
Make the most of that springtime asparagus with this deliciously smooth Cream of Asparagus Soup.
With a touch of butter and some garlic to soften the grassy notes, simmer it with broth until tender, then blend it until smooth with a healthy dose of heavy cream. What results is a beautiful, soothing green soup that's rich enough to be a light meal or a satisfying appetizer. It can be served hot, straight off the stove, or cold (if you manage to have any leftover).
This is definitely one of my favorites!
14. Easy Tortilla Soup Instant Pot Recipe
The beauty of this simple Tortilla Soup is that you can go crazy with toppings. Add avocado, cheese, tortilla strips, and lime, for starters!
A simple recipe of poblano chilis, sautéed with the onions and garlic, and freshly made chicken broth. This cozy bowl of brothy goodness and full of Mexican flavor will win the stomach and hearts of your family in no time!
15. Instant Pot Lasagna Soup
Have you tried the World's Fastest Lasagna Soup? You should!
This yummy and family-friendly instant pot lasagna soup gives you all the great flavor of lasagna with no fuss and minimal clean-up. It was originally made with whatever staples were in the fridge (and freezer and pantry) and requires very little hands-on time. This recipe is ingenious!! Chop, dump, sauté, set, walk away…Amen!
Get even more Instant Pot Soup Recipes!
If you loved these yummy Instant Pot soup recipes, here are some more recipes for your Instant Pot that you might like. Did you know you can make side dishes or even desserts in an Instant Pot? Well, see below for some links that you may fall in love with too!
Check them out and let us know what you think?
Which instant pot soup is your favorite?