I am so not a morning person. But do you know what makes me jump right out of bed even at those super early hours when I want to stay under a pile of covers? A yummy breakfast. The great thing about these breakfast burrito recipes is that you can make most of them ahead of time and put them in the freezer. Wake up, pop them in the microwave, and two minutes later, you have a delicious, portable breakfast in your hands. Now that's a good morning!
While you're here, don't miss our list of breakfast quesadillas! On to the burritos…
Breakfast Burrito Recipes That'll Make You Jump Out of Bed
Chicken-Apple Sausage Burritos are full of flavor! The sausage is cooked with butternut squash and red peppers for a sizzling, delicious breakfast.
Make these Black Bean and Avocado Breakfast Burritos for Meatless Mondays! Topped with lots of cheese and sour cream, they're oh-so-good and easy.
Watching your carbs? This low carb breakfast burrito with sausage and peppers is the perfect portable morning meal for you.
You can't beat a classic. These bacon and egg burritos are chock full of bacon, roasted red peppers, green chilies and cheese.
You never have an excuse to skip breakfast again. These make ahead freezer breakfast burritos can be heated in the microwave in a couple of minutes. They're full of loads of good fill-you-up stuff like refried beans, tater tots, eggs, sausage and cheese.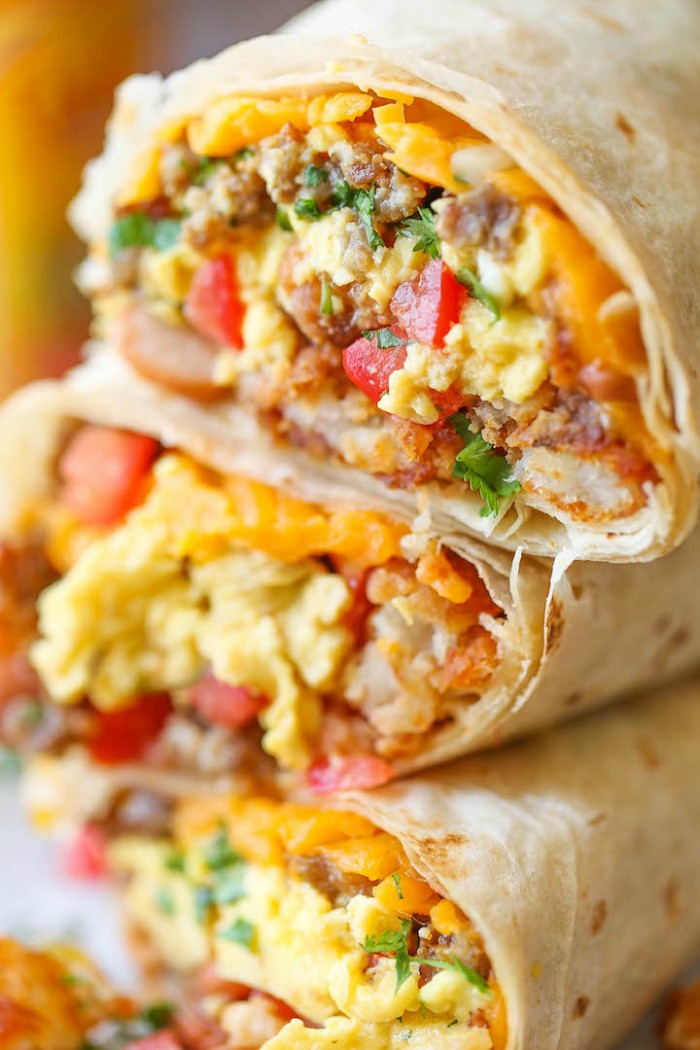 To be honest, I'd eat this Chorizo, Potato and Queso Burrito any time of day. The poblano peppers give it a little bit of a kick without being overwhelming.
If you'd like to meet your daily calorie quota in a single meal, the Ultimate Breakfast Burrito will do the job! It's overstuffed with beef, eggs, tater tots and more and then topped with an egg. Wow!
How about a California Breakfast Burrito with bacon, refried beans, cheese, eggs and some hot sauce to top it all off.
Get a healthy dose of veggies with Spinach Feta Breakfast Wraps. They only require 5 ingredients, and they're perfect for freezing ahead. Breakfast in two minutes sounds good to me!
These Avocado Breakfast Burritos have lots of veggies, too! Sweet corn, poblano peppers, sweet peppers, cilantro and avocado round out this yummy meal.
Go light and spicy with Turkey Sausage Breakfast Burritos. The sweet potatoes really complement the turkey sausage!
Speaking of sweet potatoes, if you like them, you'll go crazy for these Sweet Potato Breakfast Burritos made with a delicious sweet potato and zucchini hash.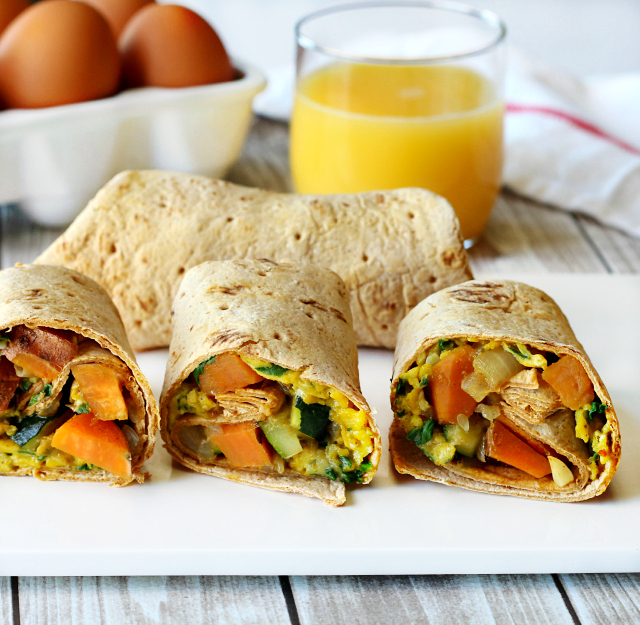 These Vegan Breakfast Burritos maintain the light and fluffy egg texture with chickpeas. Can you believe it? They look scrumptious.
These Ham, Egg and Avocado Breakfast Burritos are an excellent way to use leftover ham after Christmas or Easter. But, really, is it ever a bad time for ham? We think not!
Burritos don't always have to be savory. Fruit and yogurt breakfast burritos are super tasty and kid-friendly. If you roll the burritos in a cinnamon sugar mixture, they'd make a nice dessert, too!
If you enjoyed these breakfast burrito recipes, check out our other breakfast ideas: