Ever since the Instant Pot appeared on the cooking scene, food prep has never been the same. In fact, I've yet to hear a negative comment about the popular kitchen appliance. I mean, what's not to love? This kitchen gadget is so amazingly versatile it's almost ridiculous! Growing up, the only thing we ever used the pressure cooker for was chicken But now you can make almost any food imaginable. From main dishes to side dishes, you can find all kinds of recipes that will make this a "can't-live-without" appliance. But did you know the possibilities don't stop at side dishes? That's right, I'm talking desserts! Cakes, pies, even cheesecakes are cooked to decadent perfection in your Instant Pot. Don't believe me? Check out these Instant Pot dessert recipes and decide for yourself!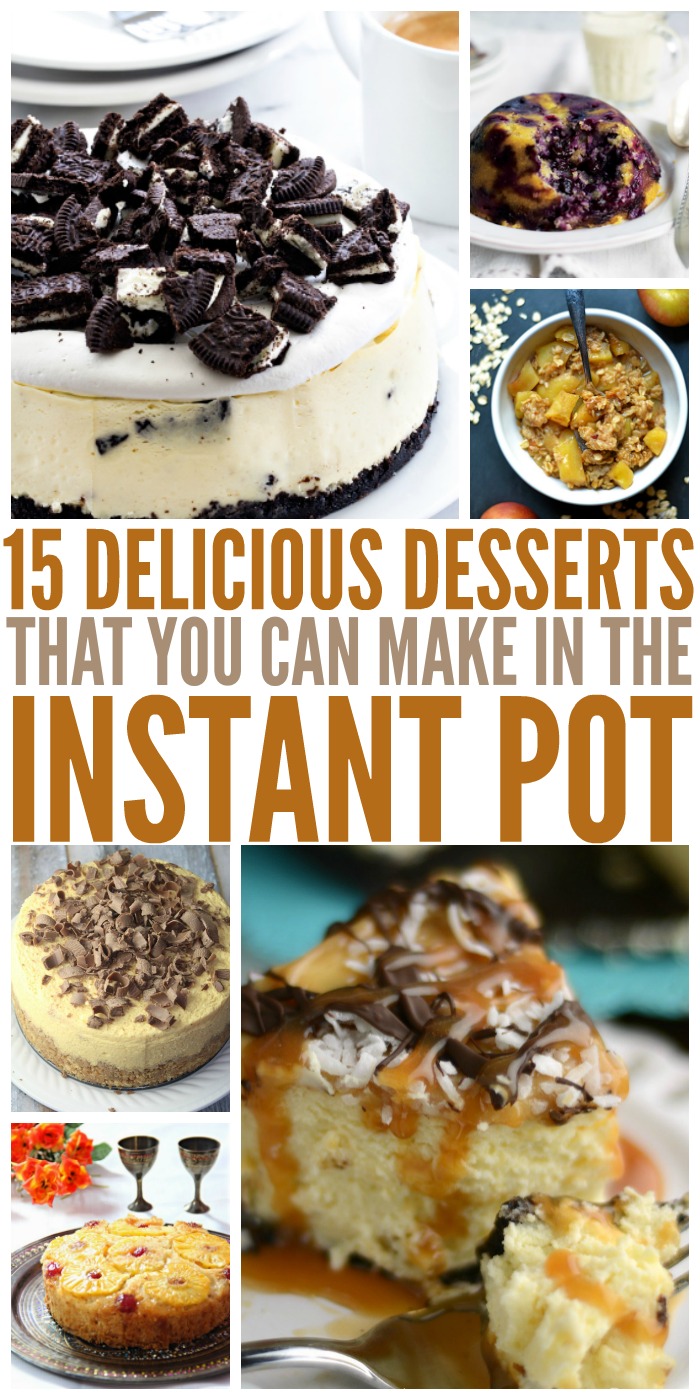 Delicious Instant Pot Desserts
Believe it or not, this Coconut Yogurt is dairy free, full-fat and thick and tart like Greek Yogurt. Yum!
Use your Instant Pot when you're whipping up an amazing Thanksgiving meal this year. This Pumpkin Cheesecake is the perfect dessert topped with dreamy chocolate curls.
This Pineapple Upside Down Cake is spongy, soft and totally yummy.
The fact that cheesecakes are so easy to make in the Instant Pot should be enough to convince you to make this ah-mazing Oreo Cheesecake. Doesn't it look divine?
You'll need a bundt pan (affiliate) to make this Banana Cake, but it's ready in just 30 minutes in the pressure cooker.
This fruity pressure cooker dessert (Blueberry Pudding) is perfect for spring and summer, but you can also make it with cranberries in the fall and winter.
When my husband and I go out to dinner, my favorite dessert is molten chocolate lava cake. Imagine my delight to find out I can make it in my Instant Pot!
Topped with ooey, gooey caramel, this Salted Caramel Cheesecake is the stuff my dreams are made of. She also offers some helpful hints for making cheesecake in the Instant Pot!
Not only is this peanut butter chocolate cheesecake quick and easy, but it's low carb, too. Now that's convenient!
So, this may not be dessert exactly, but Instant Pot Applesauce is a sweet treat that you can feed the kiddos and not feel guilty about it.
Make Apple Crisp in 15 minutes or less, and you'll have enough for 3-4 people in a pinch.
You'll Love Your Pressure Cooker After This
Chocolate Zucchini Muffin Bites will be just as delicious for breakfast as they are for dessert. They're incredibly moist and tasty.
Get all the goodness of your favorite Girl Scout cookie in a scrumptious Samoa Cheesecake. We have more Samoa-inspired desserts, too!
I don't think I've ever seen a more delectable chocolate dessert in my life. I can't wait to try this Double Chocolate Cheesecake!
This Apple and Lavender Upside Down Cake is light and refreshing. Surprise, it's Paleo, too!
Want to learn more about our favorite Instant Pot? Click the link below for our review!  Or you can just go straight to Amazon and read about it over there.
So how many times did you say "Wait, I can make that?" Pretty amazing right? And when you do bring these desserts to life, you'll have your family or guests not only begging you for the recipe but blown away by the fact you made it a pressure cooker. So go ahead and pull out your Instant Pot at get cooking. Which recipes did you find most tempting?