It seems like the kitchen is the first place to gain clutter and just feel like it is in a state of constant chaos. If you are like most and want to do it on a budget, then this kitchen organization on a budget list is for you. I will share tips and how-to's on how to get your kitchen organized without breaking that piggy bank of yours. Doing a little here and there and then over time, my whole kitchen can be organized.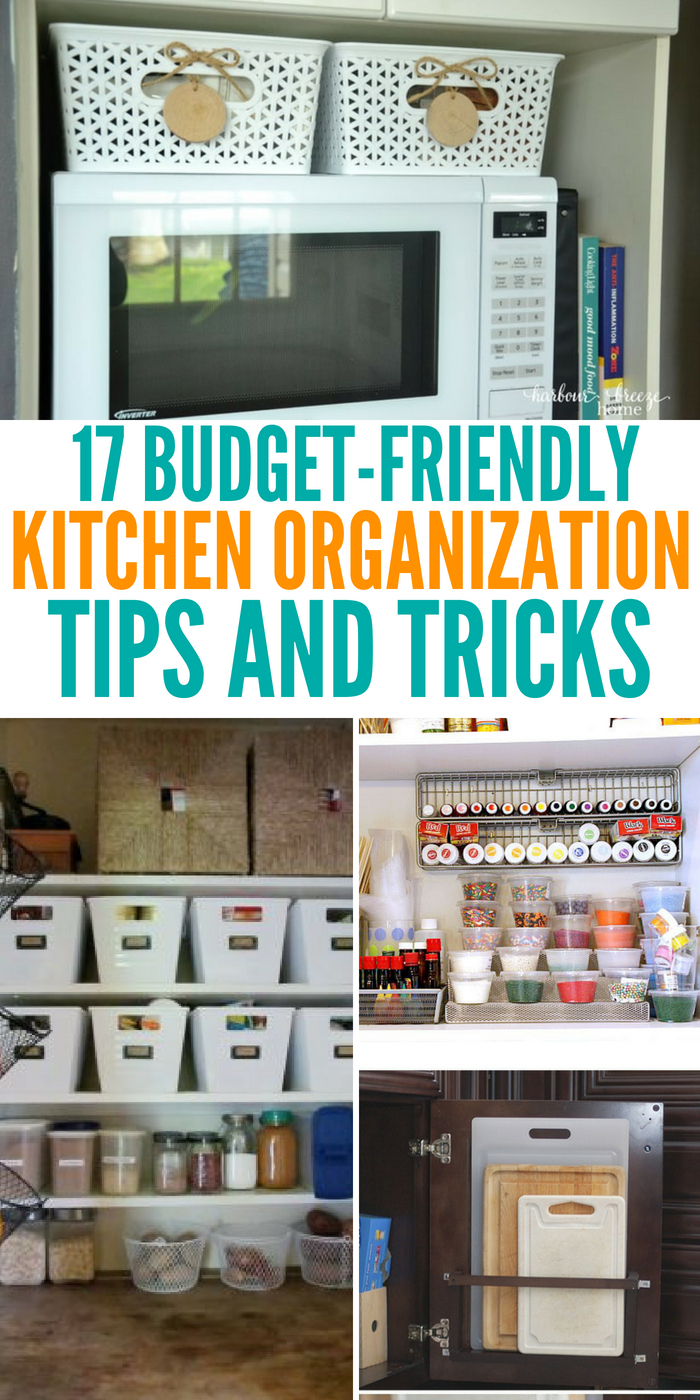 Organizing, it is truly one of my favorite things. I have learned tips and tricks over the years and implemented them in different rooms in our home. If you have the funds do the entire kitchen at once, or break it down into areas like kitchen cupboards, pantry, fridge, etc. We even organized our garage recently using these garage envy tips and tricks and it couldn't look any better.
Kitchen Organization on A Budget
If you are working with a small kitchen, you might really benefit from these small kitchen organization ideas. Affordable ideas that can help give items a special place in your kitchen.
Here is a kitchen drawer organizer idea that is a great way to clean up the clutter. This is a diy organizer you can make in an hour or two, and customize the perfect organizer for your home.
Store your pots and pans with a system in place so it doesn't get cluttered up after you unload the dishwasher each time.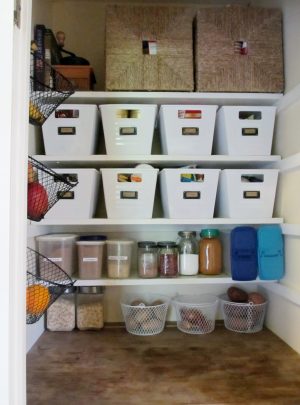 Here is a way to organize your small pantry on a budget. Getting organized doesn't have to be a money pit, and she shares how to get that clean pantry at an affordable price.
This is a minimalist take on getting your kitchen sink area looking great. I think having a clean and free space by the sink helps give your home a clean feel, and allows you to tackle dirty dishes with ease and not getting overwhelmed by clutter.
A hidden kick drawer is a great way to add just a little bit more hidden space in your kitchen to store items, without having it out on the counter or stashed in a drawer.
Check out these kitchen printables that you can print for free to use to help get your kitchen in order in no time!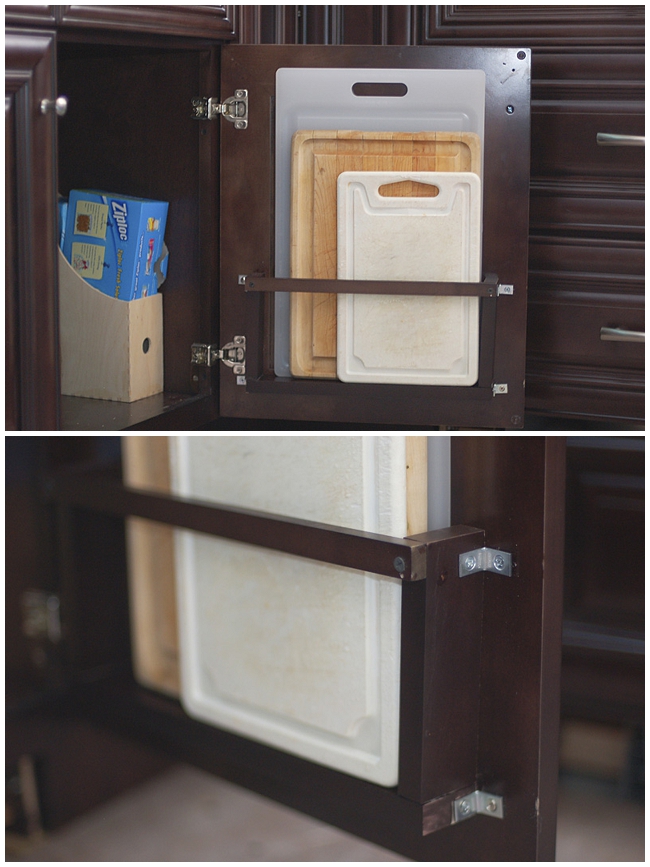 Even More Kitchen Organization On A Budget Ideas
If you have a lot of cutting boards, you might like this cutting board holder. Great way to free up drawer or counter space, depending on where you normally store them. Hide it right inside a cupboard where there is free space!
Calling all tea drinkers! Here is a great way to store all your tea bags so you can easily search through to find the tea flavor you are wanting to make.
Store your plastic containers in one area of your kitchen that keeps them neat. Nothing is worse looking for a lid and never finding it only to have to cover with aluminum foil!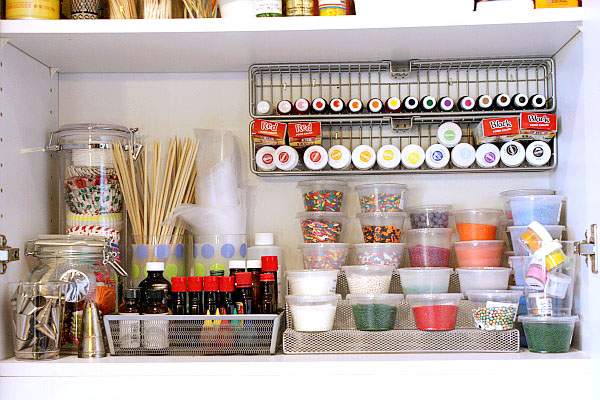 Get your kitchen spices organized, and create a system that keeps them organized over time. Also, she shares how to keep your cooking items like sprinkles, cupcake liners and more organized so you can see it all easier.
Under the kitchen sink in our home always needs a little TLC. Here is a great are great tips for cleaning up under your kitchen sink.
Organizing On A Budget
One thing about organizing is making sure to add labels so everyone knows where things belong. Here is a really easy way to make labels using packing tape!
Here is another spice rack idea but they go with a Dollar Tree style. All items they used to create storage was from the dollar tree. A very affordable but creative idea.
Another great tip for finding the perfect place to store your measuring cups. I love this idea because I can never find the size I am needing in the moment of cooking.
Tackle organization in your kitchen cupboards with this post. Use it as a guide to help you declutter, organize, and have a clean set of cupboards.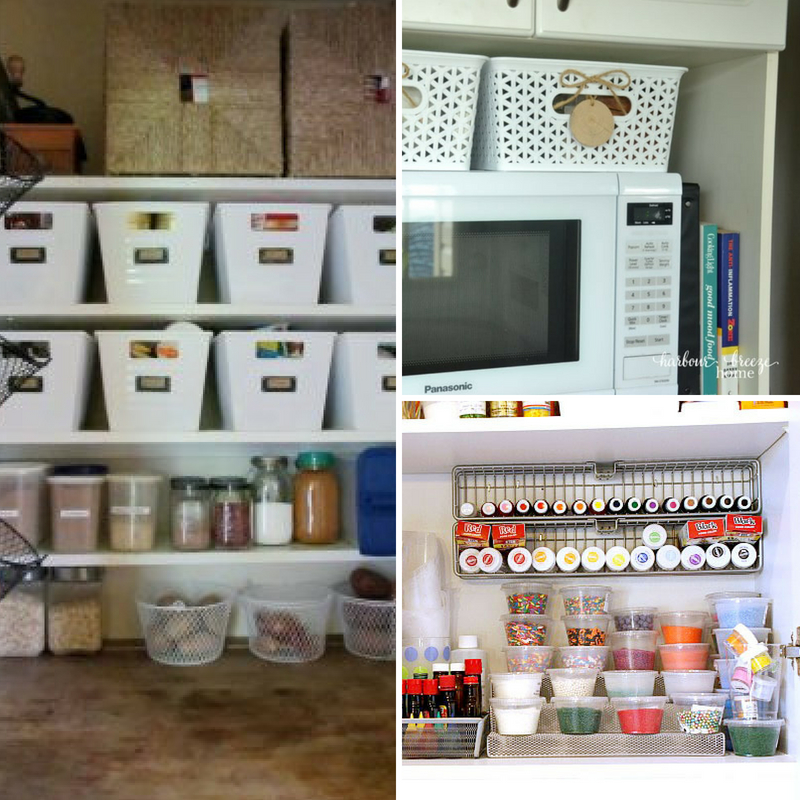 What is your favorite way to organize in the kitchen that is budget-friendly?