Bath toy storage is a problem in many a household. Tired of a messy bathtub? Wish you could take a bubble bath, just one night, without having a rubber ducky fall off the ledge into your bubbles? Here are fun & simple ways to store a large volume of toys for a neater bathroom and maintain proper drainage.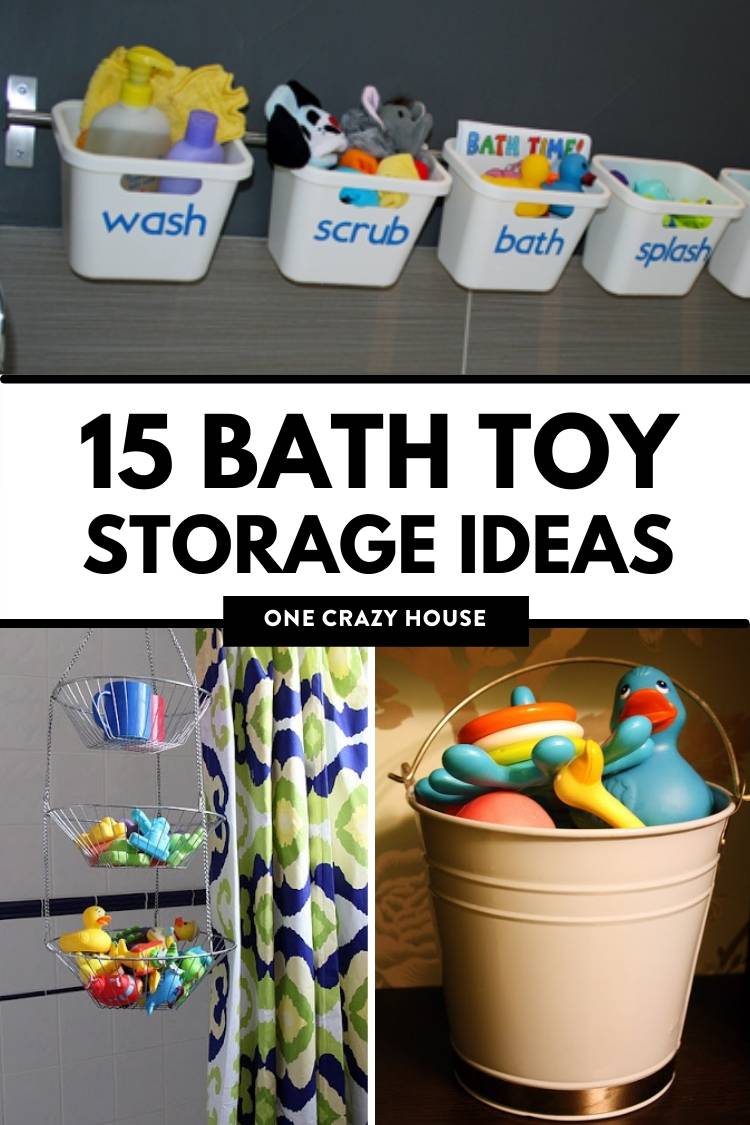 If you're tripping over bath toys every time you shower, it's time to get a bath toy organizer in place to free up some bathroom space. Believe me, I've stepped on my fair share of rubber duckies, trains, boats, and Ninja Turtles because they were littering the bathtub floor. We've rounded up these best bath toy storage ideas for a bathroom clutter-free. Which one will be your favorite?
17 Genius Ways to Handle Bath Toy Storage
But before you gather up all those loose toys and get them out of your way, here are a couple of things you need to keep in mind.
Make sure your bath toys have room to dry.
Your child's bathtub toys will get gross and moldy if they don't get dry between uses. Make sure that when you add the toys to the container or bath toy holders, they rest loosely enough that they can air dry on the outside. Or take the time to dry the toys by hand.
And if the toys have large holes that allow the child to squeeze and squirt water as part of the play experience, make sure you get all of the excess water out of the toy after each bath. Those toys will need to be replaced if you discover mold growing inside of them.
To prevent the water from getting inside the toy, you might want to consider plugging up the hole. This takes away the fun of squirting water around during bath time, but it might save you some headaches. To seal up the hole, just put a small dot of hot glue over the hole.
How To Clean the Bath Toys
Not only do you want to make sure the bath toys get dry between uses, but you also want to give them a good cleaning at least once a week. To do this, you have a few options. You can:
You can clean them with vinegar. Mix 1 gallon of water with 1/2 cup of white vinegar. Let the toys soak in this solution for about an hour. Give them a little scrub, rinse them off, and let them air dry.
You could add them to your next dishwasher cycle to get them clean. Be sure to use the top rack of the dishwasher or that the toy is labeled dishwasher-safe.
You can boil them in hot water on the stovetop, using tongs to drop them into the boiling water and lift them back out.
You can use disinfecting wipes to wipe the toys down. Rinse well with water and let air dry when you've finished.
Be sure your toy container has drainage holes.
Just as you don't want water collecting inside of your child's bath toys, you don't want water just sitting in the bath toy storage container. Make sure the container or storage bin you choose has drainage holes of some sort so water doesn't collect at the bottom of the container.
And with all that out of the way…
On to the bath toy storage tips…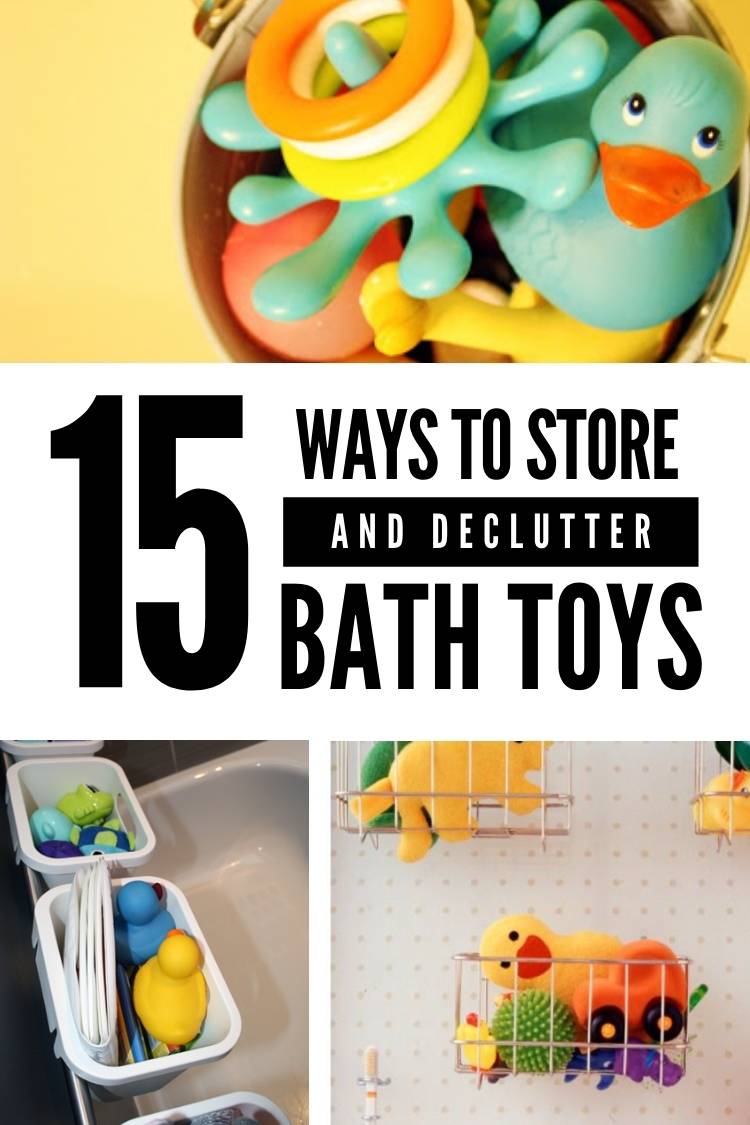 Smart Solutions to Your Bath Toy Storage Problems
1. Bathroom Toy Storage on a Hook
A simple system of Command hooks and cheap baskets from the Dollar Store can work wonders toward keeping your bathtub clear and free of toys. Just attach the hooks to Command strips and your basket is ready to hang. The only supplies you need are:
Command strips
storage baskets with handles
2. Use a Fruit Basket for Toy Storage
A metal hanging fruit basket adds a stylish touch to the shower, and it's super practical because it allows the toys to drain well.
3. Make a Bath Toy Bag
If you have some sewing skills, you can make your own bath toy bag to coordinate with your bathroom decor and hang it from your shower head or some hooks on the wall. You may want to let the toys air dry before putting them in a bag like this, though. This solution calls for a few more supplies than the others. You'll need a sewing machine and:
Cotton canvas fabric
Waterproof fabric
Rotary cutter
Cutting mat
Ruler
Straight pins
Thread
Disappearing ink pen
4. Bath Toy Storage In a DIY Mesh Bag
A DIY mesh bath toy bag allows airflow for the toys to breathe, so you can put them in right away after your kiddos are finished with bath time. Just attach it to your shower wall with suction cup hooks. You'll also need:
mesh fabric or nets- available at fabric stores
ribbon, wide and narrow widths
thread for sewing
suction cups for hanging
5. Luxury Bath Toy Storage
Put up a rail and some hanging baskets for convenient bath storage that the kids can reach. When you have company, replace the bath toys with more guest-friendly amenities such as soaps, shampoo, towels, and a fresh loofah.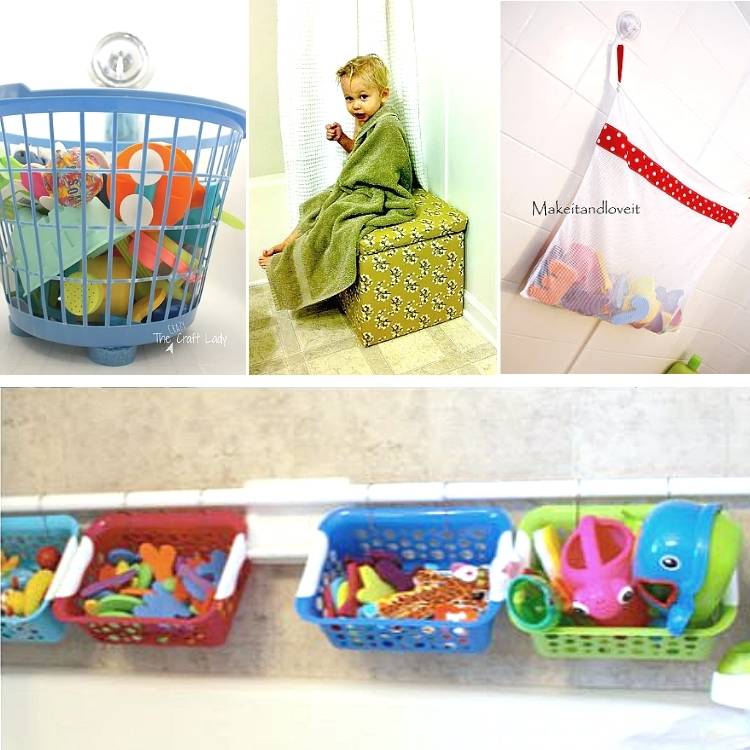 6. Storage Cube Storage for Bath Toys
Cover an ordinary storage cube with your favorite fabric that coordinates with your bathroom and is machine washable in case it needs cleaning in time, and you've got a lovely place to store toys as well as seating for you when you're in the bathroom helping the kids. Keeping your sanity!
7. Use a Lingerie Bag for Storing Bath Toys
If you're not up for making your own mesh bag, a lingerie bag or large pouch works in a pinch! It will let toys dry, and you can find them for as little as $1 in some stores.
8. Use Suction Cups and Baskets to Hold Bathtub Toys
Baskets, suction cups, and divider panels are also workable solutions for holding bathtub toys and avoiding bathroom mess. We don't have much luck with suction cups on our current tile, but this has worked for us previously.
9. Tension Rod and S-Hooks for Storage In Baskets
You don't need an expensive rod and basket system for the toys. A simple tension rod paired with baskets and S-hooks does a beautiful job of storing bath toys! It's so easy to set up, but it works so well.
10. Plastic Covered Wire Baskets—Easy Clean Bath Toy Storage
Wire baskets on Command hooks are sturdy and practical for all your bath toy storage needs. Best baby bath toy storage ideas!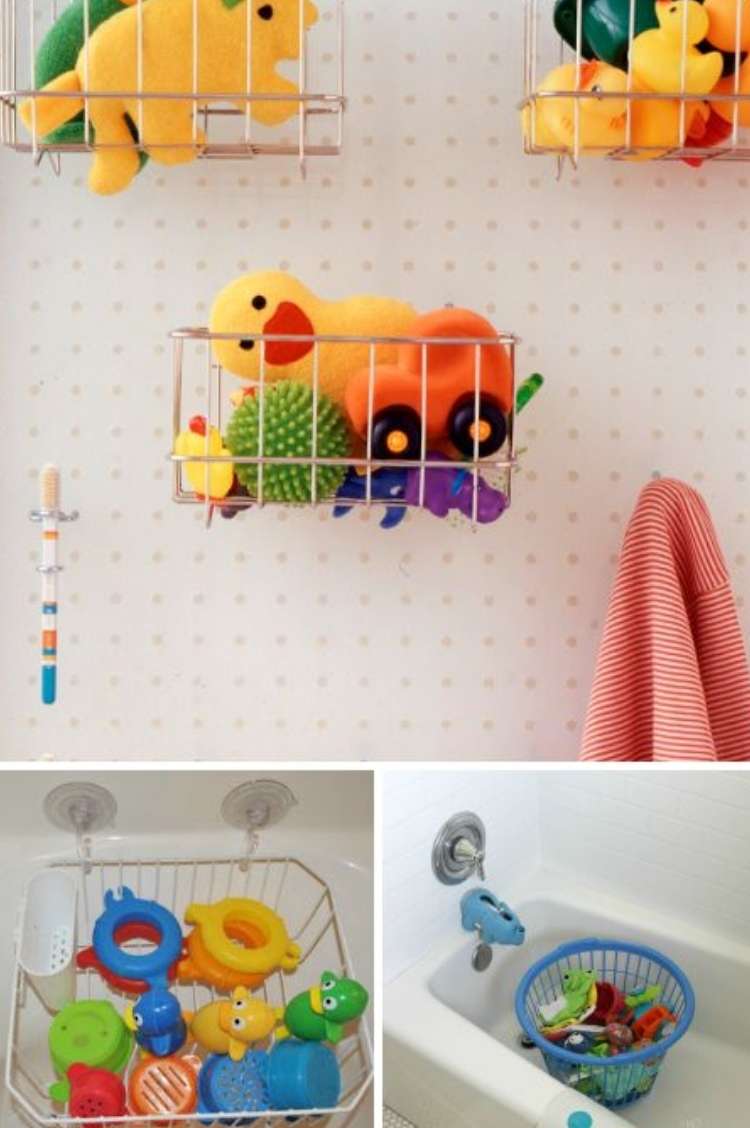 11. Store the Bath Toys In a Pail
Pretty pails are nice for storing bath toys, and you can hang them, put them on a shelf, or simply place the buckets on the floor. Easy storage option!
12. Bring the Kitchen Into the Bathroom For Storage Help
Here's another super simple hack for storing bpa-free bath toys. Hang a dish drying rack on command hooks, strong suction cups, and or similar products for a larger "basket" for the toys.
13. Use a Mesh Sock Bag for Storage
This clever mom sewed a mesh sock bag over a clothes hanger for convenient hanging bath toy storage. Best bath toy storage solutions!
14. Peg Board Toy Storage for the Bathroom
Add a pegboard to your bathroom wall for towel hooks, toothbrush holders, and, of course, bath toys in baskets.
15. Easy Bath Tub Toy Storage — Straight from the Laundry Room
Perhaps the simplest solution of all is a small, cheap laundry basket that you can sit inside the tub. Lift it out when it's bath time and then when you're done, gather all the toys up and toss them back into the basket. It's easy to remove when someone else needs a shower, but it still keeps the toys contained.
16. Use a Planter for Toy Storage
Plant containers are designed with large draining holes in them so water can drain away from the plant roots. Pick up a pretty plant container the next time you're at the store or repurpose one you already have at home and use it to store the bath toy collection. You can set it on the bathroom floor or keep it inside the tub when no one is using it.
17. Grab an Extra Colander from the Kitchen
If you have an extra kitchen colander, you can use it to store bath toys. With all the holes a colander has, the water will have no trouble draining away and the toys will air dry quickly.
Super Simple Bath Toy Storage Ideas
No more tripping over toys and sharing your bath time with Tommee Tippee. With these splash bath toy organizers and storage solutions, you have multiple quick and easy ways to get those toys gathered up and out of your way. Better yet, have your children gather them up and put them away for you.
We hope these storage hacks help you keep your bathroom neater and make less work for your, busy momma. There are different tips and tricks for every bathroom situation and with many of the suggestions, you can customize it to fit your personal style and preferences. Which bath toy storage hack do you want to try first?
Did you find these bath toy storage ideas helpful? Here are more helpful bathroom tips for your home!
Which of these awesome bath toy storage ideas did you try? Ler us know in the comments!