These mudroom organization ideas will turn your home's entry into an organized command center for the entire family.
You come through this room everyday, but if you're like most people (or like us, rather), the mudroom has no rhyme or reason. Shoes are piled on the floor; coats are randomly placed on hooks, and the table is overrun with junk mail. It doesn't have to be that way, though. You can have a beautiful and functional entryway or mudroom that will help your family stay organized and make your days run more smoothly.
Mudroom Organization Ideas
Add a bench seat for removing shoes, and hide baskets underneath to store all the shoes. This gets rid of all that visual clutter that you still have with other shoe organization ideas.
Instead of hooks, add a rod for hanging sweaters, jackets and coats neatly on clothes hangers.
Use simple baskets to corral hats, gloves and scarves during the fall and winter.
If you're working with a narrow space, a single wall can serve as your mudroom. Built-in shelves, baskets and hooks can help you create a simple organizational system.
These shoe pegs are genius! You could even put a rug underneath to catch drips when you're dealing with wet weather.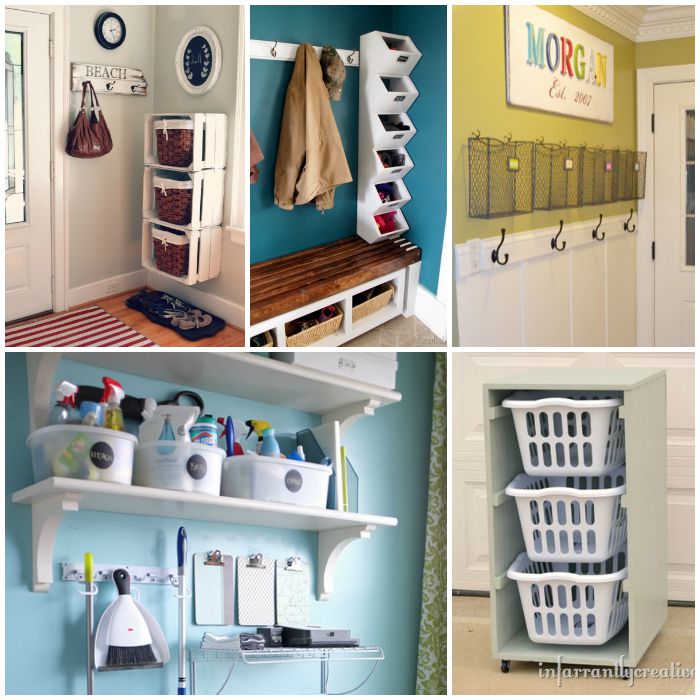 Tips for Organizing the Mudroom
The mudroom is the perfect place to keep outgoing mail and school forms that you need to return–if those items are organized, that is. Here's a simple solution: wire baskets (or magazine holders would work, too!) assigned to each person. These are placed above each individual coat hook.
Suffering from a serious lack of space? No problem! Here's a functional "mudroom" created with three crates and some baskets. It's doable in any space! Check out these small space organization tips for more ideas for the rest of your home.
These cubbies are also fantastic. Assign one to each family member, or have a purpose for each one (scarves, mittens, hats, etc.)
Put a cleaning command center in  your mudroom to free up cabinet space in your bathrooms and kitchens. Everything in one place!
Do the kiddos play sports? Do you (or your spouse) have a dirty job? How great would it be to have one of these rolling laundry basket dressers in the mudroom? Instead of tracking all that dirt through the house, the offending clothes could be removed in the mudroom but still kept neat and tidy. It would also be wonderful in the winter after the kids come in from playing outside.
How to Organize a Mudroom
Set up a drip station for those wet shoes and boots. So helpful in the rainy and snowy months!
A DIY crate bench is the ideal place to sit down to take off your shoes, and you'll have plenty of storage to boot.
If do-it-yourself projects aren't your thing, just arrange the crates like this for a rustic effect in your mudroom.
Add a bar or curtain rod near the bottom of your mudroom space to hang flip flops, sandals and flats to keep them off the floor and organized.
No mudroom is complete without a chalkboard calendar! The family can see at a glance what's going on for the entire month.

If you have way too much stuff in your mudroom (or your entire house), try these decluttering tips before trying to get organized. You'll find organization is much easier when you have less stuff!