Babies have TONS of clothing and other items that need to be stored and organized so that you can easily find what you need. From baby closet ideas to baby clothes organization ideas, you'll find all sorts of ways to organize baby clothing!
The time is almost here!
Your sweet little bundle is due to arrive in the next few weeks (or months depending on how intense your nesting urge is).
You've unpacked all the cute outfits and adorable onesies, washed them, and are ready to put them in the nursery.
Every new mom should know these amazing baby tips to make their life easier!
Bringing your little one home to a room that feels cluttered and chaotic isn't what you want. Instead, you want a place for everything and everything in its place. Organization is key! You want to start your little one's day's right. 
But, there's the problem. The clothes (even though they are incredibly cute) are so tiny that no matter how you fold them or where you put them still end up looking like a disorganized heap.
How can you organize those tiny baby clothes in a way that's both practical and cute?
Read on momma, because these baby clothing organization ideas are about to blow your mind!

Use These Clever Ideas For Baby Clothes Storage & Organization
Here are 15 genius ideas to organize baby clothes in your baby closet, dresser, or nursery to help you stay organized – no matter who is looking for (or putting away) clothes.
If you have ever wondered how to organize baby clothes, these tips will help!
1. Labeled Chalkboard Drawers 
If you're always losing outfit pieces or always finding socks in the wrong place, you'll love this idea.
Paint the dresser drawers with chalkboard paint and label them. No matter who is looking for clothes (or putting them away), they will know where to go.
Bonus: It's super easy to change if you rearrange!
Roll those little t-shirts using this method. You won't believe how much space you'll save!
Use plastic toy bin organizers to sort clothes by style, color, size, or any other way that helps you stay organized. This will allow you to quadruple your organization efforts and easily pick out those cute outfits for baby! 
So simple. Pure genius. Such a cute baby clothes organizer!
3. Use Mesh Laundry Bags
What disappears faster than your socks in the laundry? Baby socks!
Seriously, where do they go?
Anyway, mesh laundry bags can help you keep track of baby socks, bibs, etc. when you're doing laundry. Genius.
4. Organization Crates 
We love, love, love this basket (crate) idea. They're hanging on cup hooks, and they hold undies, swimsuits, hair accessories, and more. This container idea is perfect for your closet. It makes it so easy to see all of your baby's cute clothing. A genius storage solution ( and alternative to a dresser). Your little one will always have the perfect outfit of the day! 
5. Baby Closet Dividers 
Use closet dividers to see months and sizes at a glance. It makes it so much easier to pick out clothes when they're a different size on top than the bottom. This is sure to make your baby's closet organization a breeze! 
6. DIY Baby Clothes Organization Closet Dividers 
Here is another easy method to get that baby's closet organized. If you don't have a Silhouette machine, try this method to make baby closet dividers by hand. You can get your creative genius going by matching your closet dividers to your nursery's color scheme or your favorite colors for your baby. The sky's the limit with this organization idea for your closet. 
7. Use a Hanging Shoe Organizer 
Put onesies, bibs, and other baby things in a shoe organizer. These things are seriously so handy. They are also a budget-friendly addition to your baby's closet. You will love the amount of storage you will gain with this easy solution. 
And, they are also perfect for organizing cloth diapers! Just genius!
8. Shoe Cubby
If you're out of space, convert a shoe cubby into extra baby clothes organization space. You can fit so many baby clothes into one of these!
9. Corral Small Items With Baskets
Babies are little, so their stuff is little. And at some point, all that "little stuff" gets lost in one big heap. Put baskets in drawers to keep hats, socks, bibs, and other small items separated and easy to find.
Sometimes pre-made baskets or drawer dividers don't work the way you need them to. They may not be the right size for your drawer or they don't have the right size compartments.
Make your own! It's easier than you may think and is 100% customizable.
11. Headband Holder 
Headbands and hairbows are the perfect accessory for our little girls. What should you do with all those little headbands and hairbows (other than searching everywhere for them)? Use clothespins to hang them! This is an excellent organization ideas for any nursery. 
12. Baby Closet 
Many nurseries have a closet. Make it a dedicated baby closet to store clothing, hats, shoes, trinkets, and even toys.
This baby closet example is a chic solution for storing baby shoes, blankets, and more.
If you don't already have double bars in your closet, you absolutely need them. When your baby is really tiny (and if you're tall enough), you may even be able to fit 3 bars for hanging clothes.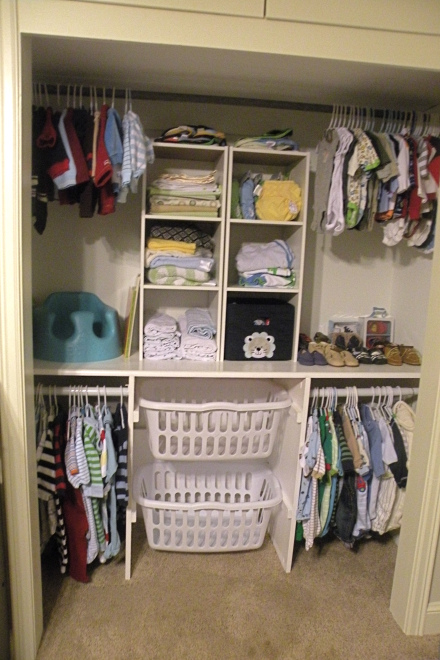 Use clothespins to pin pants with coordinating shirts if you plan to hang them. No need for special baby-sized hangers and no wasted time searching for all the pieces to one outfit!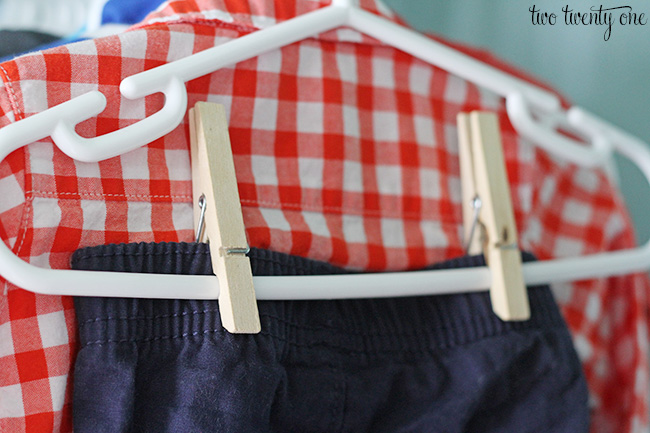 Are you obsessed with collecting cloth diapers for your baby? Store and display them in wire baskets on the wall. Top them with blocks or stuffed toys for an ultra-cute touch.
This method also works really well for storing and organizing baby clothes if you're short on space!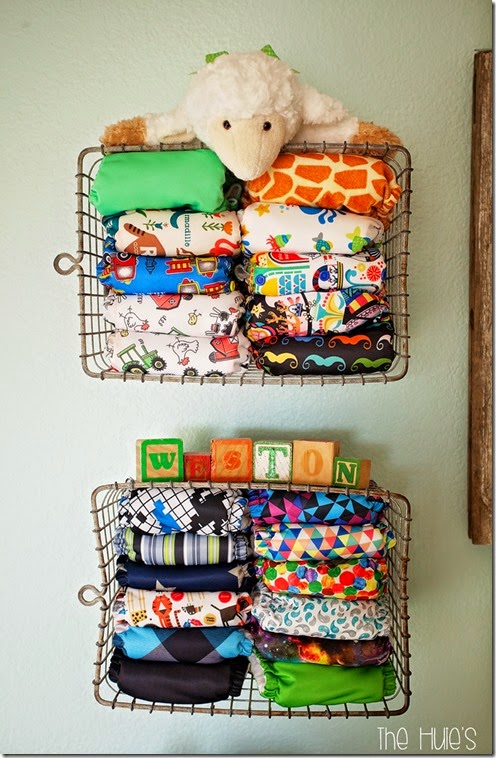 Baby Closet and Clothing Organization: Final Thoughts
At the end of the day, it doesn't matter what outfit (or outfits) your child wore. It doesn't matter if they are wearing cloth or disposable diapers.
What does matter is that you can find what you need, when you need it.
As a mom, knowing that you aren't going to be tearing the house apart to find that jacket or pair of shoes provides some peace of mind.
I hope these 15 baby clothing organization tips help you find the perfect layout for your nursery! Which tip did you find most helpful?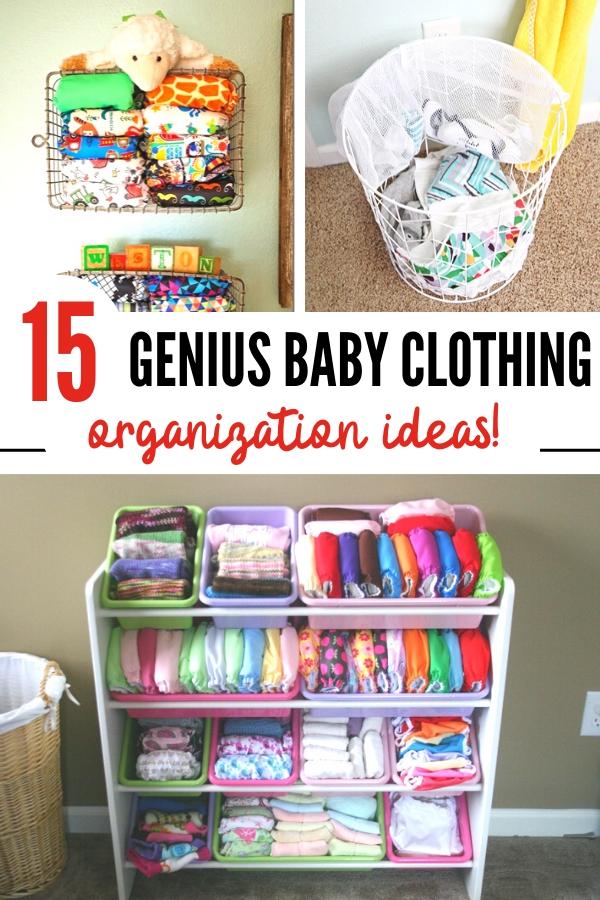 Don't Let Baby Clothes Storage for Your Nursery Keep You Stressed! Check Out These Clothing Organization Ideas:
Grab some inspired linen closet organization ideas from One Crazy House that can help you calm all that baby laundry chaos.