Here are inspired linen closet organization ideas to help you get your linens neat and tidy at home, no matter where you store them. 
I'm sure if a poll was taken asking which area in the home was the most cluttered or difficult to get organized,  most likely the room that would win by a landslide would be the linen closet. Is there a right way to fold a towel? How the heck am I supposed to get a fitted sheet to fit neatly on a shelf? What to do with those darn wash towels- doesn't it seem like they are just everywhere? 
What with all the towels, sheets, and orphaned pillowcases at my house it's no wonder the closet is such a mess. Linen closets are generally small closets tucked awkwardly into house plans like behind the bathroom door or in a hallway far away. And that is if you actually have one. Often space has to be created inside a larger closet, in the corner of a bathroom or part of a laundry area. No matter where your linen area is, it's important to keep it organized so it's easy to find what you are looking for. 
Best Linen Closet Organization Tips
Well, if you, too, are tired of trying to stuff the small closet, shut the door quickly to keep everything from tumbling out, have we got some tips for your home. These tips will transform chaos into beautifully calm and organized spaces.
The truth is these simple ideas will also save you time and stress. Clutter is clutter even behind a closet door.
"It's much nicer to interact with your linen closet if you're not feeling exasperated every time you open the linen closet door,"  

– Kelley Jonkoff, a certified KonMari consultant in Raleigh, N.C.
1. Washcloth Sorting Made Easy
Use a file sorter to store washcloths. This is such a genius idea! Roll them up, put them in the file sorter, and never have to deal with falling stacks of washcloths again. I like how neat and tidy it looks to have the chalkboard label showing which member of the family belongs to which washcloth stack! This technique could work well in a bathroom in the under-sink storage. This is also a great idea if you have the shelf space in the linen closet, or even an over-the-toilet storage unit so that the towels can be easily reached from the sink and the shower.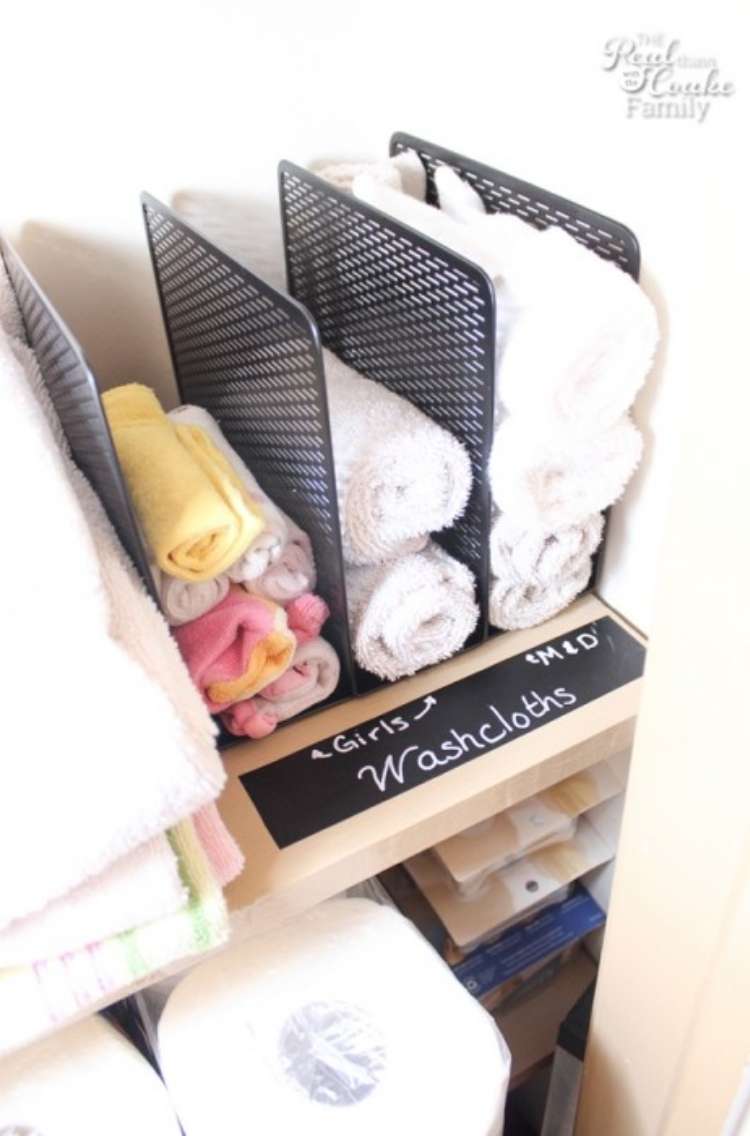 via The Real Thing with the Coake Family
2. Linen Bins Line Shelves
Use high-sided bins and pull-out drawers to prevent piles of stuff from toppling over. Love those deep baskets! Those deep baskets are perfect for sorting all the things that tend to accumulate in a linen closet. Mines are filled with towels, washcloths, hand towels, extra pillows, pillowcases, sheets, and beach towels. Some baskets might even be deep enough to store blankets and comforters. Adding a cute tag to the front of the basket will add to the decor in the space and help you save time in finding whatever you are looking for.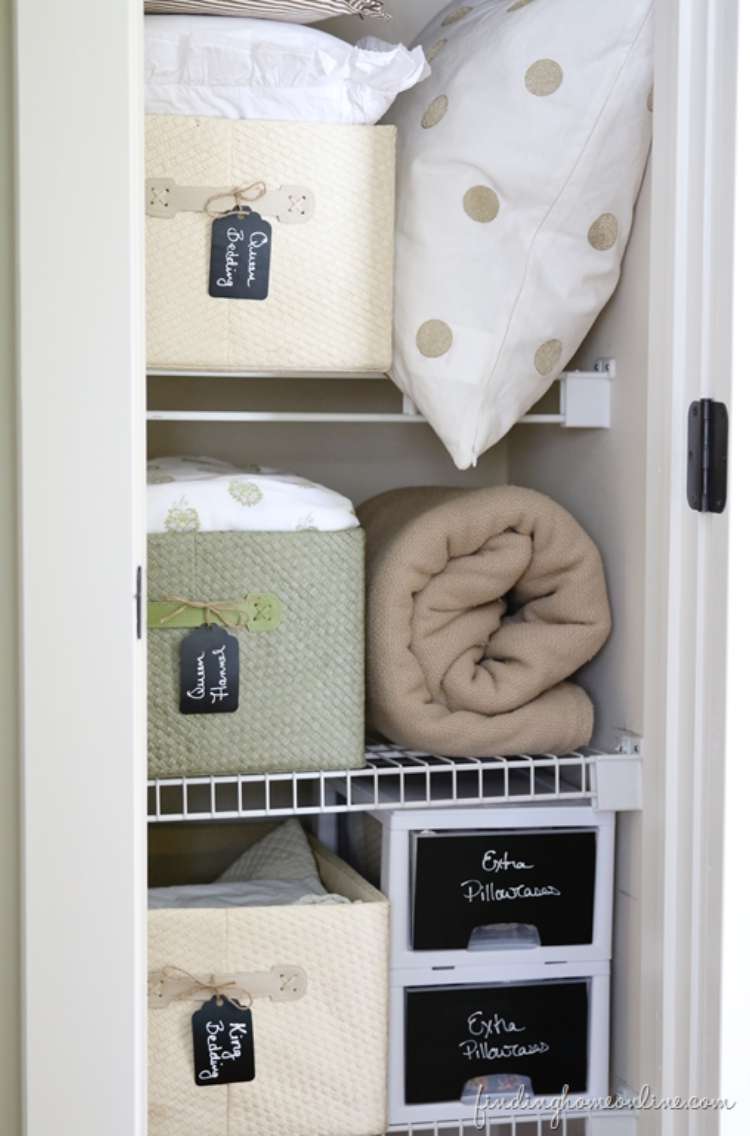 via Finding Home Farms
3. Linen closet organization can be fun! Use Cute Linen Closet Labels
When in doubt label it. You will always know where things belong and others can come behind you and deliver items to their home!  Chalkboard labels are our favorite – When you change your mind, clean off with a damp rag and re-label! Add the titles you need to labels: shirts, socks, pillows, extra pillows, extra fluffy pillows…I might be hoarding pillows. There are so many creative ways to label your containers! You can also use a label maker, or print out some pretty designs from your office printer.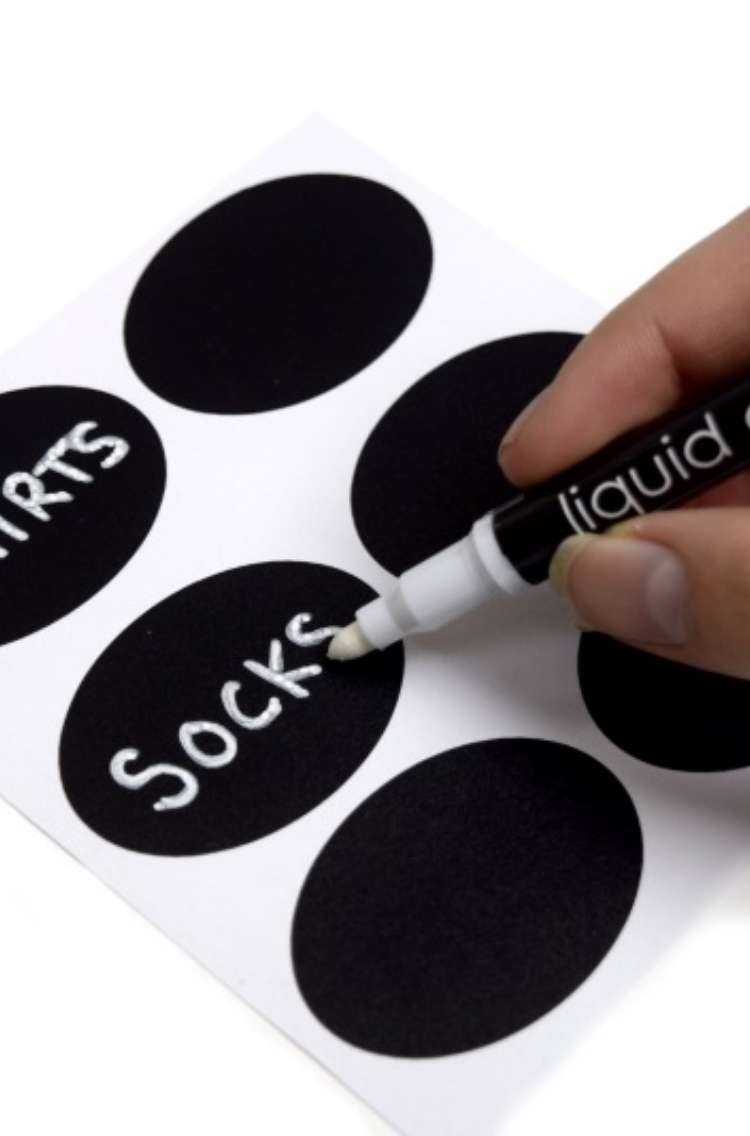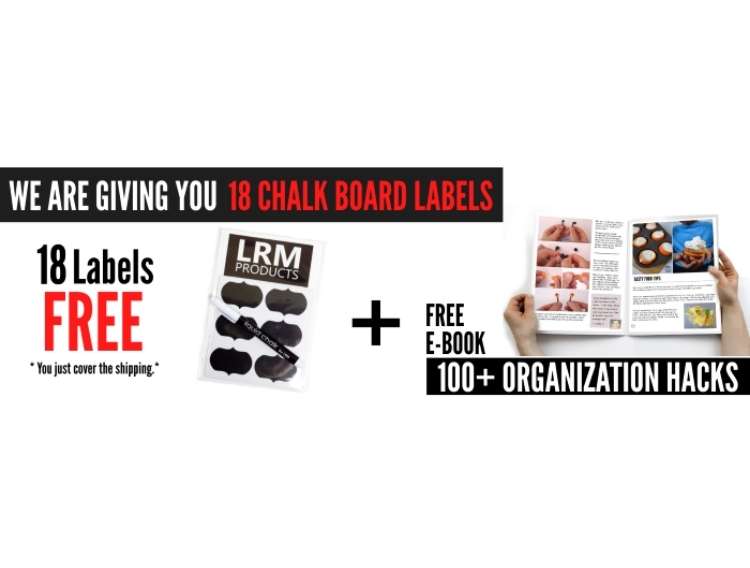 4. Smartly Store Sheets in Pillowcases for the ultimate linen closet organization hack.
Keep sheets together in the closet by putting sheets in one of the matching pillowcases. No more rummaging through the closet to find matching sets! This is one of those "why didn't I think of that genius organization idea?" 
The key to this linen closet hack is to keep your sheet set right at the front of the pillowcase, then wrap the pillowcase around it. Trying to get your sheets to the bottom of the pillow cases won't be easy and won't really produce the result we are looking for. I know, I tried it the hard way the first time I saw this hack.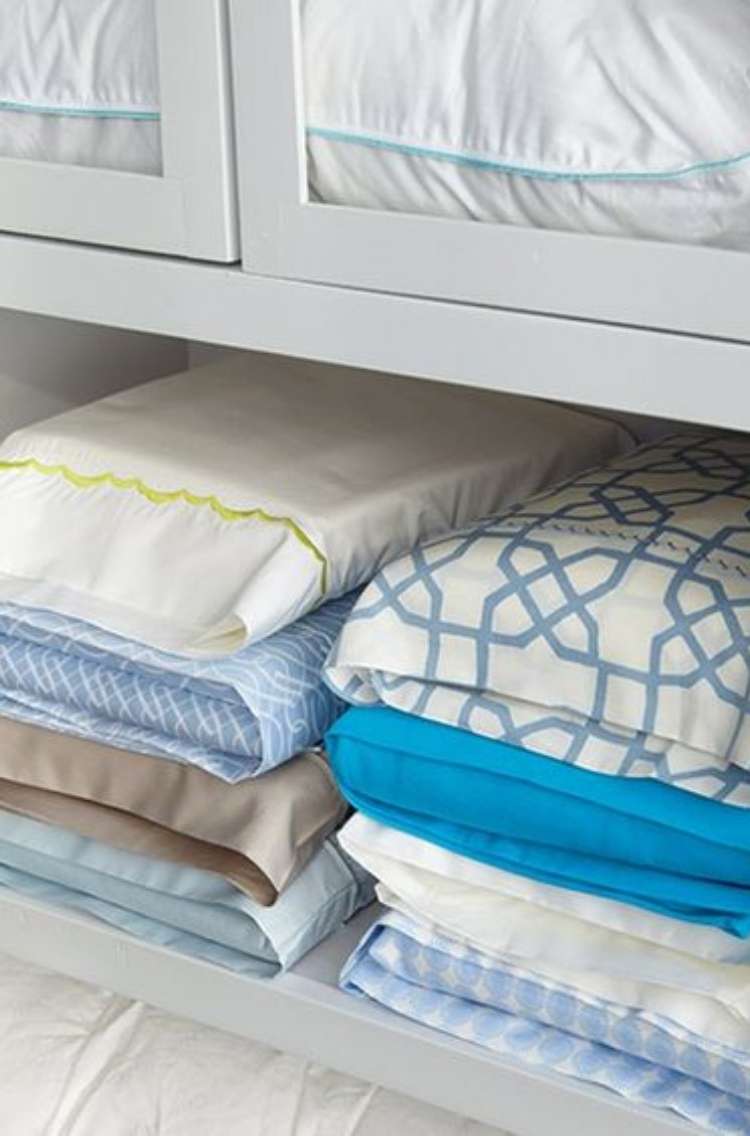 via Martha Stewart
5. How to Fold a Fitted Sheet
Speaking of sheets, do you know how to fold a fitted sheet? I didn't. This handy video tutorial can help! Oh, and when you can actually fold a fitted sheet, they are more uniform and stack in a smaller area on a linen closet shelf.
The thing to remember about folding fitted sheets is that the ends aren't actually the ends. The goal here is to use the corners of the mattress as the ends to create a rectangle that is easy to fold. 
6. Linen Closet Shelf Makeover Thanks to Bins
Redo your linen closet for just $10 with plastic baskets from the Dollar Store. What makes this doubly useful is that these linen closet bins are easily removed to take to another room, refill, find something in the bottom or use for transportation. We also use these in the bathroom as storage of lotions, soaps, shampoos, hair accessories, extra toiletries, and more. This is great for a linen closet but can also be used in a bathroom, kitchen or even for dorm room organization.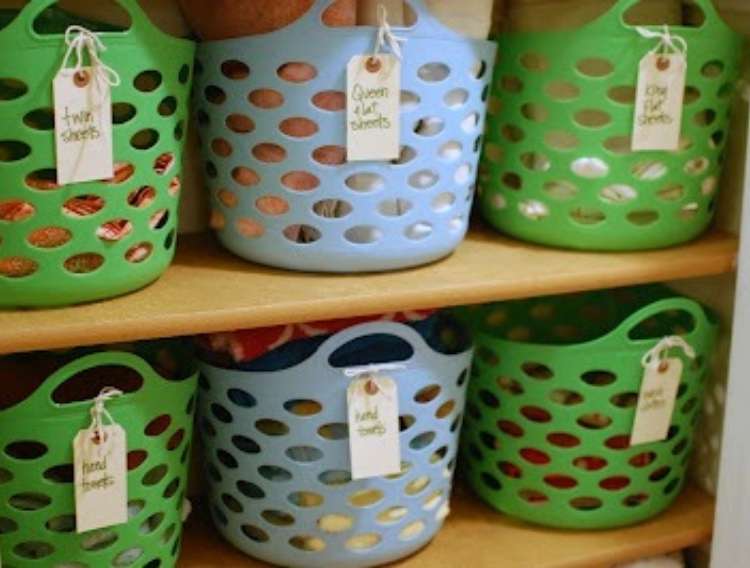 via A Bird and a Bean
7. Towel Rods as Space Savers
Roll towels instead of folding them to save valuable space in your small closet. Also, install towel rods on the door to store linens that wrinkle easily (like your tablecloths). I think that hanging all those hand towels might work really well too. Those seem to be everywhere when you are looking for a towel and completely disappear when hands are wet, don't they. 
Make sure to stack the towel rod holders with the shelves so you can still close the door once installed. 
via BHG
8. Storage of Awkwardly Shaped Items
Small, galvanized buckets are perfect for storing hooded towels and other hard-to-fold linens. My household seems to collect things that don't fit into standard-sized containers. I love how this is not only attractive but useful!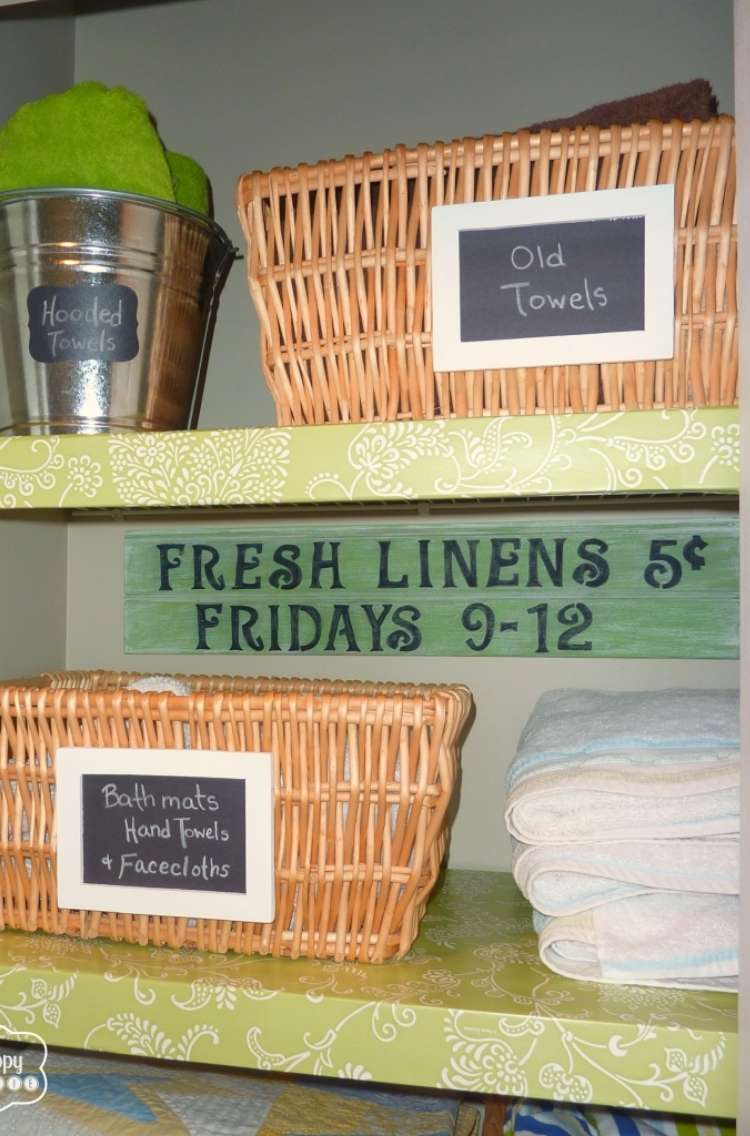 via The Happy Housie
9. Use Clothespins for Organizing
Clip labels to the front of each bin with a clothespin. You may prefer this method over permanent labeling if the contents of your linen closet change seasonally. I love this use of clothespins because I always seem to have them around and find them adorable. You can make this a bit more permanent by writing or painting right on the clothespin instead of using it to hold a tag. 
via Ask Anna Moseley
10 .Decorative Brackets Separate Linens
Install decorative brackets to create shelf dividers. Everything will have a place with this genius idea. Each stack of linen is separated from the one beside it. What a neat, clean look for each shelf.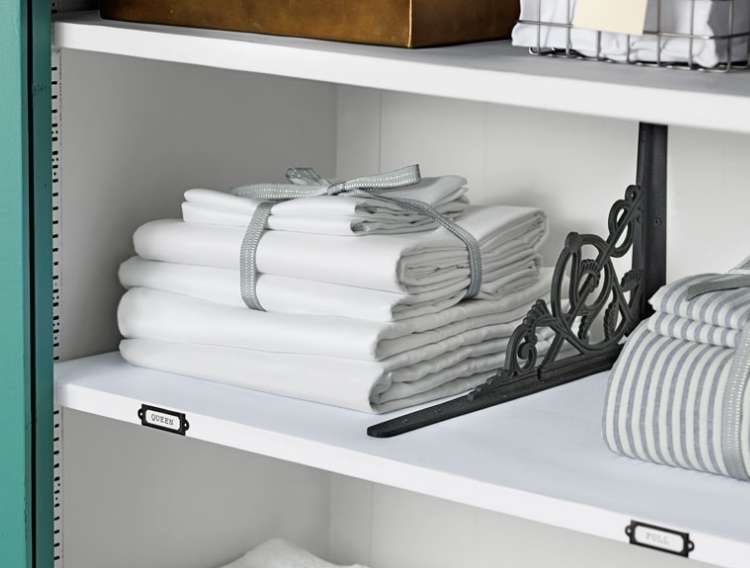 via Country Living
11. DIY Shelf Dividers for linen closet organization
Or use leftover scraps of wire shelving to create your own dividers. Use this same technique for creating division with whatever you might have stacked in the attic or available in the garage.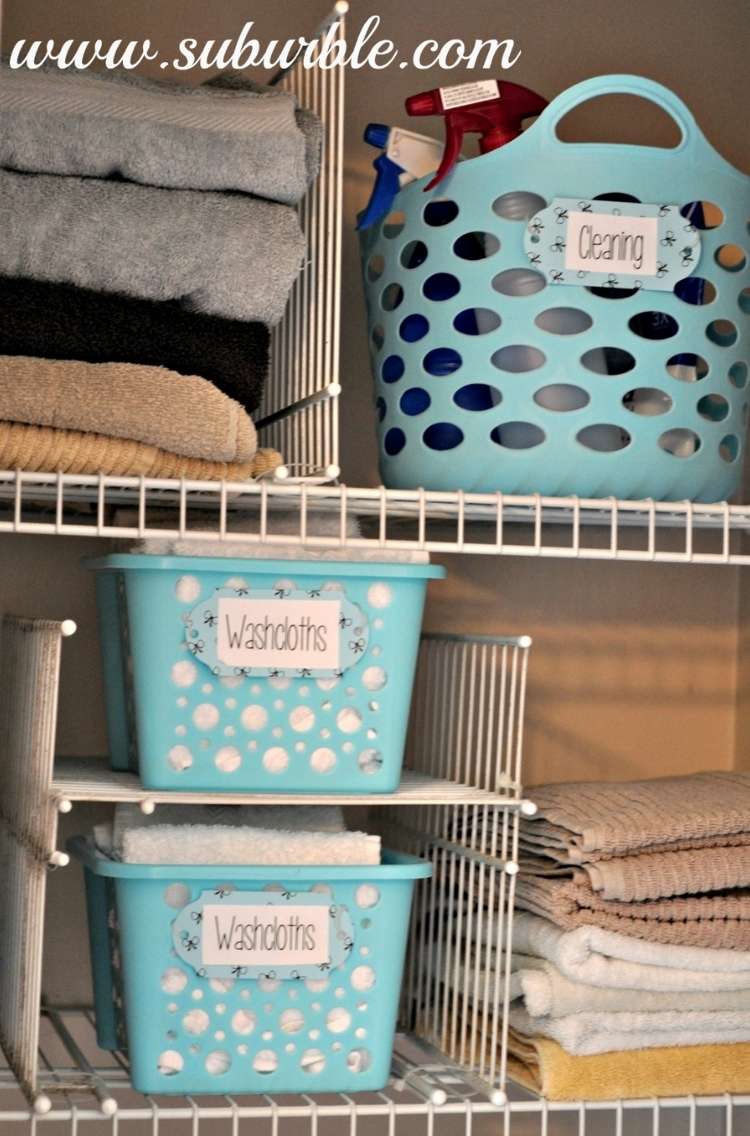 via Suburble
12. Use Under Shelf Space Efficiently
Take advantage of under-the-shelf baskets to use vertical space that would otherwise go underutilized. It is so funny because I use this under-shelf storage in my pantry shelves already, but never thought to extend the organizational hack to the linen closet! Under-the-shelf baskets are another great way to store hand towels since they are so small and useful.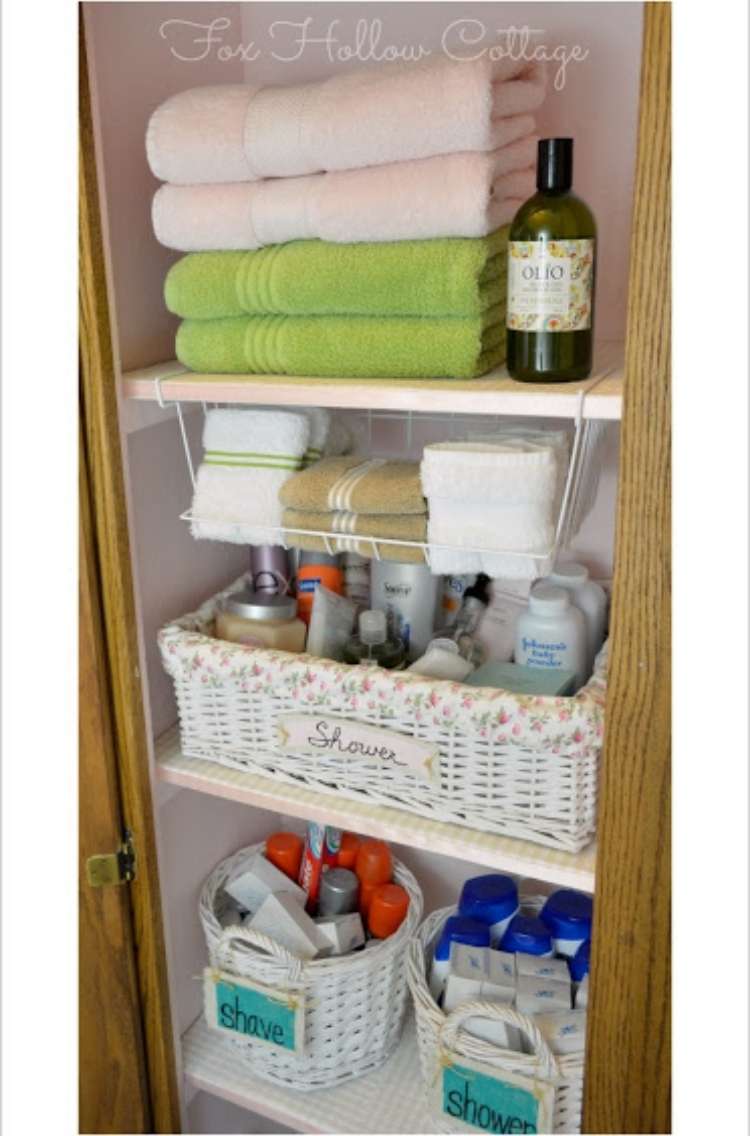 via Fox Hollow Cottage
13. Closet Floor Storage for Easy Access
Put a grab-and-go bin at the bottom of your linen closet for beach towel storage. That way, whenever you're headed to the pool or beach, you can grab the entire bin or bag easily.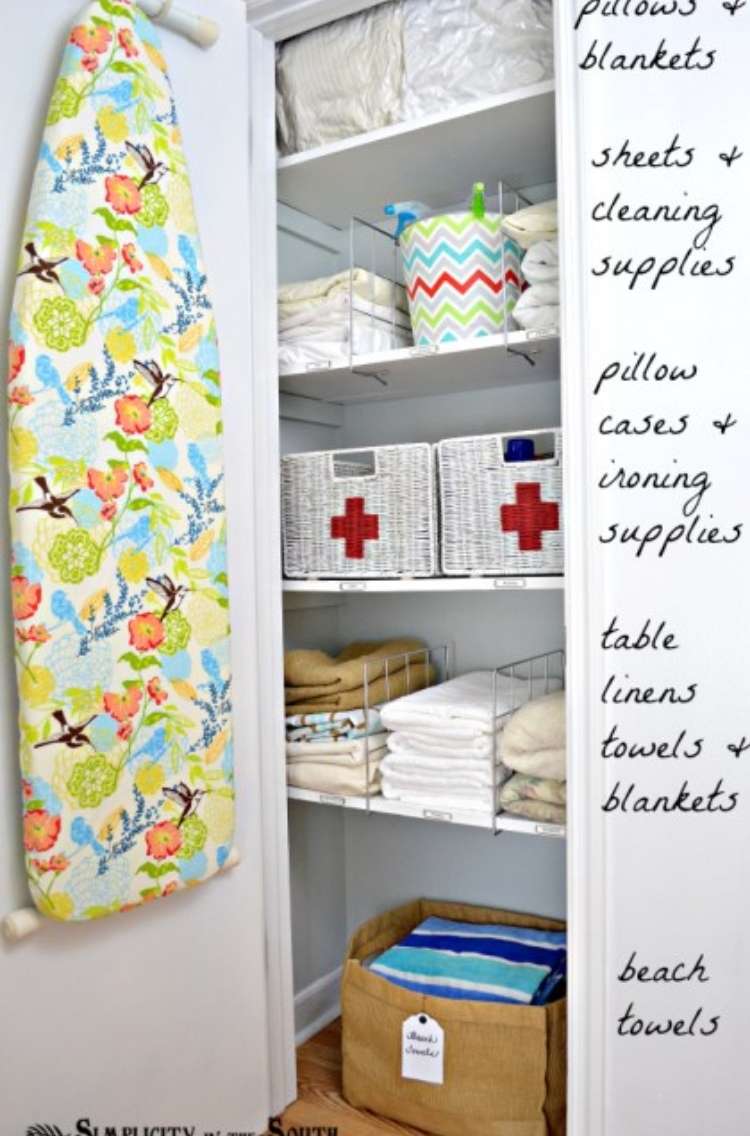 via Simplicity in the South
BONUS!  Back of Door Storage Ideas
If your linen closet also doubles as storage for your cleaning supplies, a shoe organizer is a great way to keep the cleaners organized. (See our other shoe organizer ideas.)
And while you are at it…please take a moment to recognize the genius of closet rod shoe organizers storing paper towels. This could work in a bathroom closet as well with toilet paper instead of paper towels.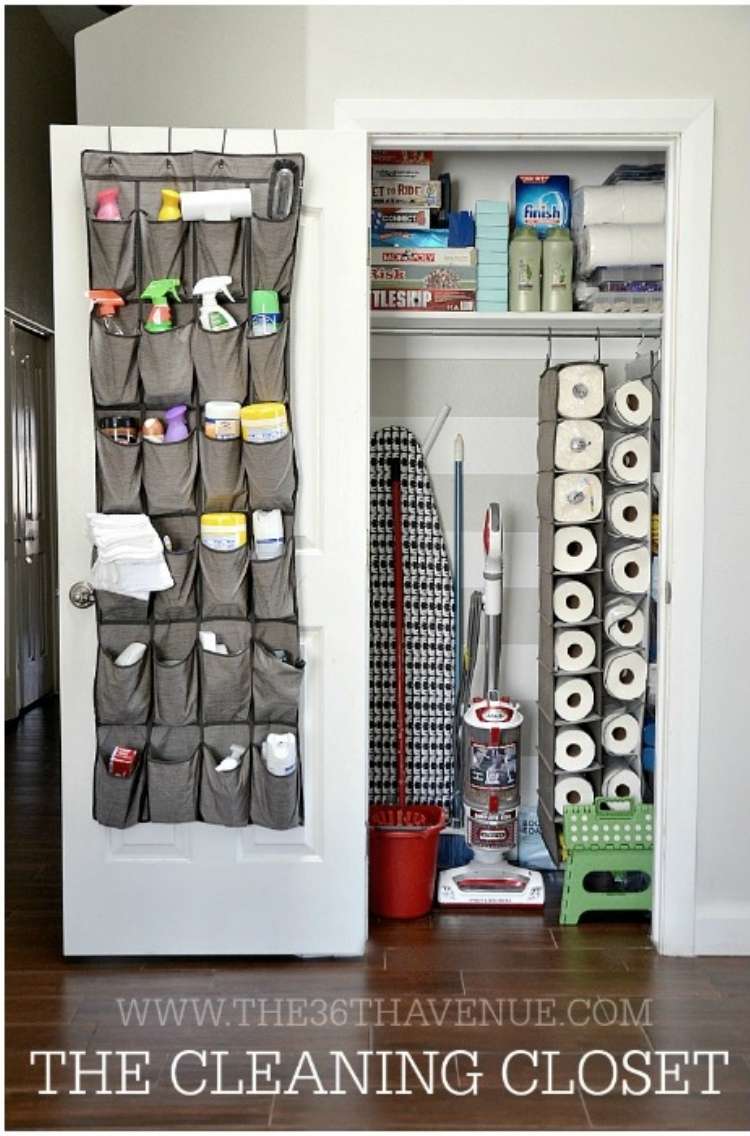 via The 36th Avenue
Small Closet Organization Solutions
It doesn't have to feel like the attack of the sheets every time you open the linen closet door which is the ultimate example of a small closet. Save yourself from chaotic towel piles, mismatched sheets, and orphaned pillowcases by using one (or more) of these amazing.
Which solutions will help you reclaim your closet?
More Closet Organization Ideas