For a quick morning meal on the go, nothing beats a breakfast smoothie. If you're rushing to get out the door every morning and just don't have time for a sit-down breakfast, you'll love this tropical-inspired Pineapple Banana Breakfast Smoothie, made with Silk® products. It'll fill you up and make you feel like you're on a tropical vacation… at least for a few minutes!
This is a sponsored conversation written by me on behalf of Silk. The opinions and text are all mine.
Pineapple Banana Breakfast Smoothie
When we're on the go, we don't always have time for a sit-down breakfast. I mean, it's nice when we do, but the reality is that we're often rushing out the door, already a few minutes too late. But with breakfast being the most important meal of the day, we can't just skip it, can we? No! Especially not when having a filling morning meal is as easy as drinking a yummy smoothie.
We always have a few different kinds of Silk Unsweetened on hand to add to our fruit smoothies. Our favorites are the Silk Unsweetened Coconut, the Unsweetened Almond, or the Unsweetened Cashew.
For breakfast smoothies, we rotate between a few healthy add-ins, like:
Oats
Almond Butter
Honey
Spinach (you don't even taste it in most smoothies… promise!)
Peanut Butter
Ginger (great in carrot and apple-based smoothies)
Protein powder (for a post-workout boost)
Yogurt (Silk even makes an almond yogurt so you can stay dairy free)
Today we're adding oatmeal in our breakfast smoothie. It fills the smoothie out a little more and seems to keep hunger at bay longer.
And before we get started with the recipe, I have a little tip: For the creamiest smoothies, freeze your fruit the night before. This keeps the smoothie thick and smooth, whereas if you have ice, it often tends to get a slushy texture.
Pineapple Banana Breakfast Smoothie Recipe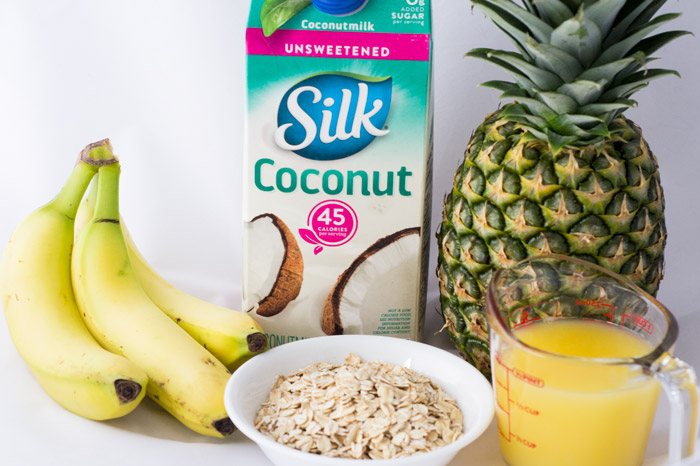 Ingredients:
3 cups frozen chopped pineapple
1 peeled and frozen banana
1 cup orange juice
1 cup Silk unsweetened coconut milk or almond milk
1/3 cup old fashioned oats or rolled oats
AND… We have coupons!!  Sign up to get your Silk products for less!!
Directions:
Add liquids (orange juice and milk) to the blender first, followed by the frozen fruit and the oats.
Blend and pulse for 1-2 minutes or until smooth.
If the fruit is not frozen, add 1-2 cups of ice to thicken the smoothie.
See how thick and creamy it looks? Now, pour it into a couple of glasses (this makes at least two BIG servings), garnish with a pinch or two of oats, and add a small wedge of pineapple to the edge of the glass to make it look like a pretty tropical drink.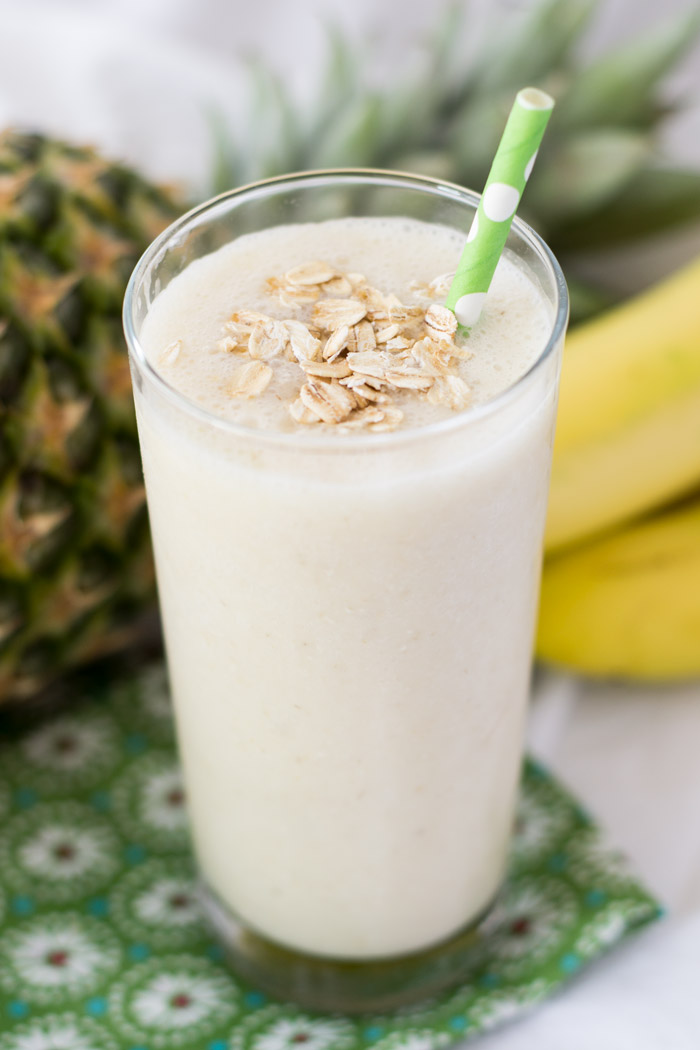 What's your favorite unsweetened Silk flavor to add to your smoothie?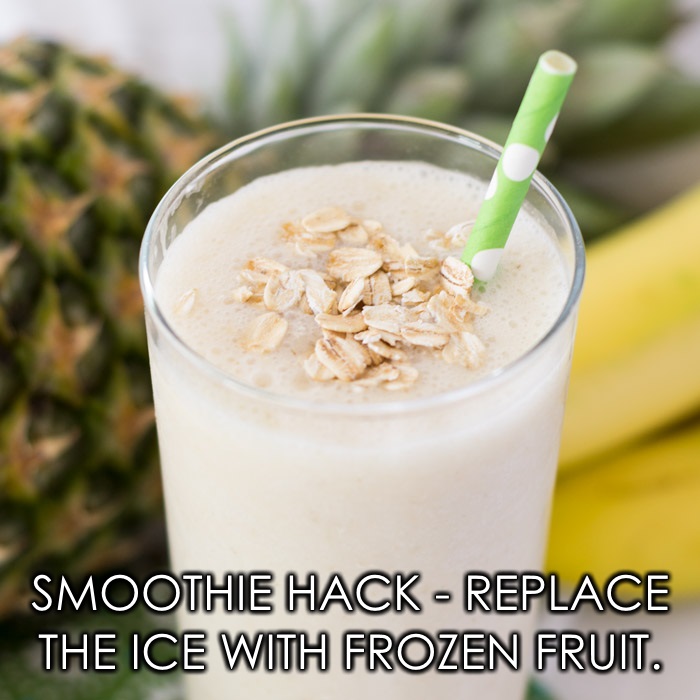 Many thanks to Silk for partnering with us in this post. To share your own smoothies, join us in using the hashtag #SilkSmoothies and tagging @SilkUS or @LoveMySilk. They are also on Pinterest, Instagram, Twitter and Facebook.