Hot breakfasts are where it's at on a cold morning. Cereal or a granola bar just won't do. But if your idea of a hot breakfast is toast, get ready for a kick to your tastebuds. These piping hot breakfasts pack a lot of flavor into the first meal of the day. They're so good, you won't even mind getting up early (or at least you'll feel a little better when you smell breakfast).
Piping Hot Breakfast Ideas
Don't miss our other breakfast posts:
15 Ridiculously Tasty Breakfast Quesadilla Recipes
15 Breakfast Casseroles That You Definitely Need to Try
Try something a little different with one of these Ultimate Breakfast Hotdogs. With potatoes, eggs, cheese, bacon, tomatoes and more, it's sure to fill you up and make you smile.
Not in the mood for a sweet breakfast? You can still enjoy your oats, but make it Savory Oatmeal with Cheddar and Fried Egg. What a hearty bowl!
These Easy Wrapped Breakfast Sandwiches are the ideal breakfast for weekday mornings. Send the kids off to school with full bellies that will hold them over until lunchtime.
For a piping hot vegetarian option, try the Southwestern Tomatillo Tofu Scramble. It's loaded with veggies and packed with flavor.
A Quick and Easy Breakfast Pie with sausage, eggs, hash browns and cheese really hits the spot when you wake up hungry.
Cinnamon Fruit Biscuits are an easy, hot breakfast that kids and adults alike will look forward to. You can use your own favorite biscuit recipe or refrigerated biscuits to keep things simple.
For those mornings when you just don't have time to prep a hot breakfast, Slow Cooker Apple Cinnamon Steel Cut Oats saves the day. You can put it in the crock pot the night before and wake up to a hot, steamy breakfast the next morning.
Breakfast Pizza isn't just leftover pizza that you eat the next morning. This version includes bacon, asparagus and Parmesan cheese for a unique and tasty flavor combination.
Or how about a Mexican Breakfast Pizza with spicy beef chorizo, tomatoes, cheese and hash browns?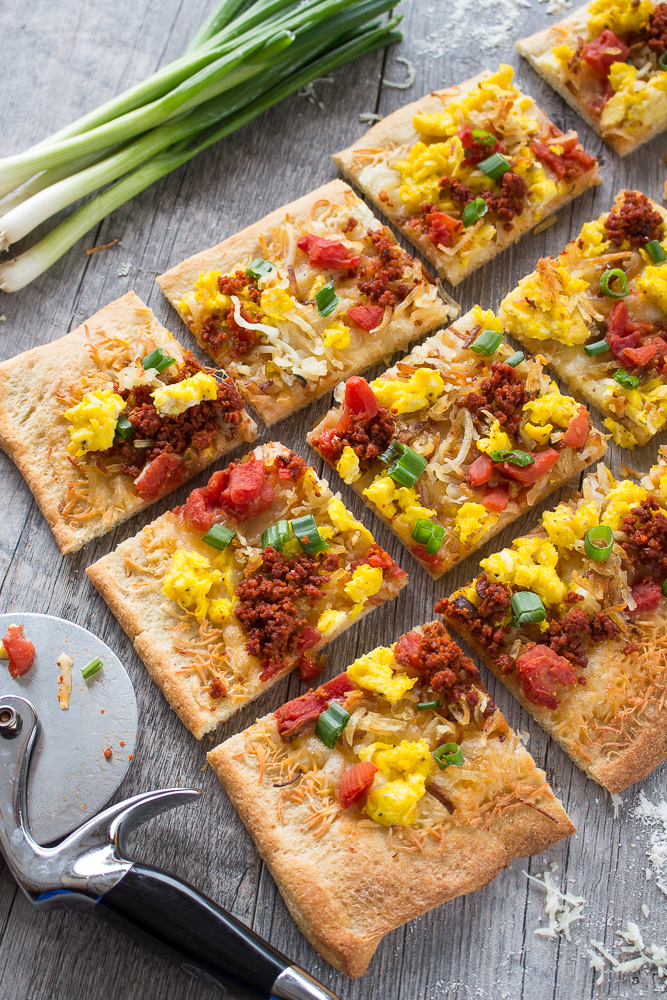 Sausage and Cheese Breakfast Quesadillas are tasty and so easy to make. You can have a hot breakfast ready in just minutes!
Or how about a Breakfast Lasagna? Layers of pancakes, eggs and sausage… drizzle it with maple syrup. Yum!
Don't feel guilty about having cookies for breakfast! Just make these Healthy Oatmeal Breakfast Cookies to get in some of the good stuff.
Creamy Baked Eggs with a thick slice of buttered toast will be a comforting morning meal on a chilly day.
I don't know about you, but my favorite breakfasts always include a heaping ladle of gravy. Try this Spicy Sausage Breakfast Sandwich with Chipotle Gravy if you feel the same way!
Breakfast just isn't the same without a mouthful of bacon, is it? This Bacon Breakfast Casserole bakes up in just 35 minutes, so it's perfect for a Sunday brunch!
Breakfast Burritos are portable, hot and delicious. Stuff them with your favorite breakfast fixings, veggies and cheese. Easy peasy!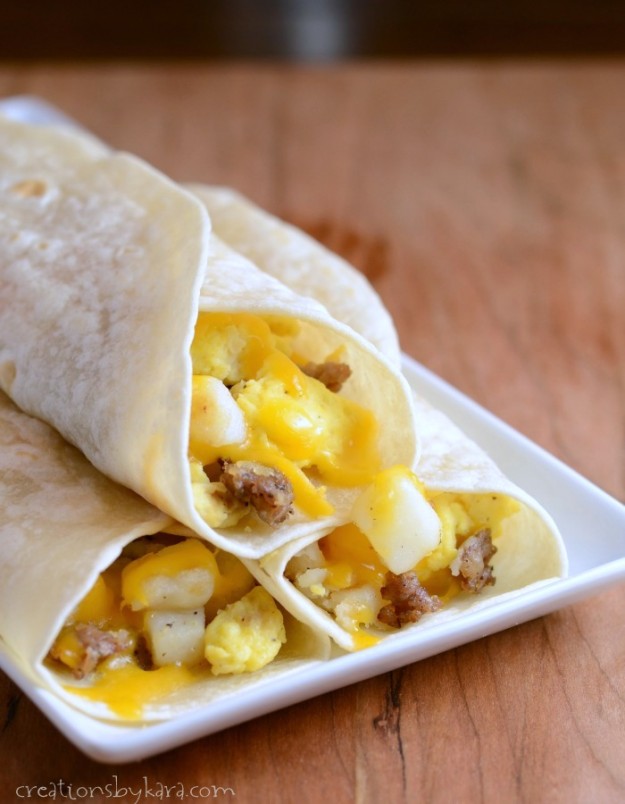 Around the holidays, you have to try this Herbed Breakfast Stuffing Casserole. It's a great breakfast for a crowd.
Even if you're on a grain-free diet, you can still enjoy a delicious breakfast sandwich. Try these Paleo Grain-Free English Muffin Breakfast Sandwiches with eggs, avocado and turkey bacon.