If you're a mom, you probably have hundreds of straws in your house. That's not just me, right? Aside from the kids using them to blow bubbles in their drinks (eww!), they're pretty handy for lots of other things around the house. From keeping your necklaces from knotting to fruit hacks, your life will be just a little easier for reading these drinking straw hacks.
Glue them to a cheap frame to make it more decorative.
Or bring along some spices to season your campfire food.
Curl your hair around straws and let it sit overnight to create cute ringlets.
Use one for pitting cherries. That's so much easier than cutting them apart!
Ways to Reuse Drinking Straws
Create your own DIY Pixie Stix. Your kids will think you're awesome.
Keep your necklaces from getting tangled by slipping the chain into a straw.
Stabilize wobbly flower stems in straws. You may want to use clear straws so as not to ruin the look of your bouquet.
Build a huge marshmallow tower using straws as connectors. Engineering skills are important!
Set up some plastic cups, insert q-tips into the straws and use them as darts to shoot the cups down. Fun!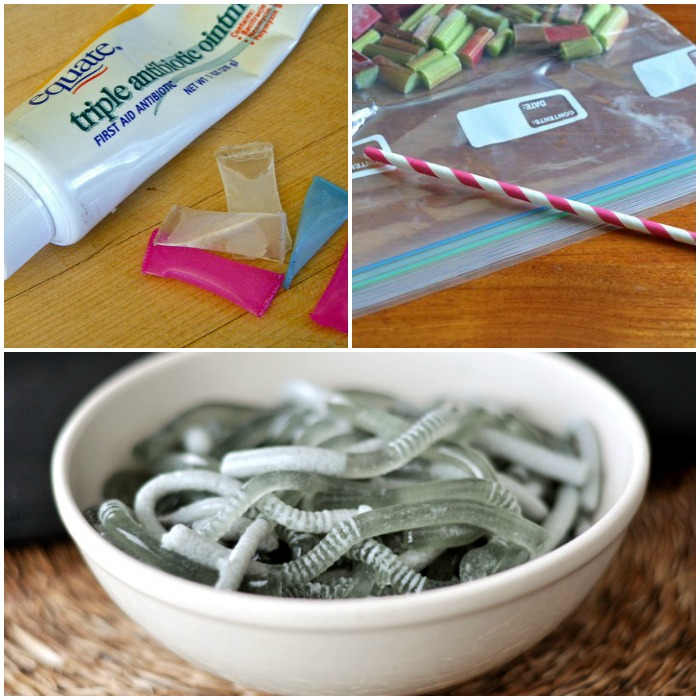 Straw Tips and Tricks
Making a tiered cake, use a straw to stick in the center of the cake to stabalize it. Simply cover with frosting and no one has to know it is there. Just remove once you cut into the cake.
No vacuum sealer on hand? Insert a straw into your baggies to suck the air out. (Not recommended for raw meats, etc.)
Take a straw and seal one end by melting it, and then pour in a spice you want to use. Do this for each spice you want to take, great for camping! Write the spice on the outside so you know which are which. I just use a lighter and melt the ends and with pliers seal it.
Make single-use antibiotic packs (or toothpaste packs, etc.) to use when travelings, mini first aid kits or survival packs.
Make Jello worms for a Halloween party or for a boy's birthday party. Heck, is there ever a bad time to have gummy worms? I don't think so.
Instead of pounding on the bottom of a ketchup bottle grab a straw. Use it to stick inside the bottle to break the seal of the ketchup, and watch it all pour out.
Melt the end of a straw with a lighter and push it to seal with a pair of pliers. Then pour in some SPF lotion and use for when you have a beach day. Single use lotion to later up with.
Open your bottle of wine and see a piece of the cork floating in the bottle. Use a straw to act as a suction to hold on to the cork piece and remove. Simply suck to create a vacuum, and cover your hand over the straw opening and pull out the piece of cork.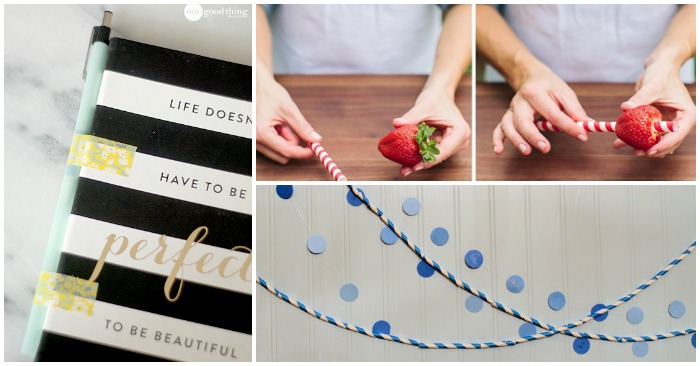 How to Reuse Old Straws
Attach one to the side of your notebook to create an instant pen holder. Smart!
Use a straw to remove the core from strawberries. So easy!
Make a garland for your next party.
Use your straw for a bubble wand next time you are outside playing with kids. Simply dip it in the bubble mixture and blow! You will create tons of small bubbles, kids will love it.
You can use a straw to cover a razor blade if you lose the cover. This is great to know for traveling, just slice the straw down one side, and use it to fold over the blade portion of the razor.
Use a straw as a label for cords. Cut off a piece of straw, slice it down one side, and slip it onto a power cord. Write what it goes to television, game system, computer monitor, etc. This works best with solid colored straws.
Ways to Use Straws With Kids
Below are a variety of activities and crafts you can sit down and do with your child. For zoning in and practicing fine motor skills, having fun and learning how things work, or creating fun crafts and sharing quality time. These are all wonderful ways to pass the time.
Teach your child how to measure with straws.
Grab some coffee filters, straws, pasta and a few other supplies and make these fun snowflakes!
Check out this obstacle course straw game, your kids will have a blast seeing who can reach the end the fastest.
Sit down with the kids and let them make these fun tulips out of straws!
Tackle this science experiment, How to make straw rockets! The kids will love watching them and making them!
A great scissors exercise for little kids, let them learn to make paper straw snowflakes.
Check out this adorable Paper Straw Ornament, that would make a great gift or even hang on your Christmas tree.
I love this bendy snake craft, we did these in school when we were kids, it was so much fun playing with it.
Let your kids have fun making these DIY Octopus Straw toppers to go on their drinks! A fun way to serve up a cup of juice or water.
Work on Fine Motor Skills with crazy straws.
This bee shooter craft is great for an outdoor BBQ or family gathering. Let the kids color their bees, place on top of the straw and blow as hard as they can to see how far their bee will fly! These are a huge hit and are so simple and fun to create.
Simple and Easy Paper Ghost will give your kids a smile and some fun time playing with them.
Summer straw shooters are easy to make and children will love to play with them!
With a little construction paper and a straw, you can make these https://www.firefliesandmudpies.com/paper-straw-flowers/paper straw flowers.
Love this Simple Flag craft, where you make an American Flag using paper straws.