Rubbing alcohol, also called isopropyl alcohol, is a multi-purpose tool that can be used throughout your home to disinfect, sanitize, and clean. Here are 18 rubbing alcohol uses that will blow your mind.
Have you ever gone to a neighbor's house and wondered why they had rubbing alcohol around? Wonder no more, these tips will show you 18 things you did not know rubbing alcohol was used for. I especially like the DIY hand sanitizer given how quickly that expense can add up, especially during flu season!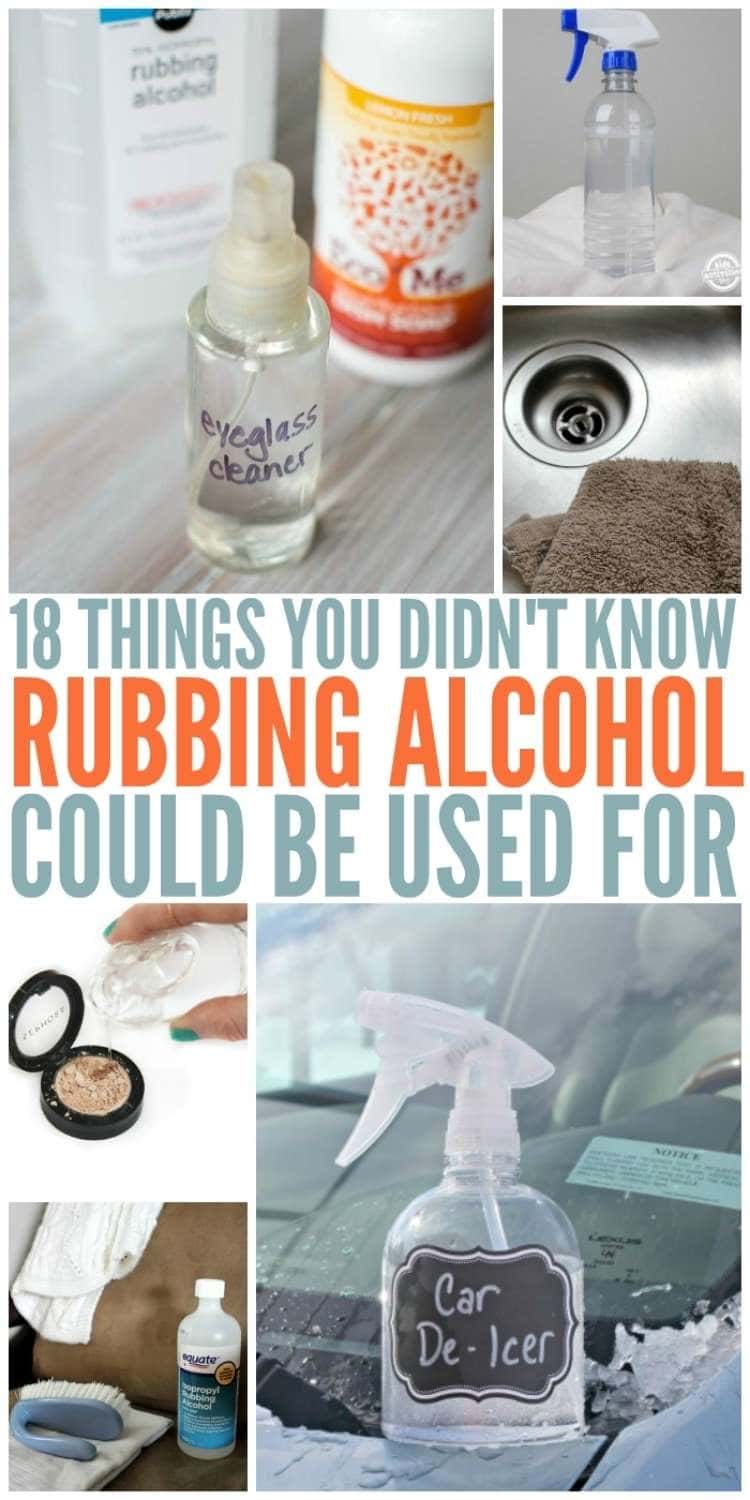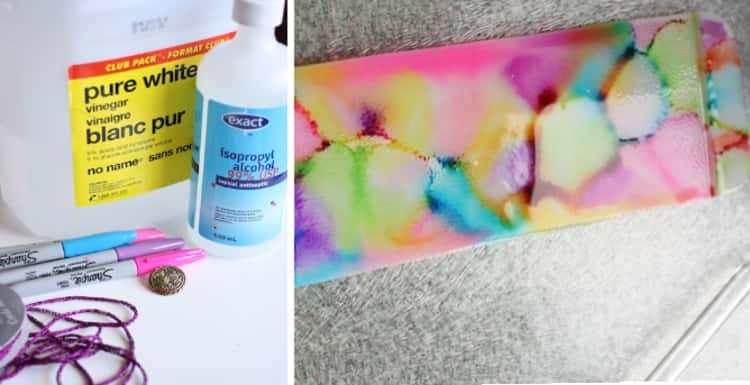 Genius Rubbing Alcohol Uses & Tips
Where to Find Rubbing Alcohol?
Before we discover how to use rubbing alcohol, we first must get it. Do you remember the rubbing alcohol shortage in 2020? Thankfully, there is plenty in the stores now, but it never hurts to be self-sufficient–especially when it is so inexpensive to make at home, and can be used for a million things–keep reading…
You can also check online (affiliate) for rubbing alcohol.
Rubbing Alcohol Safety
Here are a few things you need to know about rubbing alcohol to use it safely:
Rubbing alcohol is not meant to be consumed. In fact, if you drink rubbing alcohol, it can be extremely poisonous. 
This kind of alcohol is made from isopropyl, which is different than what you find in alcoholic beverages. Not only is isopropyl toxic to consume, it also has toxic vapors. 
When using rubbing alcohol with children, you should be extremely cautious. This is not a tool for them to use without supervision! 
Rubbing alcohol is flammable, so don't do any of these fun projects near an open flame, such as a candle. 
Now that we know where we can get rubbing alcohol, and we have learned about its hazards, let's explore how to put it to good use! From using it to remove bacteria, viruses, and stains, to making your own hand sanitizer, eyeglasses cleaner, dust remover for countertops, electronics, stainless-steel appliances, and more, here are 18 rubbing alcohol uses that you may not have seen before:
1. Make Tie-Dye Art with Rubbing Alcohol (to Make the Dye)
Want to completely WOW your kids? Rubbing alcohol, combined with a couple of other household supplies, creates the coolest tie-dye effect on just about anything! Make the dyes by mixing them with rubbing alcohol for the best results. Just remember to wear latex gloves as you dip your fabric in the dye. And be careful with the scissors, kids!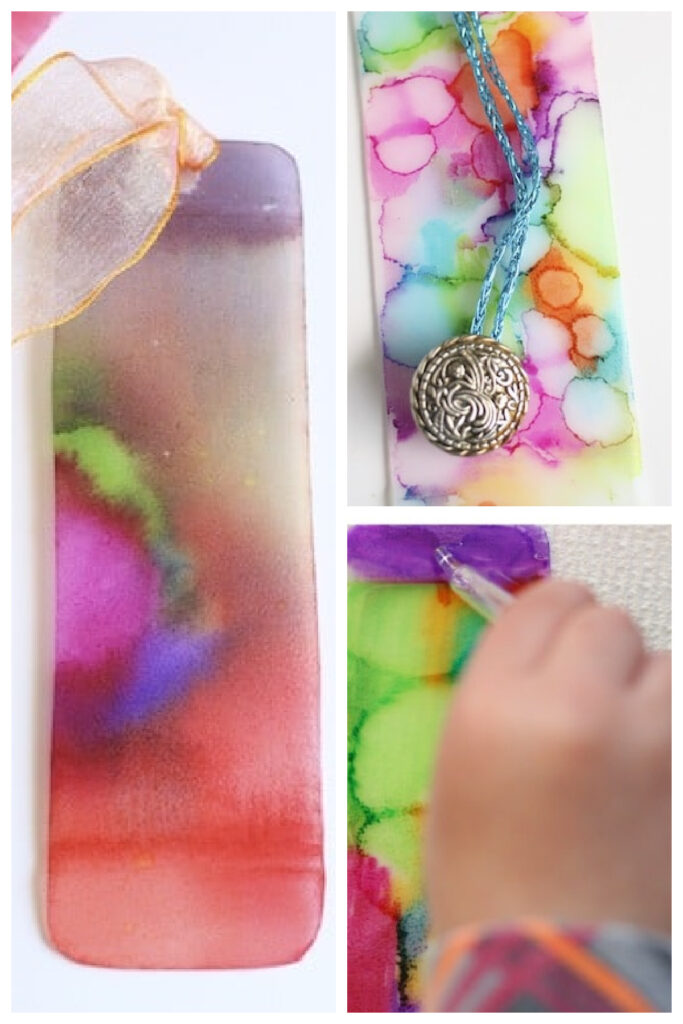 2. Make a DIY Air Freshener
Make your own DIY air freshener using your favorite essential oils. Bring together warm water, baking soda, rubbing alcohol, and essential oils of your choice in a hairspray bottle to custom-make your own air freshener. Boom!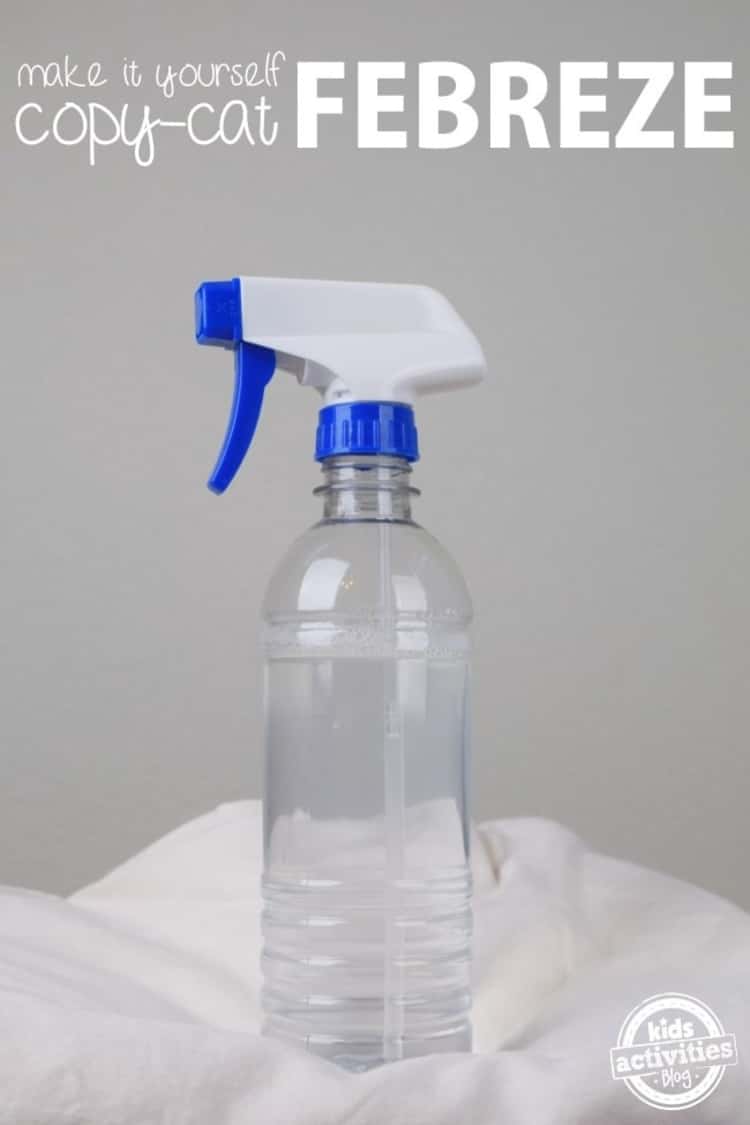 via Kids Activities Blog
3. Make A Car De-Icer Using Rubbing Alcohol
Prepare for the winter months by making a 2-ingredient car de-icer that works in seconds. This rubbing alcohol hack will melt that snow or frost from your windshield, car windows, and door locks in seconds. Prepare a spray by mixing equal parts rubbing alcohol and water in a fine-misting spray bottle, and you are set!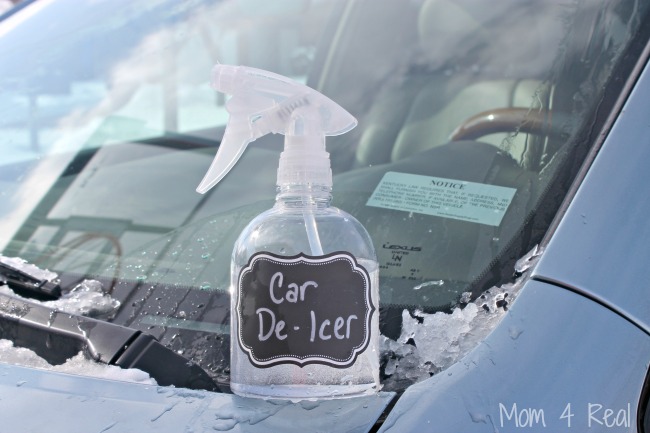 via Mom 4 Real
4. Remove Labels From Jars Before You Can Reuse Them
This is one of my favorite rubbing alcohol uses! You can use rubbing alcohol to remove labels (or fingerprints) from any jar. Instant containers to organize everything in your house! The alcohol washes the dye right off, and you have unmarked jars to reuse.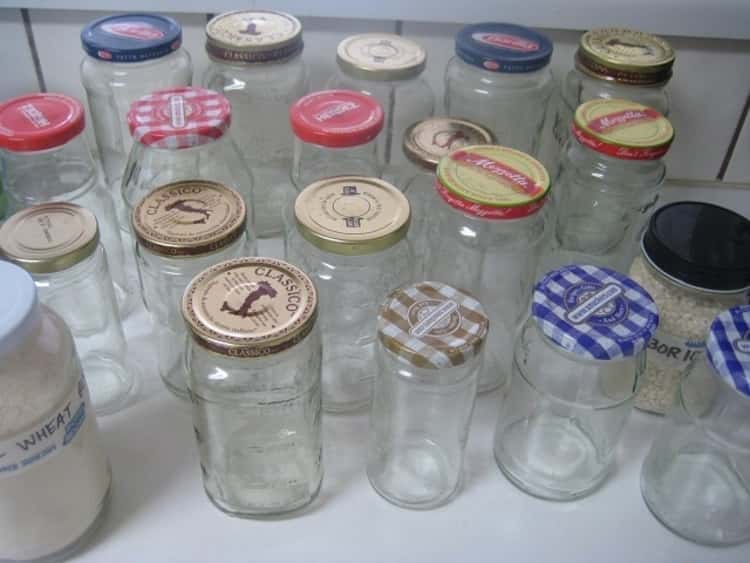 via Don't Waste the Crumbs
5. Use Rubbing Alcohol Clean Microfiber Furniture
Microfiber furniture is easy to maintain–until it gets really dirty or stained. To remove stains, spot-clean microfiber furniture garments with rubbing alcohol and a brush. You'll still want to remove the covers where you can to put them in the wash. However, since the alcohol can also stain the microfiber depending on color and type, I recommend spot testing this in an inconspicuous location before doing it somewhere noticeable.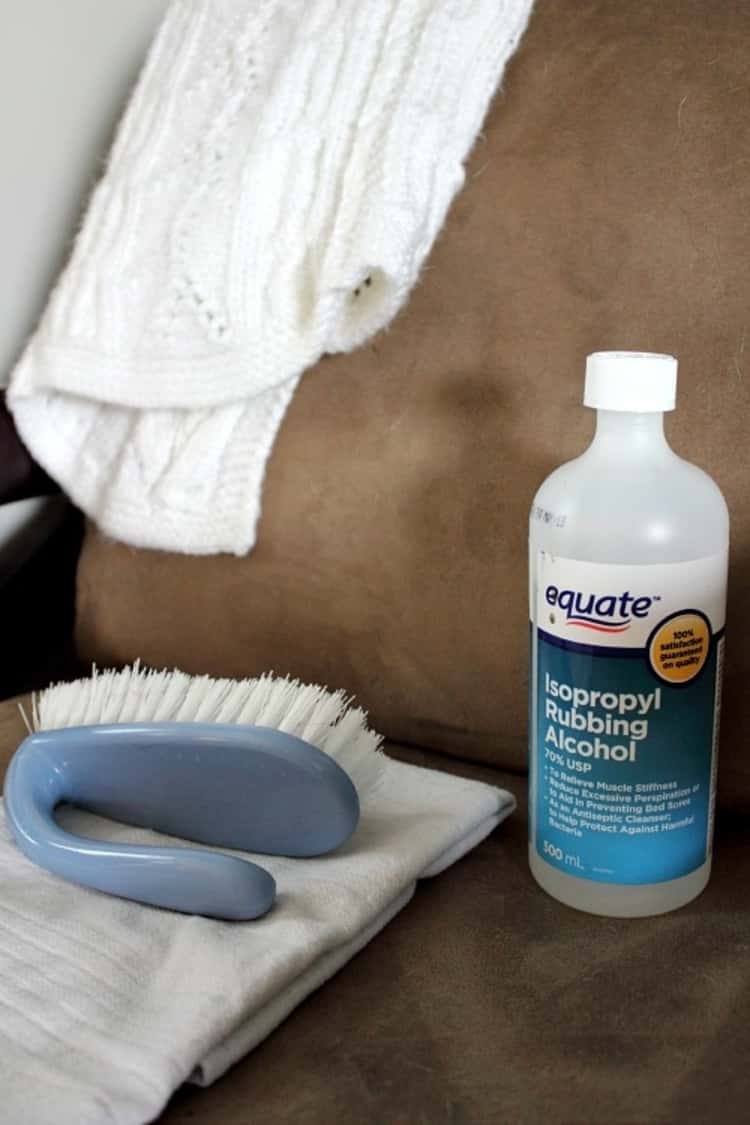 via The Creek Line House
6. Make a DIY Ice Pack
This is a super useful rubbing alcohol hack! Make a flexible ice pack by filling a baggie with water and rubbing alcohol. Throw the bag in the freezer, and you have a slushy ice pack that will flex over any curves, instead of those hard ice packs that only have water.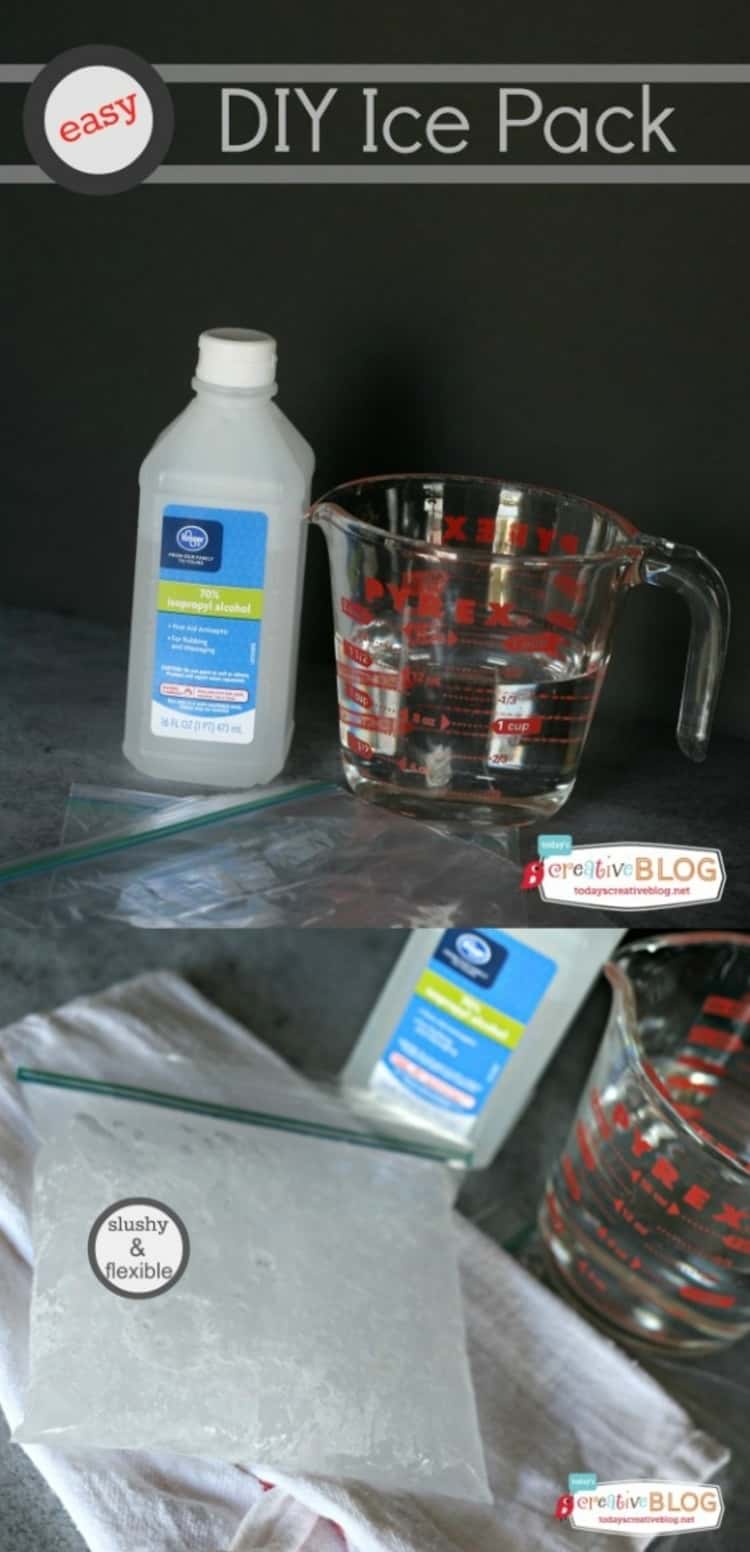 via Today's Creative Life
7. Marble Your Nail Polish
Get a marbled nail look with sharpies and a dab of rubbing alcohol. Works best after you paint your nails white.  It is simpler than it looks:
Start with white nails.
Scribble with a permanent marker on your nails.
Using a small brush dipped in rubbing alcohol, smear the color creating a beautiful watercolor effect.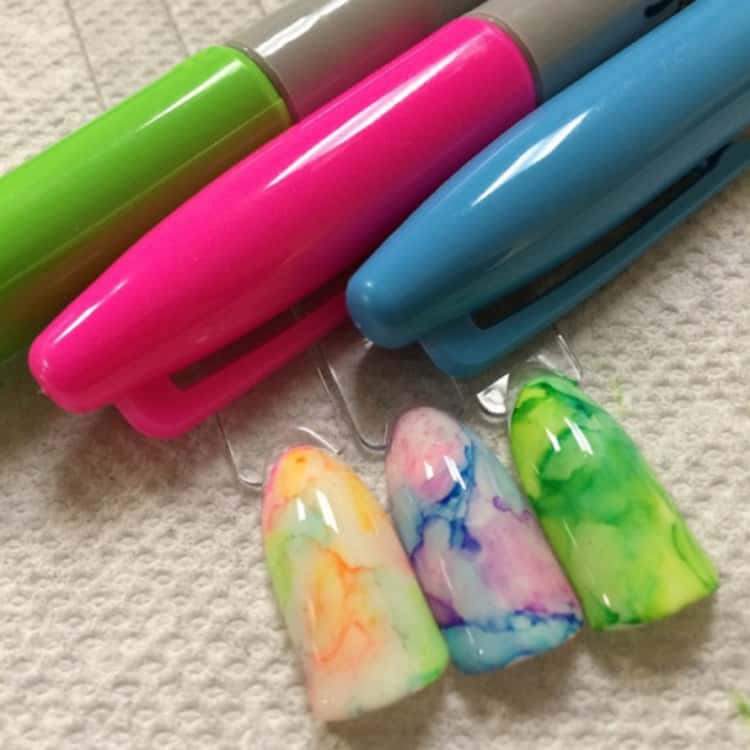 via Pimp My Nails
8. Level Up Artwork By Blending Colors Of Your Colored Pencils
If you're hunkered down with kids on a rainy or snowy day, try busting out the colored pencils. Show them how you can blend colored pencils in your (or your child's) drawings.
The alcohol breaks down the wax binder and allows the different colors to blend like paint. Just layer your colors, then dab over some alcohol using a Q-tip. The rubbing alcohol will mix the different color layers into a rich uniform color.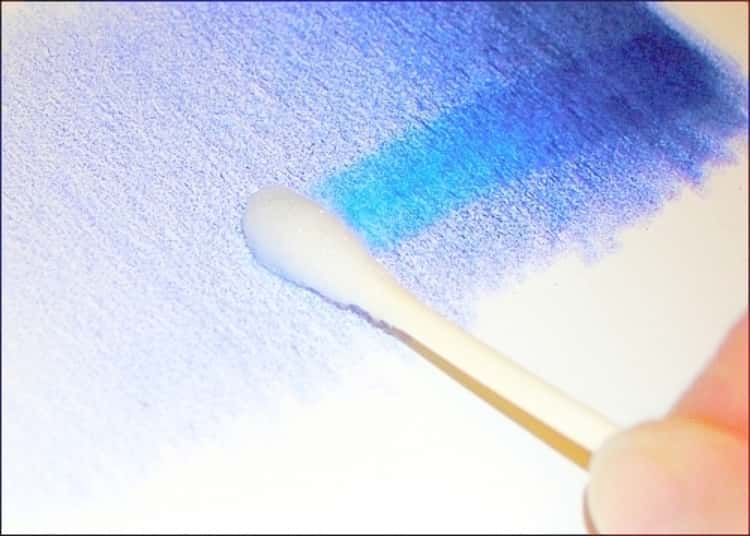 via Empty Easel
9. Clean and Sanitize Your Sink
Use it to get your sink super clean and shiny. This is one of the best rubbing alcohol uses in the kitchen! Just pour some isopropanol alcohol onto a dry kitchen cloth and wipe over the surface of your stainless steel sink. The alcohol rub will clean out any stains, or stuck food debris and sanitize your sink.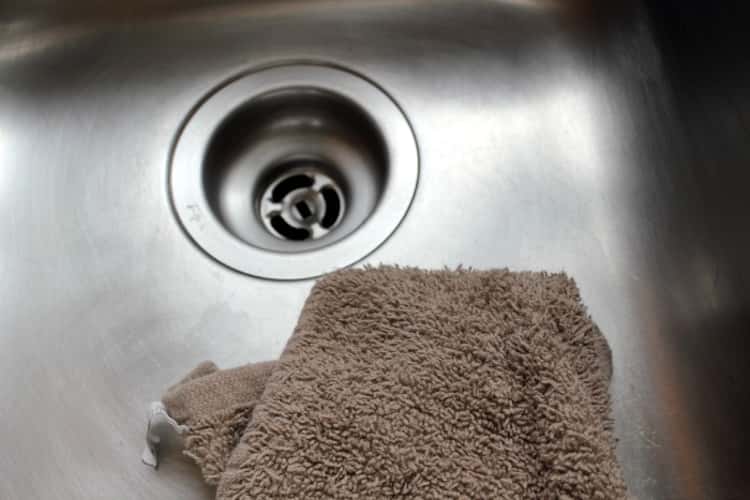 via The Creek Line house
10. Clean Stainless Steel
Similarly, you can remove spots from stainless steel with a cotton ball dipped in rubbing alcohol. I can't wait to try this on my refrigerator–I'm over all of the fingerprints! From knives and spoons that will simply not come clean with water and soap, to stainless steel fridges, rubbing alcohol will make easy work of cleaning, leaving them spotless. You can try this hack in cleaning laptops, keyboard, and your mouse, too!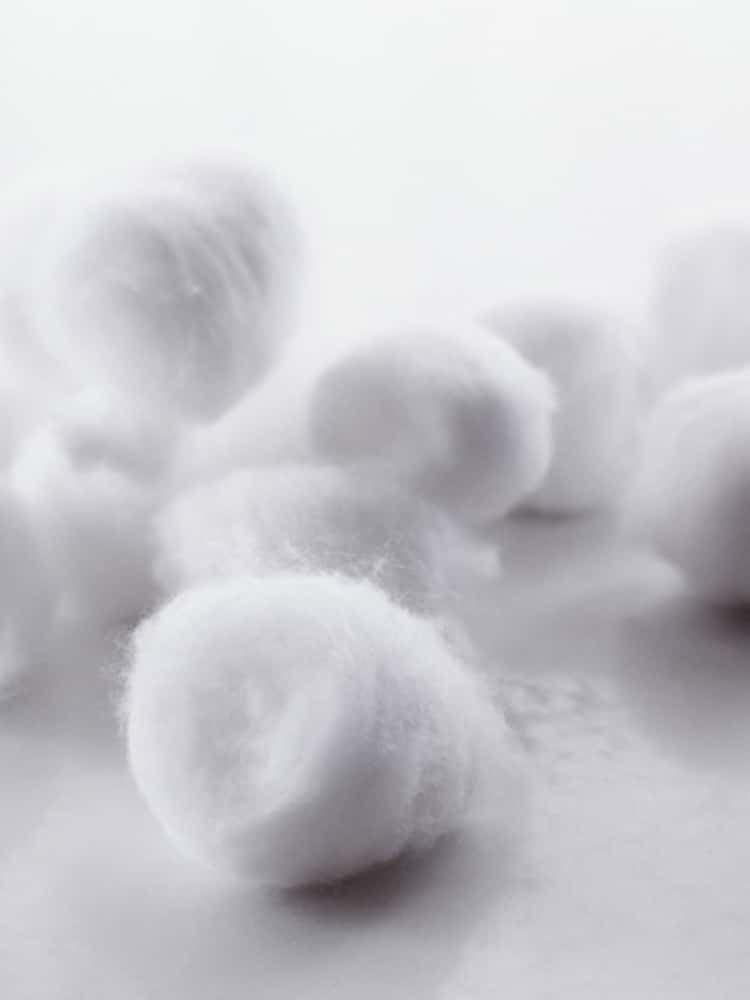 via Elle Decor
11. Remove Acrylic Paint From Clothing
If you have just completed your DIY painting project and have made a mess all over yourself, just wipe off the paint using rubbing alcohol. Get acrylic paint out of your clothes when the paint is still wet. Timing matters! Acrylic paint may be water-soluble, but it still leaves stains on clothes, so it is important to wipe it off before it dries.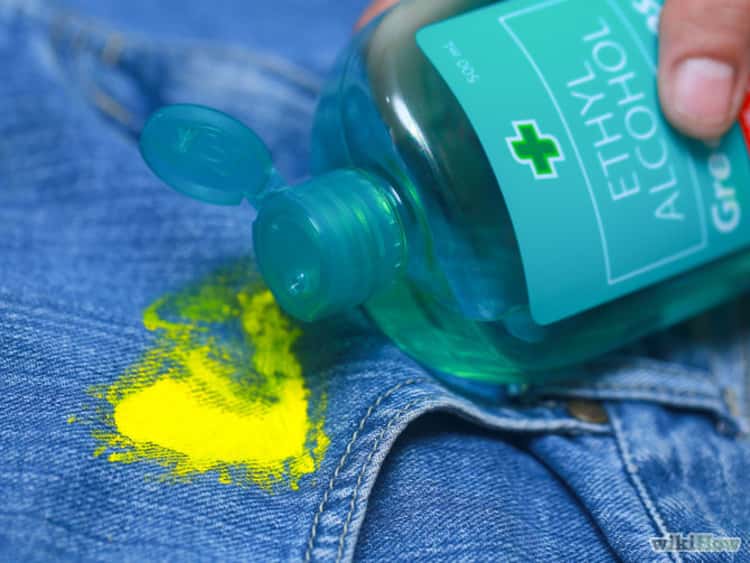 via wikiHow
12. Fix Broken Makeup By Re-molding, Using Rubbing Alcohol
Yes! One brilliant way to use rubbing alcohol is to fix broken makeup. Who knew rubbing alcohol could do that? Pour in a small amount of rubbing alcohol, mix thoroughly into a uniform paste, and mold the paste into the shape of your makeup container. Allow this to set for a few minutes, and your makeup will be restored. Easy peasy!!!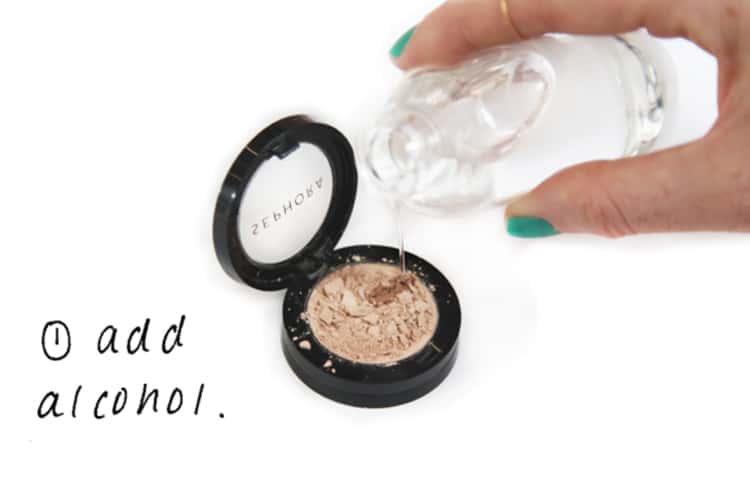 via Free People Blog
13. Clean Glass Bottles
You know those cool glass bottles you've been hanging onto in your garage? You finally have found a use for the bottles, but wait a minute, they are still cloudy after a good wash and you are contemplating throwing them away after all. Don't do that just yet, grab some rubbing alcohol and make cloudy glass clear again!
via Ask Anna
14. Clean Dry Erase Board
The markers we use on our dry erase boards are supposed to be easy to clean, but sometimes, they leave a stain of faint color all over the board when erasing. Or sometimes, in the heat of writing down an idea, you may confuse your markers and use a permanent one. Either way, get lingering marks off your dry erase board once and for all.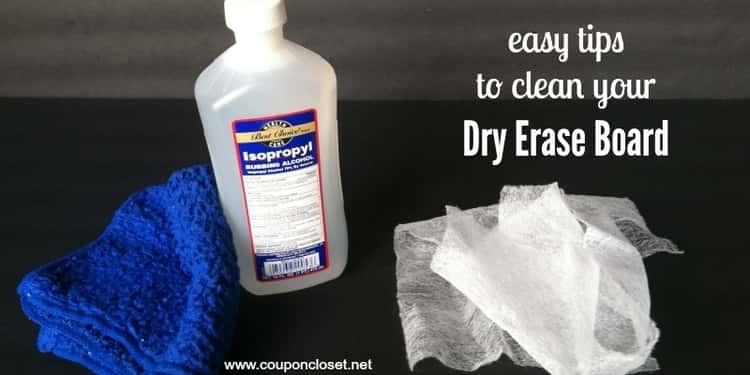 via Coupon Closet
15. Make Your Own Washer Fluid
Add a cup of rubbing alcohol to your DIY washer fluid to prevent freezing in the winter. Alcohol has a very low freezing point that will keep the water in the washer fluid from freezing. With this tip, you will always have a clean windshield even in the coldest of winter. Many people use road salt but it is corrosive to your car, rubbing alcohol works just as well without aging the car.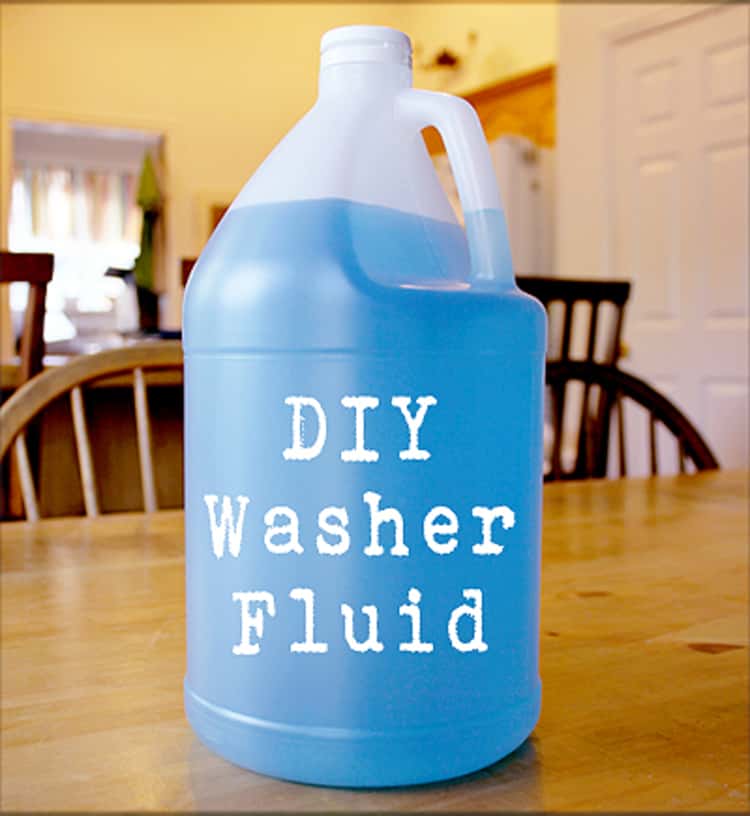 via One Good Thing by Jillee
15. DIY Hand Sanitizer
Hand sanitizer is so simple to make at home, and it's cheaper to go the DIY route, too! Make your own hand sanitizer, using rubbing alcohol in place of witch hazel in this recipe.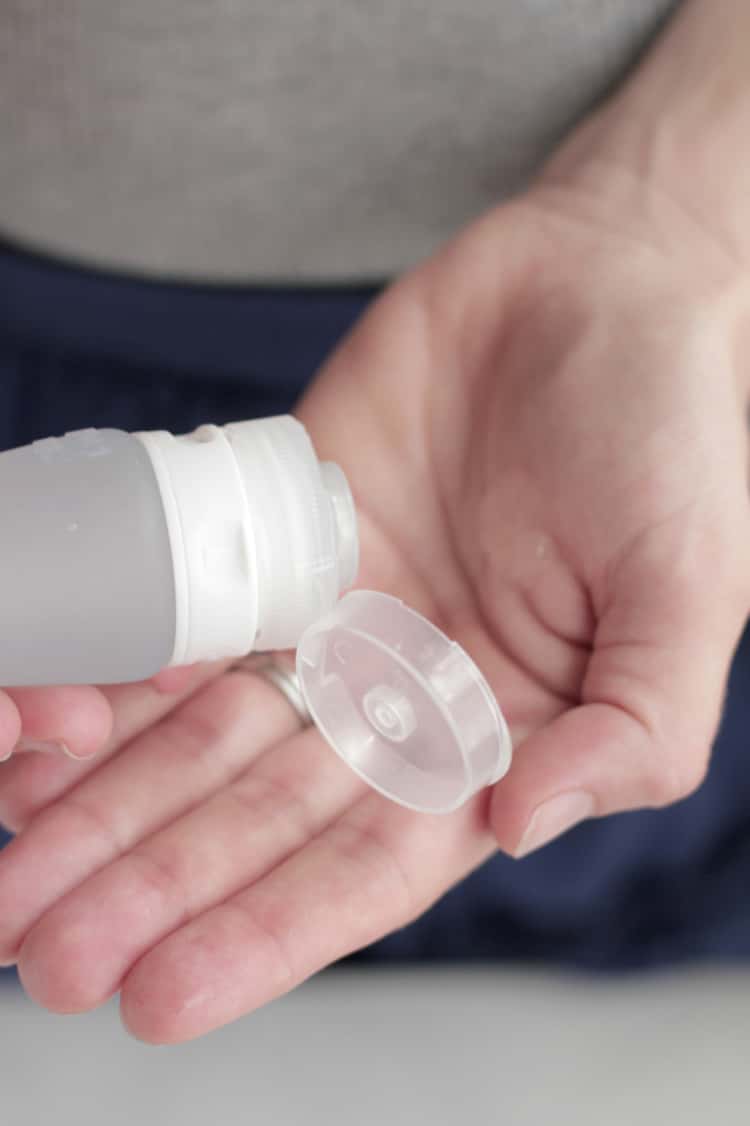 via Live Simply
16. Get Nail Polish Out From The Carpet
You left a mess on your carpet when you were painting your nails–worry not! You can use rubbing alcohol to remove nail polish from your carpet. Remember to do a spot test in an inconspicuous area first in case your carpet is dyed!
Here is another way to get nail polish out of your carpet using rubbing alcohol and hairspray!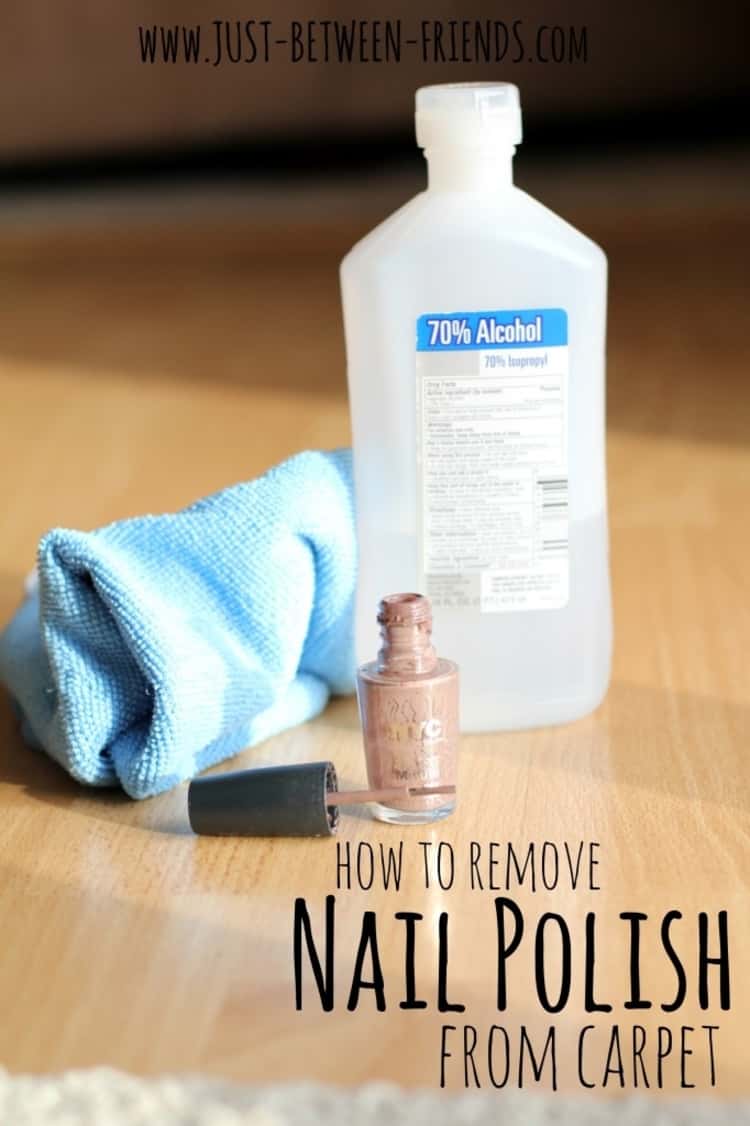 via Just Between Friends
17. DIY Eyeglass Cleaner
Anyone who uses eyeglasses knows how annoying and disabling they can be when they get dirty. Make your own eyeglass cleaner in a pinch. You might even already have all the ingredients at home!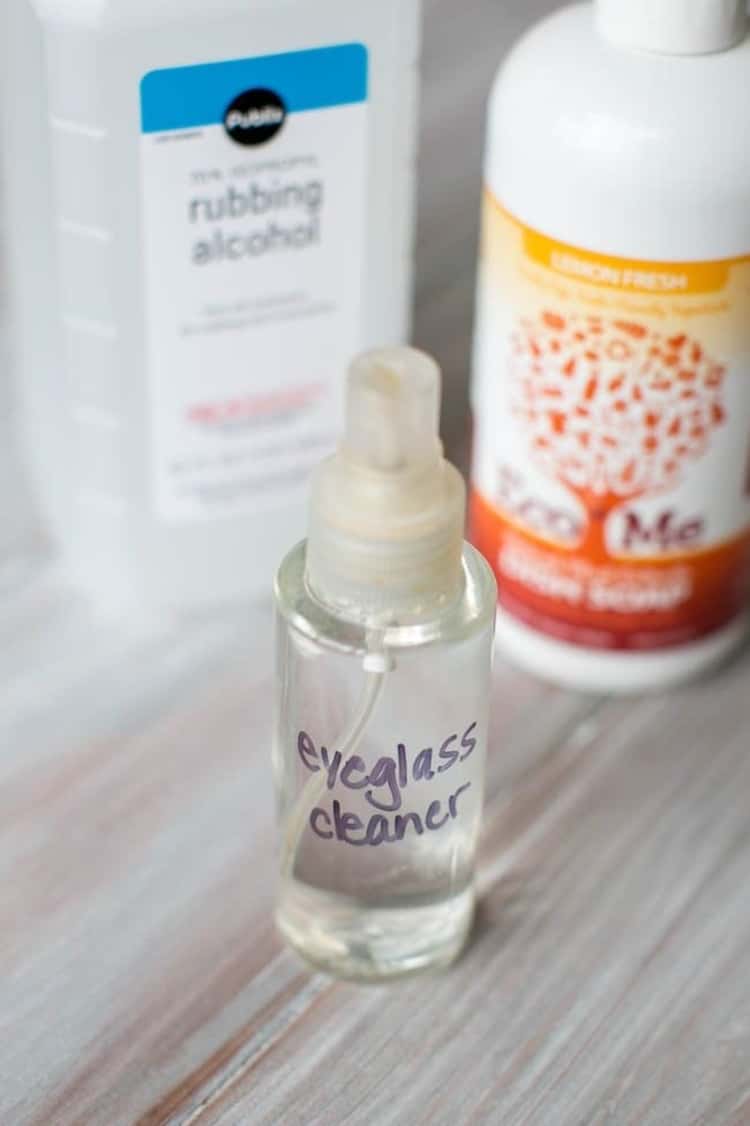 via Hello Natural
18. Make Colored Beans For Children's Sensory Play
Make your own colored beans for sensory play. I love this idea! Make different colored and scented beans by mixing food colors and essential oils in rubbing alcohol, and soaking in the beans. Children will have lots of fun learning different colors and scents!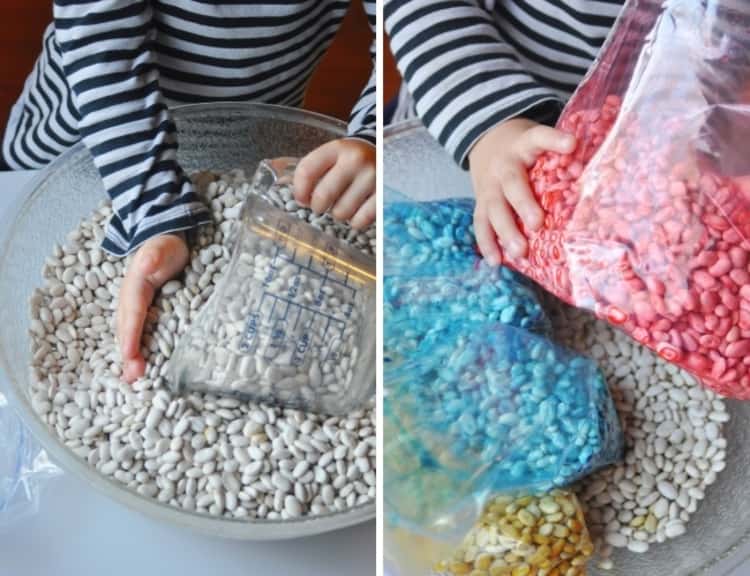 via Kids Activities Blog
Rubbing Alcohol Uses for the Whole Family
This is just a small sample of all the things that rubbing alcohol can do. It can be a valuable tool to keep stocked in your pantry for so many reasons!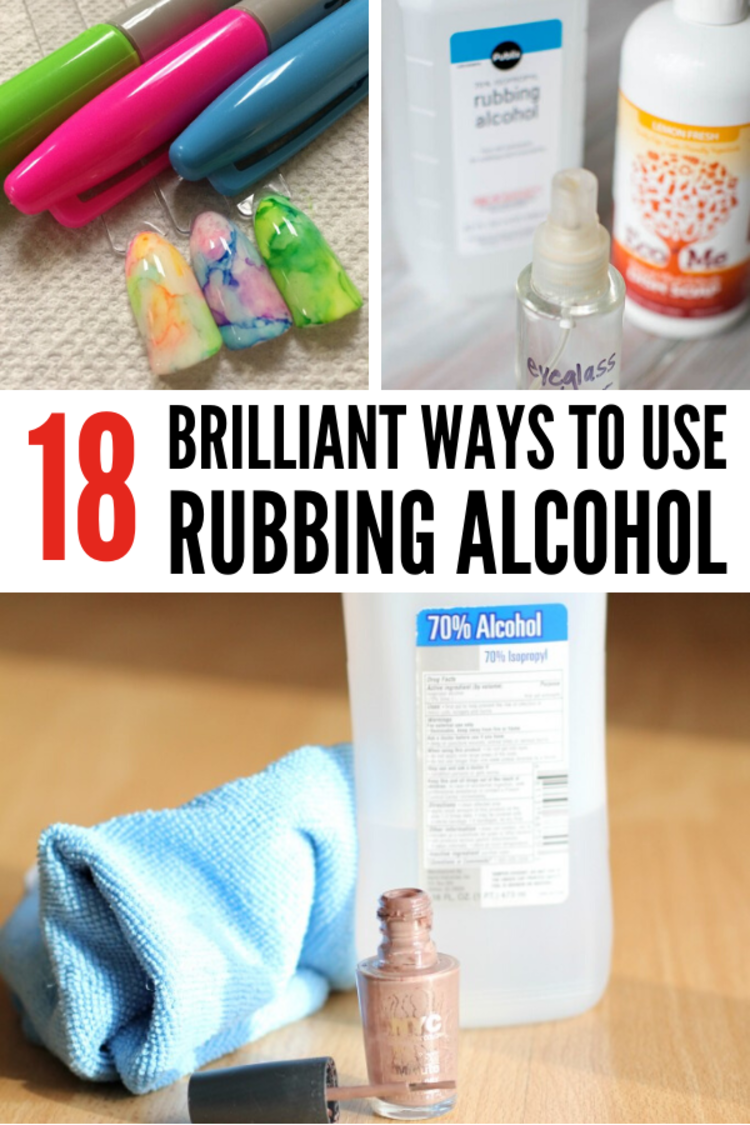 If You Loved These Tips On Different Uses of Rubbing Alcohol, Check Out These Ideas For Every day Chemicals In Your House From One Crazy House:
Which of these cool rubbing alcohol uses do you like the most? Let us know in the comments!