Are you a IKEA customer and looking out for some awesome Ikea hacks? People love IKEA furniture. It's like a clean canvas that they can decorate with whatever they want, however they want to make it fit their own unique personality and style. It is so fun to see how creative people get with all the fun Ikea furniture! However, IKEA offers products that are not only customizable, but also versatile and above all, practical. Seriously, you take these pieces and use them for almost anything! Just to prove it to you, we've pulled together 11 IKEA products that, with the right hacks and some creativity can brighten up any space.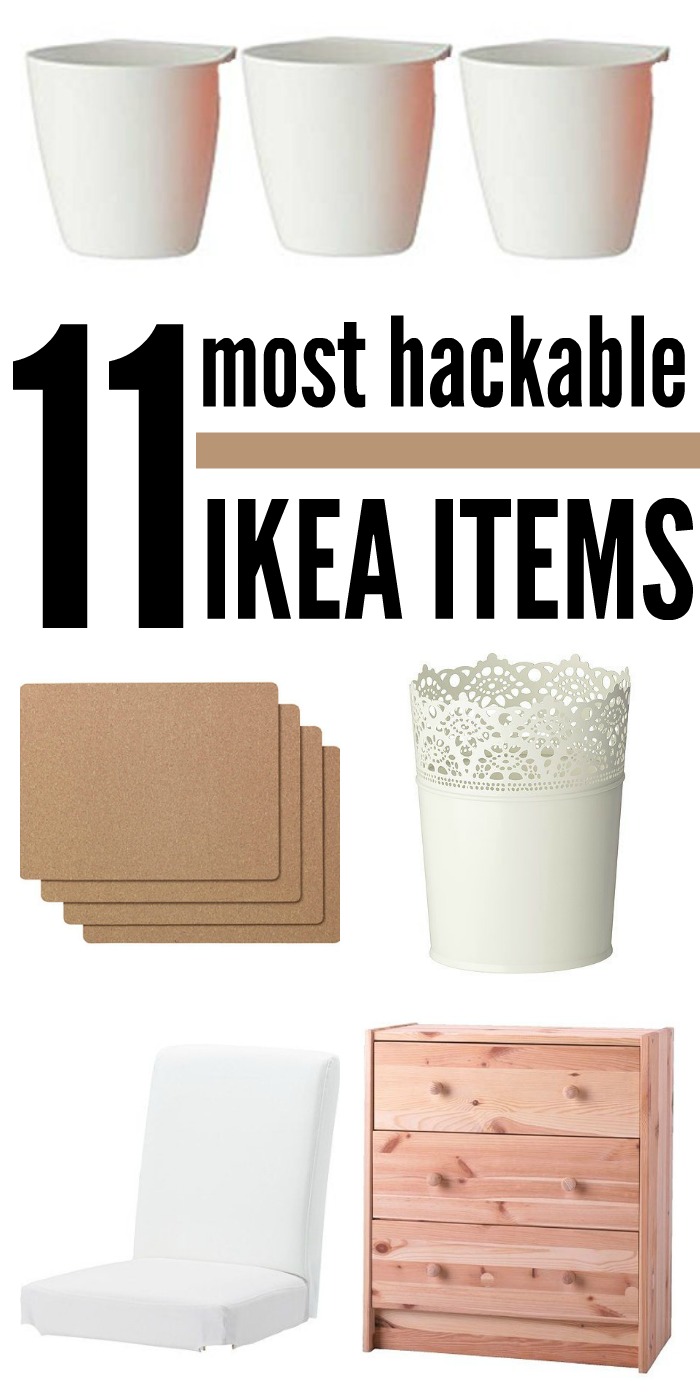 11 Products that Makes Ikea Hacks Simple
These magazine files can be customized so many different ways! Paint, fabric, paper, or fake flowers. I could go on and on you can take these plain white files and turn them into so many awesome things!
These drawers are great for an office or craft room hack! They make great storage and you can use several to create a desk or a large cutting table. The possibilities are endless.
These go great with the drawers above for creating work spaces in a craft room or office. They are also great for customizing with different finishes.
These pots are awesome for so many different hacks. Use them on a peg wall, in the kitchen, or for desk storage.
Paint these in a rainbow and hang them in the kids room as a book rack. Or use them in a million other ways!
Don't we love a clean slate like this to paint or customize? Paint them and then use a sharpie to add a hand drawn doodle! So many great options and hacks with this chest.
You know what you should try with these cool containers? The nail polish painting hack! You pour it in water (or something) and then it sticks somehow (google it!)
These can be cut to size, dip dyed, and hung from the ceiling to create an awesome reading nook.
These can be stenciled, painted, colored, cut, and glued. What can you not do with these basically?
This is another great blank canvas to work with. There are so many awesome hacks for this piece! You can use it in so many ways!
I recently saw an amazing cow print chair cover where all they used was a Sharpie and a white chair cover, you're welcome!
What did I tell you? The possibilities are endless. Like washi tape? Use it to make some storage items! Enjoy painting? Brighten up a dresser. Like a simple minimalist look? Leave the furniture just the way it is! Whatever your taste, you can make your space your own with these amazing IKEA pieces. Are inspired yet?