Summer break is one of the most celebrated times of the year by children of all ages, but especially teens. Who can blame them? They've been at school all year-long and are longing for summer break activities that scream fun, little to no responsibility and countless hours spent with their friends. For the few short months of summer, there is no homework, no deadlines and no waking up early trying to catch the school bus. Makes you miss being a kid a little bit, right?
Why not join in on the excitement and help them plan some great summer break activities to fill their days with? There are so many ways to keep your teen busy this summer that they won't have time to even think how quickly the time is going to pass!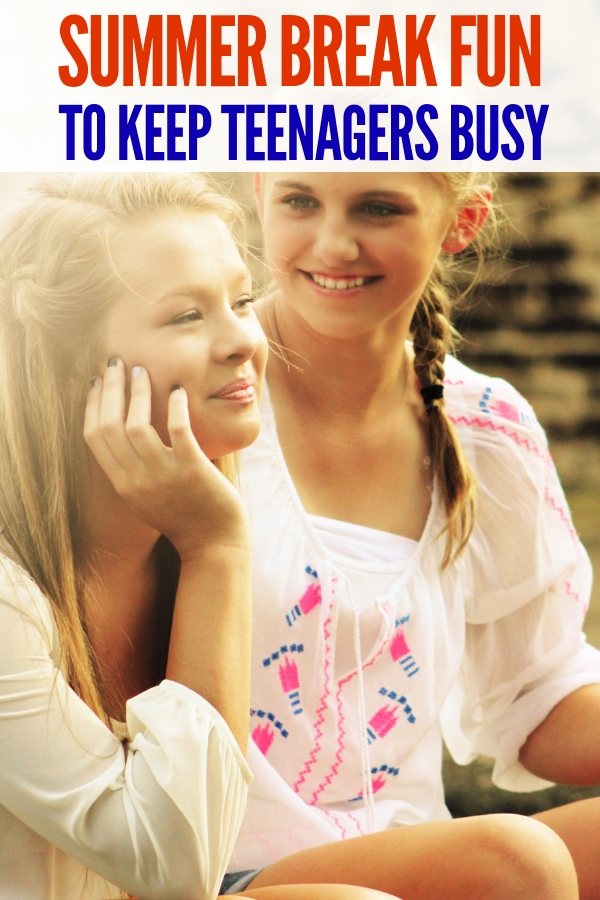 Summer Break Activities to Keep Teens Busy
1. Pool Membership
Get a pool membership for them to spend their days floating and swimming the days away. Who doesn't love the pool on a nice hot day?
2. Skate Break
Introduce a skateboard, roller skates, or roller blades to them and drop them off at the local skate park. Summer break is an excellent time for them to concentrate on and learn new tricks and skills!
3. Go Camping
Never just look at each other and wonder what to do!!  The Camping planner includes not only ALL the checklists you could need to make sure you don't forget the important necessities, but also a GIANT list of roughly 50 memory-making activities for your kids to enjoy while you are camping… and the best thing is it's only $7!!
4. Camp in the Backyard
Have them set up a camping expedition in your own backyard. No need to search high and low for a campground to send them off to when they can create a campground oasis right at home. Let them stock up on their favorite junk food, books and anything else that they want. Then watch them enjoy camping out under the stars.
5. Explore the Great Outdoors
Have them explore nature with their friends with a bike ride or a hike at a local park. Isn't the whole point of summer for teens to be out of school and outside enjoying the weather?
6. Break Camp
Find a local camp for them to attend that focuses on something that they love. Are they creative, athletic, musically inclined? There are probably summer camps or workshops locally that your teen would love to attend.
Learning New Skills During Summer Break Activities
7. Volunteer
Encourage your teen to find a local business/non-profit in town that they can volunteer at once a week. It's a great way to keep them active while helping others and also learning valuable skills that will help them in their adult life. So many places are searching for additional volunteer help that there isn't a shortage of options.
8. Biz Op
Let them start their own business to earn money for items that they are wanting to buy. Some kids like responsibility and want to earn some of their own money! What better time for them to stretch those entrepreneurial legs than by seeing if they can earn some extra money this summer with a business or side-gig of their own. Lawn mowing, dog walking, newspaper route? All possibilities!
9. Vacation Plan
Give them the task of planning out a vacation option for the entire family. While your teen may be able to be at home during the days of summer, that doesn't mean that everyone else in the family has that same choice. Have them research and write out different plans of where they think that the family would enjoy visiting together for a summer vacation, and then let them start making plans to make it happen.
10. Teen Bucket List
Best of all? Ask them what THEY are wanting to do and how they envision spending their summer break. Maybe they have great plans already determined in their mind and have a process in place on how they want to make it happen. If so, awesome. Having a teen who knows exactly how they want to spend their summer break is great! It shows that they are motivated to be active, and want to use their time wisely to ensure that their summer break is full of adventure, activities, and fun.