Is there anything better than summer sleepovers? Once that last school bell gives its final ring, your kid's minds are probably already racing about all the possibilities of summer sleepover ideas. In their thoughts, they are envisioning days upon days of staying up late and having fun with their friends…but in your mind? You're thinking of ways to help them have some awesome summer sleepovers! Don't worry. Sleepovers in themselves are total fun, but in case you are looking for a few ways to spruce it up a bit, here are a few suggestions for some awesome summer sleepover ideas!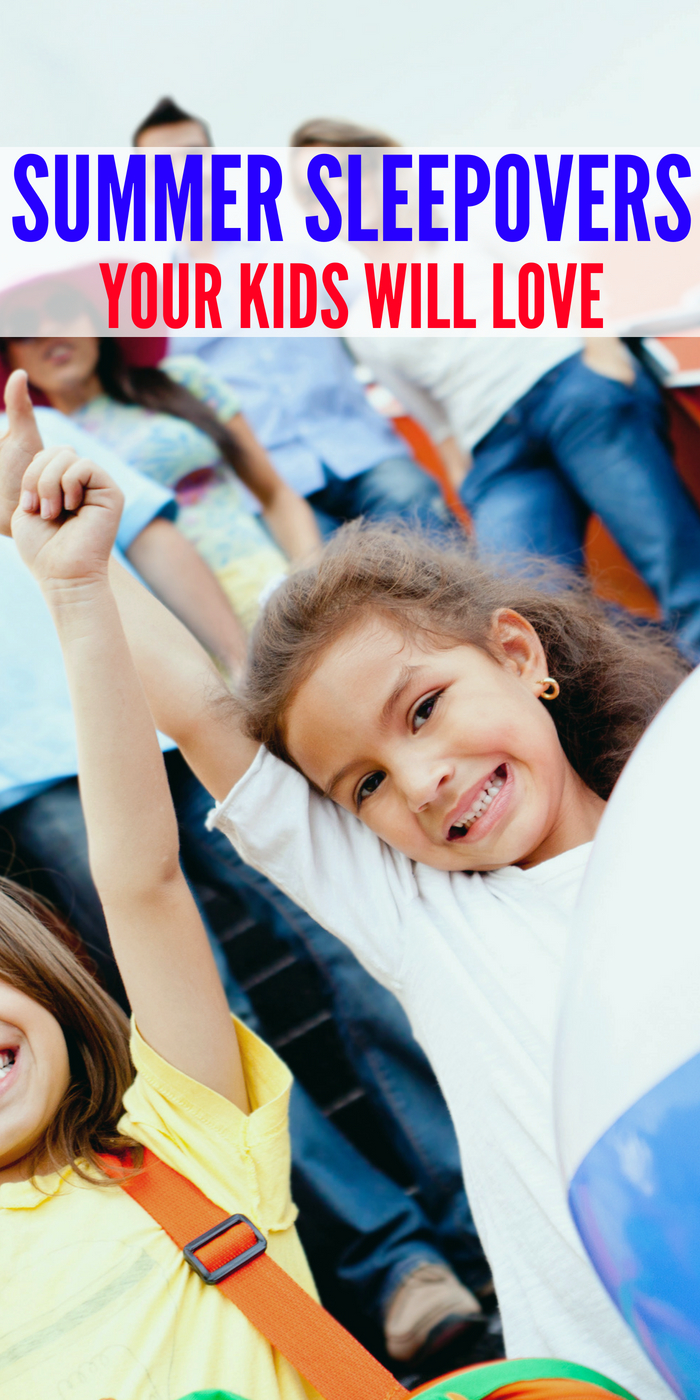 Summer Sleepover Ideas Your Kids Will Love
Movies for hours!
Most times, this is a big no-no and a red flag, right? Who wants to let their kids just sit around and watch movies for hours and hours? But for a sleepover? This is a MUST! Let your kids peruse all that Netflix has to offer or better yet? Have everyone who is coming over for a sleepover bring 1-2 of their favorite movies. It's so much fun to snuggle up and laugh the night with away with your friends.
Snack Attack!
What sleepover would be complete without making certain that your child and their friends are set for days upon days with snacks galore? You never know when they may crave chocolate…and the next moment fruit. Be prepared by heading to the store and stocking up on some of those much-needed snack items. Great contenders are always popcorn, chips, fruit, veggies and anything sweet.
Camp-out fun.
If you love the idea of hosting a camp-out, but know that you need a bit of peace and quiet as well, then why not let them have an awesome summer sleepover in the backyard? Let each guest know ahead of time that they need to bring their own sleeping bag and pillow and you'll take care of the rest. Sitting up a tent in the backyard is super easy to do, and you'll kid and their friends will love getting to sleep out under the stars! Plus, you'll get your rest as well.
Water madness.
Is there anything better to beat that summer heat than to have a little bit of water fun planned for your kiddos sleepover? There are only two rules: everyone involved has to bring their own swimsuit, and everyone better prepare to get soaked. Fill up the water balloons, have the slip-n-slide ready for action, and dust off those super soakers and let them have a blast!
Breakfast bar!
With all the energy that they are going to be exerting the evening prior, why not plan an epic breakfast bar for them in the AM? Pancakes, waffles, eggs, sausage…you name it, have it ready for them. There's nothing better than waking up starving to find out that a feast is waiting for you. And the best part? Don't forget the awesome toppings! Chocolate syrup, nuts, honey, even a bit of M&M's! Sounds like the perfect way to end an awesome summer sleepover.
Selfie Stick Fun.
We all know that everything in life revolves around getting the perfect selfie. Not only will your child and their friends love having the chance to take selfies throughout the duration of the sleepover, but selfie sticks also make an awesome party favor. From the moment that they arrive at your home, gift them with the gift of a selfie stick and watch that smile light upon their face. Let them know that their challenge, should they accept is to get the most epic selfie picture ever. At the end of the sleepover, you'll be the judge of the best selfie, and the winner gets a fun prize. Plus, they get to keep the selfie sticks as well!
Hosting a wild and wacky summer sleepover is actually a ton of fun! Think about all the things that you loved to do as a kid at a sleepover and incorporate that into your child for their sleepover fun. Part of the perk of being the host is that you get to plan and see everything unfold before your eyes. Trust me when I say you'll be hearing giggles and laughter all night long during the sleepover! And if that isn't the sign of a sleepover success, I don't know what is! Also, check out these fun and budget-friendly summer activities you might want to do as well.
What do you recommend for making a sleepover a success?