If you struggle with decluttering because you get overwhelmed easily, you might benefit greatly from these decluttering tips listed below.
If you find that maybe some rooms in your house are more messy and cluttered than others, or even after you clean you still feel overwhelmed by all your stuff, these tips really might help. Don't wait for a large block of time to clean and declutter, start today. Work in small time frames and before you know it you will see a huge change in your home. I will share numerous ways you can start to stay on top of things, tackling clothes clutter, and more.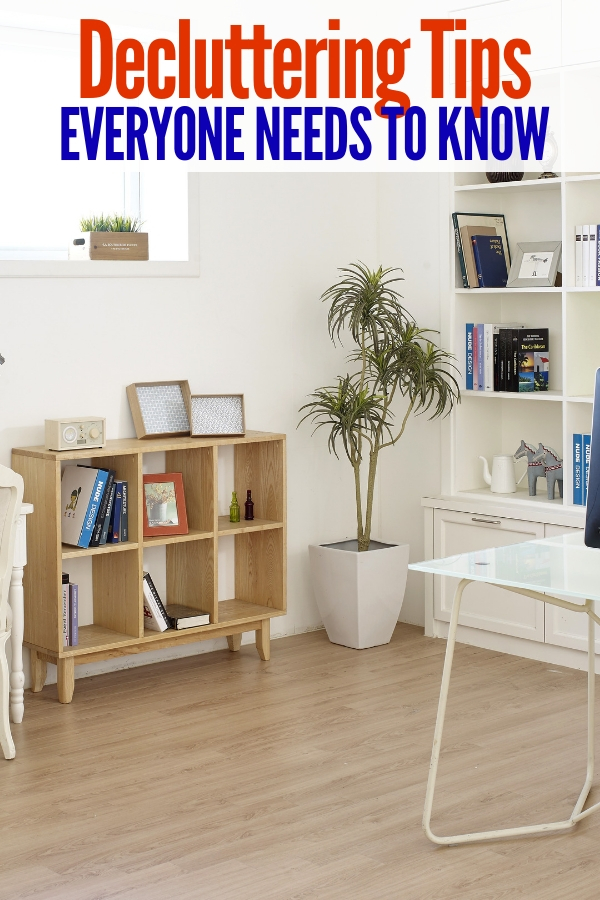 Decluttering Tips, Tricks, and More
Here are some tips and tricks to help give you guidance with the start of your decluttering. I will share a variety of items you might be interested in reading!
Here is a monthly decluttering schedule you might consider following. This is a perfect way to create a routine so you automatically tackle any new clutter that is building up. Keep your home fresh and clean all year round.
If you lack the motivation to actually stop and get to work, you are not alone. Here is some decluttering motivation to get you geared up to work.
After you start the decluttering journey you might need help with decluttering regularly and this article has tips on staying on top of your clutter in your home.
Here are great questions to ask yourself to know if you are ready to part with the item, or if you might want to hang on to it for a while longer.
Lastly, here are three more things you need to declutter once you have finished decluttering the home that you probably forgot!
Specific Decluttering Tips For Areas Of Home
Here is a quick video you can watch to learn how to declutter your kid's toys. If you have kids you know that they pile up extremely fast, especially after any holiday or birthday!
Tackle your closets and get to decluttering your clothes and accessories that might be piling up on the floor or stuffed on the shelves!
We have an area in our home that gets a lot of the catch-all junk each day, it is our kitchen counters. Here is a great post on cleaning off your counters and keeping them clean.
If you like your family game night, you might find you have an excess of games for you and your family to play. Here is a great way to even tackle any clutter with all your kid's games.
Have an abundance of movies or CDs? Check out how to find a way to organize your CDs and movies once and for all. Find a home that has a rhyme and rhythm that doesn't stress you out when you see it.
Desks are something that without even knowing you are doing it get to be a mess. From just shoving things in drawers, possibly piling up junk, keep your desk looking crisp and clean!
This is a great declutter for hall closets or any closets that become a catch-all in your home. This is on my agenda for this year, get more organized in closets!
Do you save grocery sacks from your shopping trips? If so save them without the huge pile shoved in a drawer that is over-flowing with madness.
If you have a cupboard for cleaning supplies you might benefit from the organization, I know mine could use some help!