When you think of a baby shower, what comes to mind? If you're anything like me, you probably think of fun gifts, baby gear and playing silly games.
A baby shower is more than just the gifts. It's a party where friends and family gather to celebrate and have fun together. However, baby shower planning requires a little bit of finesse, because you need a party that's focused on babies, while still entertaining grownups (the people actually attending the party).
Moms-to-be love being showered with love (and lots of baby essentials) at their baby's shower, and rightfully so! Once that baby arrives, the focus will shift from the mom to the baby for a bit.
Baby showers should be like the moms (and babies) they are celebrating: special and individual. We've all been to the traditional pink or blue showers. Now, however, with the endless possibilities of interesting and out-of-the-ordinary themes, baby showers are more fun (and memorable) than ever.
What is a baby shower theme?
Most baby showers feature the same traditional staples: gifts, food, and games. Add an even greater sense of fun to an already festive event by choosing a theme! Get creative and allow yourself to throw a shower with plenty of personality.
A theme is the main idea around which to plan the food, decorations, and even games for the party. The theme can be very simple, like a favorite color of the mom-to-be, or much more elaborate such as a favorite storybook or vacation destination.
No matter what you choose, your baby shower theme can help draw a common thread for the party's decor, food, and activities.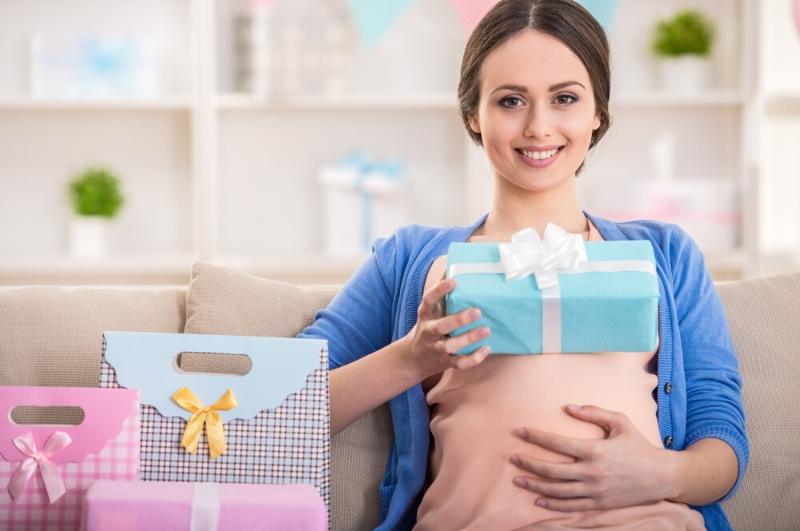 Do baby showers need a theme?
Not at all. You don't need a theme to throw a fabulous shower, but having one can make planning much easier. The theme guides you in organizing all the details. Plus, themed showers are a lot of fun!
Whether you're going classic or modern, or simple or more elaborate, the theme you pick doesn't have to be over-the-top because the ultimate goal will always stay the same: shower the mama-to-be with love!
Out Of The Box Baby Shower Theme Ideas
From big celebrations inspired by jungles and storybooks, to smaller sprinkles for experienced moms, here's a list of 17 unique and interesting baby shower themes to help you find the party idea that speaks to you!
Gender Neutral Baby Shower Themes
Jet Setter Theme
Are the parents-to-be frequent travelers and love to see the world? Create a travel-themed shower where the shower features decor and food that are travel-focused, and guests are asked to bring gift items related to making traveling with a baby more enjoyable.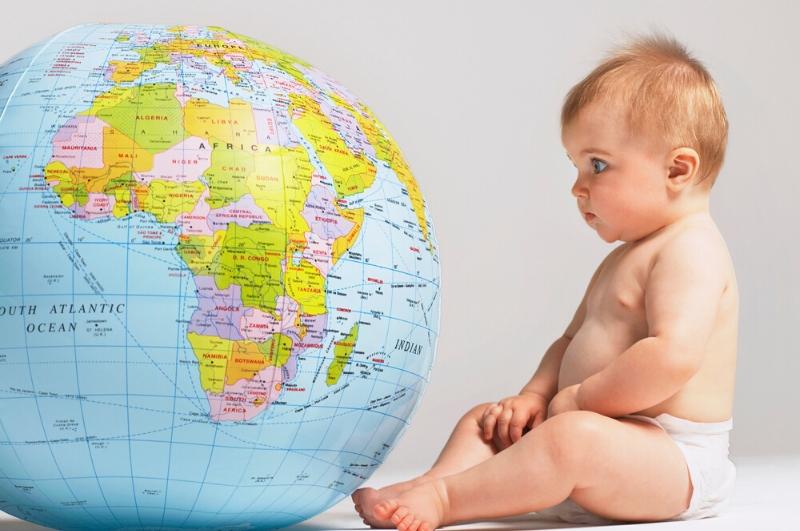 National Parks Theme
Bring an outdoor adventure inside with a national park-themed baby shower! Send out adorable outdoor-themed invites, and have guests gift survival gear (a.k.a. newborn essentials) to the parents-to-be.
Safari Theme
Giraffes, monkeys, and tigers, oh my! Decorate with animals, lots of fun colors and jungle-esque food such as animal crackers, bananas, and snake eggs (grapes).
Beatles Theme
For parents who are loyal fans of the classic rock band, this theme offers tons of opportunities for cuteness. Food ideas could include "Yellow Submarine" Twinkies or Sgt. Pepper's stuffed peppers.
Minimalist Theme
For the expectant mom who's into simple and minimal, a modern minimalist theme may be perfect (and gorgeous). Simple finger foods and subtle pops of color add delight.
Hawaiian Luau Theme
A colorful, festive, summery-feeling theme that's simple to pull off. All you need are some leis, shaved ice, and a ukulele soundtrack.
Book Theme
Celebrating a mama who loves to read? Why not have a book-themed baby shower complete with darling decorations, a menu with nods to favorite stories. You could even ask the guests to bring books as gifts. After all, what better happily ever after could you ask for?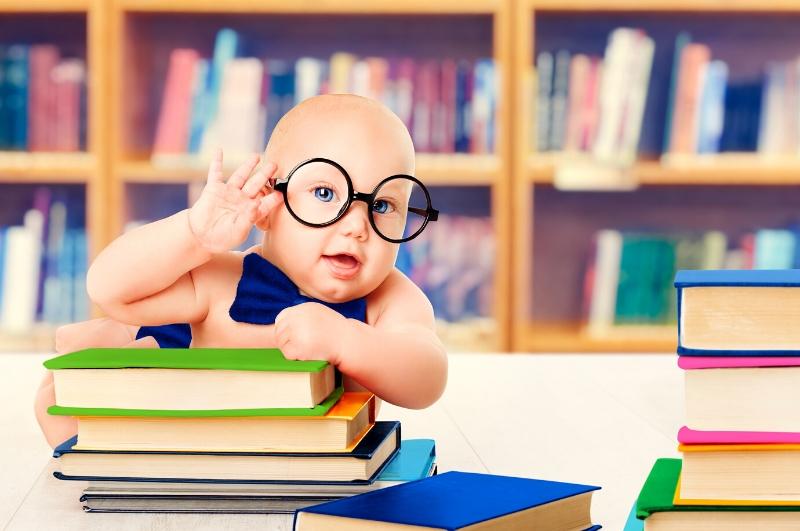 Baby Shower Themes For Boys
Dinosaur Theme
Boys and dinos go together like peanut butter and jelly. This prehistoric theme is a perfect fit for Jurassic Park-loving parents who are psyched to start their baby's fascination with paleontology early.
Space Theme
Aaaand blast off! Tiny details, like freeze-dried ice cream, spaceship cookies, rockets galore, and so many more make this a creative and literally out-of-this-world shower. Plus, how much fun is this gorgeous space-themed dessert table from PopSugar Family?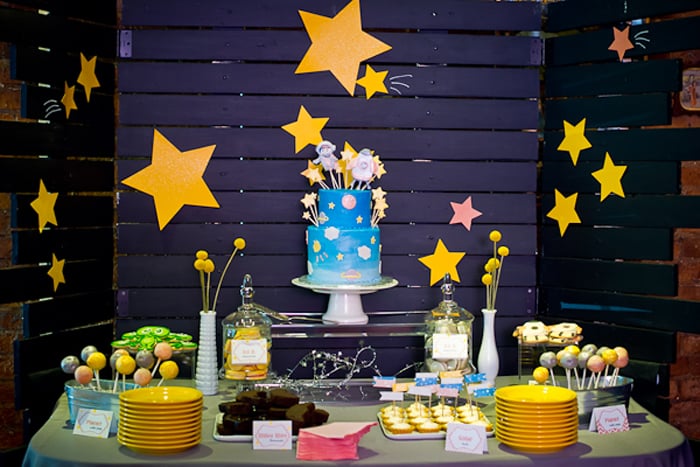 Sports Theme
Take me out to the ballgame. Baseball, basketball, football, soccer, lacrosse and more work well for a shower that celebrates a love of sports.
Lumberjack Theme
Adorable! Welcome the baby boy with lots of plaids, forest animals and evergreen.
Cowboy Theme
Whether Mom and Dad live on a ranch or dig Westerns, throw a joyful celebration with hats, boots and a country soundtrack along with other details like a cowboy diaper cake. Don't forget the horse.
Baby Shower Themes For Girls
Wonder Woman Theme
Girl power! This superhero makes for a colorful, empowering theme concept. With the recent film's popularity, finding Wonder Woman party supplies in party store is a snap.
High Tea Theme
Pastels and treats like finger sandwiches, crumpets, and scones set the tone for a nod to the classic British tradition.
Breakfast at Tiffany's Theme
Tiffany's blue and all the trappings of an elegant brunch, like mocktails, pastries, and jewelry-inspired details make for a beautiful, memorable shower. For example, I love this gorgeous Tiffany-themed diaper cake from Popsugar!
Mermaid Theme
Whether the mom-to-be loves the mythical half-human sea creature or is a huge fan of Disney's The Little Mermaid, this theme lets you incorporate sparkly hues of blue and various other "under the sea" details.
Delightful Daisies Theme
This simple, cheerful flower sets the perfect tone for a fun, joyous baby shower. This theme inspires an outdoor baby shower with fresh-picked décor, favors, and fresh, light food.
What Is A Sprinkle Shower?
A sprinkle baby shower theme is a type of baby shower to celebrate a family's second child. The gifts often center around diapers, wipes, and a few outfits because many families expecting their second child already have a lot of the gear they'll need. 
That's not to say you can't go all out for a second (or third, fourth, etc) baby. But most people opt to do one big shower for their first, then a smaller event after for other children.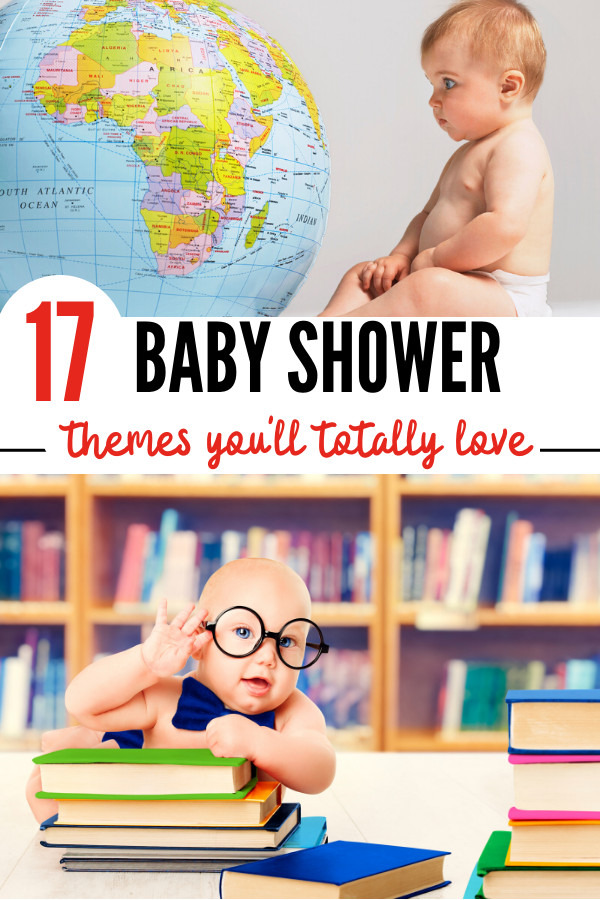 Which one of these fun baby shower themes did you like the most? I'm partial to that little world traveler—what a fun idea!
More From One Crazy House: