Buying gifts that teenagers will love can be challenging, to say the least. Don't buy them…make them! Here are the best gifts for teens that you can DIY.
Have you ever made or purchased a gift for a teenager that fell flat? You're not alone… trust us! Teens are finicky people. ?. It's difficult trying to figure out what teens want for their special occasion from birthdays, holidays, graduations, and other gift-giving occasions. (Aside from cash… everyone likes getting cash!)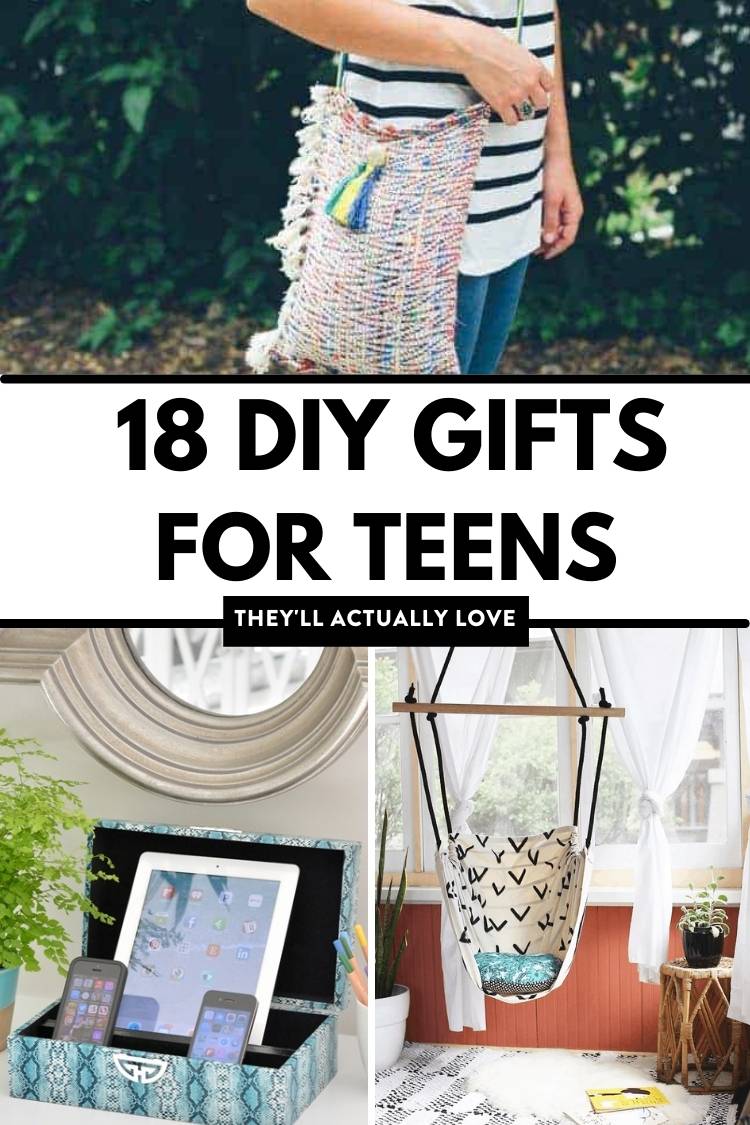 But, we've found 18 of the best gifts for teens that you can DIY and your teens will actually like these gifts. It might even inspire them to steal the ideas for their own classic gift-giving efforts.
The best part is that most of them can be easily made with things you already have in your home. Yay for budget-friendly gifts and not having to run to the store for supplies!
Tip: Many of these DIY gifts for teens may look girly, but you can easily change them up to be more guy-friendly. Most of them will look quite different just by changing the color of the materials used.
Best Homemade Gifts for Teens
Some of the best gift ideas are handmade – even teenagers will agree! Check out these 19 DIY gifts for teens. Your teens will be excited to receive them! And maybe they'll even be inspired to make these gifts to give to their friends in high school!
1. Make An Earphone Holder for Teens
Every teen loves listening to music and some are avid music lovers, and it's likely your teen has several pairs of earbuds or headphones. Why not make an earphone holder from a mint container? You can personalize it with your teen's favorite colors or patterns. Add a clip to it so your teen can easily keep track of their earbuds wherever they need them—purse, backpack, gym bag, their car keys, etc.
And while you're at it, make several. You could use one, too! It'll keep your earbuds from becoming a tangled mess in a purse, backpack, or pocket.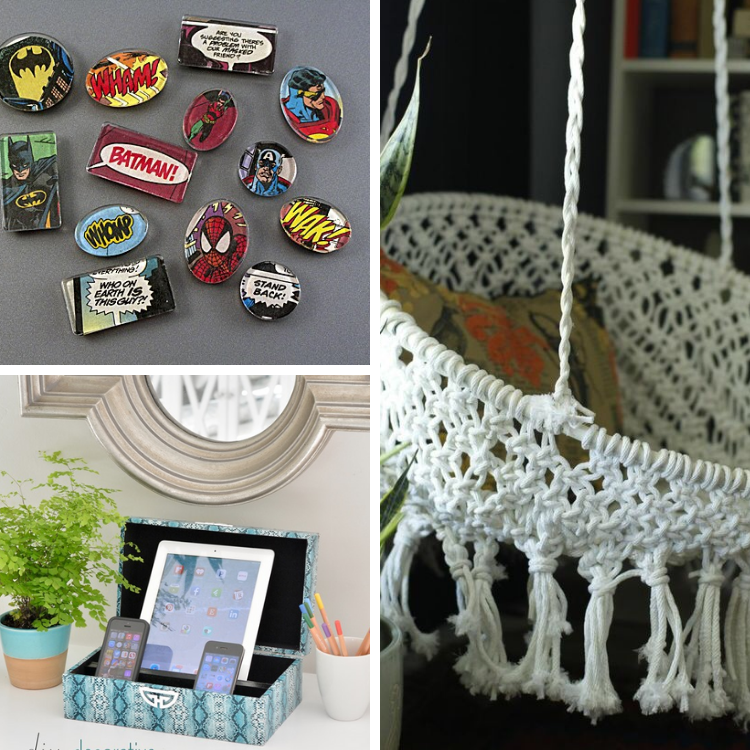 2. Superhero Comic Book Magnet Gifts for Teens
Comic book heros are all the rage right now! So, your teen is sure to love these comic book magnets. They can use them in their lockers at school, work, or the gym. They'd also be a lot of fun to use on magnetic white boards in their bedrooms or dorm rooms.
While most people would think of these as gifts for teen boys, it can be a great gift for guys or teenage girls. Or, you could even make them for your own use at home. How about that?
3. Decorative Box Charging Station for Teens
These pretty charging stations are so nice! Your teen will love how organized these stations make them feel and how well they control the clutter. Especially if your teen has multiple devices that are either smartphone or iPhone.
How many devices does your teen have? Two? Three? This charger station will allow your teen to charge all their devices at one time, while keeping the cords under control.
4. Quilted Tablet Cover with Zippered Pocket for Teens
Speaking of devices, a tablet cover is a must. This DIY tablet cover will require some sewing skills, but the finished product will be well worth the effort you put in. This cover comes with a zippered pocket to hold earbuds, and you can adjust the pattern to fit any size device. You could even make a cover for each device your teen owns.
5. DIY Cross-Body Tote for Teens
Can you believe this Tory Burch inspired DIY cross-body tote was made from a placemat? And you don't need any machine sewing skills for this DIY gift. Talk about an easy project! And your teen will appreciate how this bag leaves her hands free for other items that she might need to carry.
6. Easy DIY Chapstick Holder Keychain for Teens
Anyone else have a daughter who carries lip balm with her everywhere she goes? This key chain lipstick tote takes just five minutes to make and it will make it easier for your teen to keep up with any tube of lip product she wants to have handy. It's also a great addition to your teen's trendy accessories!
You'll need one, too, right?
7. DIY Instagram Frames for Teens
Make a modern triangle frame to coordinate with their room decor. Who couldn't use an extra frame or two for displaying their favorite pictures? This is perfect for photos of your teen's pets, friends, adventures, or anything else they want to be reminded about.
8. DIY Washi Tape Bracelets for Teens
These Washi tape wooden bracelets are made of popsicle sticks! Say what?! They are super easy to make and they are super cute. This would be one of the best and fun birthday gifts where you could involve your younger children. Your young ones would be so excited to make these bracelets for their older sibling.
Best of all, this is a DIY gift idea for teens that just keeps giving and giving. If you give your teen several rolls of Washi tape (in their favorite colors and patterns!) along with the bracelets, your teen can redecorate them anytime, and as often as she wants!
9. DIY Hanging Macramé Chair for Teens
Macrame is a big trend right now. My daughter is into anything macrame. If you're not afraid of a more challenging DIY, this Hanging Macramé Chair would go perfectly in any teen's room! It would be so cute in a reading corner.
10. DIY Hammock Chair for Teens
But a hammock chair would be even easier. Teens love to hang out in their room listening to music or chatting with their friends – they can do it in this chair! Bonus: Little kids love them, too!
If you really like it, you could even make one for yourself. They would be great fun on a porch or in a sunroom!
11. DIY Faux Fur Stool With Hairpin Legs for Teens
This faux fur stool would make a nice addition to your teen's makeup table. It's chic, and it's funky – and a perfect gift idea for teen girls. And if fur is not their thing, you could substitute a different fun fabric.
12. DIY Bracelet Gifts for Teens
Make some DIY bracelets. They're wonderful for stacking and creating a layered look. And it's so easy to add personal touches to the bracelets like favorite colors or beads in varying shapes and sizes.
13. DIY Phone Cases Gifts for Teens
If you need gifts for teen boys or girls, what's better than a custom phone cover? DIY this fun gift to fit your teen's personality and style and you'll get a two-for-one—a cool gift idea and phone protection!
It's easy to make a plain old phone case look loads better with some Washi tape and/or paint. It's the designer look for a lot less—like the Kate Spade-inspired phone case.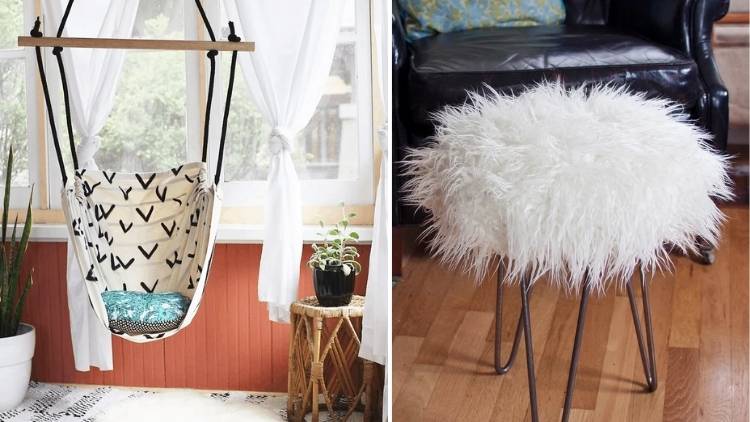 14. DIY Mini Pocket Notebook Gift for Teens
DIY mini notebooks make great gifts. Keep one in your locker, in your purse, in your backpack or wherever. They also make nice journals.
And surprise… these are made out of cereal boxes!
15. DIY Starbucks EOS Cup Gift for Teens
We love this Starbucks EOS lip balm container. So cute, and perfect if your teen is obsessed with Starbucks coffee drinks.
16. DIY Washi Tape Clocks Gift for Teens
DIY washi tape clocks are the perfect thing to give a college student who's moving away for the first time. No excuses for being late to class now! And it's another gift that is super easy to personalize specifically for your teen's taste and style!
17. DIY Yarn Ball Bookmark Gift for Teens
Have a teen that loves to read? Make your teen multiple DIY bookmarks! These yarn ball bookmarks are just gorgeous. They're very easy to make and your color options are endless!
18. DIY Ping Pong Ball Cafe Lights Gift for Teens
These lights are another trend my daughter is just crazy about! She has them everywhere. Ping pong lights are such a pretty way to dress up your teen's bedroom! They'll look amazing in a dorm room, too. And if you want to change the look, just switch out the strand of lights you're using for ones of a different color.
19. Easy DIY Boot Cuffs Gift for Teens
Does your teen wear boots frequently? How about some easy crocheted boot cuffs for this fall and winter? They're stylish and easy to make in a variety of colors.
How About These Ideas For the Best DIY Gifts For Teens?
These gifts are fun, cute, and super practical. And they all lend themselves to customization. You can personalize each gift so it really fits your teen's individual personality and style. 
And not only are these gifts budget-friendly and downright awesome, what will make them over the top amazing, is the fact that they were made with love, by you.
"The best gifts come from the heart, not the store." Sarah Dessen
You'll have so much fun making these DIY gifts for your teen—and then you'll get so much enjoyment out of watching your teen's excitement when they receive these gifts that were made just for them!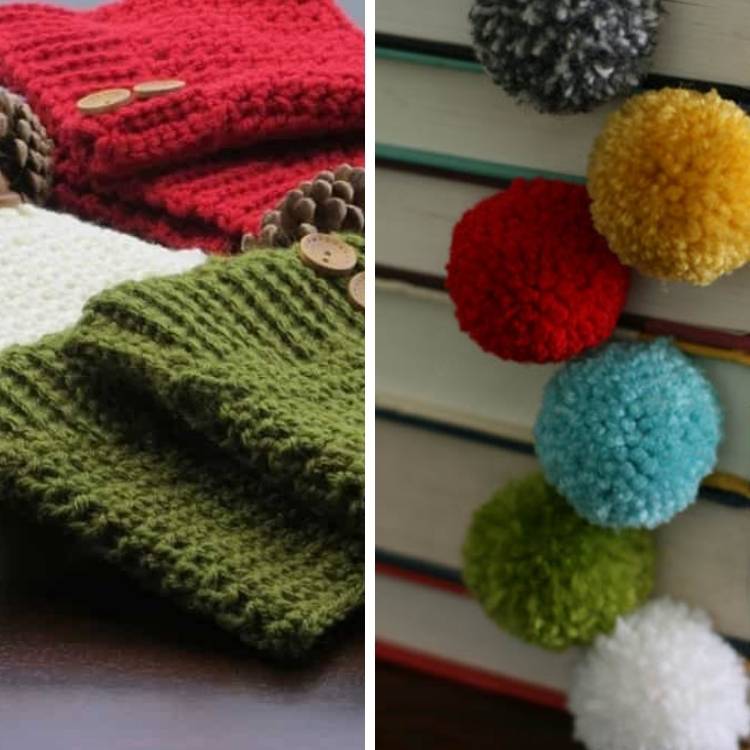 More DIY Gift Inspiration For All Occasions From One Crazy House
Which gift for teens ideas will you give first?