Add an unexpected accent to something ordinary in a pinch. Turn a plain lampshade into a designer knock-off. Decorate your walls without damaging them. Cover up just about anything to make it colorful and beautiful. You can do all that with washi tape. In fact, we were so amazed at all the things you can do with it, that we put together a list of 16 of our favorite out-of-the-box washi tape ideas just for you.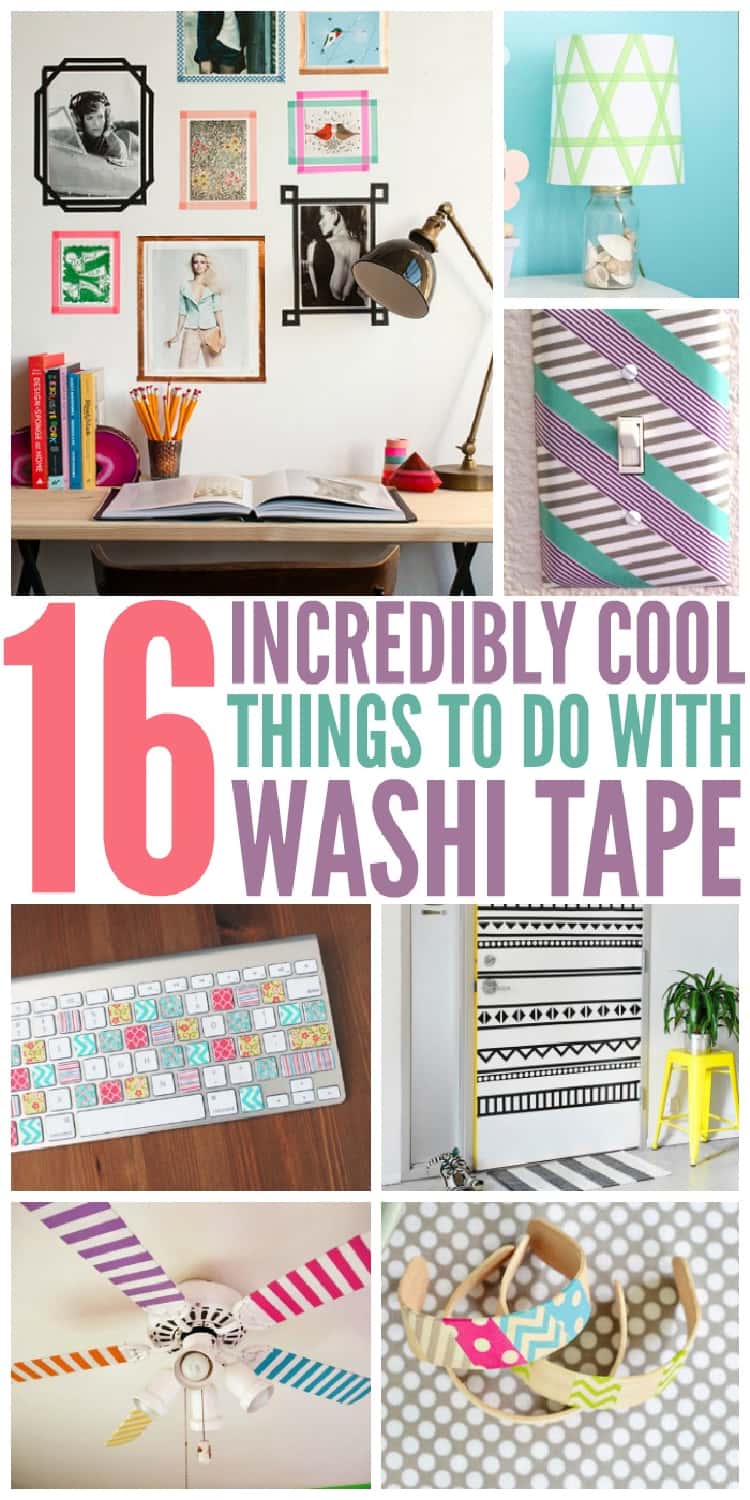 Never Heard Of Washi Tape Before? Here's How Cool It Is!
What Is It?
Washi tape is a Japanese thin, durable paper masking tape made from shrubs (Ganpi, Kozo, Mistumata, or sometimes Hemp).
It comes in hundreds and hundreds of colors and patterns and it's very easy to cut with scissors or just tear it by hand, which makes it a great crafts resource for young kids and perfect for scrapbooking.
Where Can I Use It?
Washi tape sticks well on pretty much every surface (including paper, wood, plastic, and metal) and it's also very easily removed, without leaving glue or damage behind.
The fact that washi tape is made out of highly renewable resources and is biodegradable means it's a great addition to your new sustainable lifestyle. So yes, you can recycle your washi tape!
If you're already mentally preparing yourself for a trip to the crafts store, let me just show you how many amazing things you can make with washi tape! Check out these washi tape crafts you can do with your kids!
16 Awesome Washi Tape Ideas You've Probably Never Thought Of
1. Create Colorful Mini Pallet Coasters To Boost Your Mood With Your Morning Cup Of Coffee
If there's one thing that drives me completely insane, that's drink rings on the furniture! The kids were not into using coasters at all and I was in a need of an urgent solution to save my tabletops.
After long hours of searching, I found my solution! I stumbled on these adorable washi tape pallet coasters and I totally fell in love! The best part is that my kids loved them, too, and now ask for them every time they take their drinks. Yay!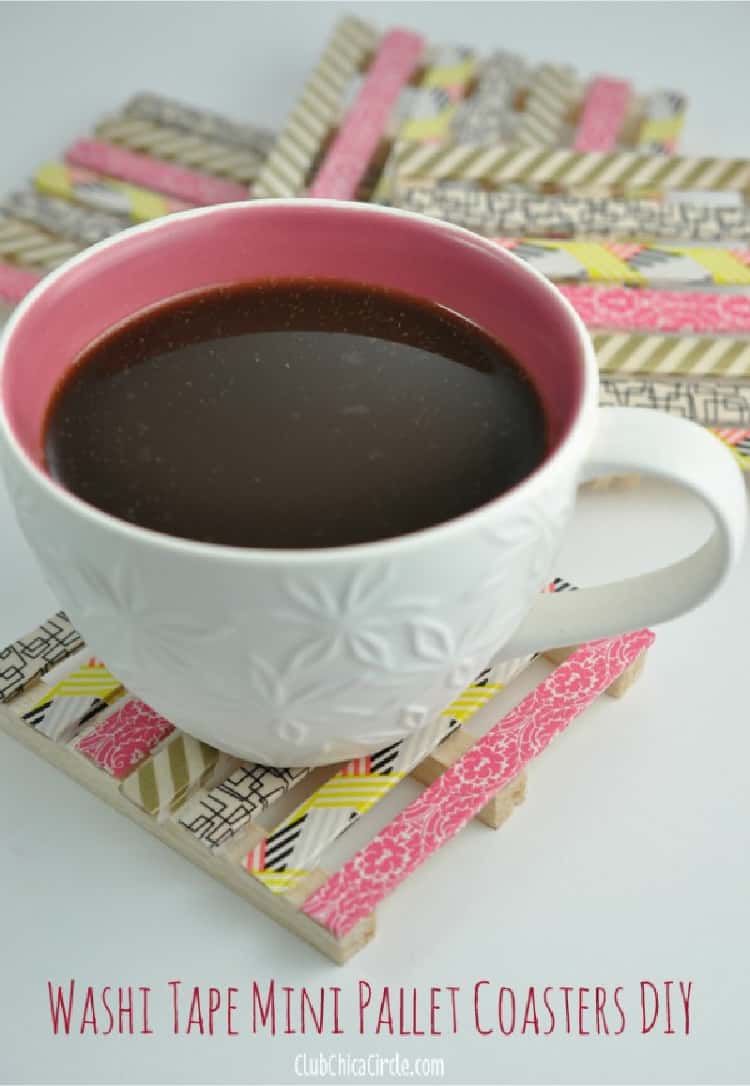 2. Add Washi Tape On Your Keyboard For A Little Mood Boost At Work
If you're easily affected by bright and happy colors, adding them to your desk at work could result in boosted mood and improved productivity.
Sounds great! But have you ever thought of adding color to your keyboard? Well, me neither! But then I found this super fun idea: washi tape your keyboard! The best part is that if you don't feel comfortable typing without seeing the letters first, you can easily peel the tape off.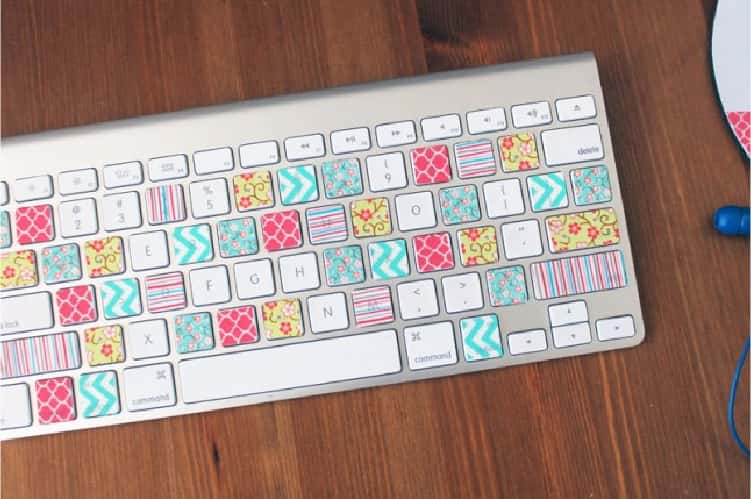 3. Revive Your Old Corkboard With A DIY Tape Pattern
You have an old cork board hanging in your dorm room, don't you? You don't need to answer this question, we all do. We all have that brown-colored eye-sorrow hanging on the wall.
But what if there's a quick and easy way to makeover the ugly corkboard with a washi tape pattern? I love this easy tutorial – all you have to do is add some tape. The result is amazing! So simple and so pretty!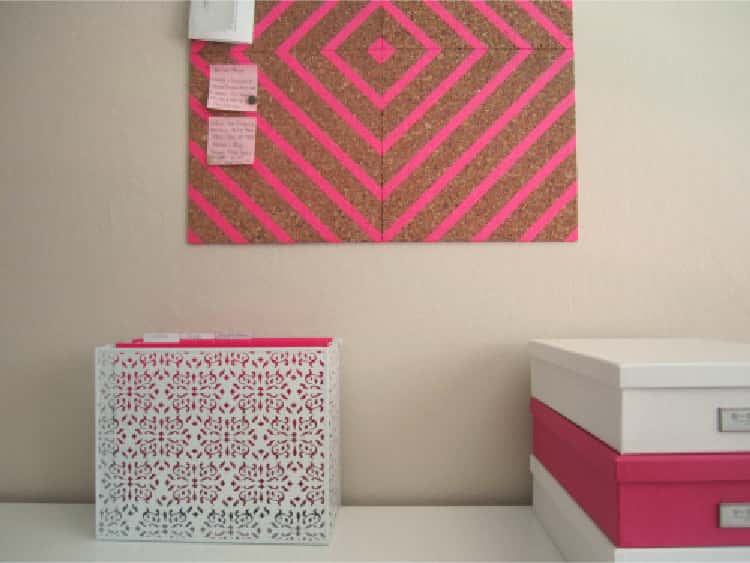 4. Genius Washi Tape Ideas: Customized Light Switch Covers
Are your light switch covers need to be urgently freshened up? Good news! You can do it quickly and on the cheap.
A brilliant way to give a completely new look to your light switch covers is to play with a few different colors and patterns of washi tape. So many opportunities! Very, very useful, if you have teenagers at home…
5. Beautiful DIY Gallery Wall With Washi Tape Picture Frames Without Holes On The Walls
Forget about traditional picture frames, you don't need to get these anymore. All you need is… tape!
Make your own picture frames with washi tape and create a stunning gallery wall without ruining your walls with nails! You can come up with unique colors, patterns, and shapes. Unleash your creativity and fill your wall or your door with wonderful pictures in stunning DIY washi tape frames.
Here's another pretty way to use washi tape to make a gallery wall!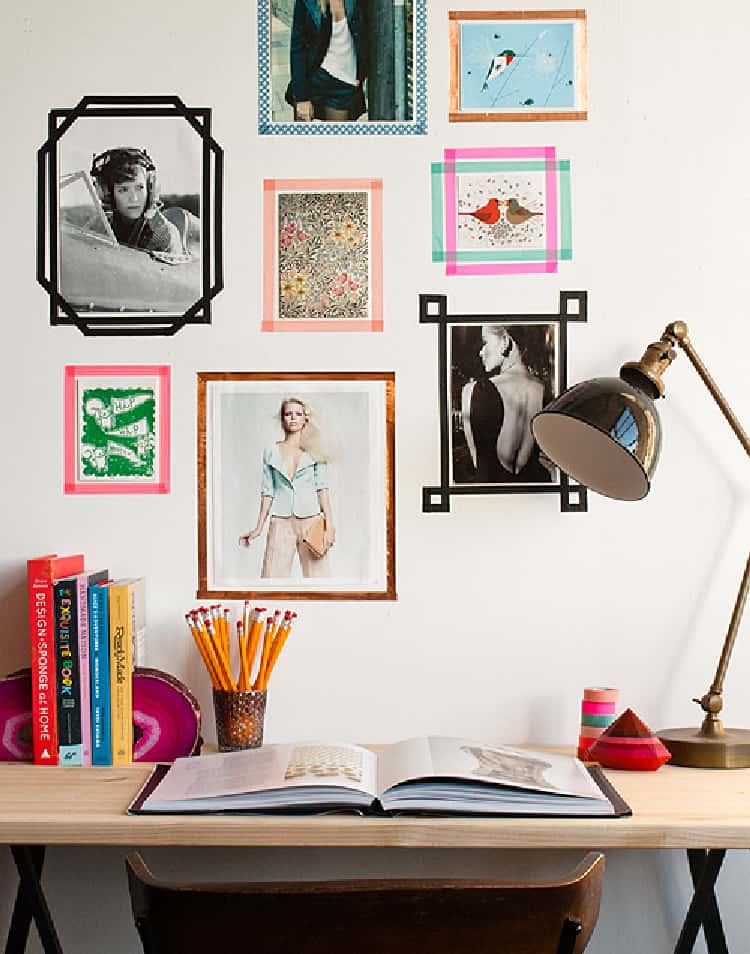 6. Must-Try Home Decoration Ideas: Create A Stunning Door Design
Technically, this tape door design was made using electrical tape and duct tape. But you could totally use washi tape to do the exact same thing. With the variety of colors and patterns of washi tape, you can get as creative as you want!
Here's just a few fun things you can do on your door:
geometric figures & patterns
names
quotes
sticky people
flowers
animals
the list has no end!

7. Add Stripes On Your Fan Without Paint Just By Using Tape
Have you ever considered adding color to your room by painting the ceiling fan? No? Well, here's a fun idea.
While these ceiling fan stripes are painted on, again, you can easily achieve the same look with washi tape!
You'll want to take the fan down for this project, though. Can you imagine keeping your arms over your head to install all that tape?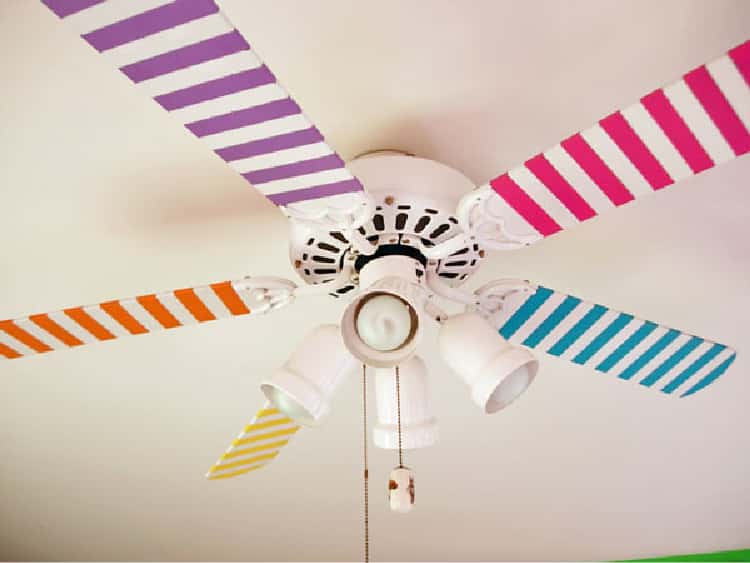 8. Give Your Travel Toiletry Bottles A New Look With Washi Tape
Are you crying on the inside every time you look at your travel bottles? I know I was never a fan of mine. They were so… boring. Then Pinterest surprised me with a brilliant idea on how to make your travel toiletry bottles a little prettier.
How could one not love such easy projects that turn out so beautiful, so effortlessly?
9. Decorate Your Walls At Home: Add Accent With Washi Tape
Do you want to change something about your room but it's not the right time for home repairs and painting jobs? You can try this simple and easy way to brighten up your room and blow everyone's mind.
Create an accent wall with washi tape. Here you see a cross pattern, but lines, chevrons, and other shapes work nicely, too. The good news is that washi tape peels off fairly easily, so you don't need to worry about changing the room decor whenever you'd like or need to.
10. Out Of The Box Decoration Ideas: Create A Splendid Look To Your Entrance
If you hate your room or apartment's entrance because of your creative nature but you can't make any significant changes in your rental, I have fantastic news for you!
You can easily make your entrance wow-worthy with washi tape. This one is made with extra-large tape and it really makes a playful statement! Having in mind the benefit of super-easy peel-off, you're probably as excited to try this project as I am!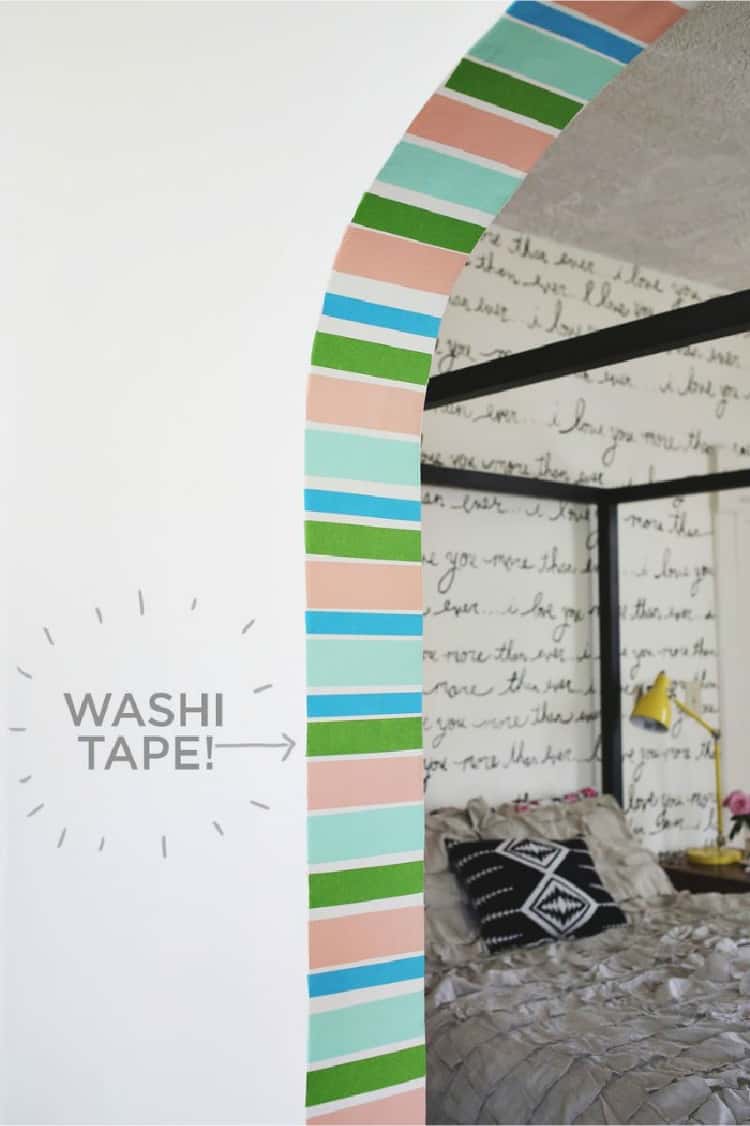 11. Beautiful And Easy Lamp Shade Makeover With Washi Tape
We used to have very ugly night lamps next to our bed before our last home renovation. If I only knew about this wonderful hack, the ugly lampshades would not have been such an eye sorrow for such a long time!
Take an ordinary lamp shade from "blah" to beautiful! All you need is some tape in the color and pattern you like! Change it out whenever you get bored with a certain color or pattern. Genius!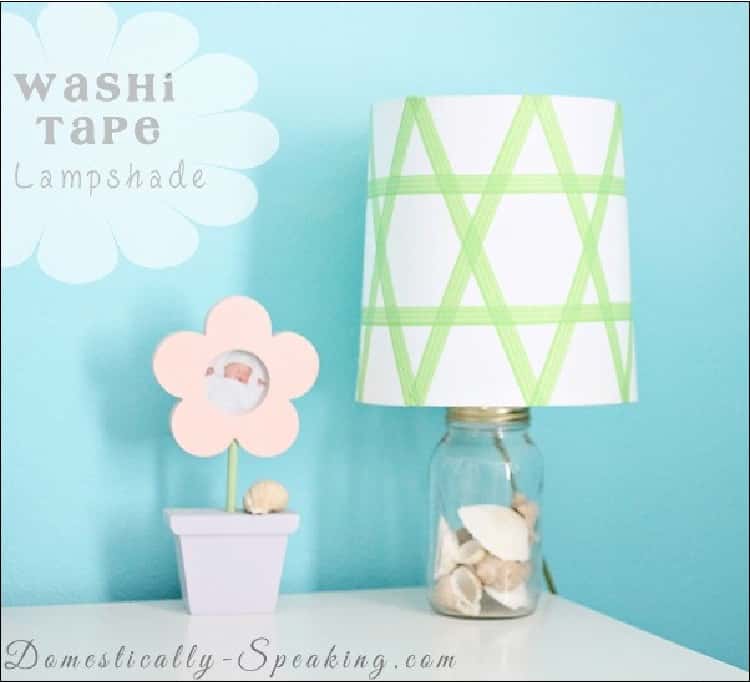 12. Lovely Handmade Gift Idea – A DIY Notebook
Do you love making DIY gifts? Do you enjoy doing crafts with your kids? Then, you're going to love this project!
Make these lovely washi tape notebooks to use at school or to use as journals. Those notebooks would also make great gifts! Think about Mothers' day, Grandma's Birthday, or just make with your kids. So pretty!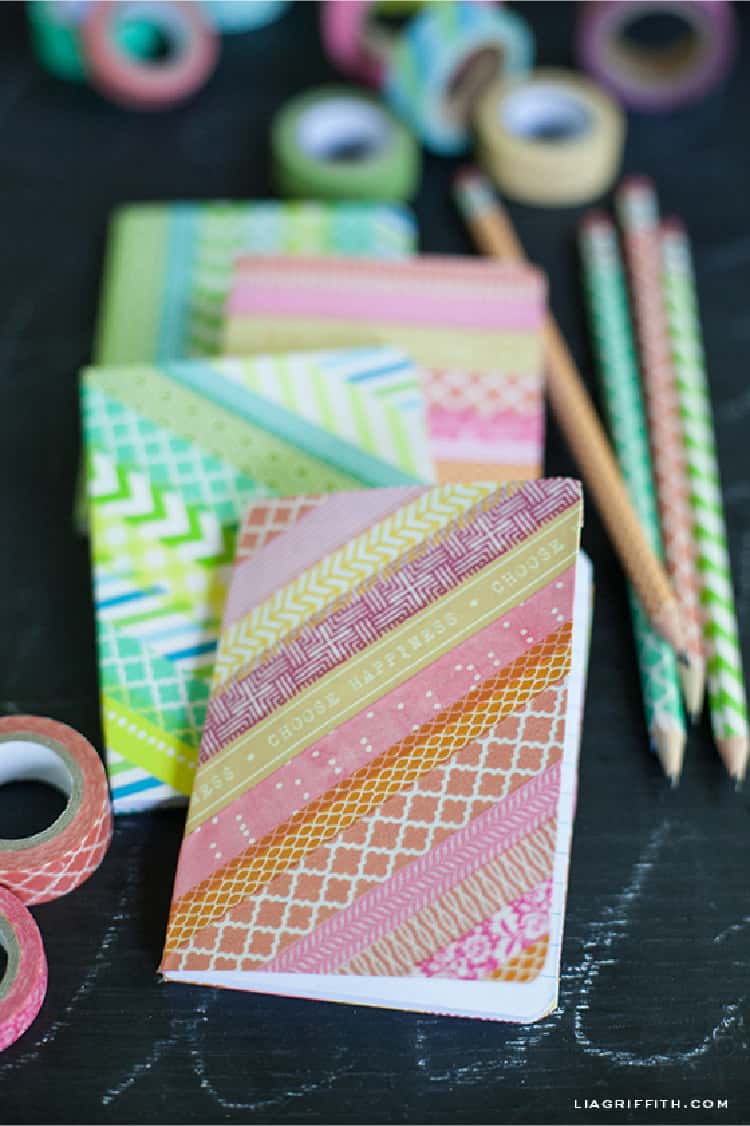 13. Easy To Make Unique Wall Art For Your Kids' Rooms With Washi Tape
Make a washi tape monogram to go over the mantle or in the kids' bedrooms. This would be darling for a nursery, wouldn't it? And it would make a fantastic gift for a newborn to make with the kids.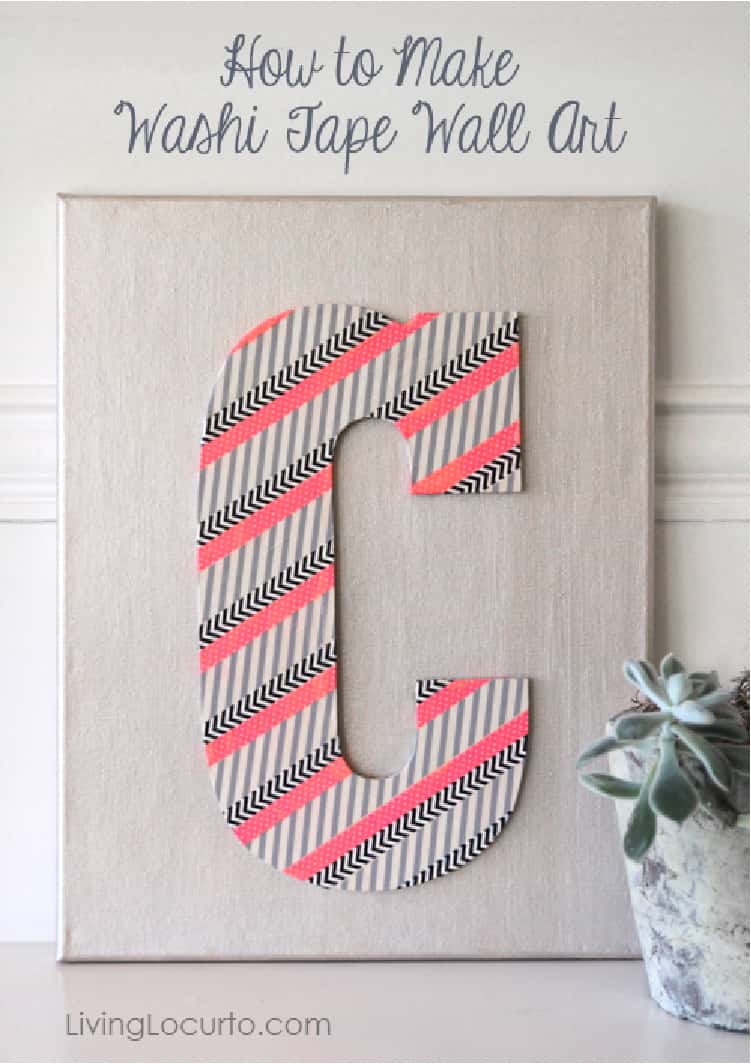 14. Give Your Photo Frames New Life Using Tape Only
Make any old photo frame instantly cuter by covering it in washi tape. This is a great way to reuse frames that you find at thrift stores and yard sales!
Or cut your own cardboard frames and wrap them with washi paper. You can play with the size and shapes, too!
15. Edging Your Shelves With Tape Is The Quickest And Easiest Makeover You Could Give Them
Add a little pizzazz to the edge of your shelves. Or kittens. Or stripes. Or just fix an old and ugly shelf edge.
Just a little advice: you'll want to make sure that the width of the tape is a little smaller than the shelf so that you don't constantly rub the tape when removing and adding items to the shelf.
16. Add A Unique Jewelry To Your Outfit – Decorate Wooden Bracelets With Washi Tape
DIY wooden bracelets, decorated with washi tape. What a fun way to instantly coordinate jewelry with any outfit! Or to add a unique accent! Not to mention it would also make a great friend bracelet. So many opportunities!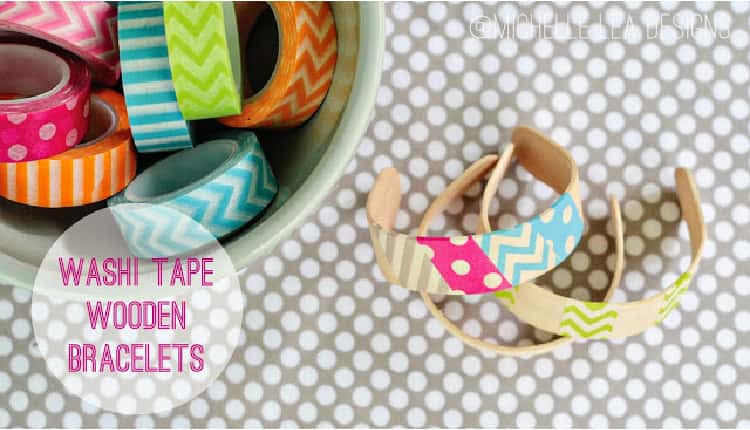 Aren't you just blown away by how creative you could get using just washi tape? I just feel like a whole new world of crafting opportunities opened its gates wide in front of me.
Which one of these washi tape ideas are you eager to try first? I'd love to hear in the comments below!
Did you like these washi tape ideas? You don't want to miss these other craft ideas, too: