I love the thought of being crafty but it seems like I never know exactly what to make. Please tell me I'm not the only one dealing with this…When it comes to trying to think up new crafting ideas, do you ever feel stumped like me? If so, I highly recommend giving these succulent crafts a try!
Not only are they all totally unique and fun but they're really quite simple as well. The next time that you're itching for something crafty and different to create, bookmark these simple succulent activities to do!
They're perfect for any time of the year and can really bring some brightness and fun to your home! And if you like to decorate for parties or other major events then you just might get some great and creative ideas from this fun list!
You can also add these Thanksgiving crafts to the fun list.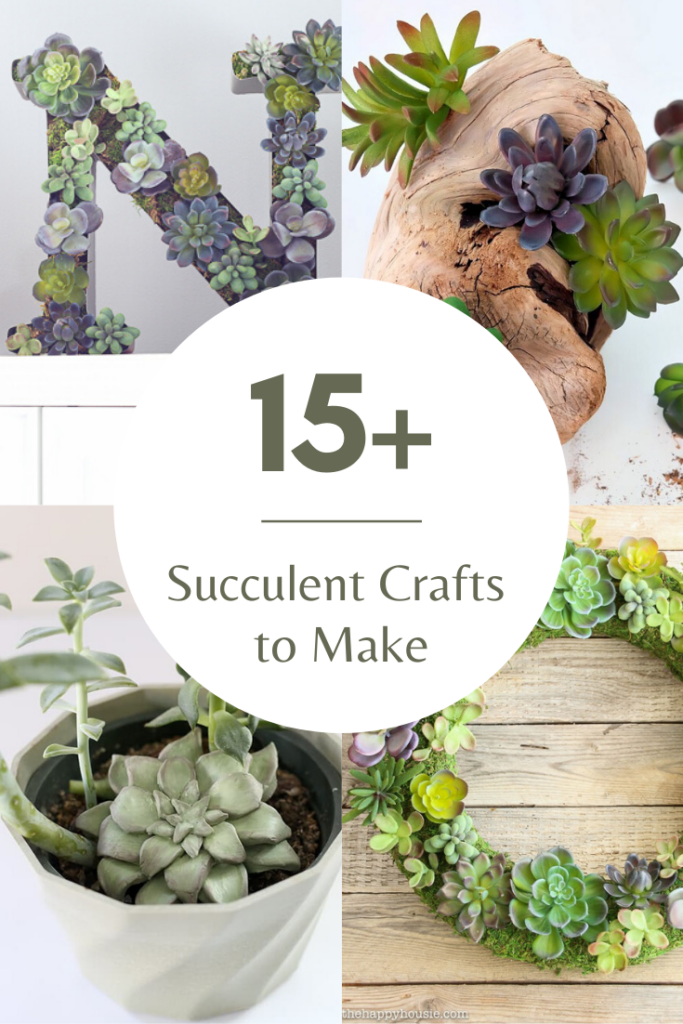 15+ Succulent Crafts to Make
It's time to get your craft on with these succulent craft ideas. All are actually really simple to make and can be done by any level of crafter. Pick out one of two of these simple succulent crafts to get started!
Succulent Napkin Rings by Today's Creative Life
This is a great way to have a different place setting option for your table. It's really cool for a brunch or as a simple way to add a fun focal point on the dining table.
Burlap Succulents by The Country Chic Cottage
What I love most about this succulent craft is that it brings a feel of farmhouse right into the house. It's like chic means rustic and the outcome is perfection.
Wine Cork Succulent Magnets by Crafts by Amanda
Have you been saving up all those wine corks and wondering what to do? Worry no more because this craft can help! Gather up the corks and get your craft on!
Oven Baked Clay Succulent Pots by Persia Lou
While this craft takes a little bit more time, you're really going to enjoy the outcome of how it looks. Plus, since there are a few more steps to the craft, you're really going to be pleased with the outcome once it's all done and ready.
Faux Succulent and Moss Wreath by The Southern Couture
While there might not be anything "real" about this succulent craft, that doesn't change the fact that it's pretty cool to look at.
Faux Succulent Monogram by The Crafting Chicks
Adding in a little monogram can really help to personalize this craft!
Air Dry Clay Succulents by Little Red Window
Make certain you read through the directions fully on this one…Even the person who made it states that there was a moment in time when she thought about tossing it but pushed through and was so glad that she did. This just goes to prove that when you have a vision in mind, don't give up on it!
Pottery Barn Knock Off Succulent Wreath by The Happy Housie
Why pay those Pottery Barn prices when you can easily make your own? Creating something that looks like it came straight from the store is a pretty awesome feeling! And when someone asks you where you got it, you can proudly let them know that it was your creation and finished product.
Succulent Monogram Planters by Lydi Out Loud
These planters are fun for shelves or to put on top of mantles or other areas like that in the home. All you need to do is create and then find the perfect place in your home to display. It's as simple as that.
Driftwood Faux Succulent Planter by Hello Creative Family
I love the look of this succulent craft! It makes me feel like I've brought a little bit of nature right into the center of our home. And I often find myself sipping away on my coffee in the morning and staring at this beautiful craft.
Succulent Feeder Decor by Sugar Bee Crafts
I'm obsessed with this one. It's so fun and rustic and is such a cool way to add something unique to your wall. If you have a space in your home that is shaped a bit funky or you're stumped at what to put there, this is the answer that you've been searching for. And the best part? You can create it yourself!
Plastic Bottle Succulent Terrarium by Pillar Box Blue
Save the environment and use your crafting skills with this awesome epicycle succulent project. It's a great craft to sit and do in an afternoon and results in a pretty great outcome as well.
Faux Succulent Pistachio Wreath by Salvage Sister and Mister
Holy moly. Your front door needs this wreath. Stop everything that you're doing and gather up all the supplies that you need to make this happen. This is not a drill.
Simple Succulent Planter by Persia Lou
With the word "simple" in the title, you know that you're in for a treat. I always tell people that crafting at home doesn't have to be hard but you do have to be mentally ready to make it happen.
Faux Succulent Wreath by Laura's Crafty Life
If you have a front door, you need this wreath. You can even use this on interior doors as well. It's a fun way to add a rustic feel to your home without having to break the bank as well. I love to hang this up in our home during the Fall and Winter months but you can honestly hang them up any time of the year
See how adorable these succulent crafts are?! They're fun, festive, and are really quite simple to make. The main thing to remember when you're crafting is that you need to have a bit of patience when you're creating this simple craft. Some take a little more time than others but they all are totally worth the time and effort.
Make a list of your top 5 favorite and do those first! Then, I think you just might find that you're addicted and might end up making all of them! They make really great gifts as well.
Do you have a succulent craft from the list above that you're super excited to make?