My best piece of advice for when school is back in session: Develop a good school morning routine. Having a good and smooth morning routine and habit in place will help you (and your kids, especially younger kids) with the transition to the 'back to school'  new school year schedule!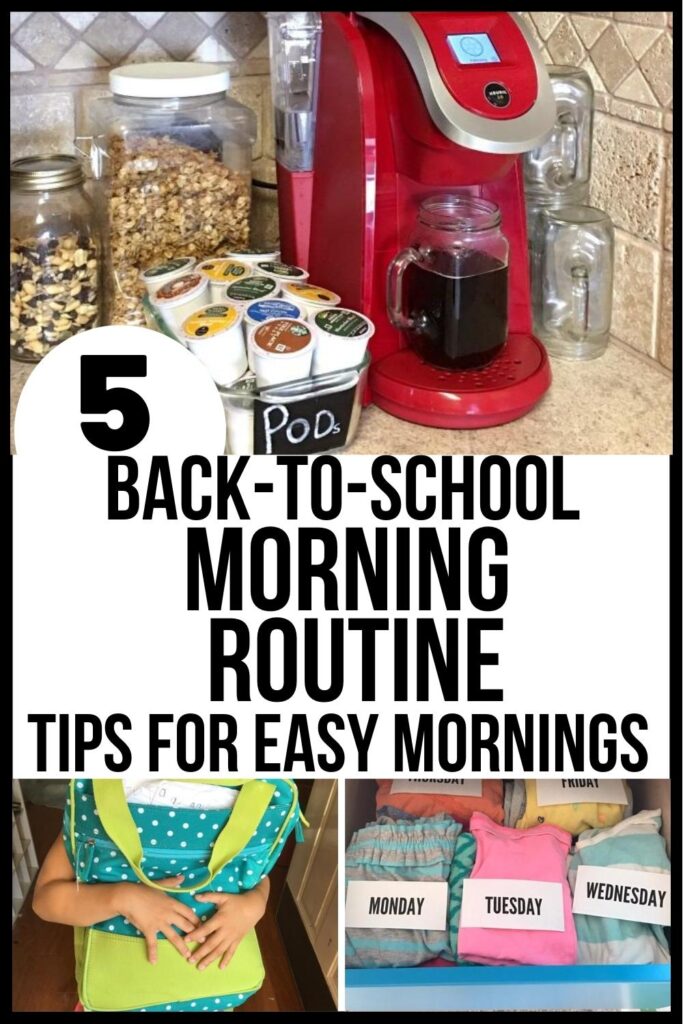 As a mom, I get excited to see my kids go back to school—even if this year looks a little different. However, getting the entire family up and ready for classes ON TIME can be a difficult task and takes lots of patience!
The key to a stress-free day is getting that family's morning routine down cold. For that reason, I am sharing my tips for making your back to school routine easy!
Best School Morning Routine: 5 Helpful Tips
Every mom knows there are certain things that need to happen each morning in order to be ready to start classes. But sometimes getting all those things done can be very challenging when mornings are busy.
That completely changes with these tips! Use these 5 morning routine "hacks" to get the kids ready and off to school easy peasy.
1. Lay Clothes Out The Night Before
I can't stress enough just how much of a lifesaver this is.
Not only does this cut down on time spent looking for (or fighting over) something to wear. It also makes it easier to get one person up at a time.
You can plan out outfits for the entire week or simply plan one day at a time – the night before. As long as it helps your kiddos get ready faster tomorrow with their own clothes, either method works just fine.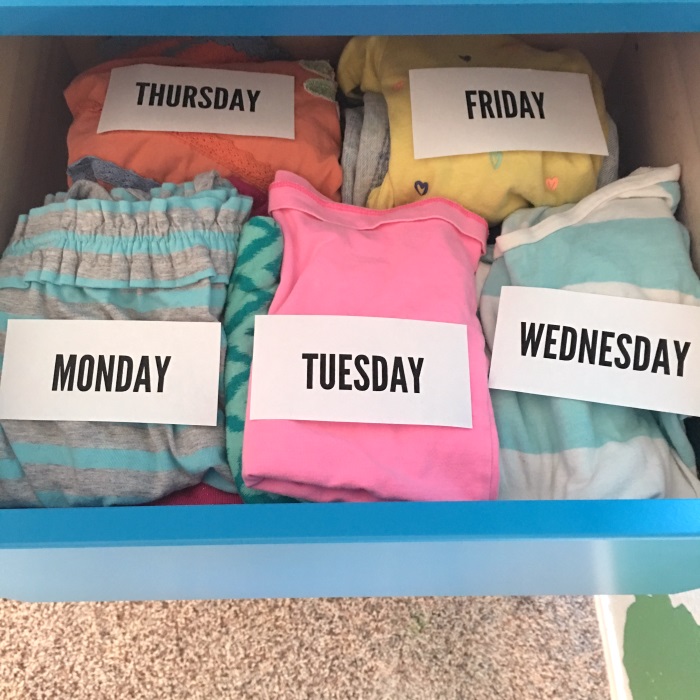 2. Simplify Breakfast Foods
Making a big breakfast every morning takes time – time that moms often just don't have. If you want to give everyone a good breakfast, but need it to be fast, consider creating a breakfast station with cereal, toast and oatmeal.
It will allow your kids to easily serve themselves their own breakfast!
Our own station consists of canisters of granola and dried fruit next to our coffee. We can have a hearty breakfast ready in seconds!
Related Post: 20 Easy Make Ahead Breakfast Recipes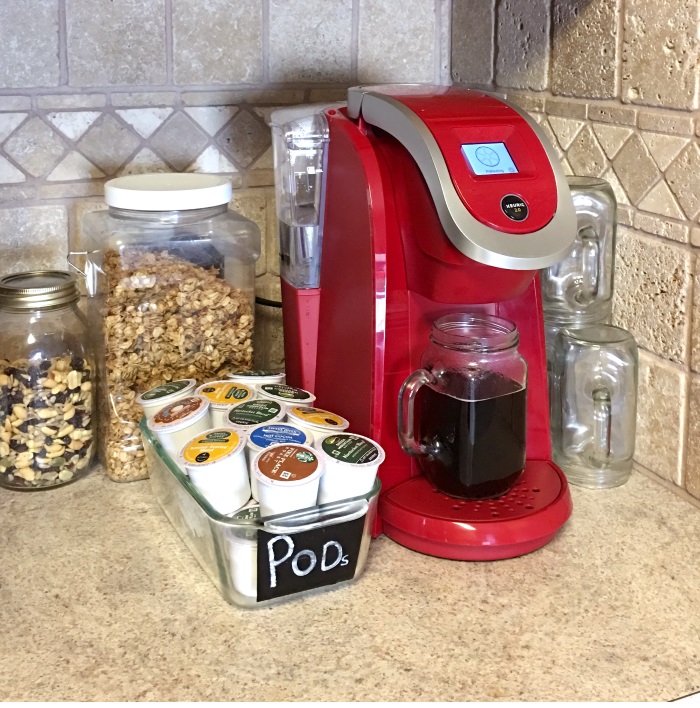 3. Set A Time Limit In The Bathroom
One of the hardest things about getting ready in the morning is trying to get everyone in and out of the bathroom.
The best morning routine would set a time limit for each person in the house. Create it in such a way that each person wakes up in enough time to get everyone in and out on time.
For boys, 15-20 minutes should work well. For girls, you may need to do 30-40 minute intervals in the bathroom.
A simple alternative is to give everyone 10-minute blocks to shower, then provide a vanity table or other getting ready area for kids in their rooms.
Just make sure you set up your bathroom to be streamlined so everyone can get in and out quickly!
4. Make Lunches The Night Before
If you pack school lunches, don't wait until the morning to get them ready. Trust me on this one – I've tried it way too many times. ?
Make sandwiches, pack up sides and snacks, and then have it all in the lunch box ready for the next day. You can store it in the fridge overnight.
This will make the mornings easier…and faster since you'll have less to do!
If you are looking for some lunch inspiration, here are over 100 simple lunch ideas that your kids will love!
5. Make Sure All Backpacks Are Packed
If your kids are like mine, they come home with homework and books from school.
While you may be tempted to leave the homework on the table all night, I recommend not doing that.
Instead, make sure your kids put their homework back into their bags and pack everything they need for school the night before.
This saves time looking for everything in the morning and also avoiding another to back because one of your kiddos forgot something (sound familiar?).
Also, make sure to keep the bags by the door so they can grab them on their way out!
Bonus Morning Routine Tip: Invest In A GREAT Coffee Maker
Coffee is a necessity for moms in the mornings! When it comes to getting everyone ready and getting your coffee, I often find myself turning to my Keurig.
I find that my perfect for your kitchen counters and can sit out without taking up space. I need all of the space I can get—anyone else?
By the way….if you are a fellow pod/tablet coffee fan, here are 15 ways you can store k cups.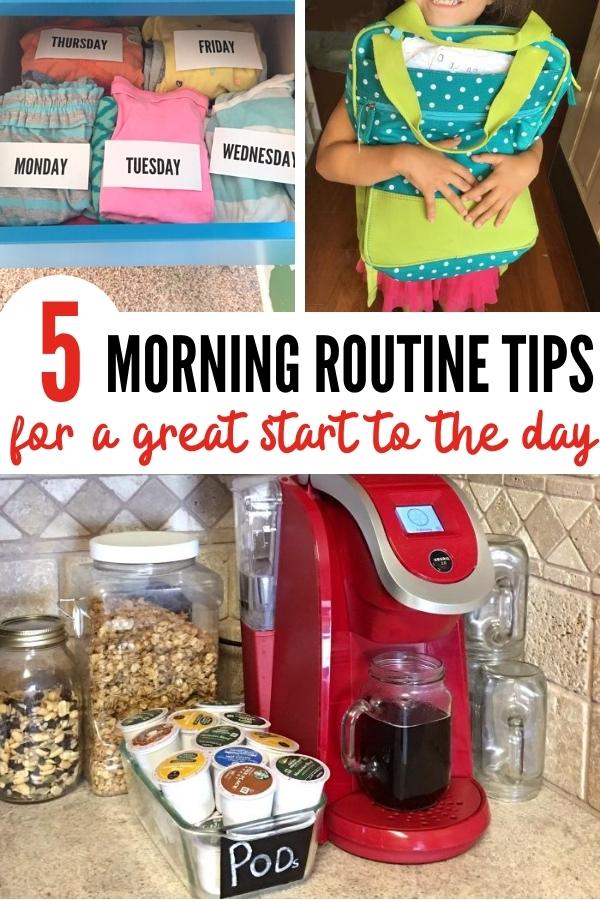 More Back to School Tips:
What tips do you have for making your back to school routine easy?