Can we all just agree that homemade truffles are the best? There's really no other dessert quite like them.
And while they all do have their own unique and distinctive taste and flavor, every single one is beyond delicious as well.
Depending on what you're craving, you can find truffles that are sweet, savory or anything in between. And if you're ready to give your baking hand a try at making truffles from scratch, you're going to love all these totally irresistible homemade truffles.
Make up a batch and share the love with all your family and friends. Talk about the best homemade gift, ever!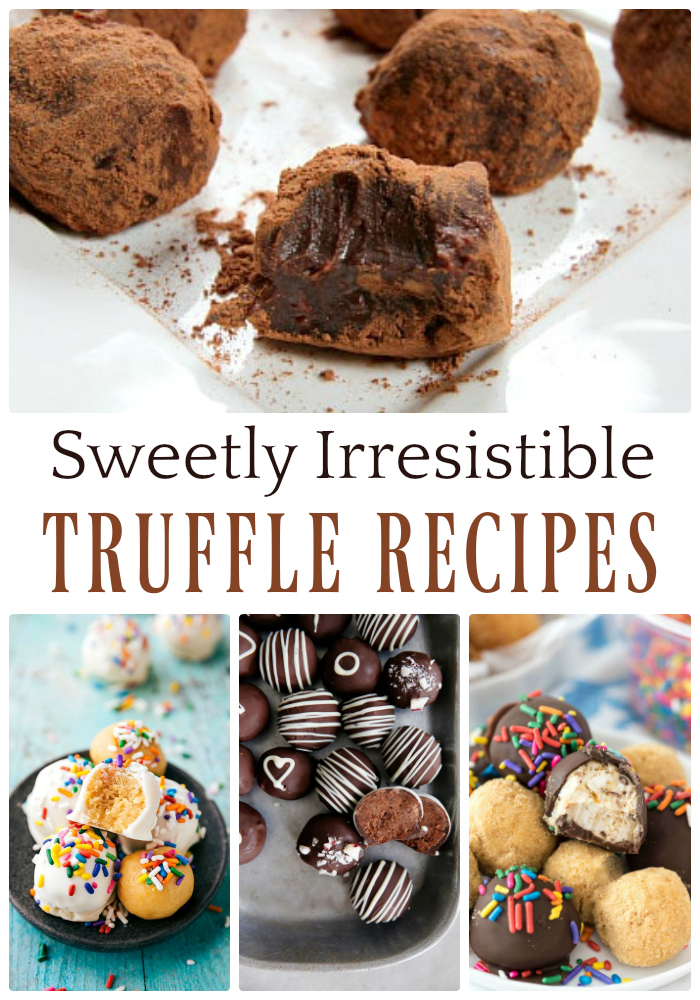 Totally Irresistible​ Homemade Truffles
In no particular order, here are homemade truffles that are begging for you to make them!
1. Chocolate Covered Fruit Truffles
Get in a little bit of fruit with your chocolate – it's delicious! Think of it like a fruitcake, but covered in chocolate.
If you're looking for a new homemade treat to gift the neighbors this year for Christmas, leave the fruitcake at home and whip them up some of these delicious truffles instead.
Simple is sometimes the best. These chocolate truffles are certain to put a smile on your face. And when it comes to having a classic truffle, you can't go wrong with this one.
3. No Bake Sugar Cookie Truffles
Yep, you read that right….no bake! Talk about the best dessert, ever. And you don't even have to turn on your oven!
4. No-Bake Cheesecake Truffles (3 Ways)
This cheesecake truffle recipe shows you three different ways to make them. Talk about a dessert that really knows how to be versatile!
5. Bailey's Irish Cream Dark Chocolate Truffles
Adding in a bit of Bailey's just might be the perfect addition. This is for adults only, but sometimes adults need to have that extra little perk!
6. Amaretto Pecan Cookie Dough Truffles
Pecan and cookie dough were meant to be together in a truffle. I always knew that…but this recipe proves it.
You know that you want to know how these truffles are healthy…don't' you?! I'm sharing the simple recipe with you right here….!
A simple dessert that is loaded down with flavor. And when you combine that cookie taste with anything, it's certain to be epic.
Melt in your mouth delicious. So good and simple to make. I think of Christmas when I taste these.
10. Monster Cookie Dough Truffles
These are certain to be a hit with the kids! (and let's be honest….the adults will love them as well!)
Refreshing and homemade? Count me in every single time. I will stand in line to get my hands on some of these. Seriously.
Who says that you can't eat your wine? These truffles prove that anything is possible once you put your mind to it. And the red wine taste makes them perfect for an after-dinner treat.
13. Gingersnap Cheesecake Truffles
This flavor just screams Christmas…so make up some for your family and friends for the holidays!
14. Secretly Skinny Chocolate Truffles
The secret is out…these truffles are delicious! But do you know what makes them truly special? You'll have to click through to find out!
See? What did I tell you? There are so many flavors and tastes for homemade truffles that the list could literally go on for forever!
The truth is…you have the capability to make every single one of these. With the holidays quickly approaching, why not start practicing now?!
That way, you'll be able to make homemade truffles with ease for all your family and friends.
Do you have any homemade truffle recipes to share?