My favorite thing about Instant Pot pasta recipes is that they not only taste amazing, but they go with everything! You can make a delicious pasta dish for a potluck dinner, housewarming party, or barbeque and everyone will love it. Whether you prefer tangy vinegar, savory or creamy pasta, you will find several new recipes to try. If your house is like mine, your evenings are pure chaos when everyone is home, and it can be hard to find the time to make a healthy meal. That is why I use my Instant Pot so much! Cooking food in my instant pot allows me to focus my attention on other tasks like helping with homework or picking up after my little ones. When I use my pressure cooker to make meals it saves me time, and my family gets to enjoy some yummy comfort food. Don't hesitate any longer because now is the time to break out the instant pot and find your new go-to pasta recipe.
15 Delectable Instant Pot Pasta Recipes You Could Try
These instant pot pasta recipes will go lovely with a nice steak, grilled chicken, salmon, or any other protein. Serve with some warm bread, and you will have an incredible meal. If you love your Instant Pot, make sure to check out our tips and tricks for using your Instant Pot, and 15 Chicken Recipes! 
1. Instant pot shrimp scampi
Anyone who loves seafood should try instant pot shrimp scampi. This tasty pasta dish is perfectly seasoned and has a lovely buttery flavor with a hint of garlic. One of the things that makes this recipe awesome is the fact that it uses ingredients that can be found in any grocery shop. Also, it can serve as a go-for meal both on hot summer nights and in the middle of winter seasons.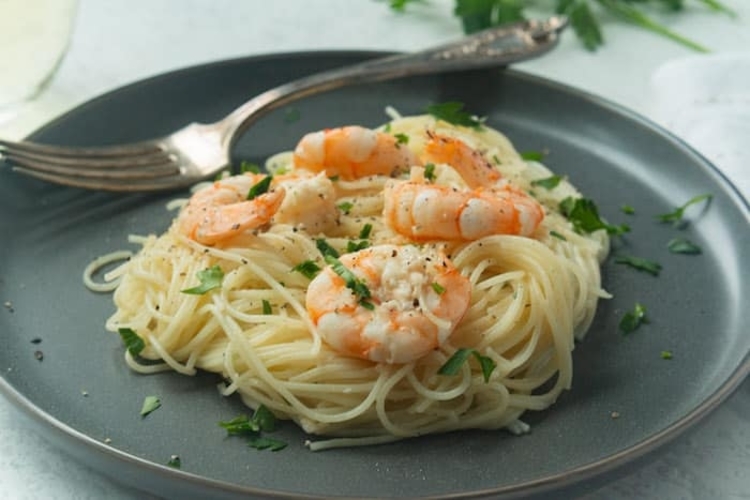 2. Buffalo chicken pasta
If you are looking for a little spice and tanginess, then check out this buffalo chicken pasta because it will make your taste buds sing. Not only does the recipe provide a quick-to-prepare option but also makes it possible to avoid doing dishes after a nice meal. Apart from the instant pot, the only other utensil you may need is a cutting board but we can all agree that that is manageable.
3. Pasta with pesto and mozzarella
Sometimes you need some comfort food in your life, so take a look at this instant pot pasta with pesto and mozzarella. Penne pasta with a tomato-based sauce is out of this world. No need to continue wondering whether you can make pasta with that instant pot, this meal will answer your doubts satisfactorily. The best part is that the meal does not involve rocket-science procedures, it's only a matter of opening your instant pot lid and finding that your pasta is ready for gobbling.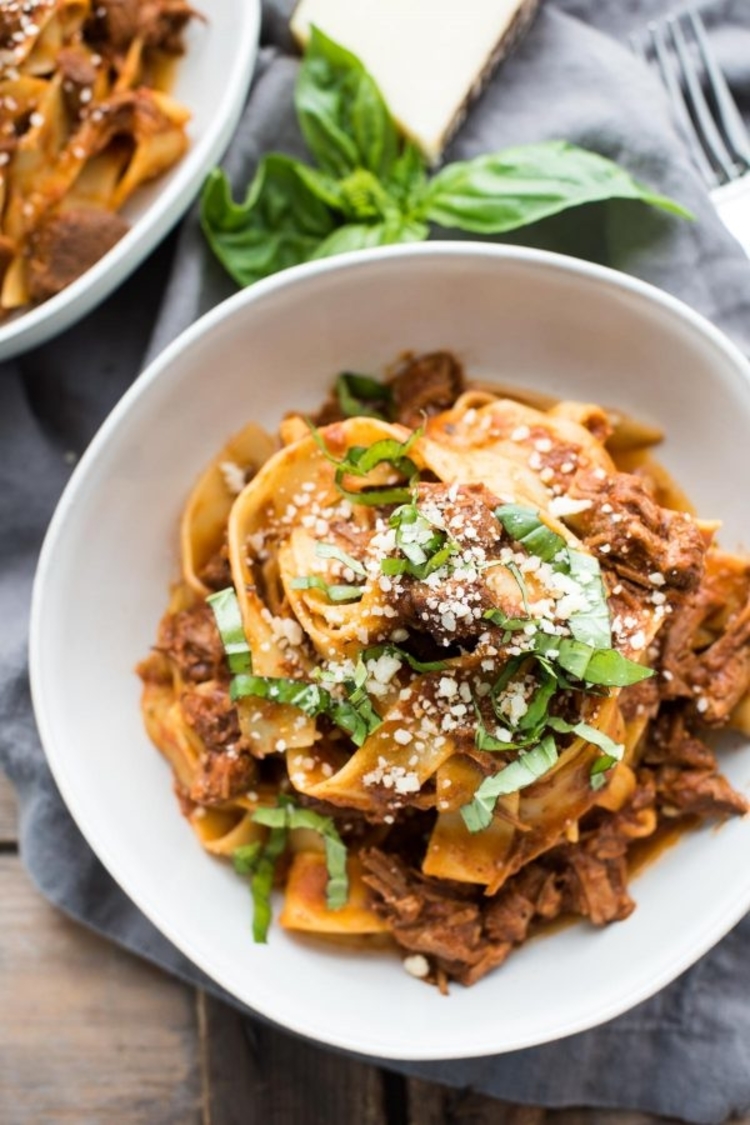 4. Instant pot lamb ragu with pappardelle
You will have an elegant dish that looks like it was made by a chef when you make this instant pot lamb ragu with pappardelle. The instant pot lamb ragu serves as the epitome of cold weather comfort foods. Considering that it's easy to prepare without sacrificing quality, the recipe is one of the instant pot pasta recipes that can be compared to the invention of the dishwasher, it's revolutionary!
5. Creamy chicken pasta
You are going to love how flavorful this creamy chicken pasta is. Add some fresh homemade bread, and you will have a heavenly dinner. Banking on the inevitable reality that pasta is the go-to meal whenever fast meals are needed, the creamy chicken pasta makes a perfect combo for dinners even when you may be out of options.
6. Pumpkin fettucini alfredo
Pumpkin fettucini alfredo is a show stopper, and it is so simple to throw together at the last minute. Plus, your instant pot will get to do most of the work! The option makes a great meal for a busy weeknight and guarantees dense nutritional value because of the pumpkin addition. Agreeably, there is something beautiful about being able to put all your ingredients into a pot and having your meal ready in a matter of minutes. Making it using the instant pot means that everything can be put at once then make cheese additions later and mix. Alas! A scrumptious meal ready to be served with minimal effort.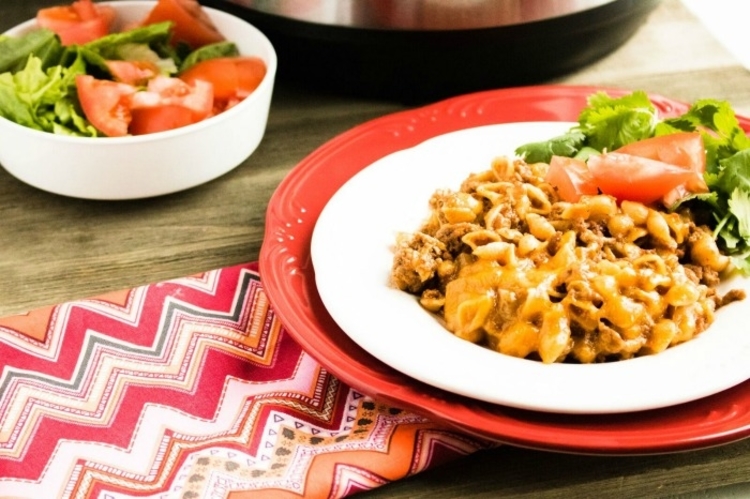 7. Instant pot cheesy taco pasta
Add some flair to your next Taco Tuesday with this scrumptious instant pot cheesy taco pasta. This is a hearty dish that your kids are going to gobble up. Consider that taco pasta is freezer friendly, you are sure that the preparation of this meal is one that is undeniably easy. It makes the list of my easy family-friendly instant pot recipes because of how easy it is to prepare.
8. Instant pot spaghetti
This instant pot spaghetti is so yummy that you won't have any leftovers! Add a fresh garden salad and garlic knots to make a complete meal that will leave you satisfied. Different from other spaghetti meals that require a lot of work for preparation, this instant pot spaghetti recipe presents an appealing way to prepare you or your family a hearty dinner avoiding the troubles that come with using the traditional recipe.
9. Chicken spinach artichoke pasta
If you want a quick and easy recipe without a lot of fuss, take a look at this recipe for chicken spinach artichoke pasta. It is the perfect creamy and savory dish you have wanted to find. Similar to the pumpkin fettucini alfredo, this meal is perfect for busy weeknight dinners. With just a few ingredients, the meal comes perfectly together without a ton of prep work.
10. Pasta with Mediterranean vegetables
Do you want a flavorful side dish to take to your next event or potluck? This pasta with Mediterranean vegetables is tangy and has everything you need in a pasta recipe. Depending on how you love your pasta, the meal preparation time can slightly differ in the amount of time taken but one thing that is sure is that you will have your meal ready and served in under an hour.
11. Instant Pot Lasagna
Everyone needs a mouthwatering instant pot lasagna recipe in their lives. There won't be a crumb left after your family sinks their teeth into it! It's the perfect "toss together, stir and cook" meal recipe that will get you and your family enjoying a delicious dinner and having just enough lunch for the following day stored in the fridge. You can play around with some variations of when to include the cheese but the eventuality is awesome.
12. Instant Pot Thai Peanut Noodles
Instant pot Thai peanut noodles is sure to be a new favorite because it tastes incredible and it is effortless to make. Spaghetti noodles in a tangy sauce with a little bit of sriracha for an extra kick of flavor. In less than 10 minutes max, you could have your meal ready to gobble down. Also, the meal provides room for including chicken in the recipe to make it even more delicious.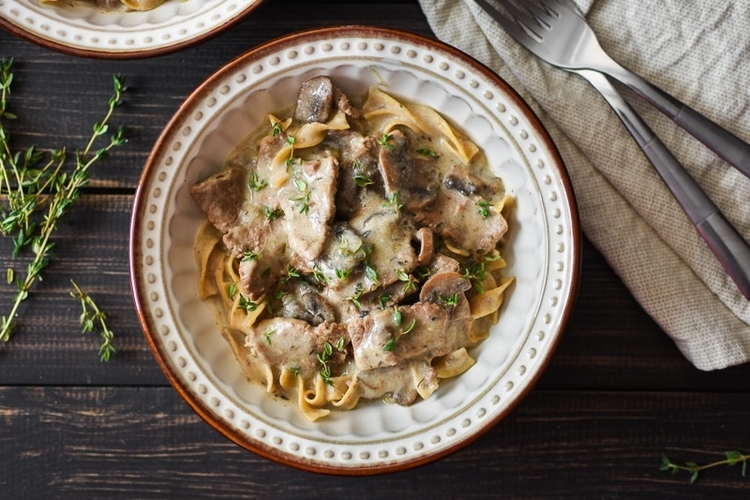 13. Instant Pot Beef Stroganoff
Perfectly seasoned instant pot beef stroganoff is sure to impress your guests and your kids! Serve with some cooked veggies and dinner rolls. In addition to being creamy, we can all agree that this recipe is belly-filling and definitely the comfort everyone would desire for themselves or their family. You've got to try it today because I personally loved it.
14. Asian Beef Noodle Soup
I love that you can make ahead and freeze this instant pot Asian beef noodle soup. It makes planning a meal on hectic nights even easier. For someone who loves noodle soup, the Asian beef noodle soup provides an alternative that enables on hit two birds with one stone. In addition to enjoying it as a noodle soup, there is a guarantee that one is feeding on a healthy meal. Finally, having an Asian origin makes it have the inherent comfort food quality possessed by Asian meals.
15. Instant Pot Mac and Cheese
You aren't living unless you try this instant pot mac and cheese! It is creamy and tastes divine. Serve with some cheeseburgers or homemade meatloaf, and you are all set. Adding to the set of meals that provide a good option for busy weekday nights, the instant pot mac and cheese provides an experience that will hold back anyone from making mac and cheese on a stove ever again. In less than 10 minutes, you will have your meal ready for gobbling.
Considering the numerous instant dish pasta options to choose from, I'd bet that you are spoilt of choice. What is your favorite type of pasta? Also, you might want to think about what situations push you towards pasta as a meal of choice.
You can buy a good pasta but when you cook it yourself it has another feeling. – Agnes Varda
Did you enjoy the above instant dish pasta suggestions? Well, here are other pasta-related articles you could enjoy: