Halloween is a time for sweet treats, fun costumes and spooky drinks! We've found 15 scare-worthy Halloween drink ideas to serve at your Halloween party. And the best part is all of these drinks are kid-friendly, but you can add a little kick to the for the adults if you want. Which of these hair-raising drinks do you plan to try first?
Halloween Drink Ideas for Kids
These Spooky Fog Drinks will be a huge hit at a Halloween party. The secret to creating the fog is dry ice!
Make a spooky Halloween spider punch with orange juice and spices, and hang black licorice spiders from the straw.
This Witches Brew is a kid-friendly punch made with lime sherbert, limeade and Sprite. Add a gummy eyeball to the side of the glass for that spooky factor.
Kids will ooh and ahh over this Magic Potion Punch. The Jello powder creates a fun fizz in the drink!
This kid-friendly Vampire Drink is made with just two ingredients: Sprite and Kool-Aid liquid. Throw in some vampire teeth, and you're all set!
This Cemetery Slime Punch really does look gross! It's made with root beer, chocolate and vanilla frozen yogurts and gummy worms.
We love the colors in this Trick or Treat Halloween Punch and thought, "How did she do that?" As it turns out, you need drinks with varying sugar contents to create the layers. The drink with the highest sugar content goes on the bottom, and the drink with the least sugar content goes on top. Pretty slick!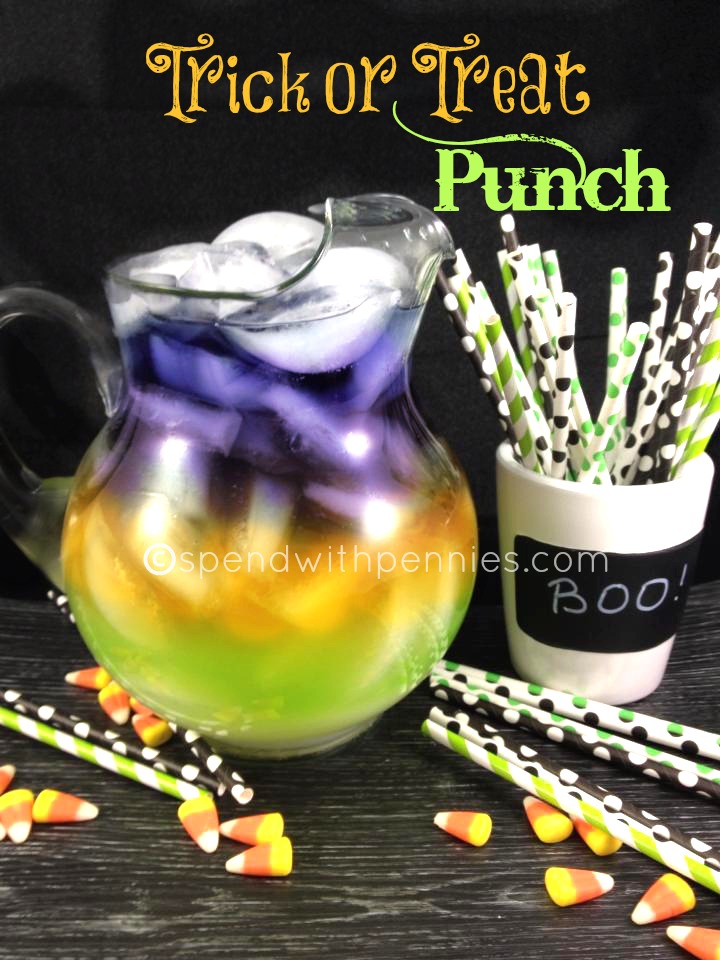 VooDoo Punch is so much fun! The syringes are filled with raspberry syrup, so it creates a bloody effect when your guests squirt it into their drinks.
Add wax vampire fangs to any red drink, and you have yourself a hit. This Slushy Punch Recipe is so good!
Vampire Floats are as frightening as they are sweet. Create the bloody effect with strawberry or raspberry syrup, and put plastic vampire teeth on the rim of the glass or around the straw.
Instead of making special drinks, try decorating the glasses instead for your Halloween party drinks. These faces are cute, but you could just as easily create really spooky ones for the older guests.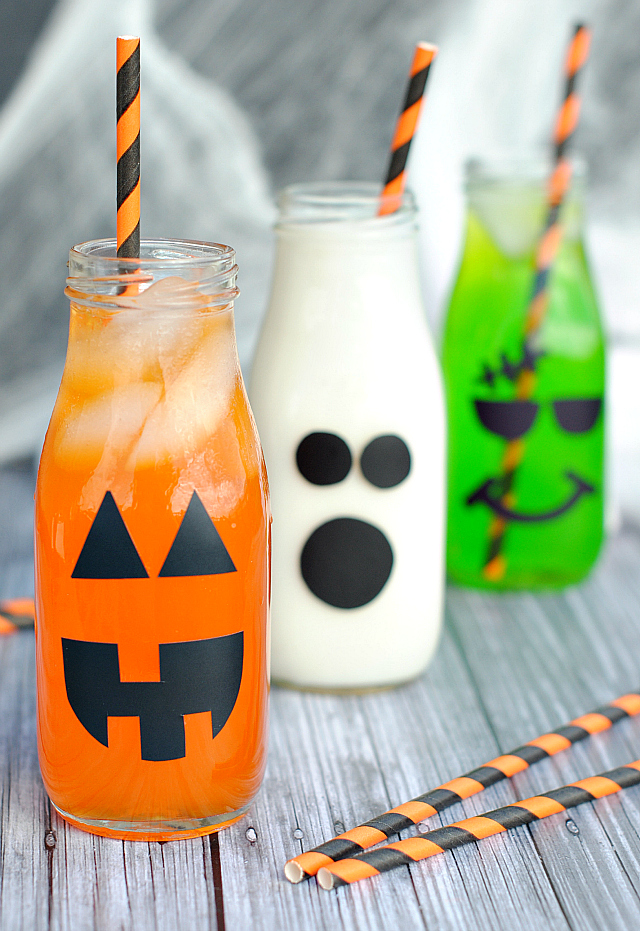 These Eye Popping Floats use orange soda, ice cream and gummy eyeballs. It would look amazing with a green or purple drink, too!
Poison Apple Punch uses apple cider with dry ice to create that foggy effect we mentioned with the first drink. Add an apple slice to the rim of the glass to punch it up a bit.
The eyeballs in this Eyeball Punch are made using lychees (found in the Asian foods section) and blueberries. Isn't it gross and fantastic?
A surefire way to bring out the monsters in everyone is by drinking some Toxic Ooze. Put plastic bugs, gummy worms or eyeballs, etc. in to add the scary factor.
If you liked these Halloween Drink Ideas, check out these posts:
15 Candy Corn Inspired Decorations for Halloween