If you're looking for some awesome candy corn decorations for Halloween, you're going to love these!
Not feeling bats, witches, ghosts, and goblins for Halloween? Don't worry; we've got you covered! Candy corn decorations are a sweet and festive way to get your house ready for fall. We've rounded up some of the cutest candy corn inspired decor on the web. Take a look!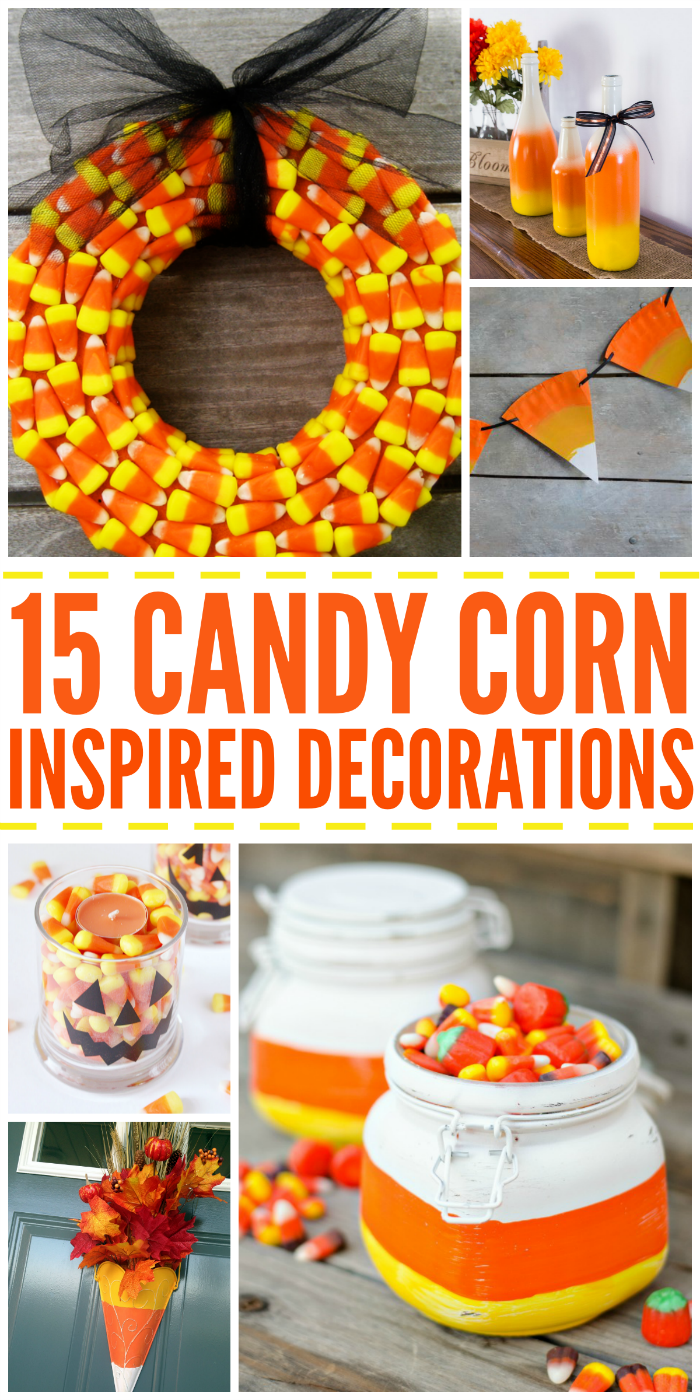 Candy Corn Decorations for Halloween
A candy corn wreath will make a lovely addition to the indoor decor. Don't put it near a heat source, though. Melted candy corn can make quite a mess!
Make a candy corn treat jar to keep at your desk at work or on the table in your home for guests. Fill it with candy corn, of course!
These easy candy corn tealight holders are beautiful! You can make them for a couple of bucks apiece using materials from the Dollar Store.
Painted candy corn bottles will look lovely on your mantle or on a table in the entryway.
If you plan on hosting a Halloween party, these candy corn tissue paper pom poms will look lovely outdoors and indoors. You could also put a few on the table to add color.
Light up your walkway or dinner table with some candy corn mason jar luminaries. Use battery-powered candles if you have little ones around.
A hanging candy corn vase will brighten up your door for the Halloween season, but it's versatile enough to work all through fall.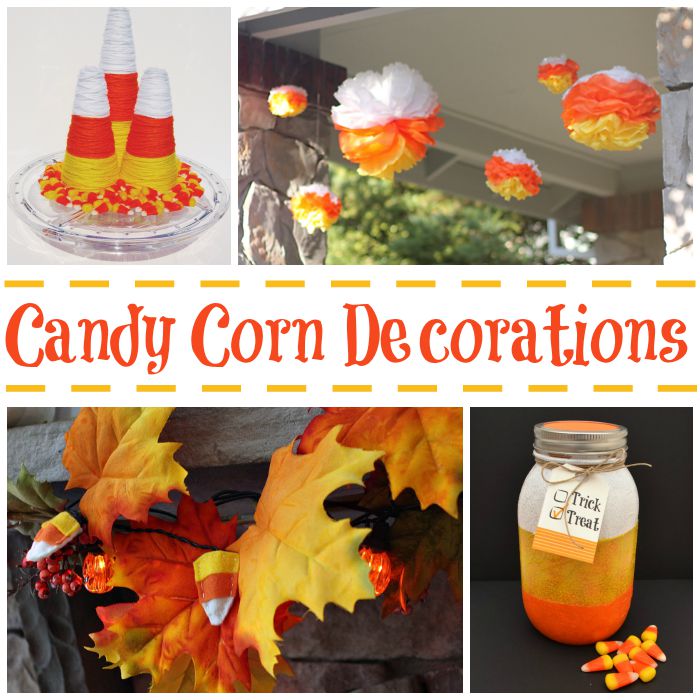 Candy Corn Decor for Fall
String up some lights and sew some of these cute candy corn felt light colors to make a beautiful garland for the mantle.
Here's another fun one the kids can help with: candy corn pine cones. Make a day out of gathering up pine cones outdoors and decorating them for fall and winter!
Speaking of crafting with the kids, this paper plate candy corn bunting is also an easy and fun fall craft.
Candy corn gift jars would make great fall wedding favors, and they'll look great on your table, too.
Kids will adore these felt candy corn plushies. They'll look so cute on your sofa or on a bed. Plus, it's a sweet gift idea for babies born in October.
Candy corn trivets will look wonderful in your kitchen this fall.
Not into spooky Halloween decor? Make some candy corn yard stakes to spruce up your yard during October.
Candy Corn Treats (no tricks)
Even though we talked a little bit about the candy corn decorations above, I've got to make time for the treats as well!
This is seriously the debate that has been going on for years…Some people love candy corn, while others could really care less about it.
My personal opinion? I love it during the Halloween season. There's just something about it that makes me happy and smile.
My favorite treat using candy corn? It's as simple as this recipe below.
Candy Corn and Peanuts Recipe
You're just going to need a few simple ingredients and about 2 minutes of your time.
Ingredients to make this candy corn dessert:
1/4 cup candy corn
1.5 cup peanuts
Once you have your ingredients, you just mix it together in a bowl and take a handful.
I bet once you do, you'll be thinking that it tastes just like a Payday candy bar!
This recipe is my go-to recipe for Halloween parties, fall football tailgates…you name it.
And once everyone has a bite of the winning combination, it soon becomes something that they look forward to making every single year as well!
Now that I've told you my super-secret recipe for the best candy corn dish ever, don't forget to combine that with all your awesome candy corn decorations as well!
Who knew that a homemade Halloween could be so much fun!
Do you have any other fun ideas for candy corn decorations for your home?