Tired of the monotonous run-of-the-mill birthday cakes? Are you a person who likes gifting people with cakes or hosting those parties that require you to serve guests with cakes? Probably you are looking for new and exciting cake designs that have that unique touch you desire so much and are quite different from the ordinary ones yet still maintaining that impressive look. Look no further, my dear. You have just landed in the right place.
You can still have your way with that creative thought you've always wanted to try out with cakes and that is why we've rounded up 15 cool cakes so you can make your own creative and original birthday cakes (or at least give the idea to your baker). Let's get started! After the baking, here is an original idea to give a gift.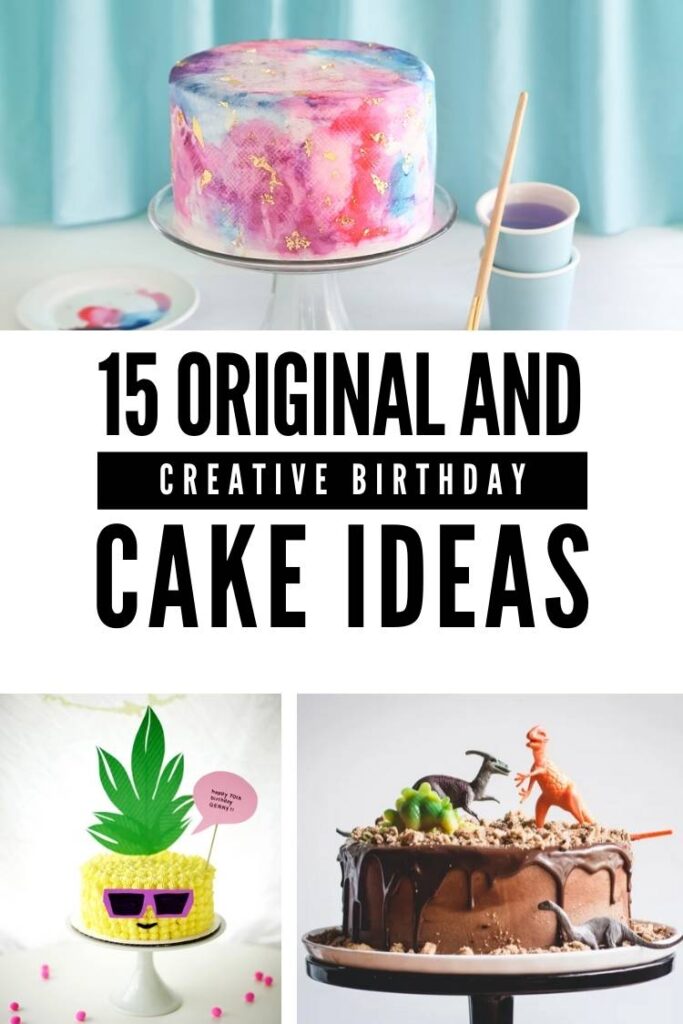 Original Birthday Cake Ideas for Your Next Party
1. The Rainbow Cake
Have you run short of ideas for cakes during your kid's birthday party that are going to happen very soon? Do you have a feeling that probably your kid is bored with the ordinary cakes you order from your baker that lack that unusual aspect, or those cakes you normally bake for them? Then it's time to try something new that is kid-friendly and will leave them smiling from ear to ear. And what else should you try if not the rainbow cake! Ooh, how beautiful it is! Your kid will definitely like this. So, colorful indeed. You can try making this with your kid and watch him/her explore their creativity. Get some food color markers to let your child make his or her own doodle design. You can't get more original than your child's unique drawings!
2.  Melting Ice Cream Design
If you're known for your sweet tooth, a melting ice cream topping is just the ticket on your special day. This can really work pretty well for children as well as for grown-ups. You can always explore your creativity with this cake design as much as you want. You can use the actual ice cream, with the cone or you can improvise and go chocolatey. There is no restriction whatsoever. You can always have your way around it. For any party, this is a "go-with" cake design for me. As impressive as it looks, it can't disappoint.
3. Paint Can Cake
A paint can design is perfect for any budding artist. I tell you, this is creativity on a whole new level. I am even fascinated with the whole design and how it has turned out to be from an idea in the mind to something so tangible, beautiful, and impressive not forgetting eatable since it is just appealing to the eye with every bit of it. For kids, this is definitely eye-catching and therefore, there is no way your kid is going to say no to this. This is just perfect for your kid's big day and will just make it special. This cake will definitely leave them all smiley. If you're up for the challenge, take a look at the video tutorial and try to make your own.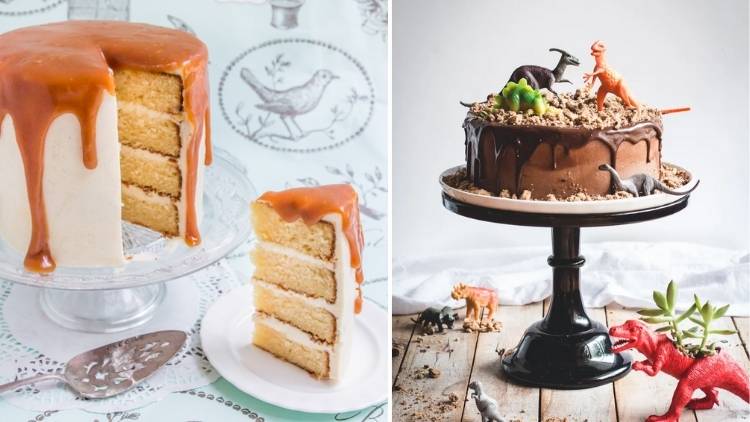 4.  DIY Lego Design
If you have your five years of a guy turning six and they are into playing with Lego as his/her favorite toy, then you should look no further. You should like literally buy into this cake idea if you wanna make that little fellow's big day a memorable one and special one altogether.  This DIY Lego creation actually looks doable, even for those who are totally averse to cake decorating (like me). You just have to play with those kid-friendly colors and put in your extra touch of creativity and you definitely be awed with the kind of outcome you will have as your final product.
5.  Chocolate Chips Ahoy Dinosaur Theme
Even as an adult, nothing is cooler to me than dinosaurs. Check out this amazing chocolate Chips Ahoy dinosaur work of art. For the geologists and the Jurassic World movie lovers, you haven't been left out. I myself am a fan of dinosaurs that traversed the earth during the Jurassic period of the Mesozoic era, according to the geological time scale. Too much geology there, or is it biology? Don't mind me. Let's get back to cakes then. The chocolate cake is a really good representation of the dark brown earth crust while the chocolate chips ahoy represent rocks. A geological theme there. Perhaps you should try this theme one of these fine days. Thank me later!
6. The Watermelon Design
Here is a summer cake design that you should probably try out during this summer. Now that we are into summer actually, you should be having it on your to-do list already. This watermelon design isn't exactly for a birthday, but it's perfect for summertime birthdays anyway. Not only does it look like a watermelon, but it tastes like watermelon, too. Yes, you read it correctly, the taste is that of a typical watermelon, thanks to watermelon puree and Jell-O. This actually is an easy-to-do design. If you've got time and you wanna try new cake ideas, why don't you begin with this one? After all, it is a learning process. Enjoy!
7.  Brown Butter Vanilla Bean Icing Cake
Ever wished you could find a birthday cake that tastes like it's made for adults? Here it is: brown butter with vanilla bean icing and salted caramel. This is definitely a do for me especially during adult parties or even weddings whereby most of the attendees are old people who aren't into sugary stuff, unlike kids. It would work perfectly as a dessert more so, for caramel lovers. Trust me. With easy-to-source ingredients and a simple-to-follow recipe, this is an executable cake design. Not a lot of preparation work needed. Just go ahead and have a try. Ooey. Gooey. YUM!
8.  Water Color Graffiti Concept
For those who are fond of watercolor graffiti, here is a cake to really deploy all those creative arsenals of yours on. It a rather simple cake to make since the painting technique isn't any difficult to do. With just a few hues of gel food color, a number of sponge stipplers, clear vanilla extract (or you just can use vodka instead), and a little bit of your precious time and you are set to make that work of art doable. You also just need to employ creativity with mixing the colors in order to create that beautiful watercolor effect. This watercolor graffiti cake would be great for a tween or teen birthday party.
9. Ice Cream Cone Cup Cake Concept
Aha! Having a tween's birthday party approaching really fast? Don't scratch your head that much wondering what cake to have for your tween's party. You can use ice cream cone cupcakes that are made using various ingredients to come up with a nice cake concoction for your kid's party. Using various elements you will create a  variety of ice cream cupcakes that will really blend in well for that ultimate cake design. I bet this can work for the older kids as well. An ice cream cone cupcake concoction is cute, but not over-the-top cute, so it'll work well for younger and older kids alike.
10. The Fox Design Cake
What does the fox say? I don't know, but this fox design is super cute. Well, this is really cool design for your little one's upcoming birthday party. Perfectly suited for whatever theme you want to work with for the party; be it Mr. Fox's tales or that Mr. Fox's movie night that is your little one's favorite. The recipe for this is quite simple and easy to follow. With a little bit of your time, this design is easily executable. You should actually try this if you wanna make your little fellow's birthday party fantastic and memorable.
11. The Sky Party Cake
The entire concept of this sky party is just adorable! And the cake is super easy, too with an easy-to-follow-through recipe. Any white cake will do, and you can simply decorate it with clouds, kites, planes, etc. on sticks. Genius! For kids, this will be eye-catching and definitely, a glowing face brightened by a broad smile will ensue. Trust me. This is a recipe that you can work on with your little fellow and just let them be as they explore their creativity. It's time to have fun in the kitchen.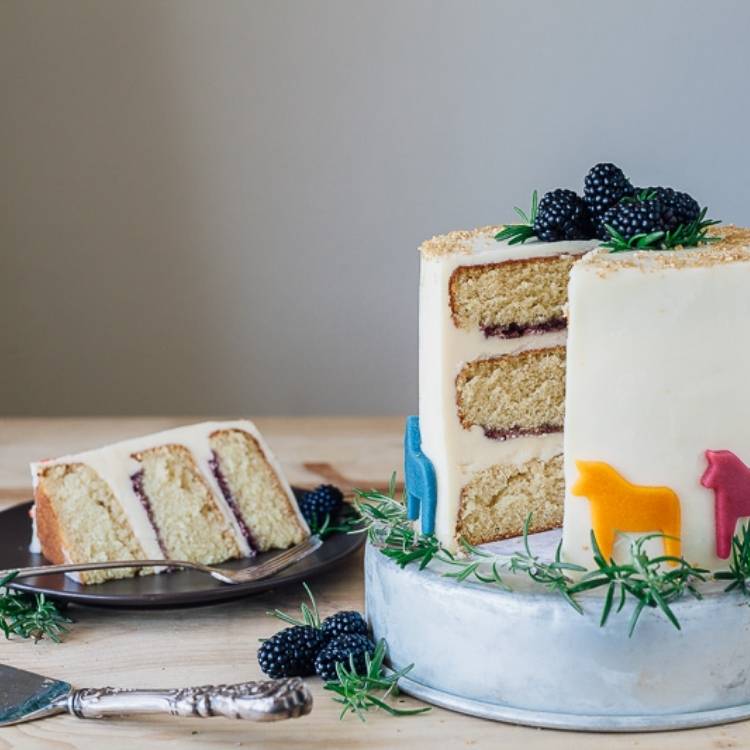 12.  Pony Cake Concept
I never got the pony I wanted as a kid, but maybe this pony cake would have made me feel better. A rosemary vanilla cake with blackberry preserves and mascarpone frosting? Yes. Please. This is a definite do for me, as a proud lover of vanilla cakes. I think I might run off with this idea and try it out in the comfort of my kitchen. The ponies look appealing and give the cake its characteristic colorful look. Any kid would like this cake for sure. Why don't you try out this cake design for that upcoming birthday party of your kid?
13.  Instagram Cake
Social media has infiltrated each and everyone's minds these days and actually, no one wants to be left behind. With the development of technology, almost everyone has a smartphone and can access social media handles from which ever location they are at. Instagram has had a fair share of fans since its inception and actually, the fanbase is growing each and every day. So many people are into Instagram nowadays. Therefore if you have a selfie-obsessed friend or family member, make an Instagram cake. They would actually appreciate it. This is a genius idea that you should take advantage of. Impress that loved one.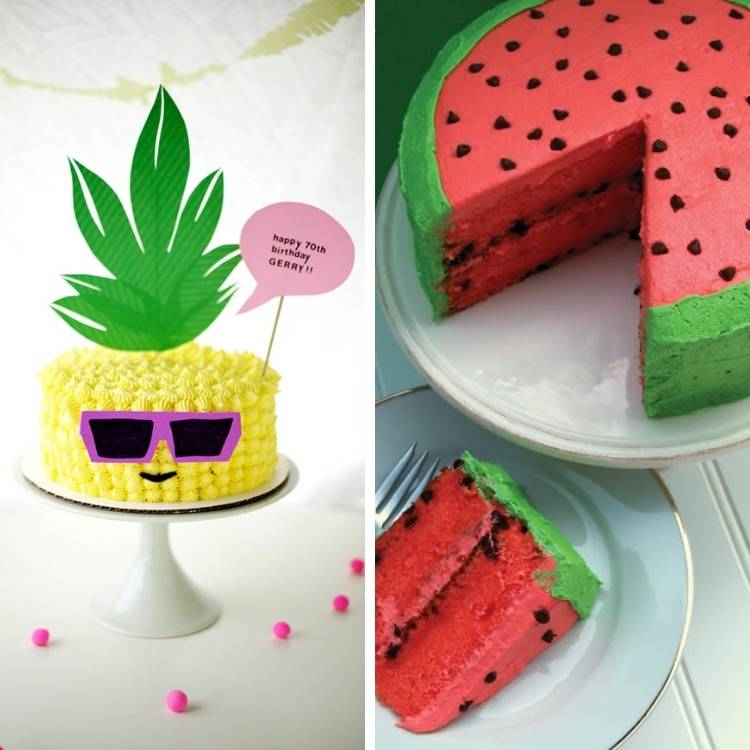 14.  Pineapple Cake
If you want to create a cake worthy of the Hawaiian theme then you should try this design. This is quite a design that creates warmth and brightens the mood, especially with the bright yellow color. It is fit for anyone's birthday party, whether a kid's or an old person's, it would suit perfectly. This design is executable and does not consume much of your time. This pineapple cake makes me smile. Perfect for a luau-themed party. Simply the best!
15. The Guest-Name Concept
Last but definitely not least, here is a special cake design for you to actually try out. In order to execute that perfect "wow" moment, then you should pick up this idea. For the ultimate surprise, but the guest of honor's name inside. Cool! This works pretty much well with people who've got short names, but it doesn't mean you or your guest who's got a long name can't pull up the name cake. No, on the contrary, you can always use the short forms of the names or better still use initials or a short nickname. You are good to go. Enjoy!
  Birthdays are a new start, a fresh beginning and a time to pursue new endeavors with new goals.
Have you enjoyed these creative and original birthday cakes? Here are more birthday tips for you