There's something so calming about a home decorated with a beachy theme. These DIY ideas for driftwood projects are creative and fun while giving your home decor a refreshing and relaxing beachy feel.
You can't deny that you too have dreams about a villa on the beach. You know, a beautiful white one, with a big porch you can watch the sunset on while drinking a glass of chilled white wine, and listening to the waves… Ahh, do you feel the breeze yet?
I know I am not the one who needs this type of peace and serenity in their lives. So, I've been going through different driftwood project ideas for a long time now. Although it was difficult to narrow down, my favorite has to be the driftwood mirror. Find your own favorite and tell me about it! I'd love to hear from you!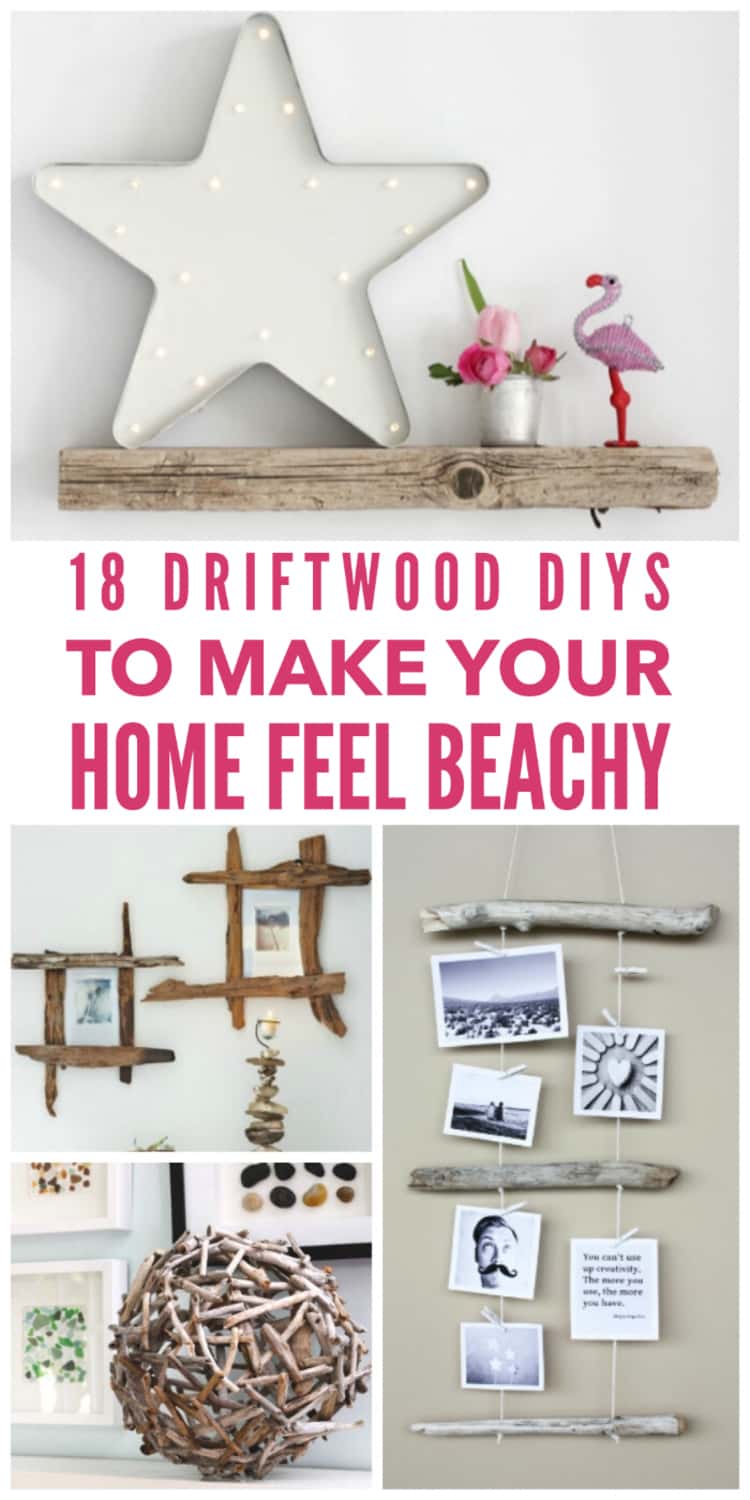 Creative Ideas for Driftwood Projects That Will Make You Dream About The Beach
Living by the sea allows me to gather crafting materials (driftwood, shells, stones, and other treasures) fairly easily, especially after stormy days in Spring or Autumn. But after storing some, I decided I need to pick what exactly I am going to do with it. So, I dove willingly (and happily) into a rabbit hole of driftwood DIY projects ideas on the internet.
1. Beautiful Beach Theme DIY Projects Everyone Can Make – A Driftwood Towel Rack
This is one of the easiest projects with driftwood you can ever make! It's easy to make and requires very few materials.
Add a beachy touch to any bathroom with a driftwood hanger towel rack. All you need to do is add coat hooks. Check out the tutorial for this easy driftwood art!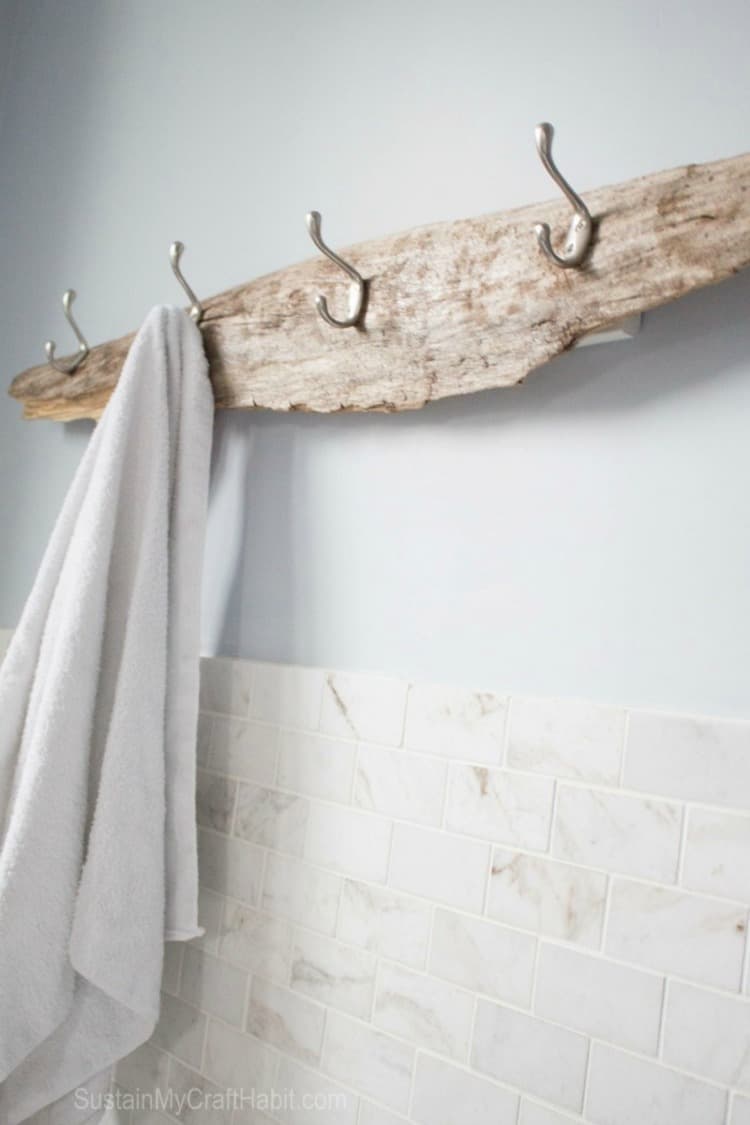 2. The Driftwood Chalkboard You Must Make This Weekend
I love chalkboards! But it's hard to make them a part of any interior without making the room look like… a school classroom. And I finally found my solution!
A driftwood chalkboard home décor will look great in any room, even in the living room or right beside your coffee table. And it's a good reminder to "just relax," like you would at the beach.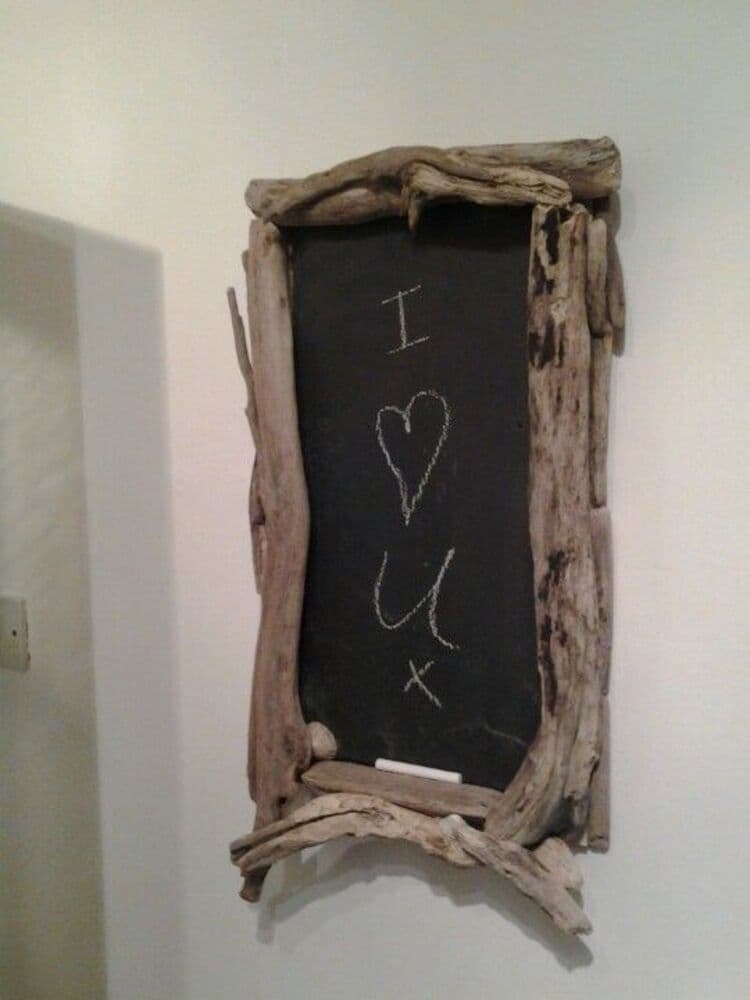 3. Stunning Mirror Revamp With Driftwood That You'll Want To Have
Mirrors can be a wonderful addition to almost every room if they are integrated into your decor in the right way. So here's one of the best diy driftwood decor ideas in town!
I have to admit, I'm a little obsessed with this driftwood mirror frame. It has a starburst mirror look to it, but with a rustic feel. This would require small driftwood pieces (make sure they're clean driftwood!) put together using hot glue gun or any strong-holding glue. Lovely!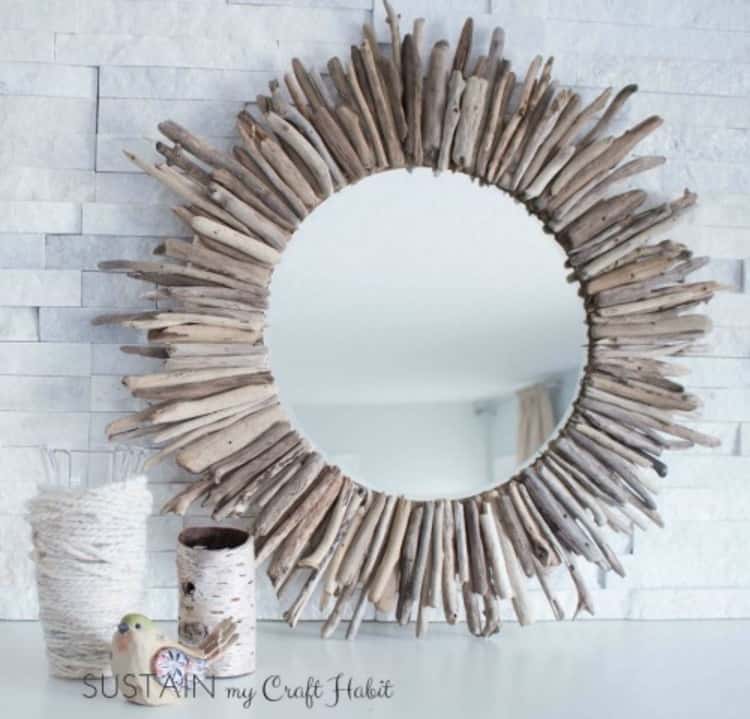 4. Simple Driftwood DIY Projects – Make Your Own Picture Frames
Finding the right picture frames could be a challenge. You might not like the color, the shape, the useless accents. So why not make your own?
Use driftwood planks to create these gorgeous picture frames. These are so easily customizable as wall art! You can seal them in their natural color. More driftwood craft ideas coming up!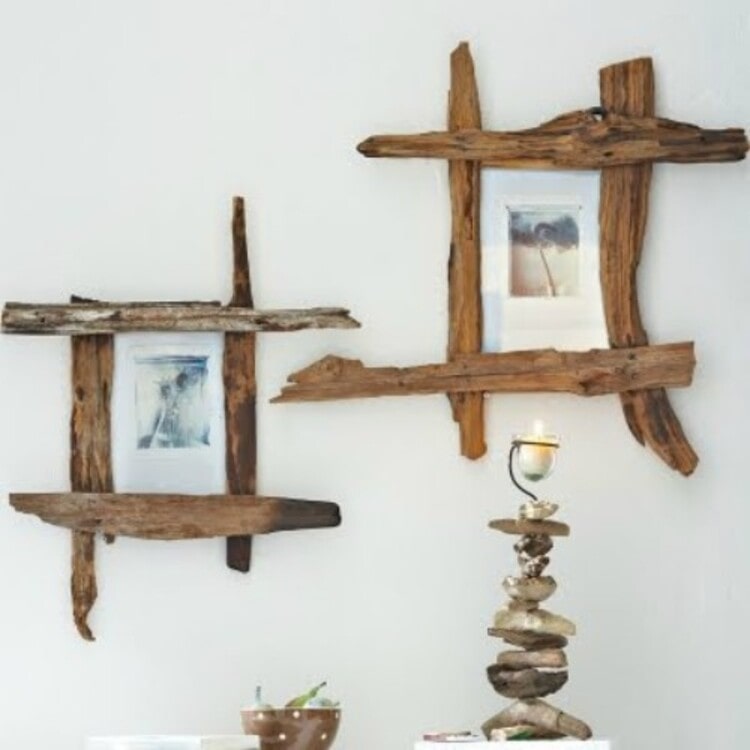 5. Hang Your Pots And Dry Your Spices On A DIY Driftwood Rack
Wouldn't mind a beachy feel in the kitchen, too, would you? And why not use that huge branch you found washed up on the beach the other day?
Add a rustic driftwood pot rack to your kitchen. You don't need a lot of driftwood for this project. Make sure it's a really sturdy piece, particularly if your pots and pans are heavy.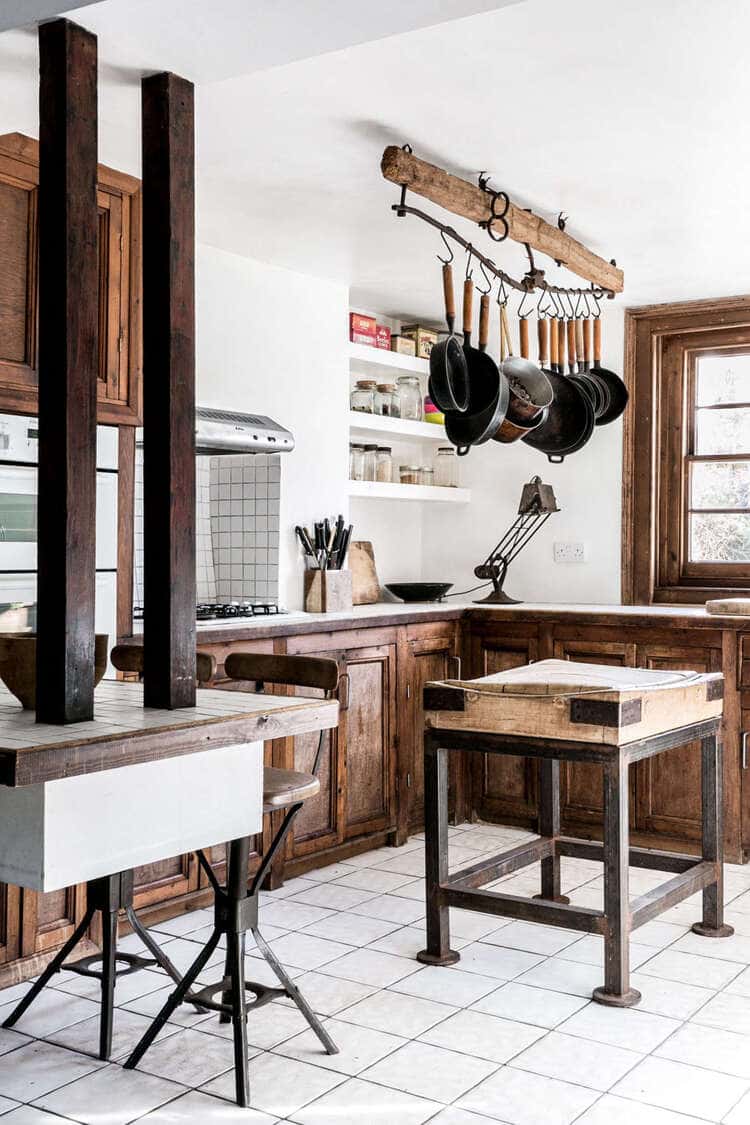 6. "Home" Coat Rack Made Of Driftwood
Got a few pieces of driftwood stored in the garage, waiting for your inspiration? Here's the best way to put them to good use!
Hang your hat (and coats) on this "Drifting Home" coat rack where the word "home" is spelled out in driftwood. Simply remove the sand and dirt in them, then drill them securely on the wall. Such a nice sentiment!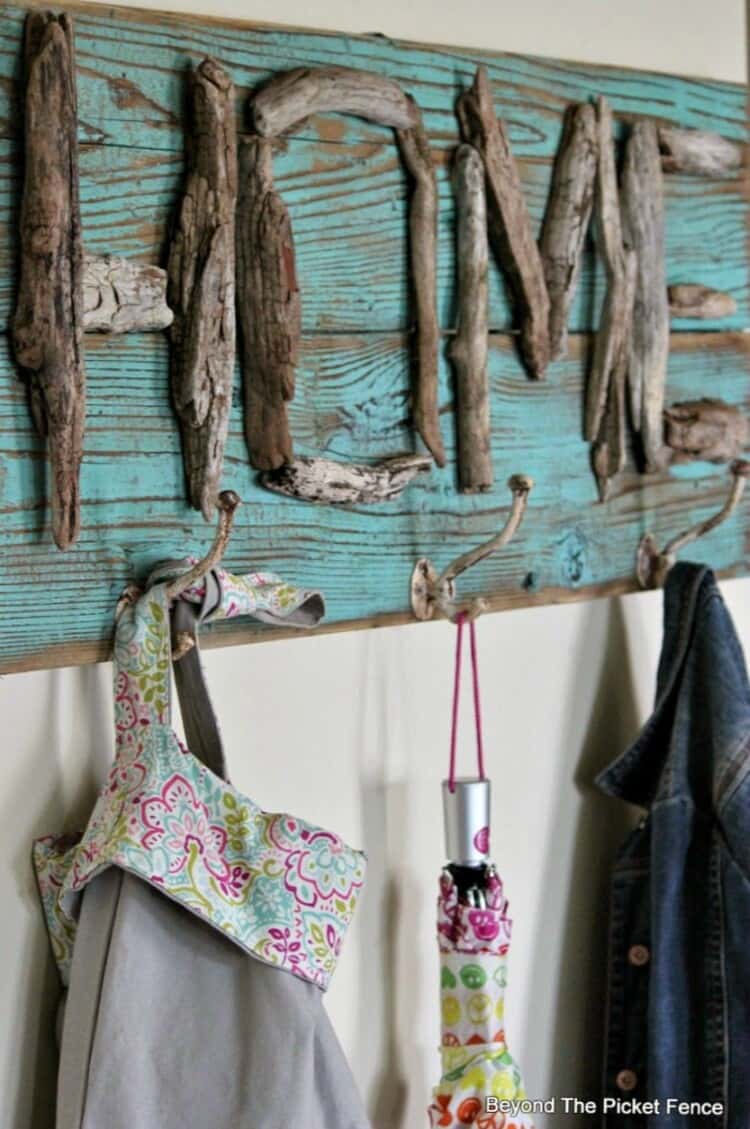 7. Level Up Your Decor With A DIY Coastal Blanket Ladder
It would have never come to my mind that I could use a ladder for storing blankets, towels, or even clothes. But this project changed that.
Create a coastal blanket ladder for your bedroom. The driftwood is used as the rungs for this piece but you can make it from driftwood only. It would also make a nice towel rack in the bathroom. You can also use this as a necklace holder, jewelry holder, or jewelry organizer if you like.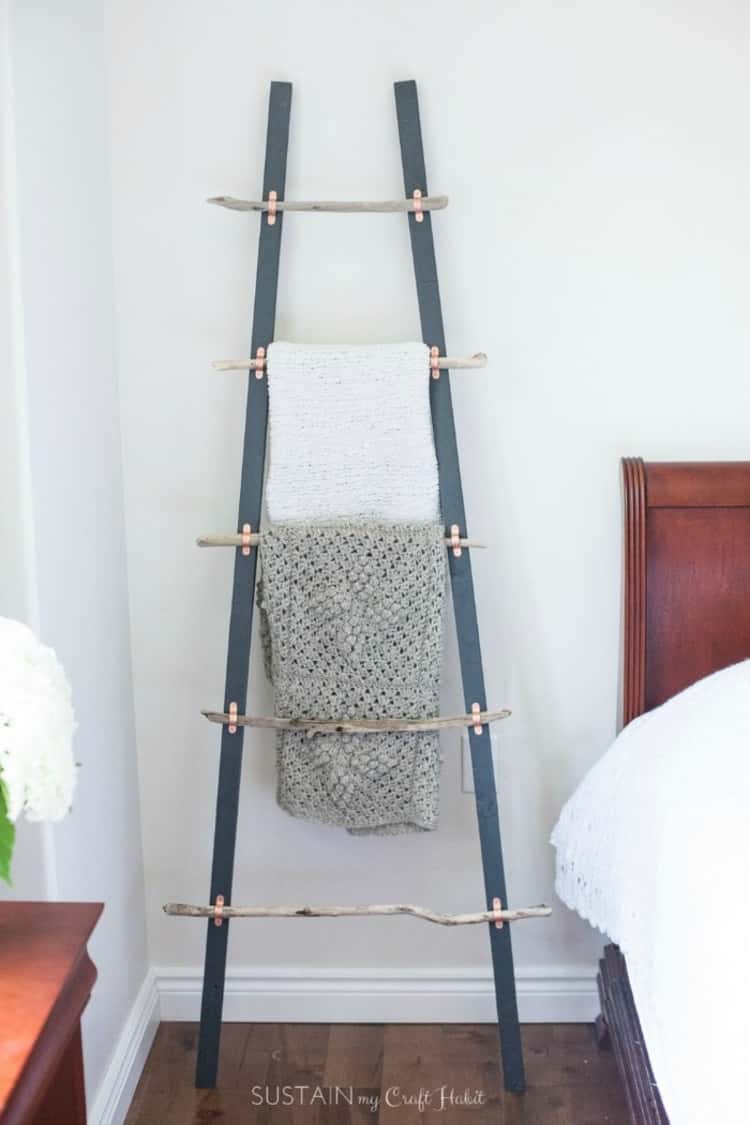 8. Bring The Beach At Home With A DIY Driftwood Wreath
Don't you just love beautiful and creative wreaths? Well, here's one idea you'll make once and you can reuse it over and over again!
Get that beachy feel as soon as you walk through the door with a driftwood wreath. You can easily adapt this for each season by using elements that you can stick in the wreath rather than gluing the pieces on. Pretty door centerpiece!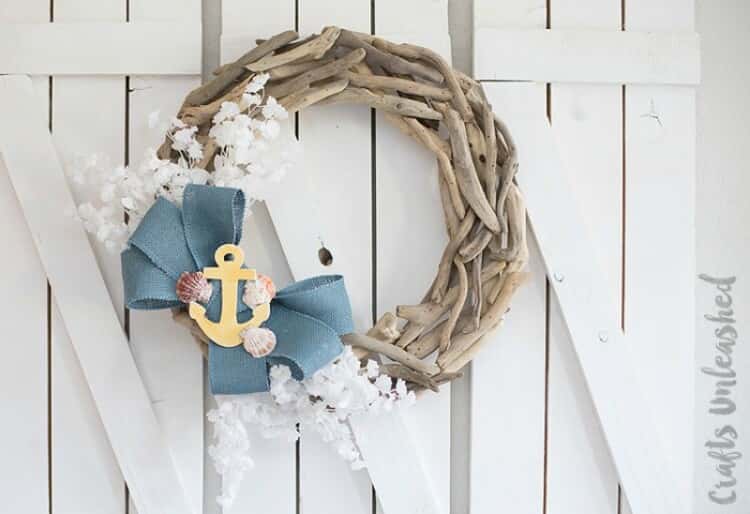 9. Cute Floating Driftwood Shelf – The Perfect Way To Add An Accent To An Empty Wall
Sometimes, a piece of driftwood you stumbled upon on your last walk on the beach, could be just the right shape for… a shelf!
Add a floating driftwood shelf to your wall to hold your beach mementos. It's very easy to customize and it's so simple to make but it will improve your room's decor tremendously! You can put some candles, a vase, or any sentimental glass jar!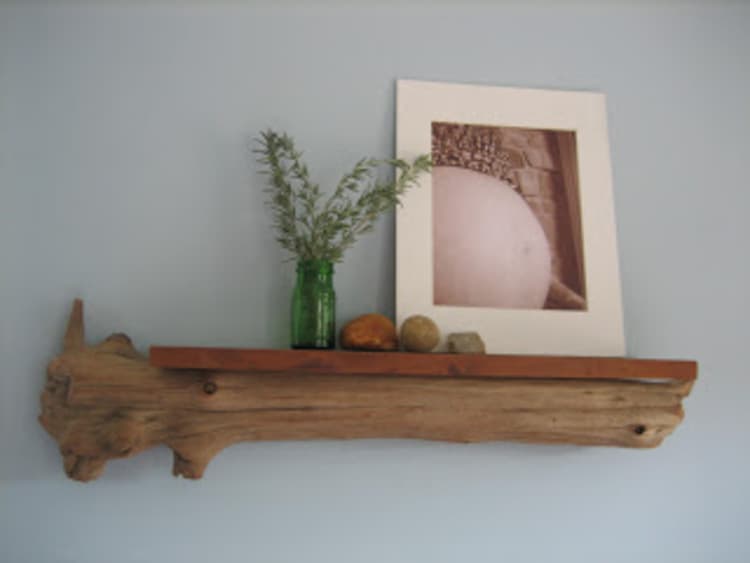 10. A Driftwood Succulent Planter You'll Instantly Fall In Love With
What a huge variety of shapes could a piece of driftwood that spent some time in the ocean be! And don't think there's no way to save a hollow branch because this project will inspire you to look for one.
A hollow piece of driftwood made the perfect succulent driftwood planter. Make sure to choose hardy succulents if you live in a climate with cold winters.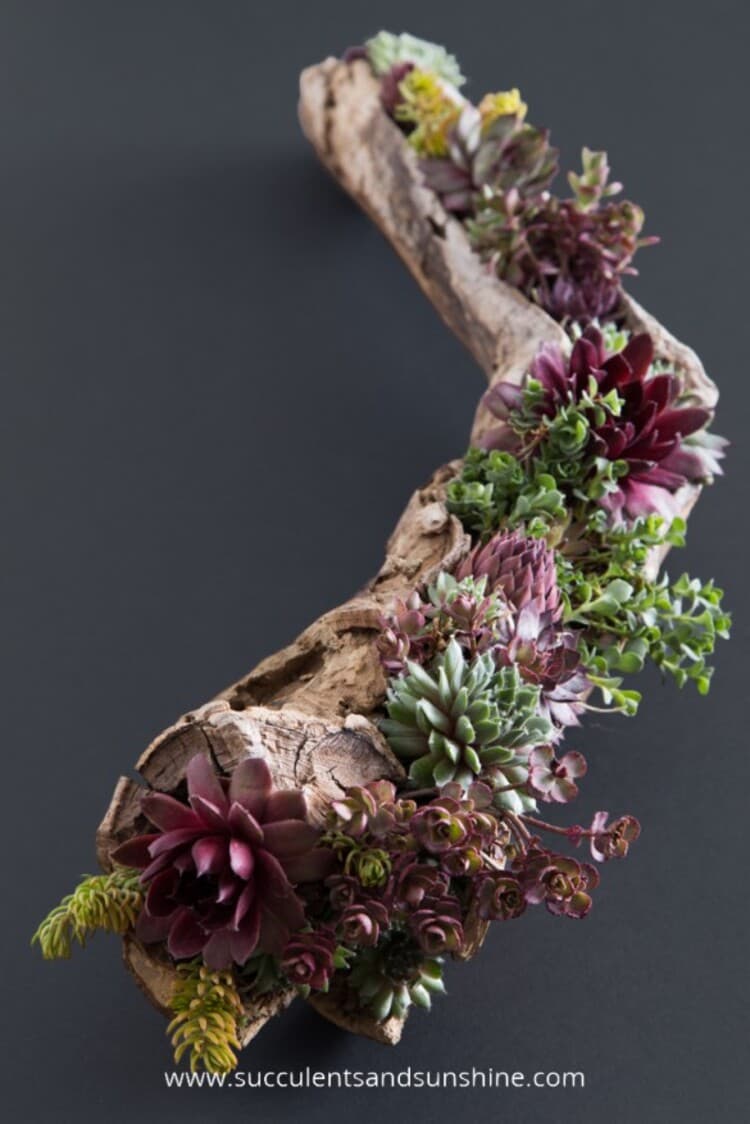 11. Fun And Colorful Jewelry And Scarf Hanger From Driftwood
Adding a colorful accent to a plain wall can turn the energy of the whole room around. And why not paint a piece of driftwood? Yes, a driftwood jewelry hanger!
A jewelry and scarf hanger always comes in handy! She jazzed up her piece of driftwood with some acrylic paint.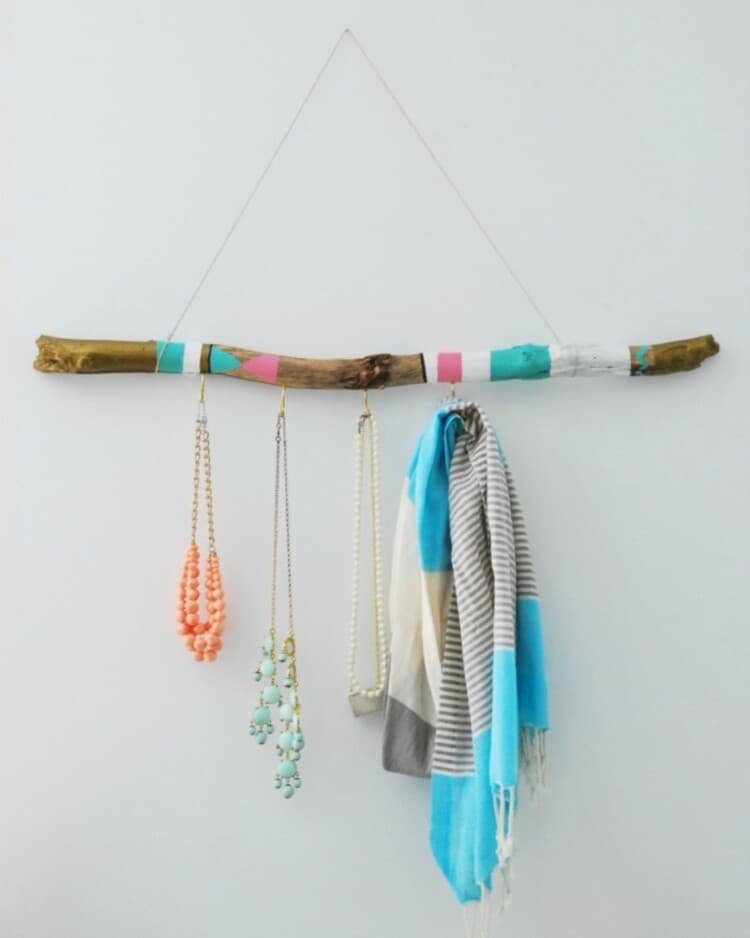 12. Driftwood Jewelry Stand To Organize Your Bracelets And Watches
Once I figured a designated space for my necklaces and scarves, I thought that I could just as easily find a way to organize my bracelets and watches. And I found the perfect one!
Or a jewelry stand may be a better option for you if you have lots of bracelets and watches.
13. Driftwood DIY Projects You Never Thought Of: Make Yourself A Christmas Tree
No white Christmas where you live? No problem! You can even make your own tree from the treasures you find on the beach!
This driftwood Christmas tree will still put you in the holiday spirit. You can make miniature versions for gifts with the kids, too! Memories of the beach make anyone jolly!
14. DIY Driftwood Baby Mobile With Boats Your Baby Would Love
Are you expecting a new family member?? Or are you looking for a baby shower gift that will be really different and both the baby and their mommy would love? How about a DIY baby mobile?
A darling baby mobile will look sweet in a baby's nursery, especially one with a nautical theme.
15. DIY Driftwood Sailboats To Add An Ocean Feel To Your Decor
And while on the subject of boats, I stumbled upon this wonderful driftwood DIY project I thought you'd love, too!
Your kids will love playing with these driftwood sailboats, but we wouldn't blame you if you just want to put them on your shelf to admire.
You can use pretty much anything you have at hand for reusing and recycling.
Supplies you can use:
fabric pieces (use slightly heavyweight fabric for the sails)
twine
wood glue
stop fabric fraying liquid
glue gun & glue sticks
paper to make sail patterns
eyelet screws, 15/32″
eyelet tools & 1/8″ eyelets
scissors
two driftwood pieces for the boat and a mast
Trust your imagination and create something beautiful with your latest beach finds!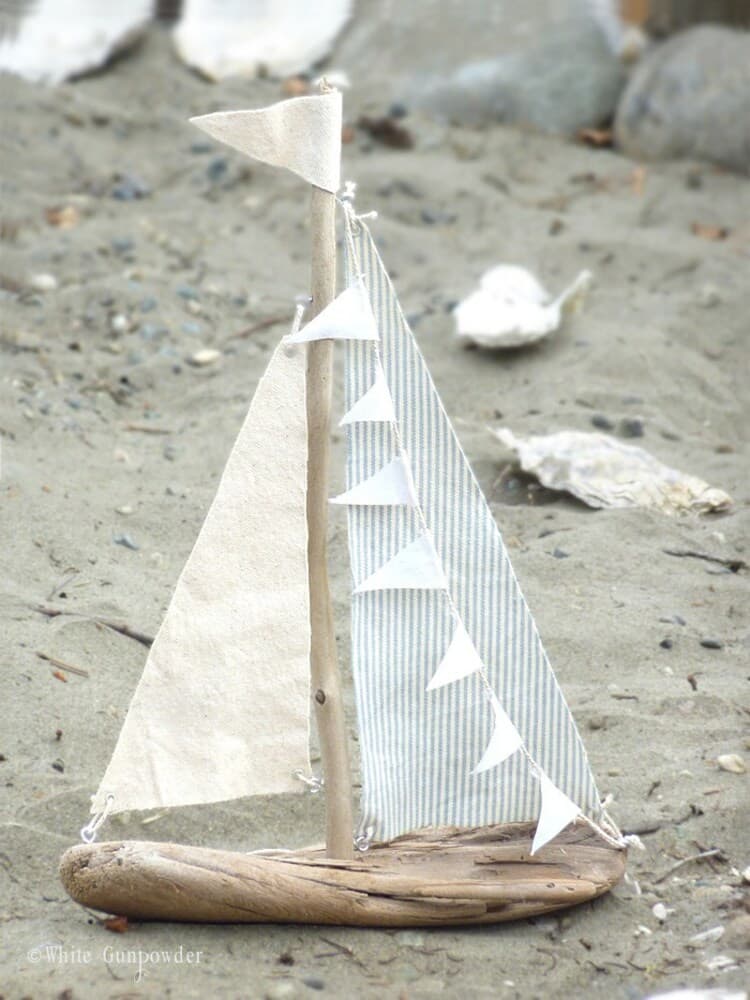 16. Display Your Photos Using… Driftwood!
If you're on the look for a place to store your children's art or you have a teenager or two, that love switching their pictures very frequently, I have a solution for you!
Make this driftwood photo display and you'll have the best place to hang it ALL! This would be a great DIY for teens, too!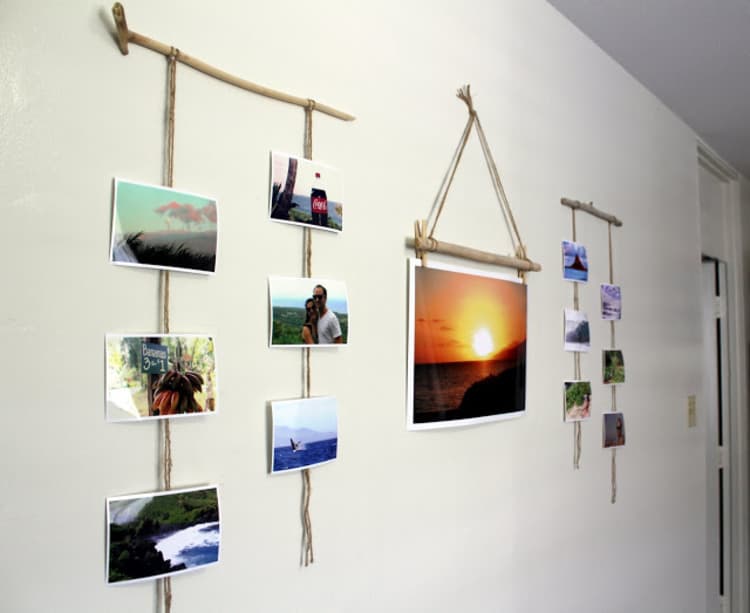 17. Surprisingly Good Driftwood DIY Projects To Try: A Driftwood Orb
Are you into decorations that are different?  You know, the conversation starter pieces of decor? Here's an idea on how to make one easily and impress everyone who sees it.
A decorative driftwood orb will look stunning on your mantle or entry table.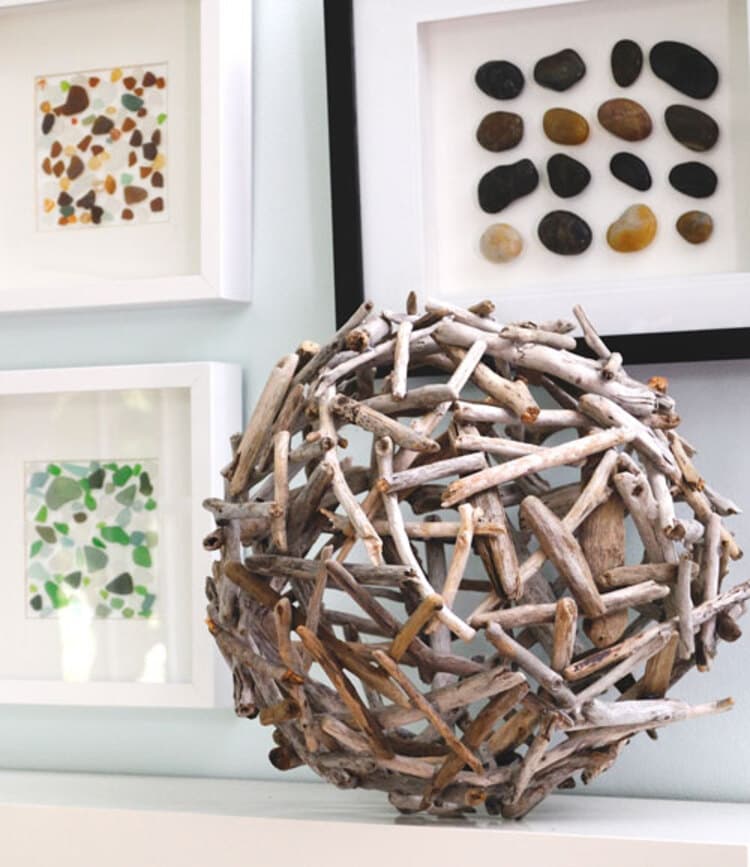 18. Attention-Grabbing Driftwood Beach Towel Holder To Make By The Pool
Have a pool but still miss the beach? Here's what you need to do!
You NEED to make this stunning driftwood beach towel holder as soon as possible! It will look amazing in your yard and it will help you hear the waves, no matter how far from the sea you live.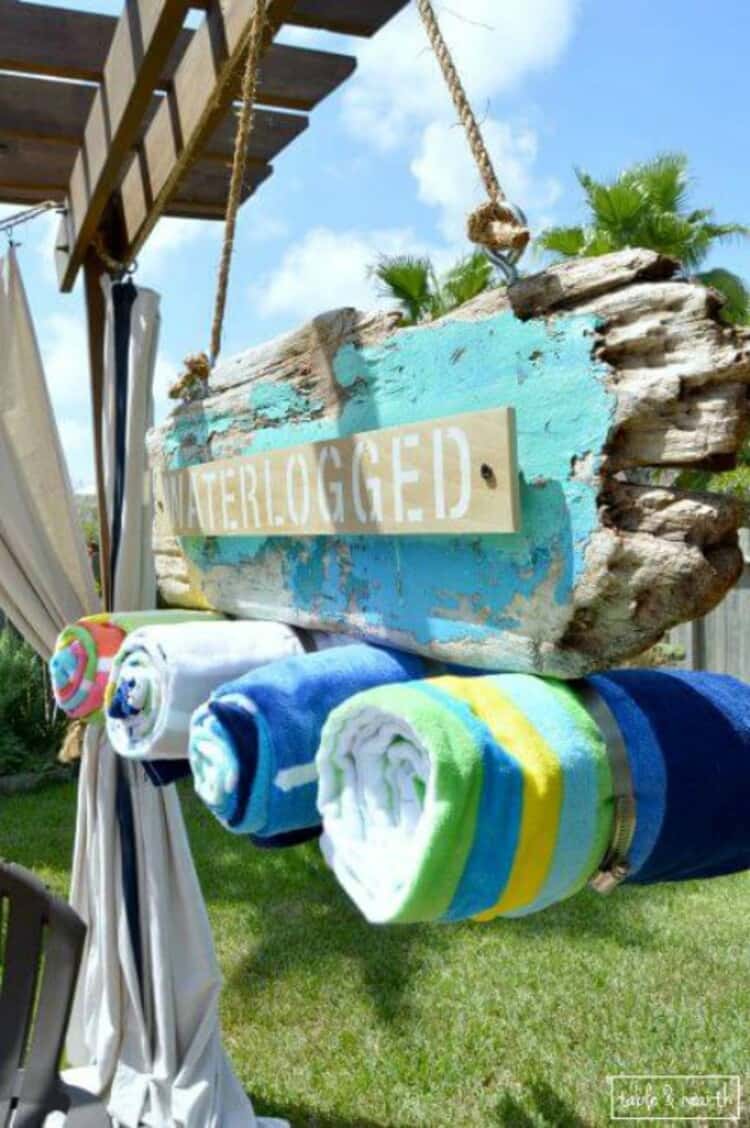 In Conclusion
There are so many amazing things you can make just out of pieces of driftwood you found on the beach! Isn't it fascinating? And the more I look, the more ideas come to mind… I guess I'll be busy gathering pieces of wood on the beach and crafting very soon.
What about you? Which one of these driftwood DIY projects you want to make first, so you could bring the beach to your home?
If you enjoyed these driftwood DIY projects, check out:
Which of these ideas for driftwood is your favorite project?