It's that time of year again to get your decks, patios, porches, and outdoor spaces ready for spring, summer, and all those fun family BBQs. The birds are chirping and the trees are blooming beautifully. You go to uncover your patio furniture and your jaw drops to the floor. You don't remember this stuff being in this bad of shape! Should you just throw it all in the trash and start over with everything new? That may seem like the perfect solution. But before you do that, give us a few minutes of your time. We know that new outdoor furniture may not be in your budget, but you can still get that brand new look for cheap. Need some proof? Here are 15 amazing outdoor furniture makeovers that will totally blow you away.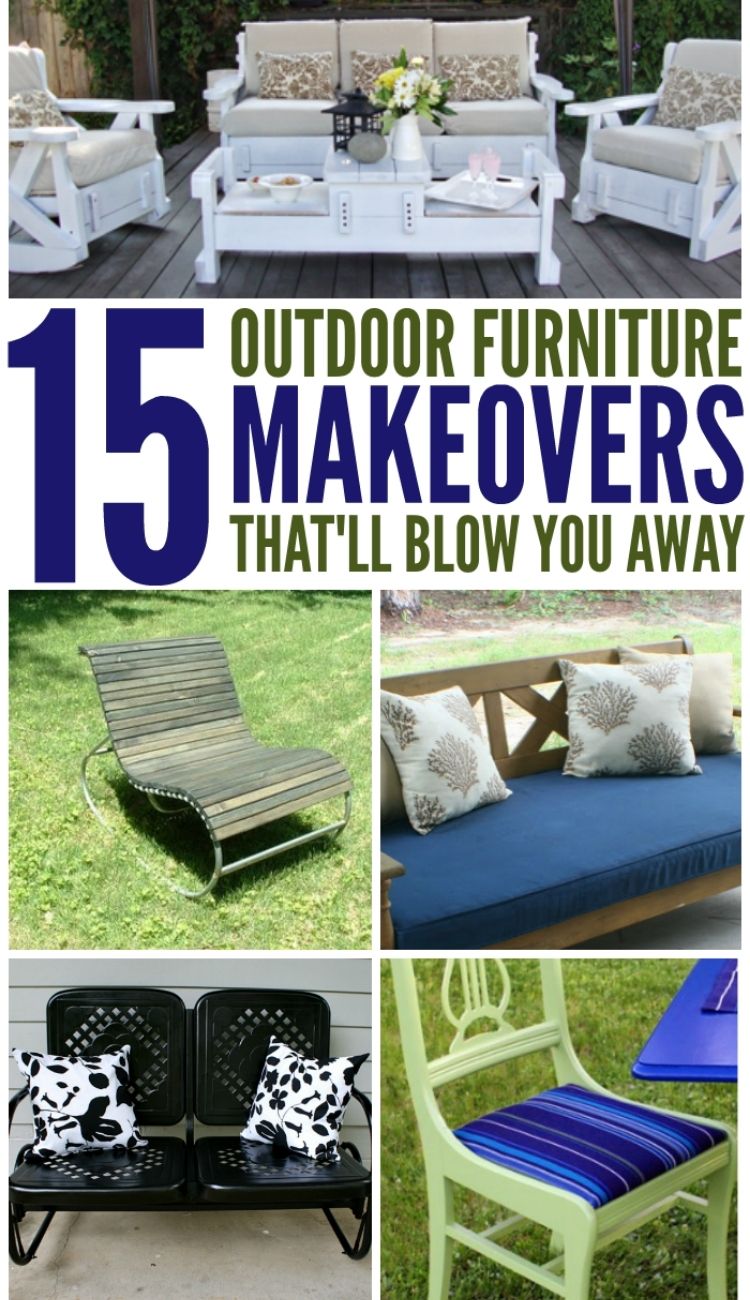 Outdoor Furniture Makeovers That WOW!
1. A Quick Outdoor Sofa Makeover
This outdoor furniture set looked tired and worn. It had seen better days. But look at how different this outdoor sofa looks with just some paint, a tablecloth, and some new throw pillows. First, give the furniture frame a quick wipe down, and then add a fresh coat of black satin paint. Next, cover the old cushion with a tablecloth (yep! we said tablecloth!) and add in lots of accent pillows. This makeover is so easy to do and what an absolutely gorgeous look in the end!
2. Some Junk Furniture Into Beautiful Outdoor Furniture
When you first look at this table and chair set, you might think these are practically impossible to salvage. I mean, someone had already tossed this worn-out dining set into the garbage. But with just a little clean-up and gentle, light sand, this set was on its way to a new life. Then add a few coats of bright, bold paint color and some outdoor-friendly fabric and you have the perfect outdoor dining set. Now, who said this was garbage?!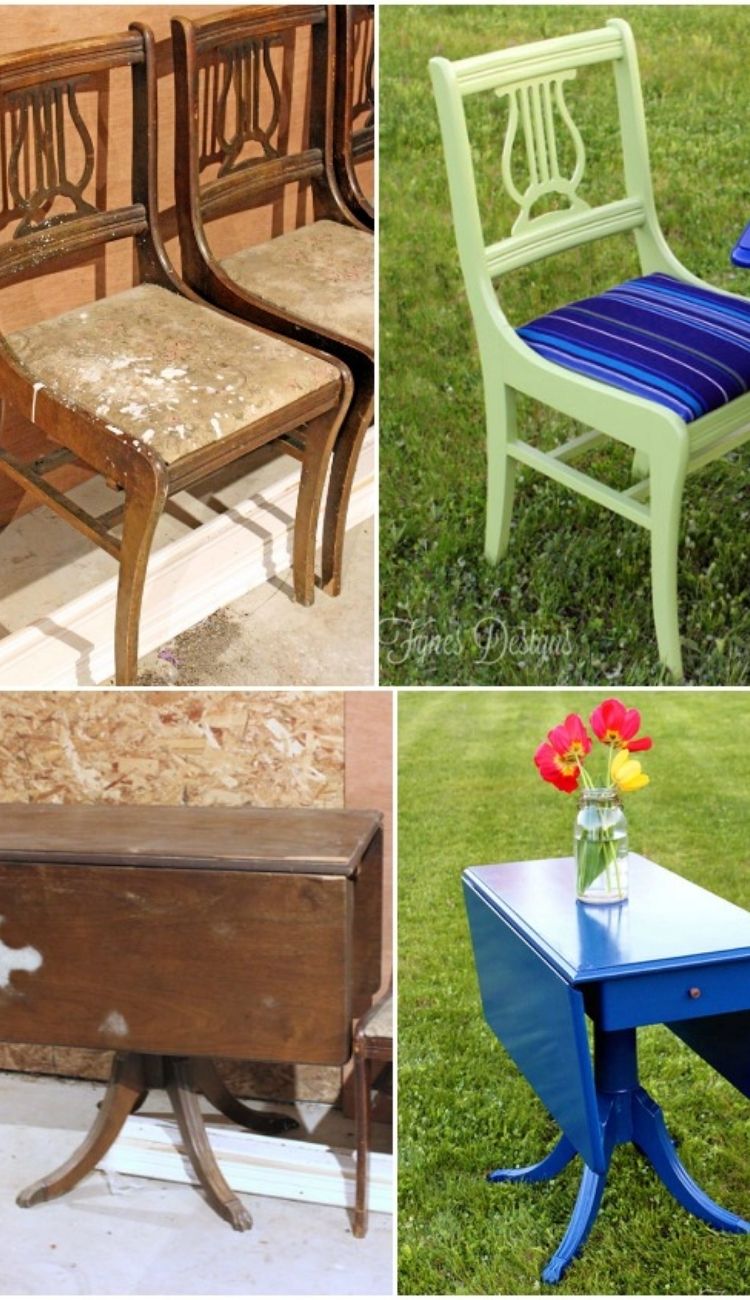 3. An Oversized Outdoor Wicker Chair Makeover
Sometimes the only thing an old worn-out piece of furniture needs is some fresh paint. Have you ever wondered how to paint wicker? We have to admit, the thought of painting wicker sounded like a terrible idea. But we found that it's easier than you think and it can turn that tired piece of outdoor furniture into a piece that you'll fall in love with all over again. Add a new cozy cushion and some beautiful throw pillows. You will appreciate this new look and it will feel brand new!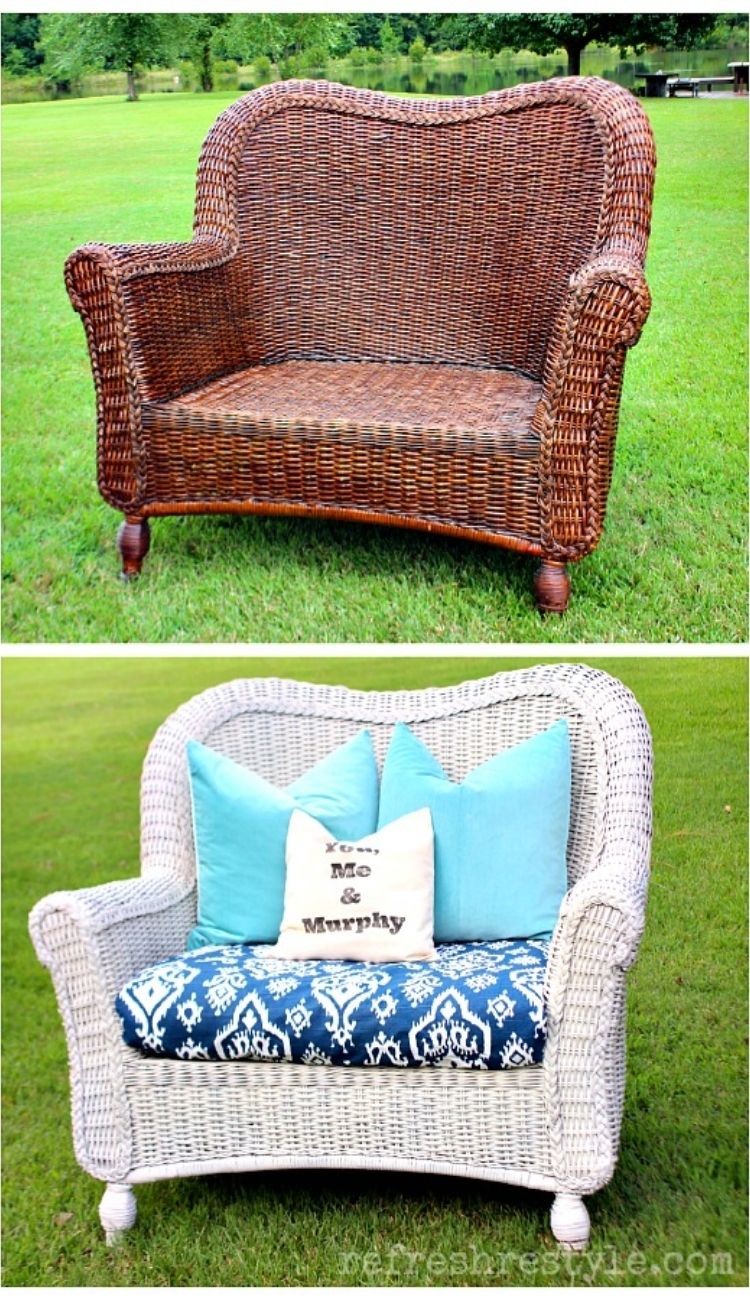 4. Your Outdoor Furniture Fabric Made New Again With Paint
If you are like me and think paint and fabric do not mix… well think again! Yes, paint on fabric! It sounds like a bad idea that is sure to ruin your cushions but do not be afraid to spray paint fabric. With the right type of paint, this is an easy, effective way to update your outdoor furniture. It is also the perfect solution to cover up those icky stains that you have tried everything to fix! Go on.. give it a try!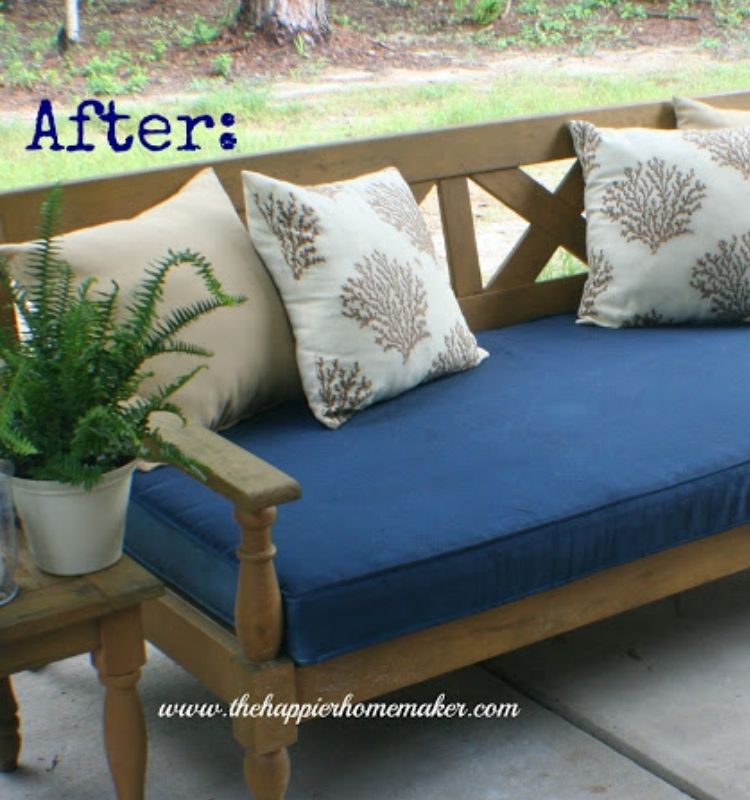 5. A Creative Outdoor Furniture Makeover
Sometimes all we need is just a change. A new feel when you're getting a little bored with the look and color of your outdoor patio furniture. Change it up by adding some stripes with fabric paint! This clever woman used frog tape and paint to create these white stripes and what a difference this made! This method gives the outdoor sofa a fresh, brighter look that you are sure to love.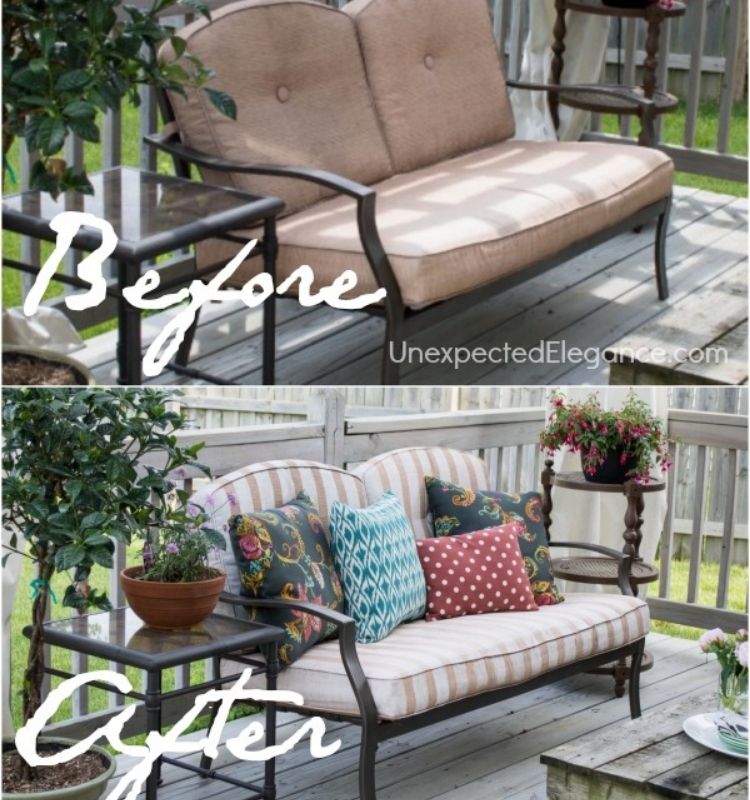 6. An Outdoor Fire Pit Turned Coffee Table
Is this a makeover or an upgrade? We would like to call this a major upgrade! Fire pits are always a perfect addition to the patio but while a fire pit is nice, sometimes having extra table space is more practical. With this fire pit makeover, you can have the best of both worlds! Remove the tabletop when you want a fire, but put it back on when you need space for dining or entertaining. Brilliant!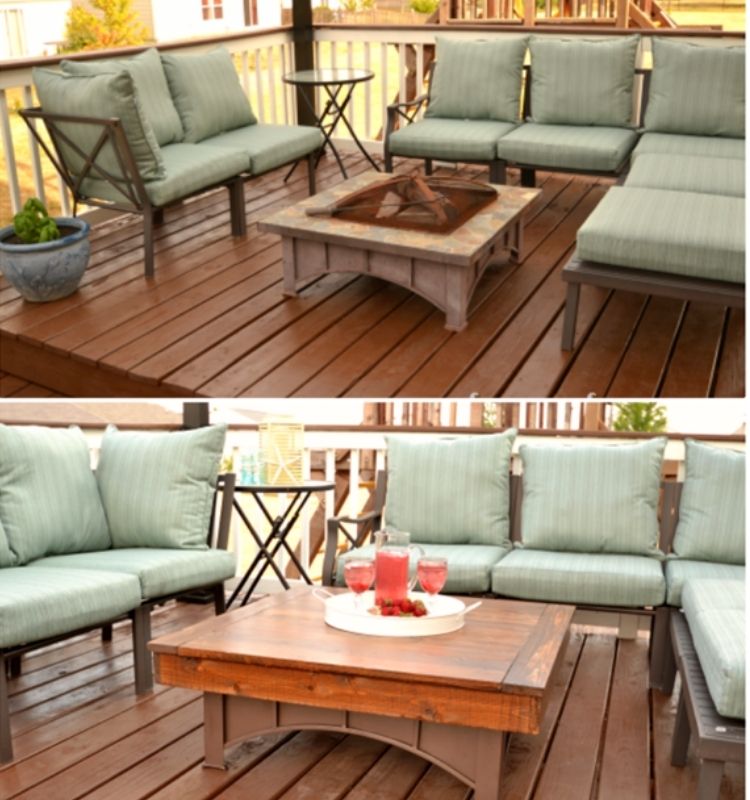 7. A Tired Old Table Makeover
This table desperately needed a new beginning. Most of us would probably attempt to replace the tiles. And after many attempts to get the new tiles perfectly placed, we more than likely would eventually just give up on this piece. But rather than replace the tiles, why not add some bold paint instead? This old, tiled table became a gorgeous patio piece with bright yellow paint and white accent stripes. It was a simple fix and it makes the table look so bright and sunny! It's the perfect table for those intimate summer night conversations.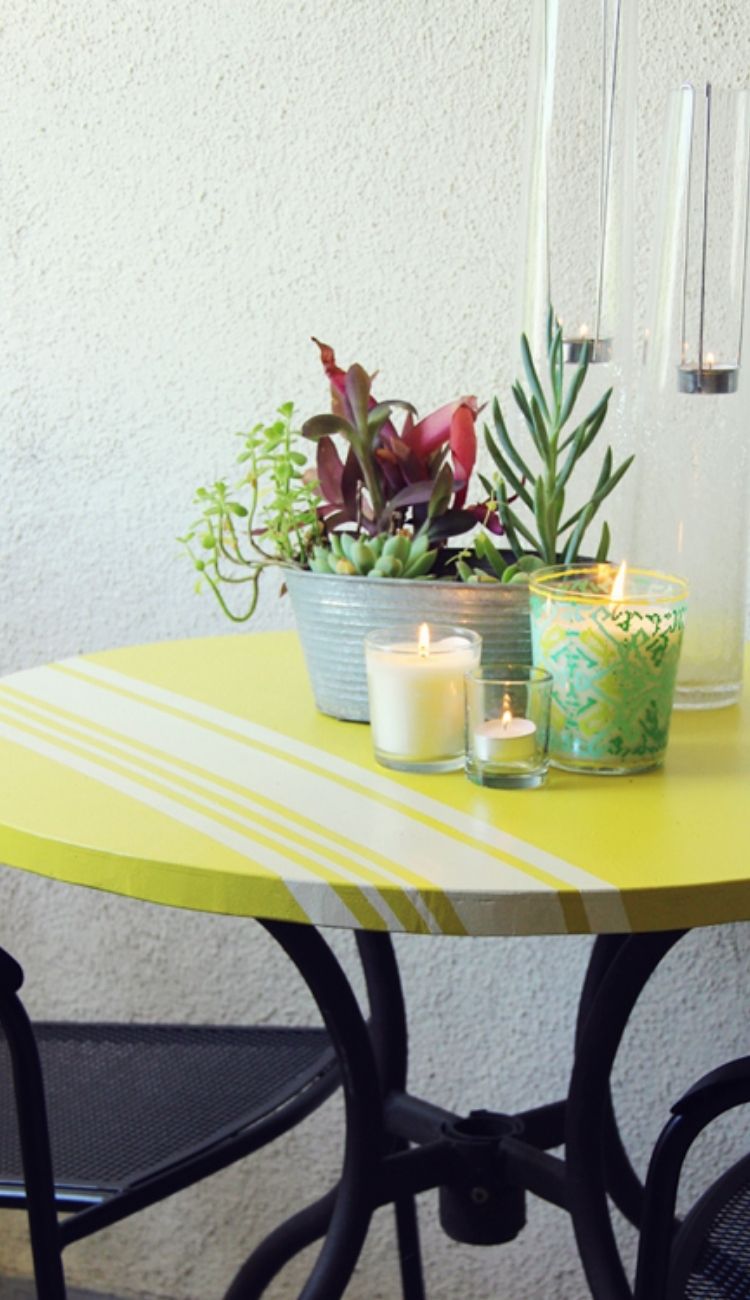 8. An Old Rocking Chair Turned Into Outdoor Furniture
This lovely rocker was just screaming out for a makeover. You have to agree, this fabric-covered Emmabo rocking chair from IKEA had seen better days. But with a little DIY work, the fabric was removed and replaced with these sturdy wood slats. Now, this piece takes on a completely new look! We think these are the best kinds of makeovers.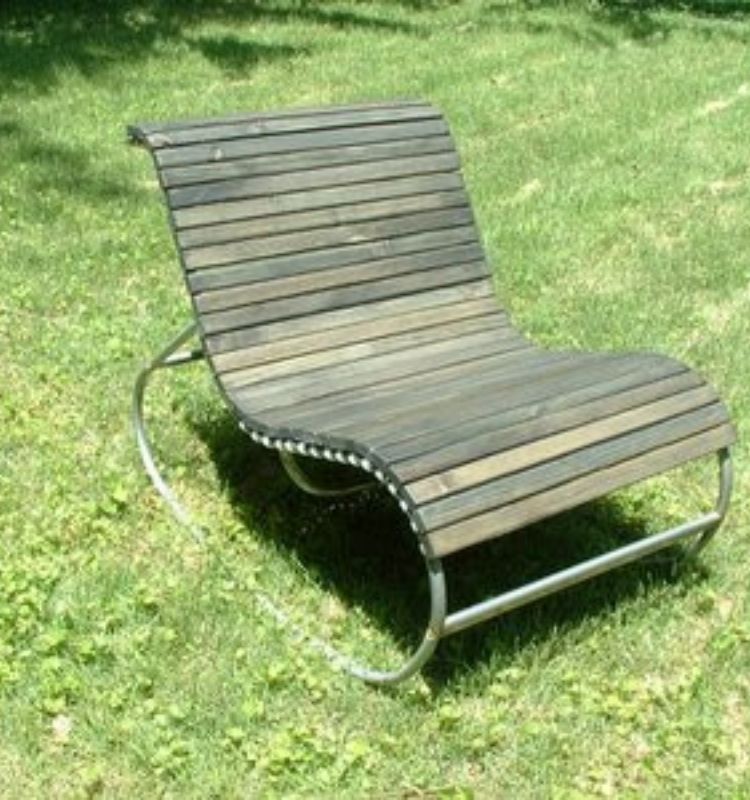 9. Is This Garbage Or An Outdoor Dining Set Makeover
Don't you just love this makeover?! We love this dining set makeover because most of us would have thrown this set in the trash. But even though this dining set had been through a fire, the framework was salvageable with a little hard work. This DIY'er gave this set a good thorough cleaning and added some cheery yellow paint. Then with some dark patterned fabric, the look came together effortlessly. You would have never known this set had been nearly destroyed! We think this one is a winner!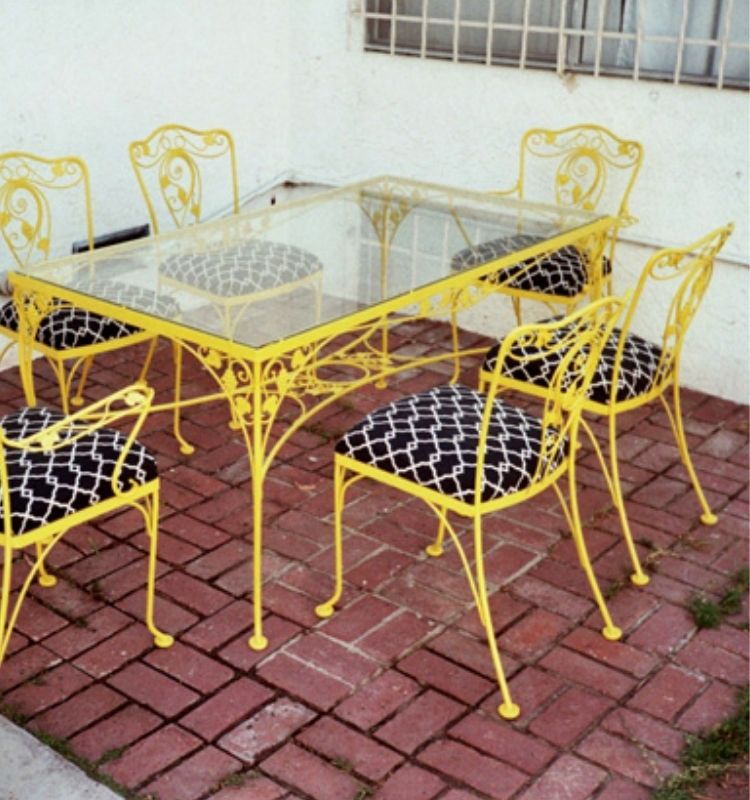 10. A 1970's Outdoor Living Room Set Makeover
Remember that solid wood living room set your grandma had in the sunroom at her house? We do too and we never thought to add some fresh paint to the wood to give it a new look. We love the dark paint and lighter-colored cushions that give this set a richer, more dramatic effect. You would never believe that this patio furniture was once a 1970s living room furniture set. We think black paint and new upholstery equal amazing results.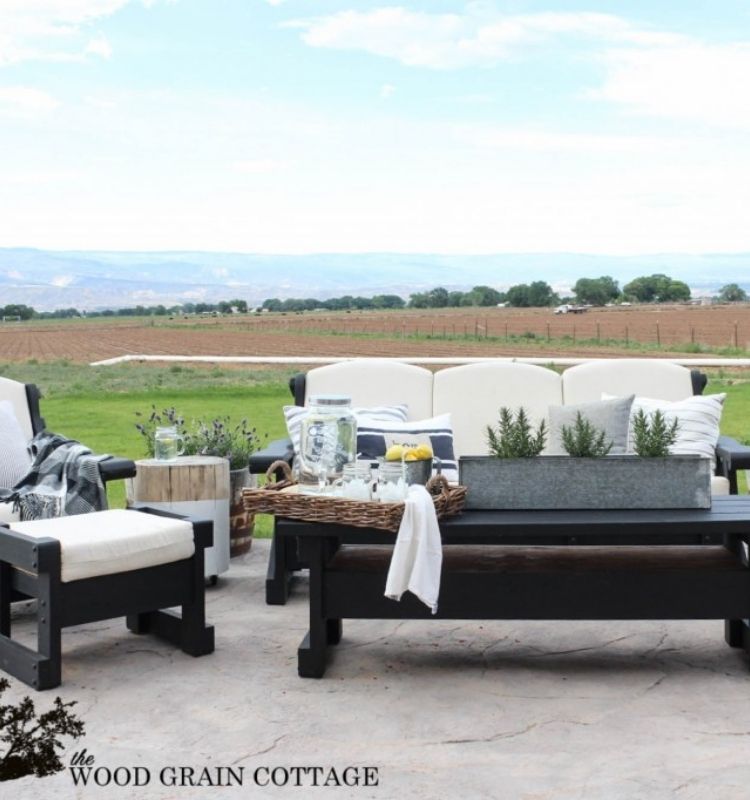 11. Another 1970's Outdoor Living Room Set Makeover!
Here is another 70's living room set turned into patio furniture. The bright white, clean paint color, paired with the neutral-colored cushions and throw pillows make this makeover near perfection. And with the touch of fresh flowers and tasty snacks, this space now oozes springtime and lovely conversations. This is a patio set that dreams are made of. Isn't this beautiful?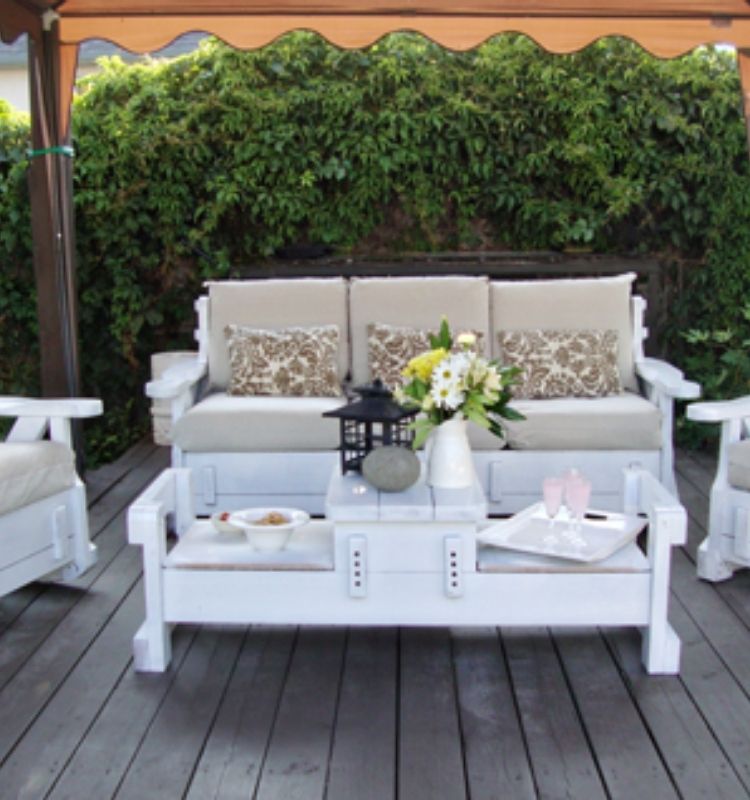 12. Make Some Outdoor Slipcovers For Your Patio Furniture
You might be thinking your sewing skills are not good enough for this project but you don't need amazing sewing skills to makeover the fabric on your outdoor furniture. We promise you! Check out this step-by-step tutorial from this blogger's first sewing project to show you that it can be done! Give it a try! We know you will be pleasantly surprised with yourself and your new furniture.
13. Turn Old Wooden Chairs Into Outdoor Furniture Makeover
Giving an old wooden chair a makeover with some fresh paint can be so satisfying. It really can make a furniture piece feel brand new again! But have you thought of turning some old wooden chairs into a pretty bench? Connecting the chairs together and adding a long cushion across them will make this project come together. You can also take it a step further and add some baskets or plastic bins underneath for storing outdoor toys or tools! This is such an easy makeover and we thought it was pretty creative too.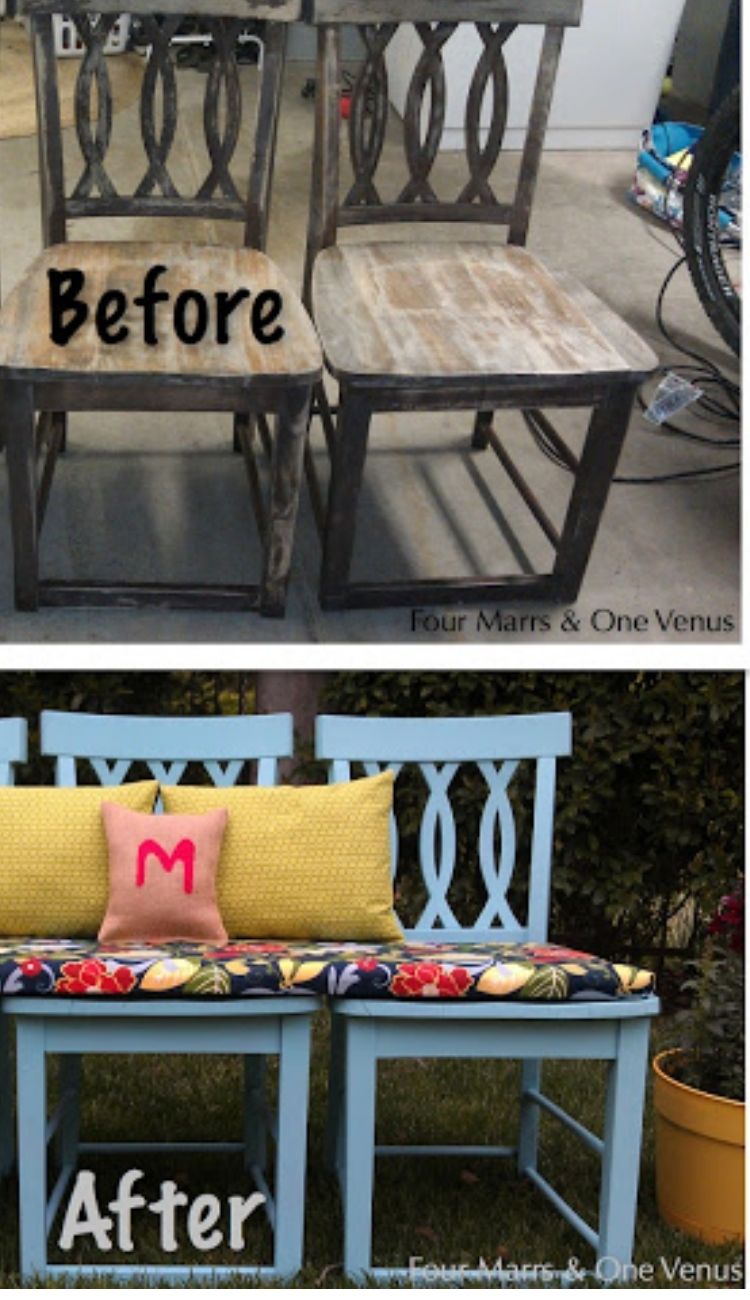 14. A Rustic Makeover For Your Outdated Patio Dining Set
Do you have an outdated 90's style outdoor glass table and chair set? Not only is it outdated but the glass was always so hard to keep clean. You might be tempted to take this set to the local donation drop-off or landfill. I know… I had those thoughts too! But did you ever think to turn this patio set into a stunning, rustic combination with some wood and black paint? We love the wood and metal elements together. What a huge difference and it is now a unique piece that only you have!
15. An Outdoor Metal Glider Furniture Makeover
Call me nostalgic, but I love these retro gliders. My grandfather had one (in the ugliest color ever), and we spent many hours together in that seat. I wish I would have seen the potential in that piece before it made it to the donation pile. I never imagined a fresh coat of paint, some pretty pillows and an hour of my time could make it look like this. What a beautiful transformation!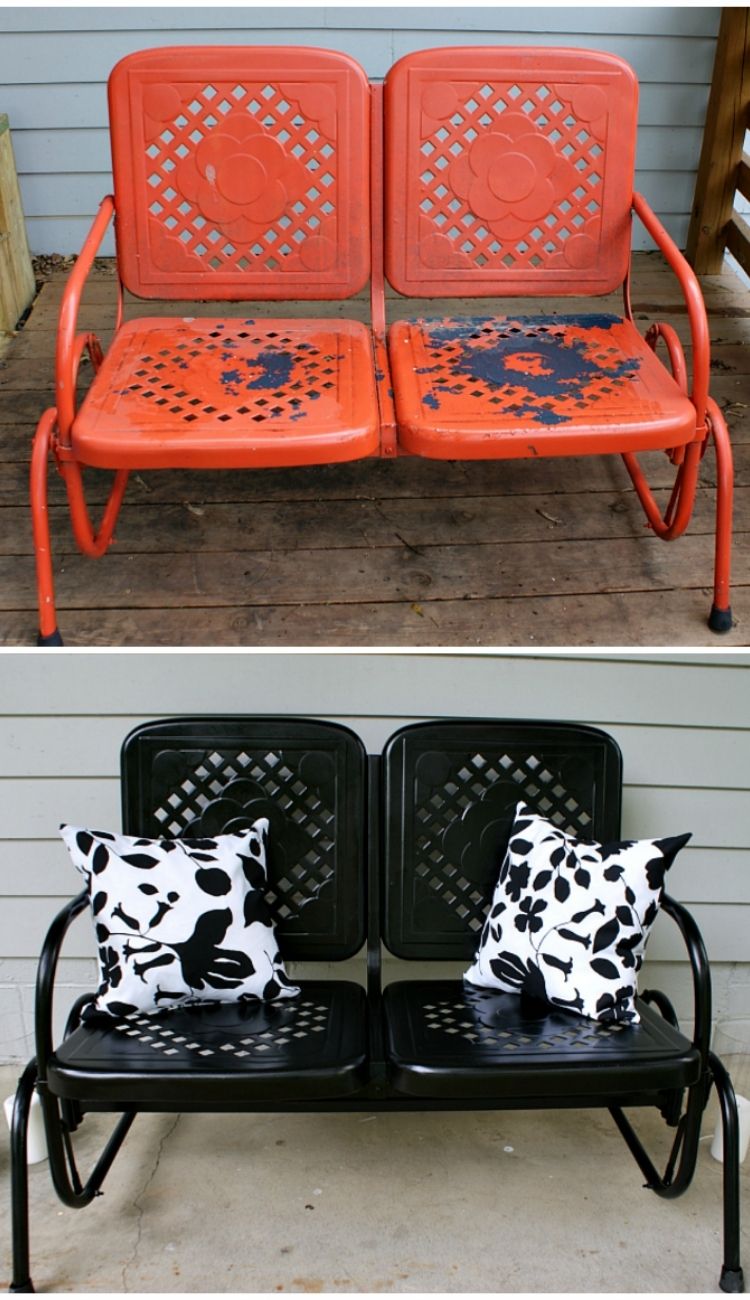 It takes half your life before you discover life is a do-it-yourself project.

Napoleon Hill
Looking for more DIY projects? We have got you covered! Check out these ideas: