Every dog loves made from scratch dog treats, right? Let's just all agree on the fact that they're so much better when they're made from scratch!
And when it comes to spoiling your pooch, only the best will do. This is why this list of 20 homemade dog treats is certain to please. You can literally made your dog a new treat almost every single day and really spoil the heck out of him or her!
The next time you're needing some dog treats, why not make your own instead? This list proves that you can make all types and flavors of DIY dog treats!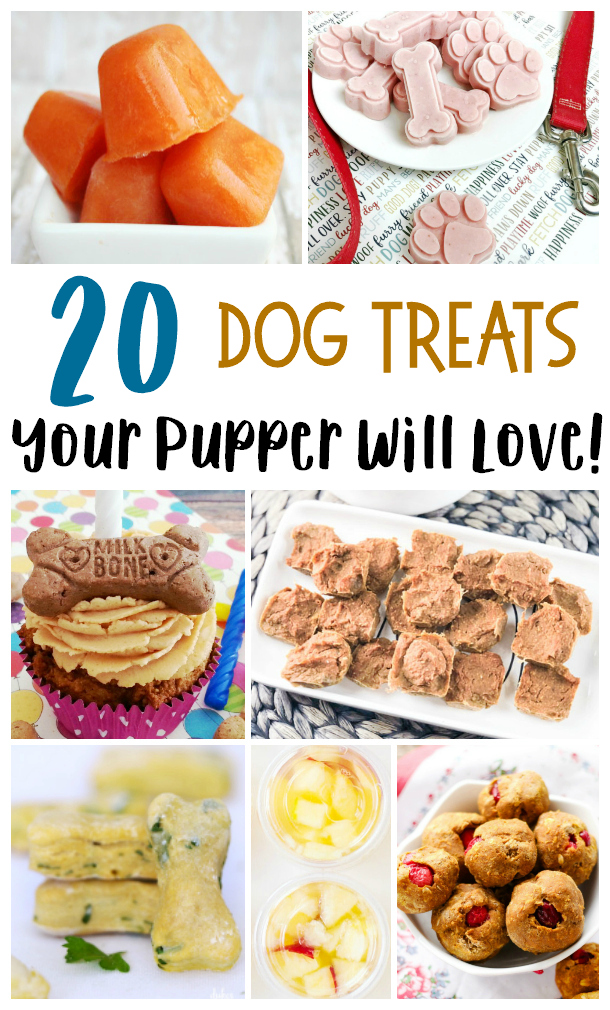 20 Made From Scratch Dog Treats Your Pup Will Love!
While I know that there are 20 on this list, I'm pretty certain that the option to spoil your pup could literally go on forever. However, making them their very own homemade dog treats is a pretty darn good place to start!
With fall coming up, these Pumpkin Dog Treats are perfect! It's true…even pups like the taste of pumpkin!
Your dog is certain to love you with these Peanut Butter Dog Treats Hearts.
Who knew you were such a softy? These Frozen Chicken Broth and Apple Dog Treats really will prove just how much you love your pup.
Think of all the health benefits that your dog will get from these Sweet Potato Dog Treats! Full of healthy goodness that is actually good for them!
Who says you can't cook for your dog like you cook for yourself? Add some fun flavor to their life with these Homemade Dog Treats with Almond Flour.
You scream, they bark…but for Pup Pops. And once you treat them once, they're going to be wagging their tails for it over and over again.
Homemade Yogurt Dog Treats? Yes, please! Such a fun and cool treat for your dog to enjoy.
Frozen Strawberry Banana Dog Treats is such a fancy way to get some fruit into the tummy of your dog.
To me, these Dog Pupcakes with Peanut Butter and Banana seem like such a fancy treat!
Does your dog like fruit? You're going to find out with these Frozen Apple and Blueberry Dog Treats.
Homemade Cranberry Pumpkin Dog Treats is another great fall recipe that your dog is probably going to gobble up!
Great for the hot weather, these Dog Popsicles will cool down those tongues. Even dogs get hot and need a cool treat!
Sweet Potato Parsley Dog Biscuits are packed full of great ingredients for your pup.
Frozen Chicken Lollipops for Dogs really sounds about perfect in every way for a dog to love. Did you ever think that you'd be making chicken lollipops from scratch?
Even dogs love Pizza! They're going to go crazy over these Frozen Pizza Treats for Dogs.
There's nothing like good old Homemade Peanut Butter Dog Treats. It's true what they say…no dog can resist the taste of peanut butter.
Fresh Breath Dog Treats are a must…because well…dogs breath can be quite ripe! But the good news? You can get a few minutes of relief from the doggy breath with these homemade dog treats.
Frozen Coconut Oil and Blueberry Dog Treats seems like a super fun combination that just might be what your dog loves.
More peanut butter, please! These Frozen Peanut Butter Berry Pops are certain to be a hit!
Grain-Free Dog Treats are great for dogs that need something a bit different in their diet.
There you have it! 20 of some of the best homemade dog treats out there! Who knew that it could be so simple to make your very own dog treats at home!
Do you have a favorite homemade dog treat for the list?