Between work and parenting, your time is limited. That means that you want to get in and out of the kitchen in a hurry. These three-ingredient recipes are just the ticket. From savory appetizers to delicious dinners and decadent desserts, you're sure to find a few recipes your family will love right here.
3 Ingredient Appetizer Recipes
1. Bacon and Feta Stuffed Mushrooms
Bacon Stuffed Mushrooms are made with mushrooms, bacon, and feta cheese. Yum! They are perfect as a one-bite appetizer for parties, but work well for cozy evenings at home, too! They are super easy to make and eat as well.
2. Simple Crab Dip
This crab dip makes a great addition to any party. Serve with your favorite crackers. All you need for the dip is:
some canned crab
mayonnaise
your favorite seasoning, such as a spicy blend
You can serve with crackers or with toasted bread slices for an upscale touch.
3. Slow-Cooker Meatballs
Meatballs are always a hit. Toss your favorite frozen meatballs, some chili sauce, and grape preserves in a slow cooker for an easy peasy dish. No chili sauce? No worries. I have also made this recipe using grape preserves and barbeques sauce. This is definitely my go-to dish for pot-lucks and parties! I have made them overnight and taken them in, but you can also just take the whole slow-cooker to work and make them fresh there in the morning (if you have a safe space to do so).
4. Fluffy 3-Ingredient Biscuits
Biscuits are a staple for any dinner! These Fluffy Biscuits are super simple with only 3 ingredients needed. There are several ways to make these super simple biscuits. Traditionally, biscuits call for shortening, however, these are made with coconut oil! You can then use either coconut milk (from a carton, not a can) or regular milk to mix them. They only take about 10 minutes to make and 10 minutes to bake so you can have a mouthwatering homemade breakfast made in no time!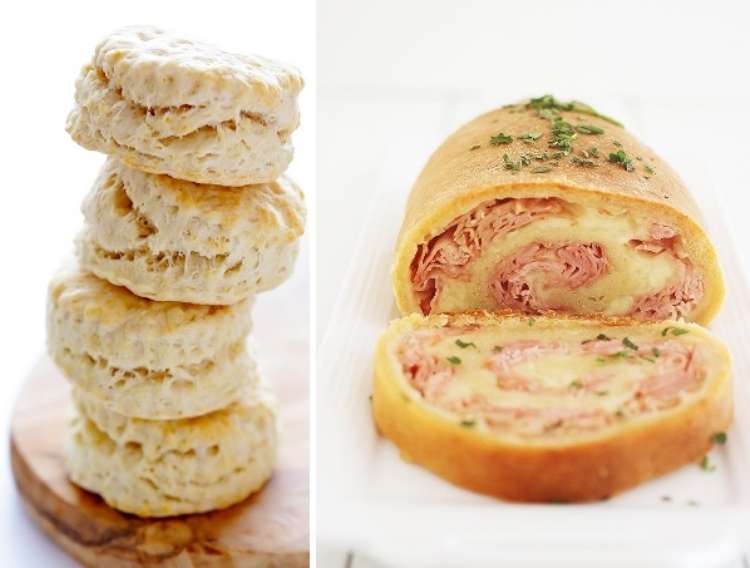 3 Ingredient Dinner Recipes
5. Slow Cooker Creamy Chicken Tacos
Speaking of the slow cooker, this recipe for Creamy Taco Chicken will make a great weeknight meal. Chicken and salsa cook all day, and cream cheese is added right before it's done. Simple! Serve the cooked chicken in tortilla shells. You can add your favorite toppings, but they are flavorful and delicious as is!
6. 3-Ingredient Recipes: Black Bean Soup
Black Bean Soup made with black beans, broth and tomatoes will pair perfectly with simple cheese quesadillas for dinner. You can make this soup vegan by subbing vegetable broth for the chicken broth. You can also get creative with the diced tomato cans that you get in the grocery store. The tomatoes with chiles pack a delicious punch and don't require you to add anything else. You can also simply add some red pepper flakes, and don't forget the garnishes!
7. Easy and Fancy Pull-Up Bread as Appetizer or Dinner Side
8. Warm and Cheesy 3 Ingredient Pull-up Pizza Bread
Looking for something warm and cheesy? How about some pull-up pizza bread?? We love adding slices of garlic to ours! Simply cut your bread and add your pizza in the slices.
9. Apple Juice Chicken 3 Ingredient Recipe
The chicken in this Apple Juice Chicken recipe cooks down in the apple juice until it becomes a yummy, sweet sauce. Delish! It can be served over rice, or with crusty bread for dipping. The tender chicken thighs and sweet apple juice sauce are a hit with kids and adults alike.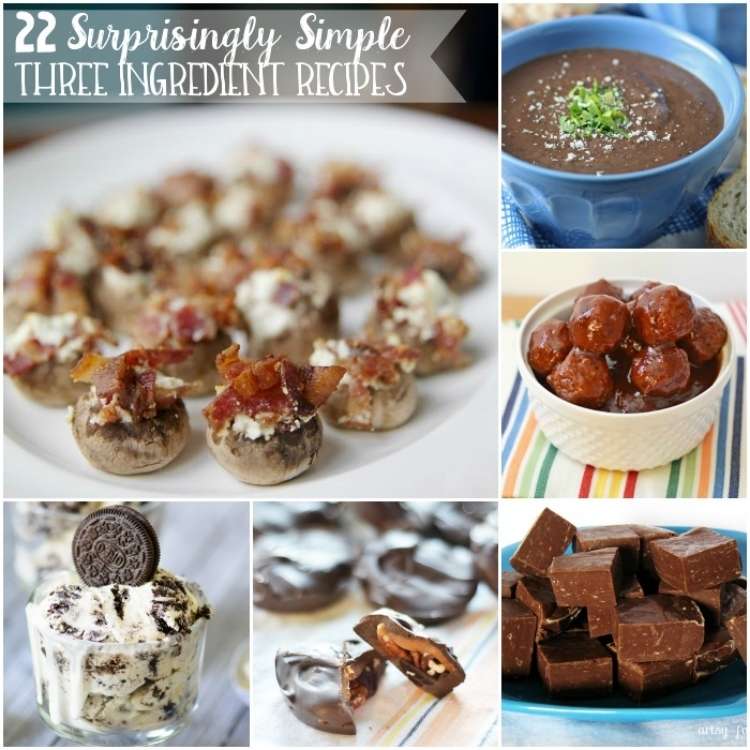 10. Slow-Cooker Italian Chicken 3-Ingredient Meal
Italian Chicken you can cook in the crockpot makes this a super easy 3 ingredient meal! All you need for this delicious meal is chicken, barbeque sauce, and Italian dressing! Genius! You can also marinate the chicken and grill it if you prefer that to the slow cooker. Either way, it will be delicious.
11. Tropical Barbeque Pineapple Chicken (or Pork)
Chicken breast (or pork roast) + can of pineapple chunks + barbeque sauce. 3 ingredients of YUM! 
Throw all of the ingredients in the slow cooker, and that's it! Once it's done, serve on some Sweet Rolls for a quick and easy tropical BBQ sandwich.
12. A Fancy Twist on a Classic: Ham and Cheese Roll-Ups
A ham & cheese rollup. This 3 ingredient classic twist to a sandwich is tasty. All you need for the crust is a raw pizza crust. Put your ham and cheese in the pizza crust, roll it up and pinch the edges to seal, then bake and cut into slices. This is great for a quick weeknight dinner, but would also work wonderfully for serving a crowd.
13. 3-Ingredient Recipes: Tender and Juicy Dr. Pepper Pork
Dr. Pepper is a staple drink here in Texas and it tastes great with pork. Try this 3 Ingredient Pork Roast  (P.S. You can replace Dr. Pepper with Coke too). Put your meat, your can of soda, and a packet of onion soup mix in the slow cooker, and you will have a decadent and hearty BBQ dinner waiting for you when you get home from work!
14. Super Simple Party Pasta Salad
Make a refreshing pasta salad for a picnic or barbecue. Italian dressing, pasta, and a bag of broccoli slaw are all you need! Cut up your broccoli slaw as the pasta is cooking, then mix everything together. A perfect simple side dish for any barbeque or picnic. Mix in some cooked chicken for a quick and delicious weeknight dinner.
15. 3 Ingredient Recipes: Turkey Sausage Quinoa Weeknight Dinner
This Turkey Sausage Quinoa is a yummy weeknight dinner packed with protein and fiber. It can be easily made in a rice cooker, although it can also be made on the stove. Substituting the quinoa for rice makes this a healthy and still quick dinner.
3 Ingredient Drink Recipes
16. Pomegranate Lemonade
Boy, this Pomegranate Lemonade is tasty – all you need is pomegranate juice, lemons, and sugar! Mix it all up in a pitcher and serve. You can also throw everything into a blender to make it like a  frozen drink. A tip for dissolving the sugar is to pour that in first, along with a tiny bit of hot water. Stir the sugar to melt, then add the rest of the ingredients. Enjoy!
17. No-Added-Sugar Crockpot Hot Chocolate
Hot chocolate – all you need are chocolate chips, milk, and vanilla extract (we omit the sugar).  Cook it in the crockpot. You can also recreate a copycat version of Starbuck's White and Black Hot Chocolate. Use a mix of milk and white chocolate chips and top with whipped cream and a few of the chocolate chips.

3 Ingredient Dessert Recipes
Need recipes for cookies 3 ingredients?  <–oh so many easy cookie recipes!
18. Simple 3-ingredient DIY Turtles
Make homemade turtles with chocolate chips, pecans, and toffee chips.
19. No-Churn Chocolate Peanut Butter Ice Cream
Did you know that you can make your own Chocolate Peanut Butter Cups without an ice cream maker? Perfect for summer! All you need for this recipe is some heavy cream, cocoa powder, peanut butter. Mix everything in a blender until it's smooth and creamy. Add in peanut butter cups, mix and then freeze. Then enjoy your delicious homemade ice cream!
20. 3-Ingredient Summer Recipe: Lemonade Pie
Lemonade pie is sweet and refreshing. It's made with vanilla ice cream, lemonade flavoring, and a ready-made graham cracker crust. How easy is that? Grab a blanket and head outside for a fun and refreshing picnic!
21. Lemon Lover's Lemon Cake Batter Cookie Dip
If you enjoy lemon-flavored recipes, you're going to love this Lemon Cake Batter Dip made with cake mix, cream cheese, and cool whip. Serve it with cookies or crackers. Add the cake mix and cream cheese to a food processor and blend, then fold in the cool whip. Refrigerate, serve, and enjoy.
22. Edible Play Dough
Do your kids want a dessert they can play with literally?? Try this peanut butter play-dough. Only 3 ingredients, tons of fun, and it tastes like candy! All you need is marshmallows, peanut butter, and powdered sugar. Put the peanut butter and marshmallows in a bowl and microwave for a few seconds to soften everything and easily stir.
23. 3 Ingredient Recipes: Chocolate Smoothie
This smoothie made with chocolate almond milk, ice, and bananas makes a great dessert or breakfast. This treat is sweet, delicious, and actually healthy!
24. 3-Ingredient Quick Mint Fudge Dessert
It never hurts to have a quick fudge recipe on hand. With condensed milk, chocolate chips, and Andes mints, you have a marvelous mint fudge dessert. Add Sprinkles to make this a festive little treat! These are fool-proof and make a great gift for the holidays!
25. 5-minute Sweet and Salty Popcorn
For a 5-minute movie night snack, make this sweet and salty popcorn with butterscotch tips, toffee bits, and popcorn. Spread your popped popcorn on a parchment-lined baking sheet, then drizzle the melted butterscotch chips over the popcorn. Spread the toffee bits, then allow the butterscotch to harden. You can store pieces of this in zip-lock bags or serve them immediately for movie night.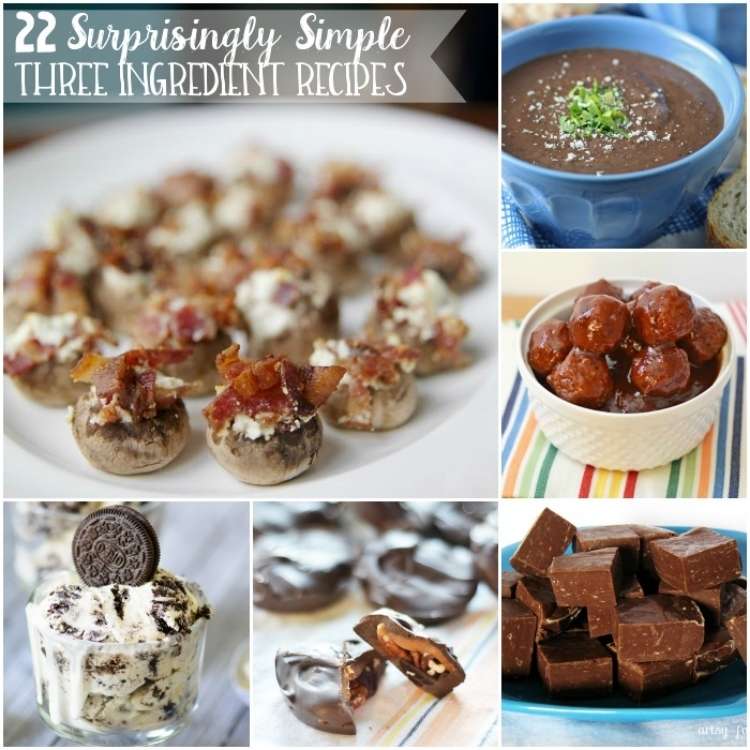 If you loved these simple 3 ingredient recipes, be sure to check out our other simple and delicious recipe ideas!