Between work and parenting, your time is limited. That means that you want to get in and out of the kitchen in a hurry. These three ingredient recipes are just the ticket. From savory appetizers to delicious dinners and decadent desserts, you're sure to find a few recipes your family will love right here.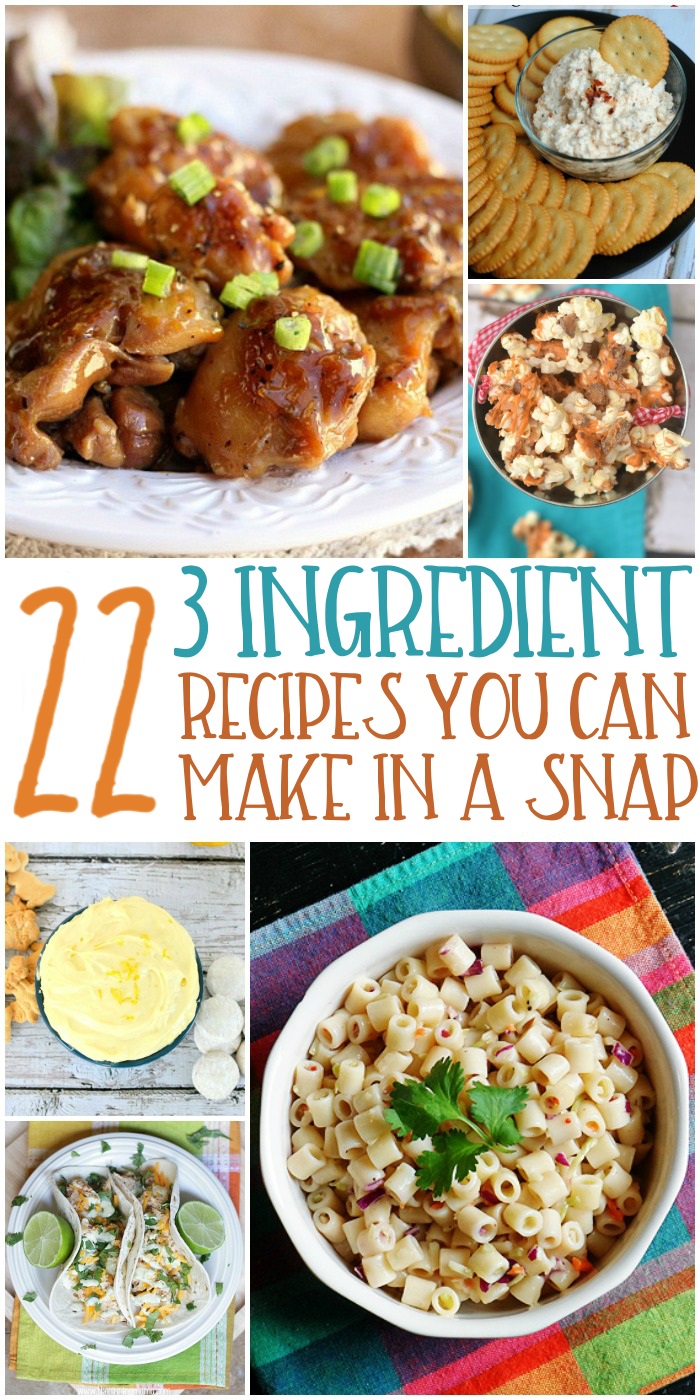 3 Ingredient Appetizers
Bacon Stuffed Mushrooms are made with mushrooms, bacon and feta cheese. Yum!
This crab dip makes a great addition to any party. Serve with your favorite crackers.
Meatballs are always a hit. Toss your favorite frozen meatballs, some chili sauce and grape preserves in a slow cooker for an easy peasy dish.
Bisquits are a staple for any dinner! These Fluffy Biscuits are super simple with only 3 ingredients needed.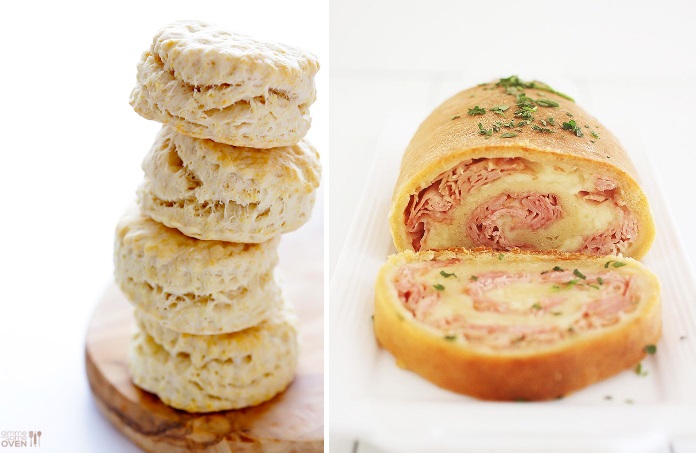 3 Ingredient Dinner Recipes
Speaking of the slow cooker, this recipe for Creamy Taco Chicken will make a great weeknight meal. Chicken and salsa cook all day, and cream cheese is added right before it's done. Simple!
Black Bean Soup made with black beans, broth and tomatoes will pair perfectly with simple cheese quesadillas for dinner.

Looking for something warm and cheesy? How about some pull-up pizza bread?? We love adding slices of garlic to ours!
The chicken in this Apple Juice Chicken recipe cooks down in the apple juice until it becomes a yummy, sweet sauce. Delish!
Italian Chicken you can cook in the crock pot makes this a super easy 3 ingredient meal!
Chicken breast (or pork roast) + can of pineapple chunks + barbeque sauce. 3 ingredients of YUM!
A ham & cheese rollup. This 3 ingredient classic twist to a sandwich is tasty.
Dr Pepper is a staple drink here in Texas and it tastes great with pork. Try this 3 Ingredient Pork Roast (P.S. You can replace the Dr. Pepper with Coke too).
Make a refreshing pasta salad for a picnic or barbecue. Italian dressing, pasta and a bag of broccoli slaw are all you need!
This Turkey Sausage Quinoa is a yummy weeknight dinner packed with protein and fiber.
3 Ingredient Drinks
Boy, this Pomegranate Lemonade is tasty – all you need is pomgranate juice, lemons and sugar!
Hot chocolate – all you need are chocolate chips, milk and vanilla extract (we omit the sugar). Cook it in the crockpot.

3 Ingredient Desserts
Make homemade turtles with chocolate chips, pecans and toffee chips. Don't they look divine?
Did you know that you can make your own Cookies and Cream Ice Cream without an ice cream maker? Perfect for summer!
Lemonade pie is sweet and refreshing. It's made with vanilla ice cream, lemonade flavoring and a ready-made graham cracker crust. How easy is that?
If you enjoy lemon-flavored recipes, you're going to love this Lemon Cake Batter Dip made with cake mix, cream cheese and cool whip. Serve it with cookies or crackers.
Do your kids want a dessert they can play with literally?? Try this peanut butter play dough. Only 3 ingredients and tons of fun!
This smoothie made with chocolate almond milk, ice and bananas makes a great dessert or breakfast.
It never hurts to have a quick fudge recipe on hand. With condensed milk, chocolate chips and Andes mints, you have a marvelous mint fudge dessert.
For a 5-minute movie night snack, make this sweet and salty popcorn with butterscotch tips, toffee bits and popcorn.