Sometimes, the last thing you want to do at the end of a long day is to spend hours in the kitchen cooking. Now you don't have to. Not only are these 2 ingredient recipes super simple, but they save you time in the kitchen, too. Whether you're looking for an easy entree or sweet treats you can whip up in a pinch, you'll find what you need here!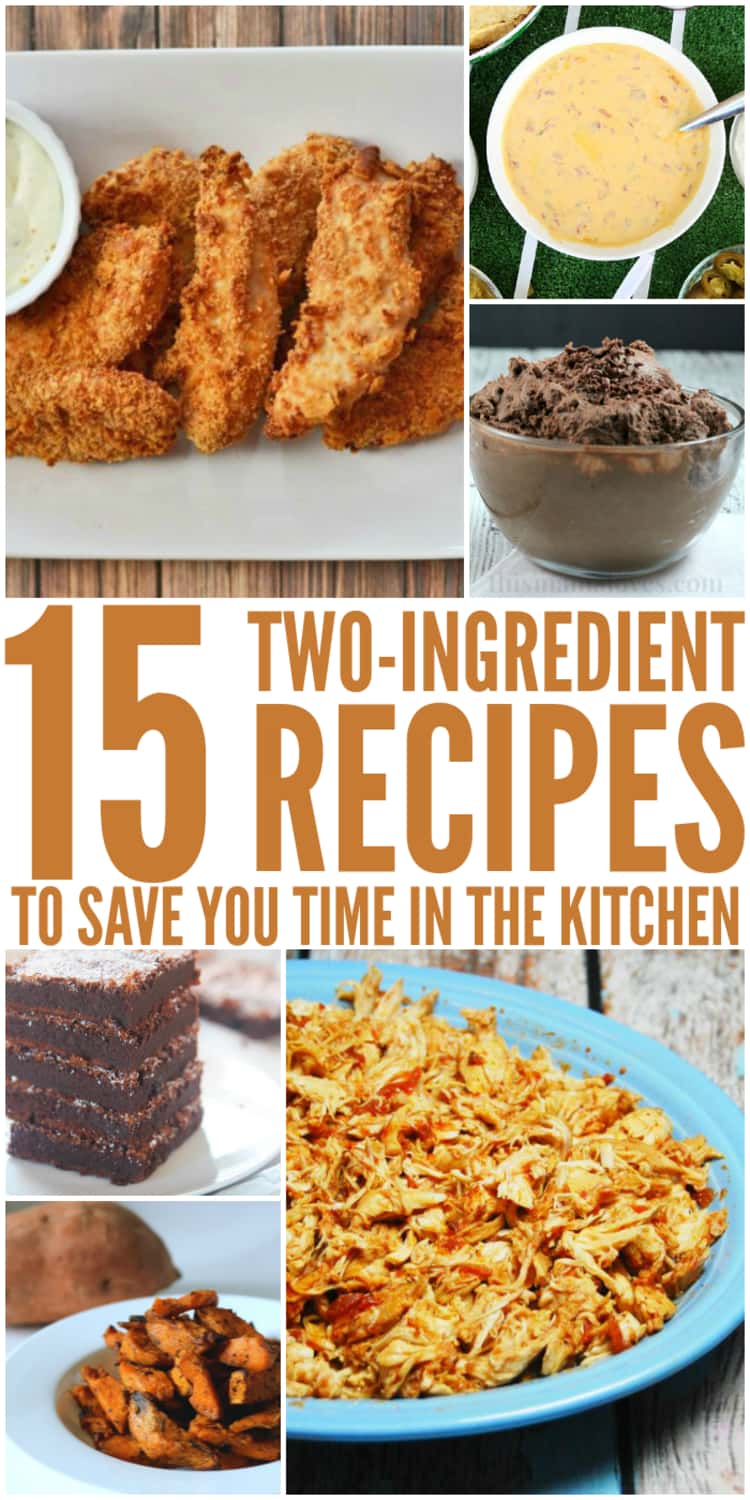 Quick And EASY 2 Ingredient Recipes
1. Some 2 Ingredient Recipes Never Disappoint – Like This Queso Dip
This two-ingredient queso dip will give you the hit of all the tailgating parties you attend, or host. This queso dip is not only a huge crowd pleaser when it comes to tailgating parties, but it is also super easy to make. All you need is some queso (cheese) and a can or two of diced tomatoes and chilies. Just heat the mixture up in a microwave for 5-10 minutes while stirring and voila! A dip that'll make you an amazing host.
2. Make Some German Chocolate Pizza with this 2 Ingredient Recipes
Sounds fancy, doesn't it? For some reason, maybe because Germany produces some of the best chocolate, the words German and Chocolate together just sound fancy. Impress your guests with this German chocolate pizza made with chocolate cookie biscuit pizza dough and frosting. So easy!
3. A Simple 2-Ingredient Recipe Every Chicken Lover Should Try
Don't you just wish there were meals you could leave on the stove and forget about them and they wouldn't burn? Well, wishes do come true. Sometimes. For dinner, try this easy slow cooker salsa chicken in some burritos or tacos. Yum! Seriously, if you can mess this meal up, you should consider take-out for the rest of your life. It's THAT easy to make.
You can put it in a slow cooker, clean the house, take out the trash, weed your garden, pick your aunt from the airport, pick up the kids and get a manicure before you need to check on it again. I am definitely making this my go-to meal for busy days.
4. These Popsicles Recipe Are So Easy To Make with only 2 Ingredients- A Toddler Could Do It!
No, literally. Let the kids help you make these super simple creamy lime popsicles. They're perfect for summer. You just need some limeade and a whipped topping of your choice. Whisk them up and freeze until set. This treat will be a hit with the not-so-sweet tooths. Mmmmmh!
5. Quick 2 Ingredient Recipes Are Life Savers When It Comes To Snacks For The Kiddos
Strawberry cream cheese and marshmallow creme pair to make a fantastic fruit dip. You just mix the two and serve with whichever assortment of fruits suits your palate. No fancy equipment, minimal time spent, and a mouthful of flavor! I really doubt there has ever been an easier and tastier snack. The kids will adore you.
6. Who's Up For Some Healthy 2 Ingredient Recipes? I am!
These grilled sweet potato fries paired with your favorite seasoning are a healthy side to go with burgers hot off the grill. Or some veggies if you're feeling vegetarian. For some odd reason, these fries taste better with seasoning meant for meats than with vegetable seasoning. You should try them!
7. Chocolate Heaven Is 2 Ingredients Away
Here's an easy dessert: chocolate fluff! If you love chocolate as much as anyone who's tasted it, you'll love this recipe. All you need is some heavy whipping cream and chocolate chips for this decadent treat. It is a fluffy chocolate cloud hence absolutely heavenly. If you find making dessert tedious, you're welcome.
Who doesn't love brownies? These Nutella brownies are gluten-free, using only eggs and Nutella. Imagine all the chocolatey and creamy goodness you get from a spoonful of Nutella, but in a brownie that's not too sweet. You can literally eat these brownies daily and since Nutella is made from nuts, that's a balanced diet. Right? Right?! And oh, pair it with vanilla ice cream and viola!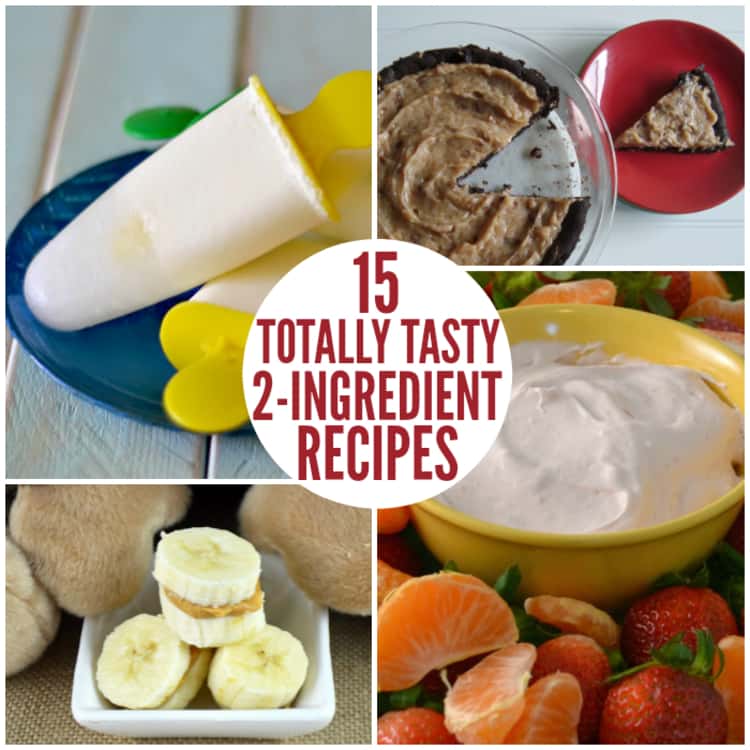 Fast Foods You Can Make with Two Ingredients
9. Everyone Will Go Nuts Over This Fast & Easy Chicken Tenders Recipe
Forget chicken nuggets! Here's a two-ingredient recipe that's so easy to make, it's simply unbelievable.
All you need is:
some crackers
chicken tenders.
Procedure:
Break your crackers into tiny pieces to make cracker crumbs.
Coat your moist chicken tenders with the crumbs and place them in a baking tray.
Bake in a preheated oven at 350 degrees and in about 40-45 minutes your chicken tenders will be ready.
Your two-ingredient meal is best served warm with your favorite dipping sauce. Your kids will love these oven-fried chicken tenders… and so will you!
10. Want A Ridiculously Easy And Fantastic 2 Ingredient Cake Recipe?
Let's be honest – as long as you use cake box mixes, your cakes will always be the same old boring cakes. Why not jazz up things a little bit using this two-ingredient recipe? Get yourself a can of crushed pineapples and juice to whip up this easy peasy pineapple cake for your next picnic or get-together.
It's the perfect treat for when you're craving some cake, want something different, and don't want to waste time experimenting on new cake recipes.
11. It's Not A Party If Chocolate Ain't On The List of the 2 Ingredient Recipe
Hahaha. That's how easy it is to throw a party, for me. Chocolate anything and I'll be there. Here's a fast and easy way to make sure chocolate is always present at your party.
Make chocolate crackle with rice Krispies and chocolate for a quick snack. Simply melt your chocolate, add in your Rice Krispies, and stir to make sure they're all covered in chocolate. Spoon them into cupcake liners and freeze them for extra crunchy party snacks.
12. Perfect Homemade Biscuits Recipe Are Now A Real Possibility With Just 2 Ingredients
Biscuits can be tricky and I don't know it too well – I haven't had a winning streak with them, either.
But maybe we're in luck because there's an easy two-ingredient biscuits recipe that uses only self-rising flour (yea they are absolutely different from any cup of flour) and heavy cream. Thankfully, I know what a good dough looks like and that's what I'll be looking for when mixing these two ingredients. And though this recipe calls for ONLY two ingredients, I'll push my luck and add butter to brush the tops for that golden brown color.
13. Quick Nutella-Stuffed No-Cook Healthy Snacks 2 Ingredient Recipe
If you thought PB & J was your easiest go-to, no-cook snack, think again. There's a new kid on the block that's way healthier because it gets your kiddos eating some real fruit.
Slice your bananas, spread each slice with peanut butter and cover with another banana slice to get your PB & B sandwich. Peanut butter and banana slices pair so awesomely to make a quick and healthy treat for the kids.
14. Looking For A Fast 2-Step 2 Ingredient Comfort Food Recipe?
If that's you, then get to serve up some grilled cheese sandwiches and this creamy tomato basil soup on a rainy day. While the grilled cheese sandwiches are not part of this recipe and are optional, this two-ingredient tomato basil soup is just the bomb!
Take a light cream cheese or Neufchatel cheese, about 2 cans of diced tomatoes, and blend. Heat the blended mixture in a saucepan and that's it. Your simply delicious comfort food is ready to eat!
15. It Ain't A Pie But This Simple 2 Ingredient Recipe Comes Close Enough
Craving for a key lime pie but can't be bothered to do all the work, baking, and fussing over the pie crust? Get some key lime juice and sweetened condensed milk because they're all you need to make this key lime pie dip that will check off all the key lime pie boxes.
Squeeze some 3 limes, mix their juice into 2 cans of sweetened condensed milk, and serve with your favorite cookies or crackers. It's that simple, easy, and it shouldn't take you a second more than 5 minutes to appease your key lime pie craving.
16. Insanely Yummy 2 Ingredient Dessert Recipe
Almost every mom has a trick or two to get their kiddos to finish up their meals quickly. With kiddos who've got sweet teeth, definitely inherited from yours truly, my faithful and trusted trick has always been some sweet dessert.
Thanks to this two-ingredient recipe, you'll never find me spending more than 5 minutes to make dessert. Got water and some dark chocolate? That's all it takes to make this yummy two-ingredient chocolate mousse. And to make sure they know mama ain't playing, I start making it right in front of their eyes as they're having dinner, lol. Sneaky, but it works.
I start by chopping up the chocolate and putting the chopped pieces in a sauce pan on medium heat. To do this, I add a cup of water and let the chocolate melt while I mix it.  As the chocolate is melting, I prepare an ice bath that I'll transfer the chocolate to, though in a different bowl. For some 2-3 minutes, there's some elbow work involved because I have to whisk the chocolate until it thickens up into a mousse.
I then pour the mousse into serving glasses for the kiddos but refrigerate for the adults. It's much better when chilled, with added salt, spices, and fruits, especially for our date nights at home.
Loved trying out any of these two-ingredient recipes? You may also want to have a look at easier recipes here:
And for those days your pantry has got more than two ingredients, so why not try out these three-ingredient recipes or 15-minute dinners for even more super simple meal ideas!
What are the 2 ingredient recipes you are going to try this week?