The weekdays can be filled with extra-curricular activities, school projects, and countless other time-consuming events. So that means we don't always have time to cook. Make meal planning easy by grabbing a rotisserie chicken from the grocery store and make one of these meals in a hurry! These 30 rotisserie chicken recipes involve absolutely no cooking! Don't bother with takeout. These meals are faster and far more healthy than the drive-thru!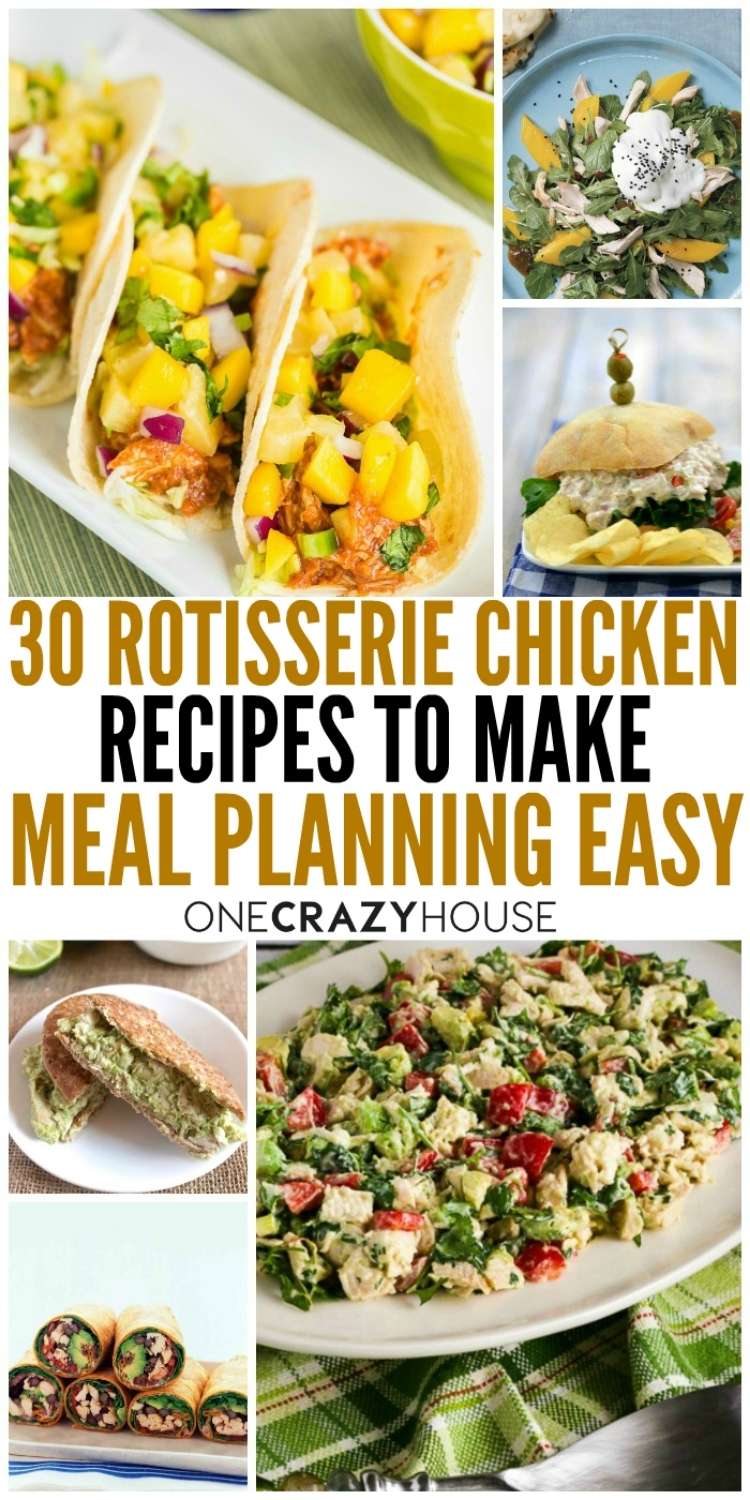 Rotisserie Chicken Recipes to Make Meal Planning Easy
1. Super Healthy Mango Rotisserie Chicken Wraps
Mango Chicken Wraps are the perfect pairing of meat and fruit. Finally, a super healthy meal that kids will ask for again and again. All you need for this light and refreshing dinner is:
mango
jicama
mint leaves
lime juice
Sriracha sauce
Shredded rotisserie meat
Tortillas to wrap
Mix everything except the tortillas in a bowl, then roll up into the tortillas.
2. Roast Chicken and Mango Salad with Yogurt
And if you like the mango and chicken pairing, a Roast Chicken and Mango Salad with Yogurt should make it on your menu, too! You simply mix your chicken chunks with mango slices, olive oil, lemon juice, and curry powder. Serve over arugula or your favorite lettuce and then top with a dollop of yogurt for dressing.
3. Southwestern Chicken Wraps
These Southwestern Chicken Wraps are the perfect summer supper. You don't have to heat up the house to make them, and they're super kid-friendly. These are also great to make with Thanksgiving leftovers!
4. Leftover Rotisserie Chicken Salad
If you like regular chicken salad, you'll absolutely love Rotisserie Chicken Salad. It's next-level flavor, y'all. You can add olives or relish to really make the chicken salad pop with flavor, and serve it on a bun, over bread or a piece of toast, or even as a dip with some crackers.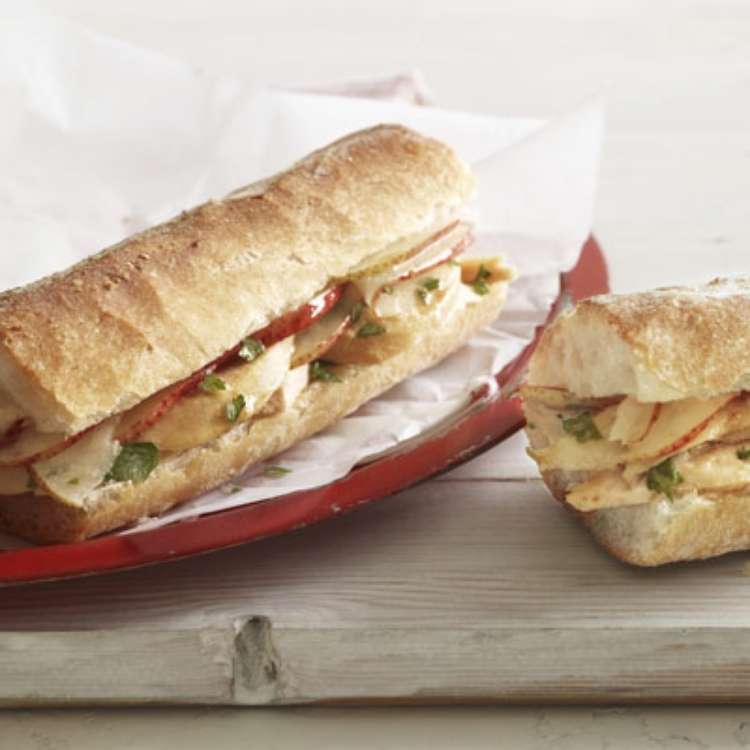 5. Pear and Chicken Hero Recipe
While we love the smoky flavor of rotisserie chicken, it's nice to enjoy something different. This Pear and Chicken Hero combines sweet and savory to make this absolutely yummy. Stir together some vinaigrette and parsley, and then season both sides of the inside of a baguette. Layer some slices of rotisserie chicken and season with some more vinaigrette, then add the slices of pear and finish off with a last drizzle of the vinaigrette.
6. Creamy Avocado Greek Yogurt Chicken Salad
Did you know that you can substitute yogurt for a healthier take on the traditional chicken salad? Seriously, you won't believe how yummy this Creamy Avocado Greek Yogurt Chicken Salad is even though it doesn't have mayo. A delicious combination of avocado and Greek yogurt helps this chicken salad stand out in creaminess while being high in protein and low in calories.
7. Colorful and delicious Rotisserie Chicken Christmas Salad Recipe
Rotisserie Chicken Christmas Salad is colorful and delicious with avocado, red bell pepper, lime, and cilantro with a creamy dressing. The "Christmas" in the name comes from the greens and reds of the ingredients, but this recipe can be enjoyed year-round. This is a more carb-conscious recipe while still being fulfilling so it's a great option for holiday times when the carbs seem to be everywhere!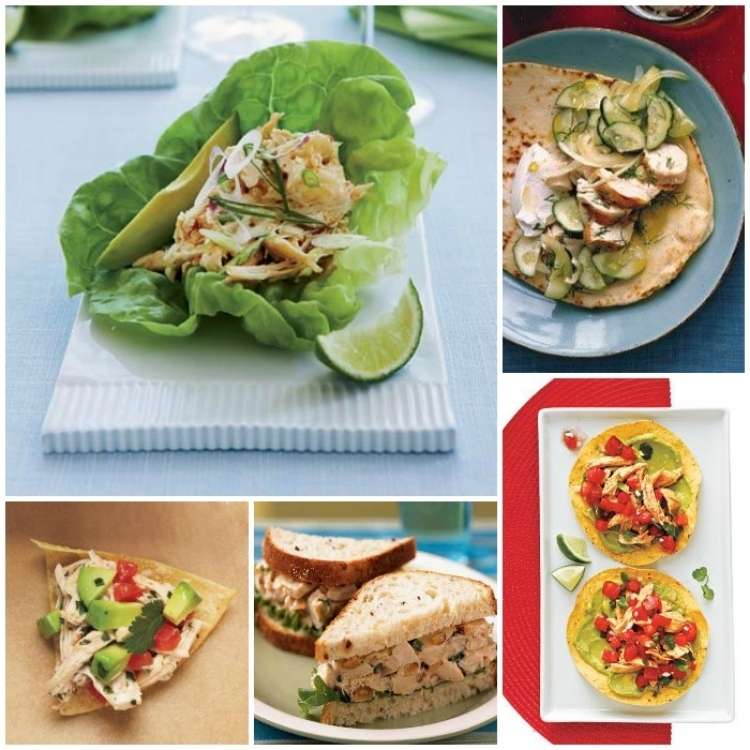 Rotisserie Chicken Recipes Perfect for Busy Families
8. Smoked Almond and Rosemary Chicken Salad Sandwiches
Rosemary and smoked almonds are a nice change of pace in these Rosemary Chicken Salad sandwiches. Plus, it's the perfect lunch! The almonds in this recipe help keep you full and provide healthy fats, providing a healthy meal full of lean protein and fiber.
9. Spicy Asian Chicken Salad Lettuce Cups
If you're watching your carbs, make some Spicy Asian Chicken Salad Lettuce Cups for lunch or dinner. They're filling and flavorful. These are very easy to make and would work well to serve a crowd as well as a healthy lunch or dinner.
10. Creamy Avocado Rotisserie Chicken Salad
Sit this Avocado Chicken Salad in front of your family with a bunch of tortilla chips, and you'll have some happy campers.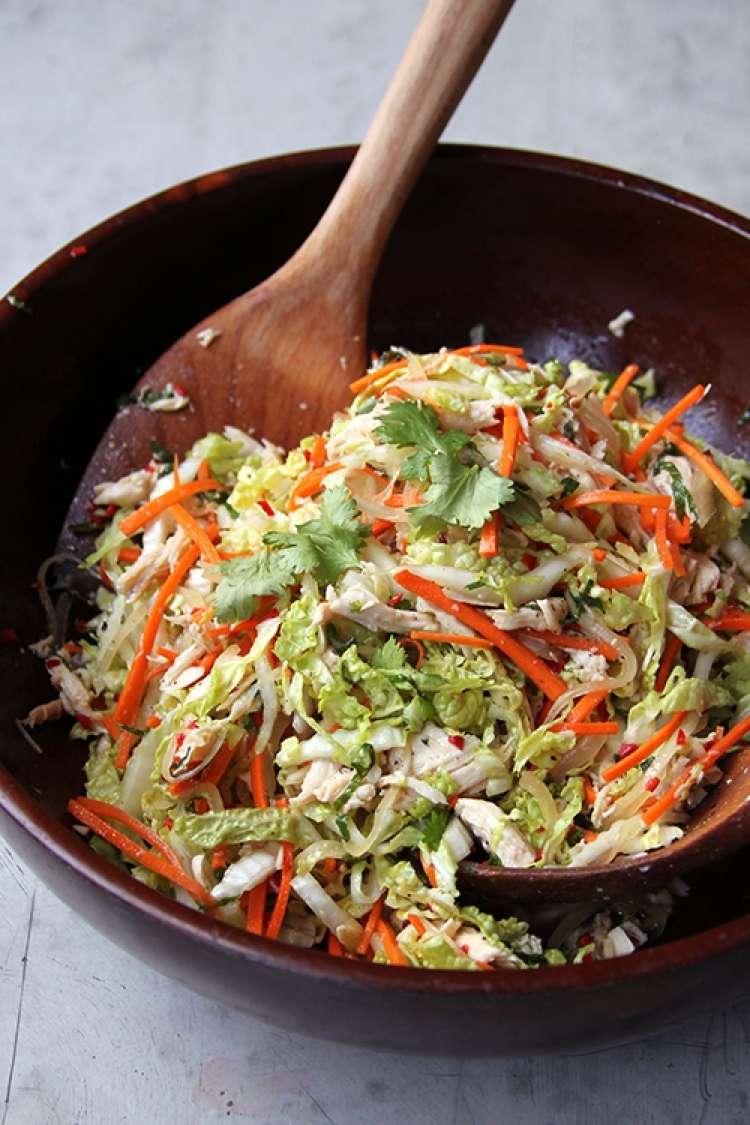 11. Vietnamese Shredded Chicken Salad
Vietnamese Shredded Chicken Salad is packed with flavor and lots of color. Be careful with the red chiles, though; they may make the dish too spicy for some with tamer palates.
12. Rotisserie Chicken and Dill Souvlaki
Everyone in the family will enjoy Chicken and Dill Souvlaki. Add some tomatoes and feta cheese if you have it on hand! Simply mix some of your chopped chicken with chopped cucumber, onion, dill relish, and greek yogurt over flatbreads.
13. No-Cook Chicken and Guacamole Tostadas
You'll never believe that these Chicken and Guacamole Tostadas are no-cook! Because they get their grilled flavor from the smoked paprika, it doesn't require any additional cooked-in seasoning.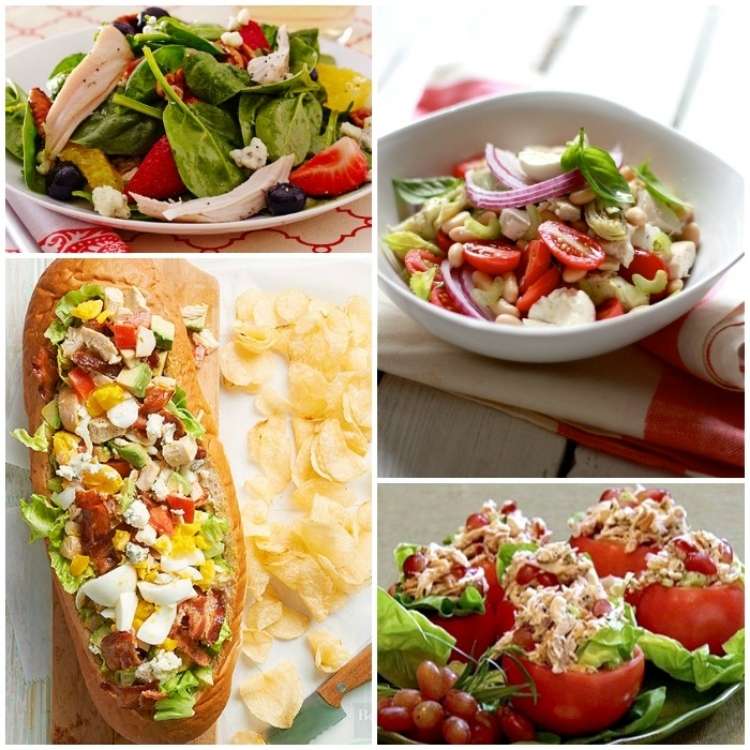 14. No-Cook Mediterranean Chicken Salad
The basil marinated tomatoes give this No-Cook Mediterranean Chicken Salad tons of flavor and a burst of color.
15. No-fuss Healthy Chicken Salad with Strawberries and Spinach
For a no-fuss lunch packed with healthy stuff, try this No-Cook Chicken Salad with Strawberries and Spinach.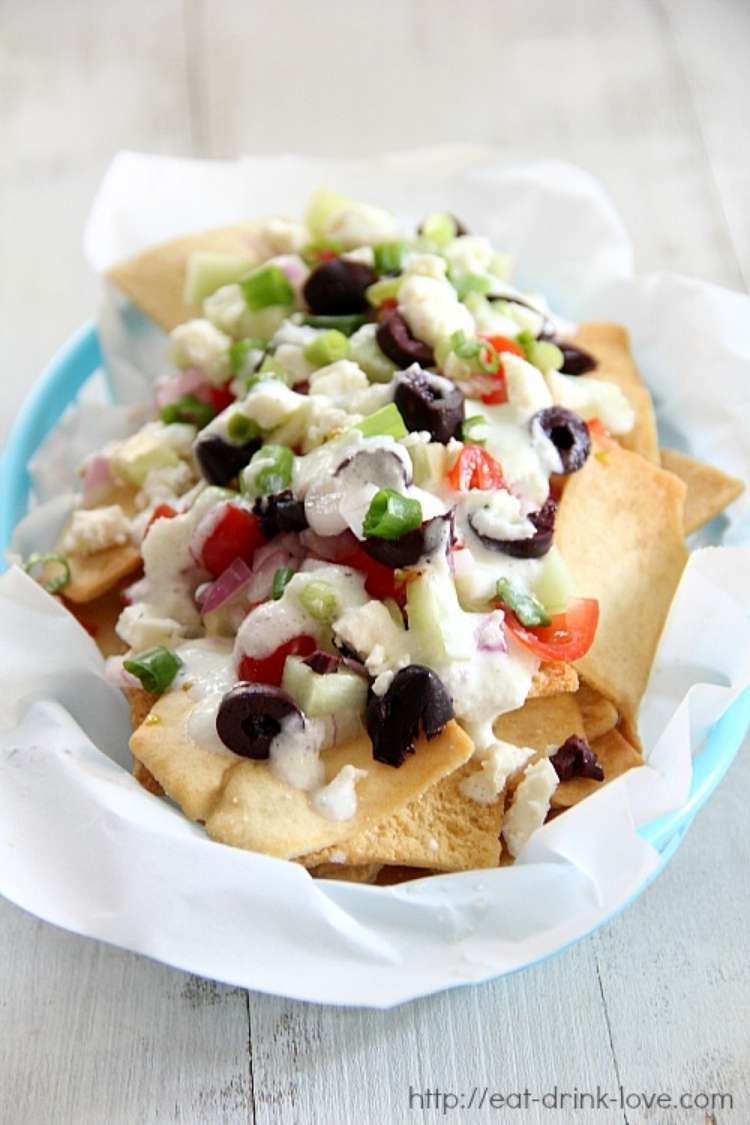 16. Greek Nachos Rotisserie Chicken Recipe
These Greek Nachos use feta cheese, which doesn't require any melting or baking, and my goodness, they look divine! What could be better than healthy nachos, right? Since these have fresh cucumber and Greek yogurt, you can snack away without feeling guilty or bloated later.
17. Rotisserie Chicken Salad in Tomato Cups
Chicken Salad in Tomato Cups offers a pretty presentation and an extra kick of flavor from the tomatoes. Yum. Scoop out your tomatoes with melon ballers or a spoons, lay a leaf of lettuce inside to hold it all together and then fill with your chicken salad.
18. Rotisserie Chicken Cobb Salad Sub
A Cobb Salad Sub will go over famously at a summer get-together. Serve with some chips and dip on the side. The marvelous mix of the Rotisserie chicken with some crisp bacon and creamy dressing is sure to be a hit at your next lunch or get-together.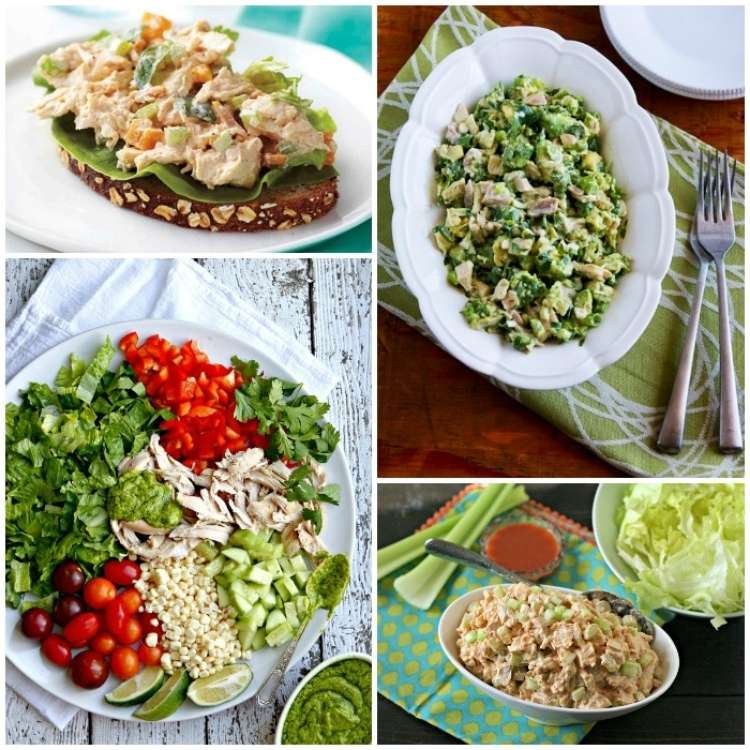 19. Colorful Mexican Chicken Salad with Jalapeno Pesto
Have you ever seen a more amazing-looking salad than this Mexican Salad with Cilantro Jalapeno Pesto? Colorful, healthy, and tasty!
20. Buffalo Chicken Salad
If you love all things Buffalo flavored, you have to make this Buffalo Chicken Salad. In just 10 minutes, you'll have a tasty dish to eat with lettuce, chips or tortillas. This is a wonderful game day snack for the whole team.
21. Low-Carb Chicken and Avocado Salad with Lime and Cilantro
Sometimes diet restrictions make meal planning a little more challenging. This Chicken and Avocado Salad with Lime and Cilantro is the perfect dish if you're looking for Paleo or low-carb meals.
22. Apricot-Basil Chicken Salad
Top crusty bread with some of this Apricot-Basil Chicken Salad, because, let's be honest, open-faced sandwiches are awesome! All you need to do is grab a bowl and whisk together the following ingredients. This is hearty enough for a fun summer picnic and delicate enough to serve at a fancy get together:
Mayo
Yogurt
Garlic
Paprika
Vinegar
Chopped Rotisserie Chicken
Almonds
Onions
Celery
Apricots
Basil
Salt and Pepper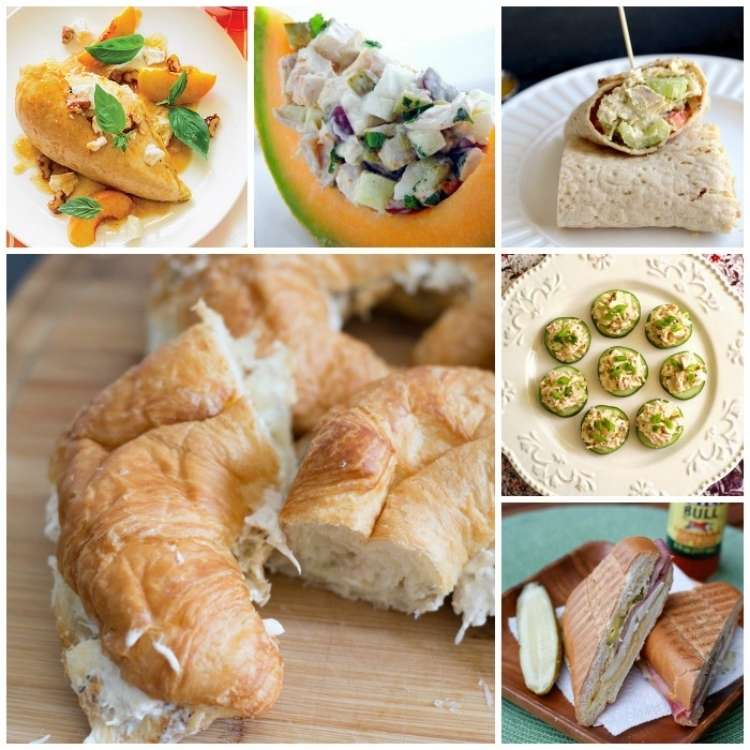 Rotisserie Chicken Recipes to Fill Your Meal Planning Calendar
23. Rotisserie Chicken with Peaches, Walnuts, and Basil
Even the kids will probably love this light and flavorful meal of Rotisserie Chicken with Peaches, Walnuts, and Basil. The peach jam adds a delicate touch of sweetness while peach slices add a delicious chunkiness to the salad.
24. Rotisserie Chicken Salad on Cantaloupe
This idea for serving Chicken Salad on cantaloupe is genius. I bet the flavors pair really well together.
25. Bacon and Rotisserie Chicken Salad Recipe
So what's better than chicken salad? This Bacon and Rotisserie Chicken Salad, of course. Serve it on croissants to fancy it up a bit. Season with Lemon Pepper seasoning or a simple and delicious combination of salt, onion powder, garlic powder, Tumeric, paprika. Or both!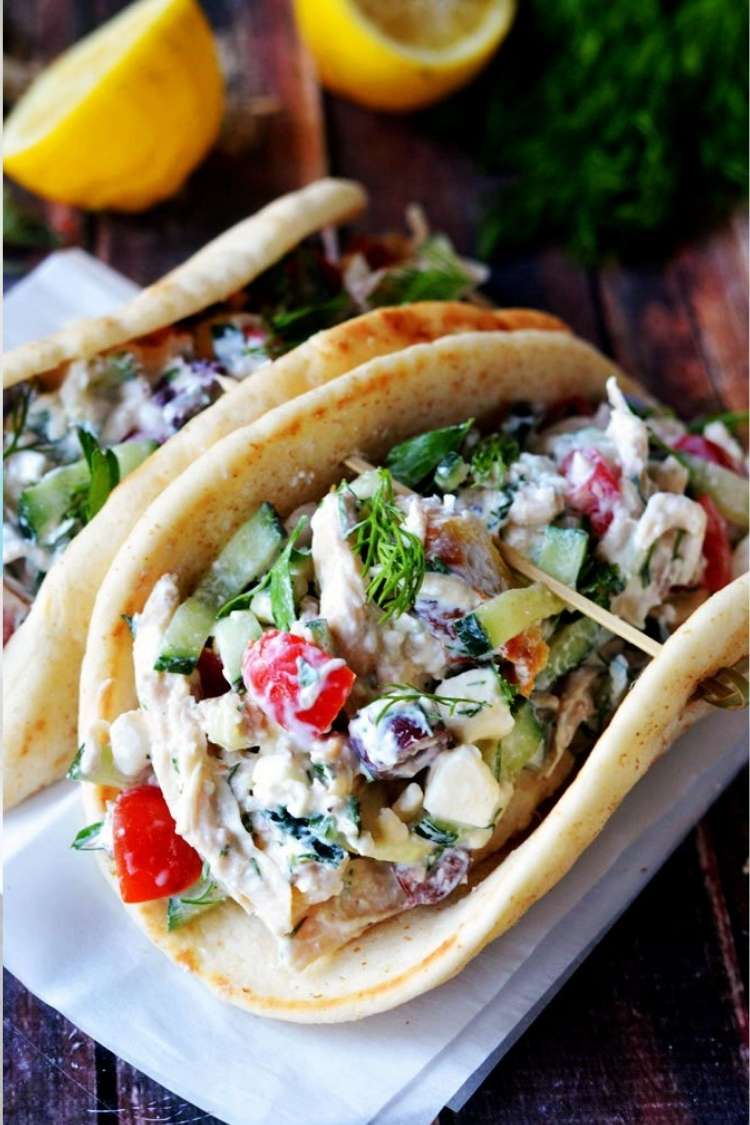 26. Easy Greek Tzatziki Chicken Salad on Pita Bread
Try this Easy Greek Tzatziki Chicken Salad on pita bread, for a more Greek-inspired dish using rotisserie chicken. It's a healthy and simple dish that you'll want to make several times over the summer!
27. Curried Chicken Wraps
Take these Curried Chicken Wraps to lunch at the office because they're tasty, filling, and really healthy. Of course, it's better on your budget too! A simple yogurt base is elevated with some curry powder, celery, salt, red and black peppers, all mixed with the chicken and served on flatbreads. Yum!
28. Rotisserie Chicken Cuban Sandwiches
Rotisserie Chicken Cuban Sandwiches use chicken in place of the roast pork. And if you don't want to fire up the panini press to melt the cheese, this sandwich is still yummy (and no-cook). The iconic combination of the chicken with the ham, mustard, mayo, and pickles on the Cuban bread is always a winning combination!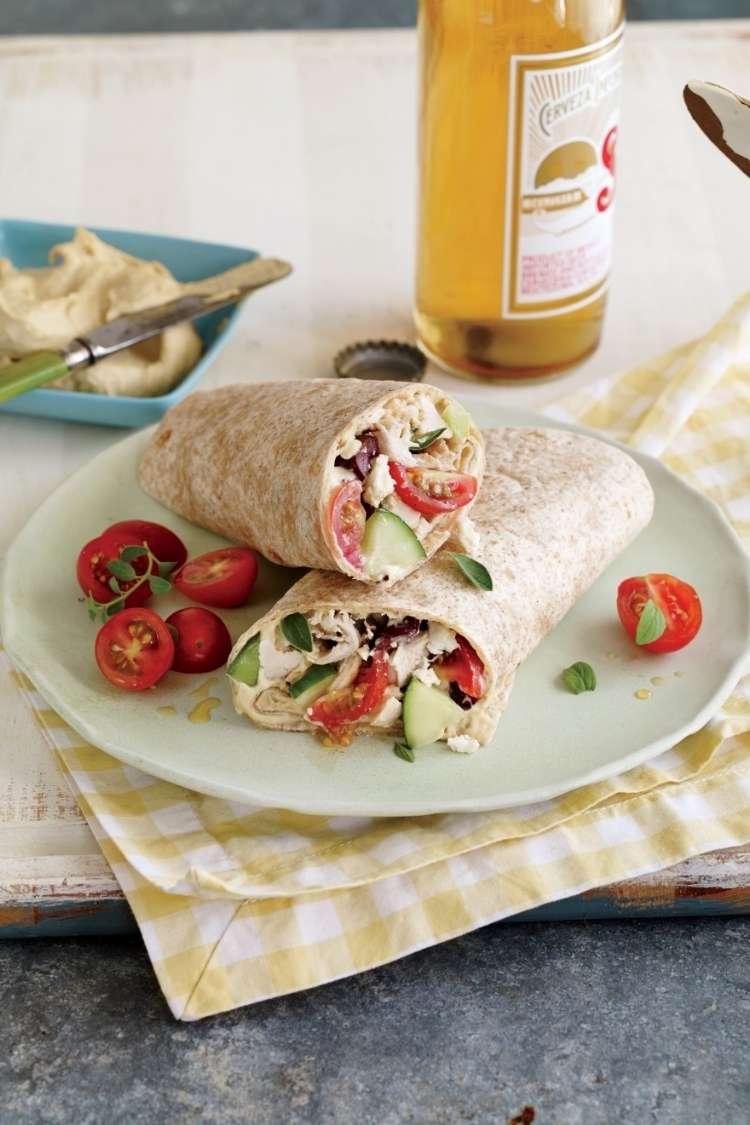 29. Greek-Style Chicken Wraps
Make a delicious lunch in no time flat with these Greek-Style Chicken Wraps. Use tortilla wraps instead of pita bread for these delicious treats. These are great for on the go, too.
30. Chicken Salad Cucumber Rounds
Finally, serve this Chicken Salad Cucumber Rounds at a bridal shower or luncheon with friends. They look like they take a lot of effort to make, but they're so easy.
If you loved these super easy rotisserie chicken recipe, check out our other quick recipe ideas: