Lets face it, drinking plain water day in and day out to try and stay fit and healthy is boring! Fortunately, there are ways to flavor your water calorie free with fruit and other fun ingredients. Still zero calories and a whole heck of a lot more exciting.
Photo Credits: No Gojis No Glory,  Back to the Roots
Ways to Flavor Water with Fruit
Adding fruit is a quick and easy way to add a splash of color and a lightly sweet flavor to your water. Next time you're craving that sugary sports drink try mixing some fresh fruit into your water instead. Make sure you gently muddle the fruits before sipping to infuse your water with their delicious flavor.
Make some berry ice cubes! Place a few berries in each ice cube mold, fill with water, and freeze.
Mix up lemon or lime slices with a teaspoon of all-natural zero-calorie sweetener for a healthy lemon- or limeade
Adding grapefruit can help combat water retention
Lemon, lime, and orange. Enjoy them on their own, or combine them for a fun fruity flavor.
Strawberries added to unsweetened coconut water are another sweet calorie-free alternative
Raspberries add a hint of sweet along with a pretty light pink hue
Kiwi. I love that you don't need much for a flavor punch.
Watermelon – it's full of natural sugars for a sweet flavor without any processed junk.
Cantaloupe (mix with a sprig of mint – even better!)
Peaches – especially if they are super ripe! The riper the better!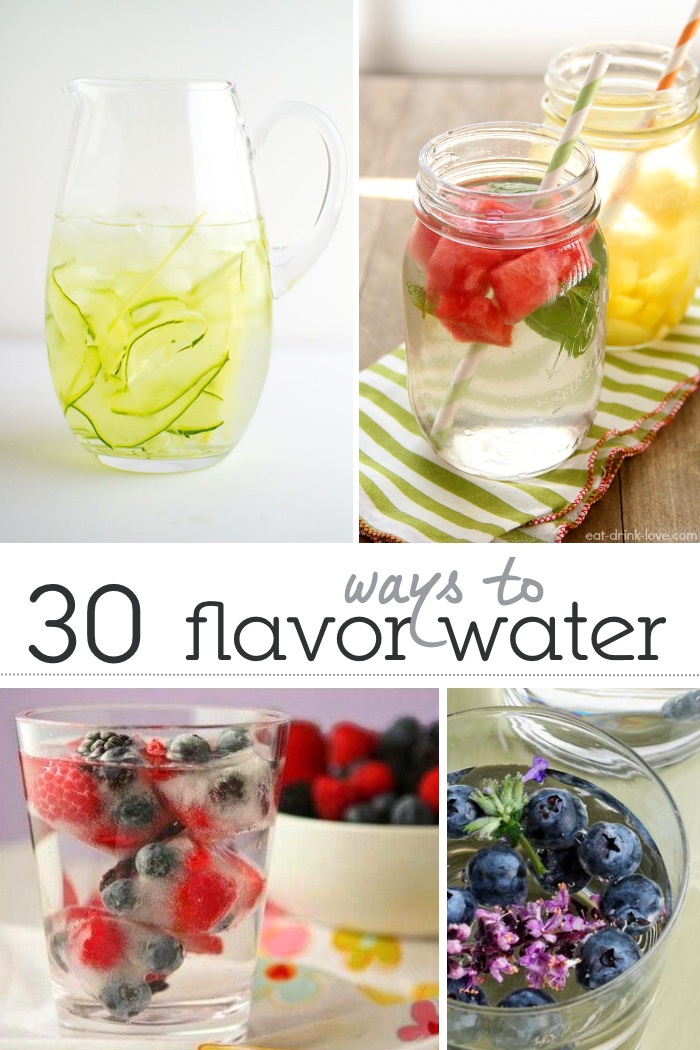 Photo credits:  Eat Boutique, Eat Drink Love, Loft of Dreams, Melissa's
Spice Up Your Water
Fruit infused water is tasty! Adding herbs or spices to your water can add another fun punch of flavor. Gently muddle the fruit and herbs to release their flavor and add water to fill your glass to the top. Play around with the amounts until you find ratios that work for you!
Mix Peaches with a dash of cayenne pepper to kick up your metabolism
Strawberry, lemon, and basil. YUM!
Orange and vanilla bean – calming mix!
Watermelon and mint. This is a great refreshing water formula to replenish electrolytes after a run.
Watermelon and rosemary are also a great little duo!
Mint, lemon, peach and blueberries (mix and match – these recipes are the best, every time you make them they taste a little different)
Sage and blackberries – YUM!
Blackberries, ginger, and lemon. This combination is full of antioxidants!
Blueberries and lavender (let sit 30 minutes and strain before serving)
Tangerine wedges and a pinch of cinnamon
Lemon and a couple Anise seeds (let it sit for half an hour for the flavor to infuse into the water).
Pineapple and Chili Powder, just a pinch is all you need for this sweet and spicy combination.

Cooling Cucumber Waters
Try mixing some of these with cucumber slices for fresh and fun detox waters.
Lemon – if you don't want the lemon in your water, consider adding just the zest.
Mint Sprigs – the younger the better. The dainty leaves have the most delicate flavor!
Kiwi – or pineapple chunks. Sweet and tangy!
Strawberry, lime, and mint – Cucumber tastes great with any of these.
Orange, lemon, and mint – this is a refreshing detoxifying combination.
Peach wedges with cucumber slivers – so good.
Lemon, mint, and ginger. This combination is soothing if your tummy has been upset.
Strawberry – everything tastes better with crushed strawberry in it. Bruise the strawberry slightly before adding it to your water.