Do you enjoy crafting? If so grab your glue gun, paint, and other craft supplies! Make some 4th of July crafts to decorate your home with a patriotic theme! Stars, stripes, and all things red, white and blue are what you will find here. These DIY decor pieces will help make entertaining this 4th, extra fun. The holidays are much more fun with holiday-themed decor.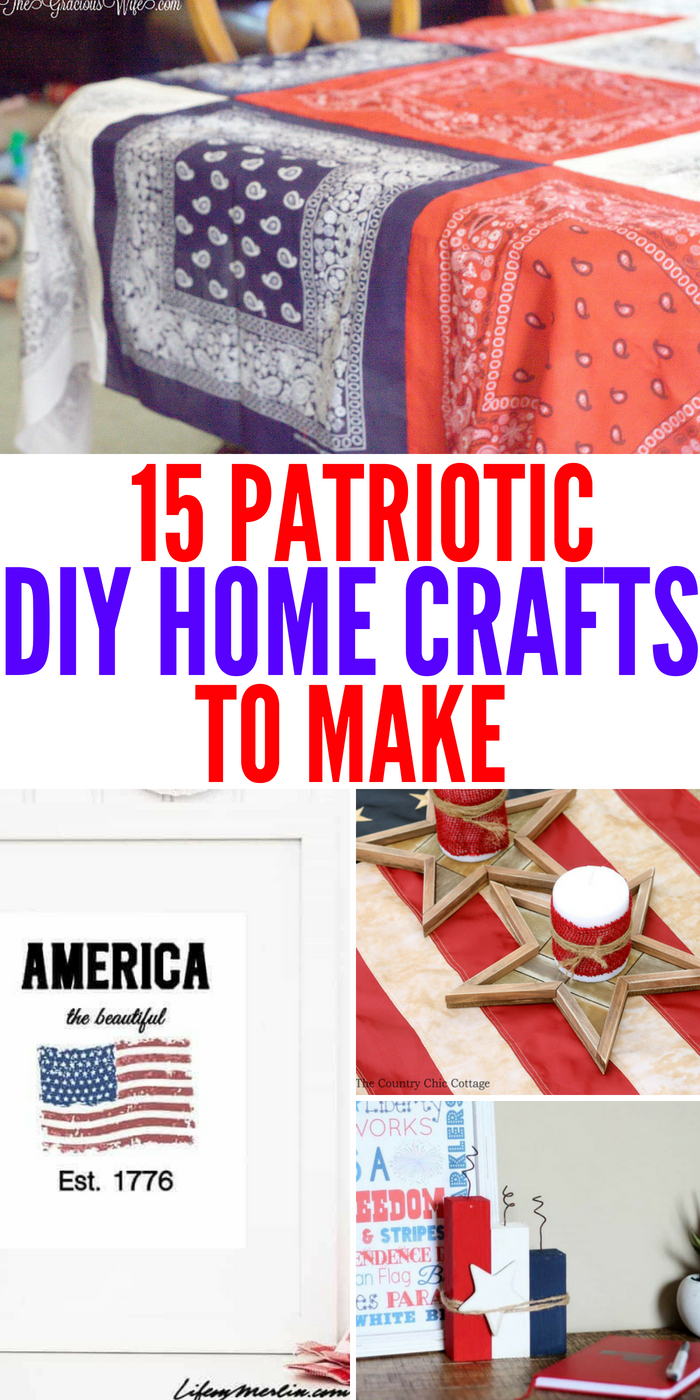 Plus if you plan to do a cookout this 4th of July check out these great patriotic food items to throw on the grill and serve up to your guests. For our family, the 4th of July is the perfect day to celebrate our love for this country. We grill, play in the pool, have laughs, and just spend time with close friends and family.
4th of July Crafts To Make For Your House
1. Make Red White and Blue Bunting
No-sew bunting flags will be a great craft to hang on your mantle or even on the siding of your deck. A really easy craft that adds style to your space.
2. DIY Patriotic Mason Jars
Red, white and blue mason jars are so versatile. Put in some fresh or silk flowers, candies, silverware or more and add a touch of patriotism to your home.
3. 4th of July Centerpiece for Your Table
Dress up your table with this easy 4th of July centerpiece that adds the perfect amount of red, white, and blue to your table. Such a creative decor piece to make yourself.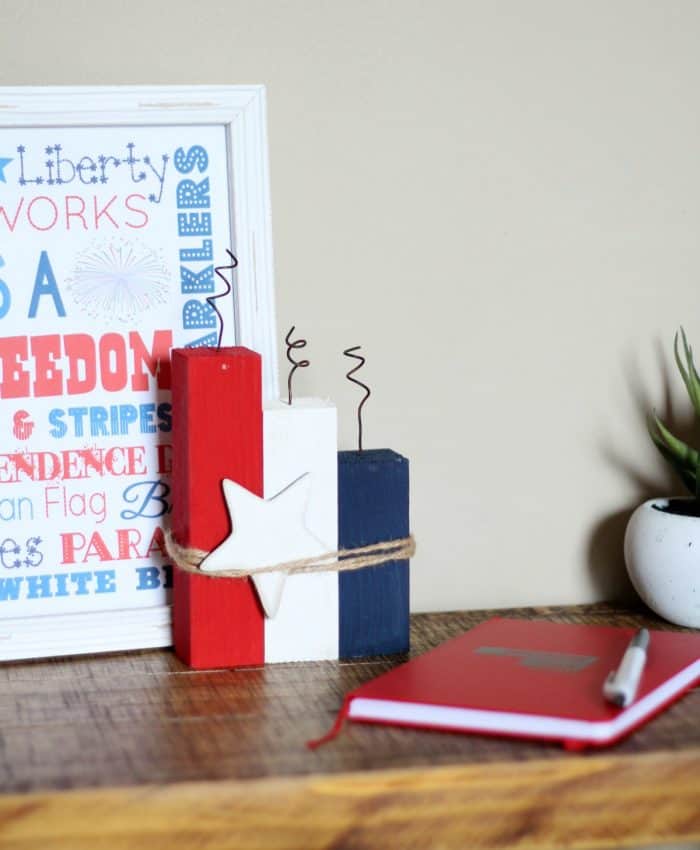 4. Make this Unique Patriotic Art
I love this 4th of July firework blocks set, they are a great piece to put on a table to display your love for the country. Paint and wood and a few other supplies are all you need.
5. Celebrate the 4th with Plants
Decorate your flower pots with these fun DIY 4th of July planters. A great way to add curb appeal and color to your outdoor space.
6. Make a Wreath for Your Door Celebrating 4th of July
Quick and easy DIY 4th of July wreath that would look stunning hanging from your front door or even hang on a wall within your home. That will give it a very farmhouse feel.
Patriotic 4th of July Crafts
7. Easy Red White and Blue Homemade Table Cloth
DIY bandana tablecloth is a fun way to make a tablecloth on a budget but also add some holiday spirit into the mix. Perfectly fun and frugal option for summer entertaining.
8. BBQ Art for the Fourth
This flip flop wall decor piece would be fun to hang for a cheap decor piece for a summer barbeque, hang on the front door or anywhere else you see fit in your home.
9. DIY Flag Art
Make sure to consider this patriotic pallet flag to display in your front or backyard. This really adds a splash of fun to your outdoor area.
10. Fourth of July Garland You Can Make
Kids will love this pom-pom eagle garland, great for decorating in the home to help your child learn more about the holiday! Who wouldn't love little eagles hanging in their home?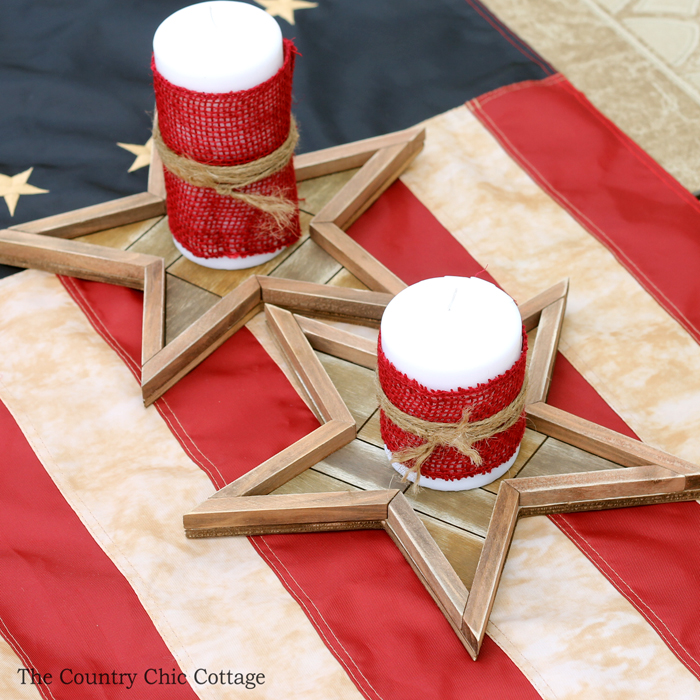 11. Table Decor for Your 4th of July Celebration
Tea stained flag with some wooden stars and candles gives a gorgeous table decor for the 4th of July. With a little work, you can have this same style ready in no time.
12. Make a Patriotic Table Runner
I also really love the simplicity of this doily table runner that is red, white and blue. A very simple but creative piece to have displayed in the home.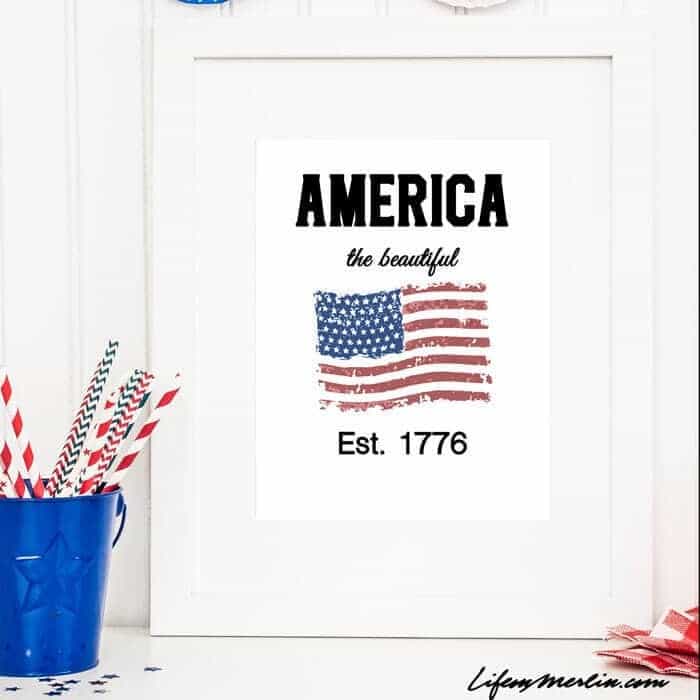 13. Printable 4th of July Art
Print off this free patriotic inspirational printable and frame it for an instant decor piece. Simple craft that takes some ink and putting in a frame to add the perfect amount of patriotic feel to your room.
14. Red LIGHT and Blue Mason Jar Craft
Another great DIY craft using colorful lights inside mason jars showcases a really patriotic mason jar craft, you might want to try out.
15. Make a Pillow for the 4th of July
Dress up your couch or furniture with this patriotic pillow. It is always fun to change out pillows for the seasons and holidays. It really can change the look of your home or outdoor living space.
What is your favorite thing about the 4th of July? 
More 4th of July Fun: