Make-Ahead breakfast recipe: because workday mornings can be a real challenge and most of the time we skip breakfast and we eat a snack in the car. I found these amazing make-ahead breakfast recipes to break this unhealthy habit and search for better alternatives.
20 Easy Make-Ahead Breakfast Recipes
From paleo egg muffins, chocolate hazelnut overnight oats, asparagus fontina frittatas, enchilada breakfast casseroles, muffin pan breakfast sandwiches, and more, these recipes are the perfect way to add a new and healthy spin to your breakfast time.
Add nutrition and flavor to your breakfast with these mouth-watering recipes.
1. No-Stir, Bran Muffins
You can make the batter ahead of time and refrigerate until ready to use with these No-stir, Make-ahead Bran Muffins. [Yummy Healthy Easy]
These muffins are made with only 9 ingredients that you probably already have in your pantry! And when we say make-ahead, we mean it! This recipe can hang out in your fridge for an impressive six weeks!
All you need is some boiling water, baking soda, bran cereal, your preferred oil for baking, eggs, buttermilk, and a pinch of salt.
2. Breakfast Burritos
You can have a hot breakfast, even when mornings are hectic when you prep Breakfast Burritos ahead of time. [Taste And Tell Blog]
This is a great make-ahead breakfast for camping trips. Simply heat up some oil and cook some hashbrowns with cubed ham, and once those have browned add eggs scrambled with taco seasoning and cook those through. Then you add some green chiles and some cheese, and you wrap that all up in a warmed tortilla. You can then store them inside some aluminum foil in plastic bags, and heat them up over a fire the next morning for a hot and delicious breakfast.
3. "Everything But The Bagel" Instant Pot Egg Bites
These Everything But the Bagel Instant Pot Egg Bites are a decadent and delicious breakfast recipe. If you're a super fan of these seasoning, that you can easily get from any Trader Joe's, then these Egg Bites will be right up your alley!
One of my most favorite things about the egg bites is that I can make them whatever flavor my heart desires. The recipe below is go to and the one that I find myself making the most often. You can also add in different toppings: cheese, baby spinach, bacon, sausage, and so much more!
4. Strawberry and Nut Oatmeal
This is your new favorite breakfast! If you love oatmeal, then this Make-ahead Strawberry And Nut Oatmeal will be your new favorite. [A Cultivated Nest]
1. Put your rolled oats and milk into a microwave safe bowl. Stir and heat for about 30 seconds in the microwave. Don't worry if it seems runny. The oats will absorb the milk overnight.
2. Add some sweetener of your choice and taste test to see if you want to add more.
3. Add nuts/seeds and sliced strawberries. Stir gently.
4. Sprinkle with some cinnamon. If you like, you can transfer the strawberry and nut oatmeal to a Mason jar and then sprinkle the cinnamon on top.
5. Cover your bowl or Mason jar and refrigerate overnight. Eat chilled.

-Manuela Williams, acultivatednest.com
5. As-fancy-as-you-like Muffin Pan Breakfast Sandwich
This Muffin Pan Breakfast Sandwich recipe has three different difficulty levels, depending on how fancy you want your breakfast. [Bowl Of Delicious]
Level one is to simply crack an egg into the greased muffin pan to cook as a "fried" egg (keep in mind that it will look like a sunny side up egg but the yolk will not be runny, though)
Level two is to add a bit of milk and salt and pepper to create a scrambled egg version. Then finally, if you want to get really fancy with this make-ahead breakfast, scramble the eggs with some milk and add in your favorite diced veggies.
6. Breakfast Taquitos
Loaded with eggs, sausage, tomatoes, and cheese these Breakfast Taquitos only take two minutes to prep. [Damn Delicious] These Make-ahead breakfast taquitos are also freezer-friendly, so you can make a big batch ahead of time and defrost as you need them. All you need are some corn tortillas, eggs, sausage, sun-dried tomato, avocados, and cheddar cheese. Roll up your ingredients inside the corn tortilla and bake with the seams down until they are crunchy and the cheese is melting. Enjoy!
7. Make-Ahead Breakfast for big groups: Enchilada Breakfast Casserole
This Enchilada Breakfast Casserole is great for big groups.[Chew Out Loud]
This Enchilada Breakfast Casserole is chock full of good stuff.  Layers of eggs, chorizo, black beans, cheese, and salsa rest on layers of corn tortillas.  The flavors are festive, savory, and bright.

This tasty breakfast is perfect for feeding a group, as it's hearty and satisfying.  There is a nicely mild kick to it, which make the flavors pop.  Feel free to modify the spice level, using mild or medium (or hot!) salsa.

-Chewoutloud.com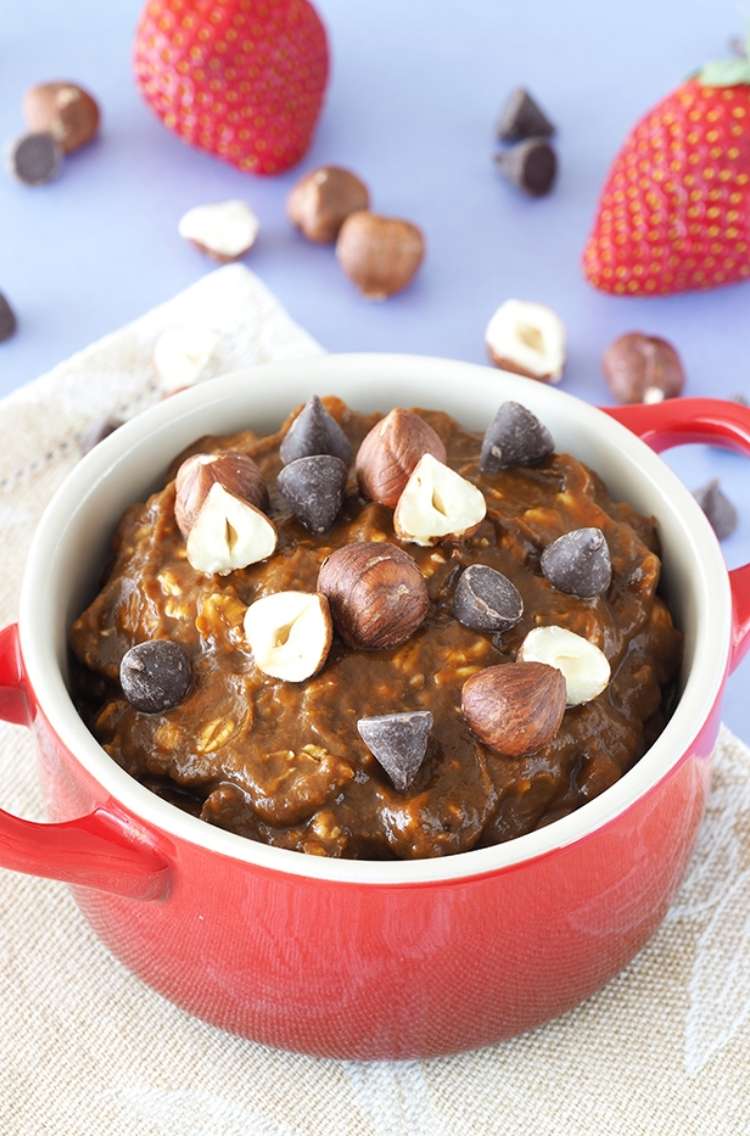 8. Vegan Breakfast: Chocolate Hazelnut Overnight Oats
An easy, vegan make-ahead breakfast, Chocolate Hazelnut Overnight Oats can be prepped the night before. [Breakfast Drama Queen] One of the cool things about this recipe is that it includes some hidden veggies! There is some pumpkin puree in the mix, although you can sub some yogurt instead if you prefer your breakfast without vegetables.
Simply mix some rolled oats, cocoa powder, maple syrup, vanilla extract, pumpkin puree (or yogurt), milk, and some hazelnut butter. Top with some chopped hazelnuts and chocolate chips and enjoy your delicious and healthy chocolatey breakfast!
⅓ cup rolled oats
1 tablespoon cocoa powder
1 tablespoon maple syrup
½ teaspoon vanilla extract
½ cup pumpkin puree
⅓ cup almond milk
1 tablespoon hazelnut butter (optional)
9. Make-ahead Dessert for Breakfast: Apple Upside-down French Toast
This Upside-Down Apple French Toast Bake is pretty much a dessert for breakfast, but I won't tell if you don't. [Chew Out Loud] Cause who doesn't want to sleep in AND have a hearty delicious breakfast awaiting them, right? The secret to making french toast ahead of time is to use nice and sturdy french bread to avoid it becoming a soggy mess!
10. Breakfast Quiche is Great for Brunch
Breakfast Quiche is true comfort food, that is a great breakfast or brunch option. [Real Food By Dad] A homemade crust filled with a delectable combination of Italian Sausage, Leeks, thyme, potatoes, cheese, and spinach make this a fancy and filling breakfast.
11. Egg Whites Breakfast Bake with Sweet Potato and Spinach
Looking for a breakfast with color or maybe use this as a make ahead lunch? Try this Egg White Breakfast Bake with Sweet Potato and Spinach. [Rachel Cooks] A simple and delicious combination of sweet potatoes, egg whites, salt, pepper, milk, cheese, and spinach make this a perfect- and deliciously colorful- solution to hectic weekday breakfasts.
12. Make-Ahead Asparagus Fontina Frittata
Most Frittatas are made by simply using leftovers, but this Asparagus Fontina Frittata is worth following the recipe. [Get Inspired Everyday] Use the tops of the asparagus spears to create a beautiful spiral design on the top of this simple and delicious make-ahead breakfast.
13. Egg Muffins Can Be Made Ahead of Time
Skip the drive-through. Try these Make-Ahead Egg Muffins instead. [Spend With Pennies] Cook up your sausage with some onions and peppers, and then divide into greased muffin pans. Pour scrambled egg mixture over the sausage and bake.
14. Berry Breakfast Yogurt Cheesecake
Cheesecake for breakfast? Yes, please. Check out these Berry Breakfast Yogurt Cheesecake Jars. [Sprinkle Of Green] This make-ahead breakfast is created in 3 layers. The first layer is made with oats, cashews, dates, desiccated coconut, coconut oil, and maple syrup. Then the second layer is yogurt, berries, vanilla, and a pinch of salt, and that is topped with granola, berries, and lemon thyme.
15. Easy Overnight Oats
This Easy Overnight Oats Recipe is made using just four ingredients: old-fashioned oats, milk, maple syrup, and vanilla. You can optionally add sliced fruit, such as berries, in there.  [Kristines Kitchen Blog]
16. Italian Sausage Egg Bake with Spinach and Tomatoes Make-Ahead Recipe
An Egg bake is an odd thing to get excited about unless it's this Italian Sausage Egg Bake With Spinach And Tomatoes. [Get Inspired Everyday] Fry up some sausage in a pan and add baby spinach. When it starts to wilt, remove from the heat and cherry tomatoes and basil or cilantro. Spread into a baking pan and then mix in 12 eggs and bake. This is a great leftovers recipe as you can use basically whatever you have in the fridge as your mix-ins.
17. Overnight Chocolate Cherry French Toast
Overnight Chocolate Cherry French Toast is the most decadent thing you will have for breakfast, guaranteed. [The Recipe Rebel] Toss 6 slices of chocolate cherry loaf bread, toss with dried cherries and chocolate chips and divide into 8 muffin pans. Whisk some eggs, sugar, milk, and vanilla, and ladle your egg mixture into the filled muffin tins. Cover with foil and let it sit in the fridge for 2-3 hours or overnight, then bake. These are great hot right of the oven, as well as at room temperature.
18. Strawberry Cheesecake Overnight Oats
Layered with a mixture of strawberry jam, cream cheese and Greek yogurt Strawberry Cheesecake Overnight Oats are an easy breakfast that feels like dessert! [Food Faith Fitness] Stir together some softened cream cheese and strawberry jelly and fill 2 cups with the cheesecake mixture. Top with sliced strawberries and then layer some yogurt on top. Mix yogurt, oats, and milk then divide into cups and refrigerate. In the morning, top with strawberry jelly and enjoy!
19. Candied Bacon and Egg Strata
Anything made with candied bacon is something you have to try. This Candied Bacon And Egg Strata are a must-try. [What Should I Make For] To make the candied bacon, lay some slices of bacon on a parchment paper-lined baking sheet and sprinkle with brown sugar and cinnamon and then drizzle it with maple syrup. Bake until browned and then chop. Mix together with toasted bread, onion, eggs, whole milk, heavy cream, nutmeg, salt, pepper, and gruyere cheese for the decadent breakfast.
20.10-minute 4-ingredient Raspberry Danish Breakfast
This 4-ingredient Raspberry Danish only required 10 minutes of prep time. [The Seasoned Mom] All you need is some crescent dough rolls, raspberry pie filling, fresh raspberries, and an egg. You can optionally add cinnamon and sugar for topping.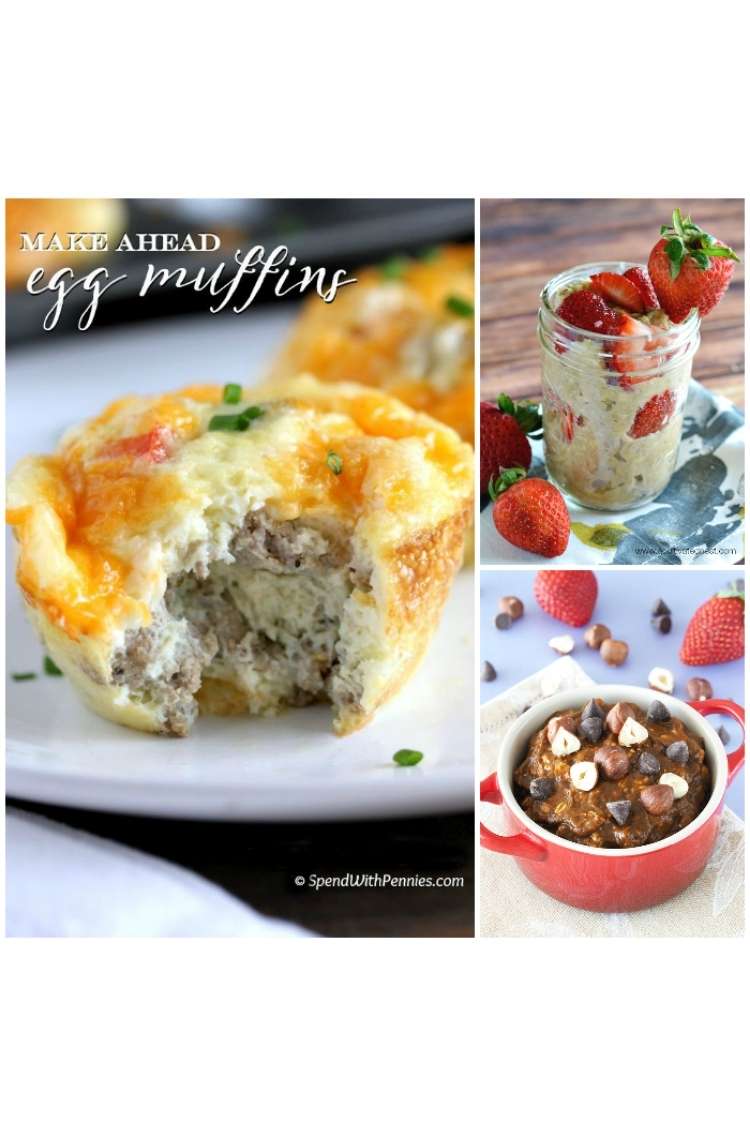 Need more breakfast recipes? Check out more articles to help you dominate breakfast time!