Big bathroom, small bathroom – no matter the size everyone faces the same challenges. How do you maximize the space you're given? How do you create a functional, beautiful space? We've found some amazing bathroom organizing tips that will help you do just that. Whether you need a smarter way to store towels or ideas to help the kids share their bathroom better, you'll find something handy here!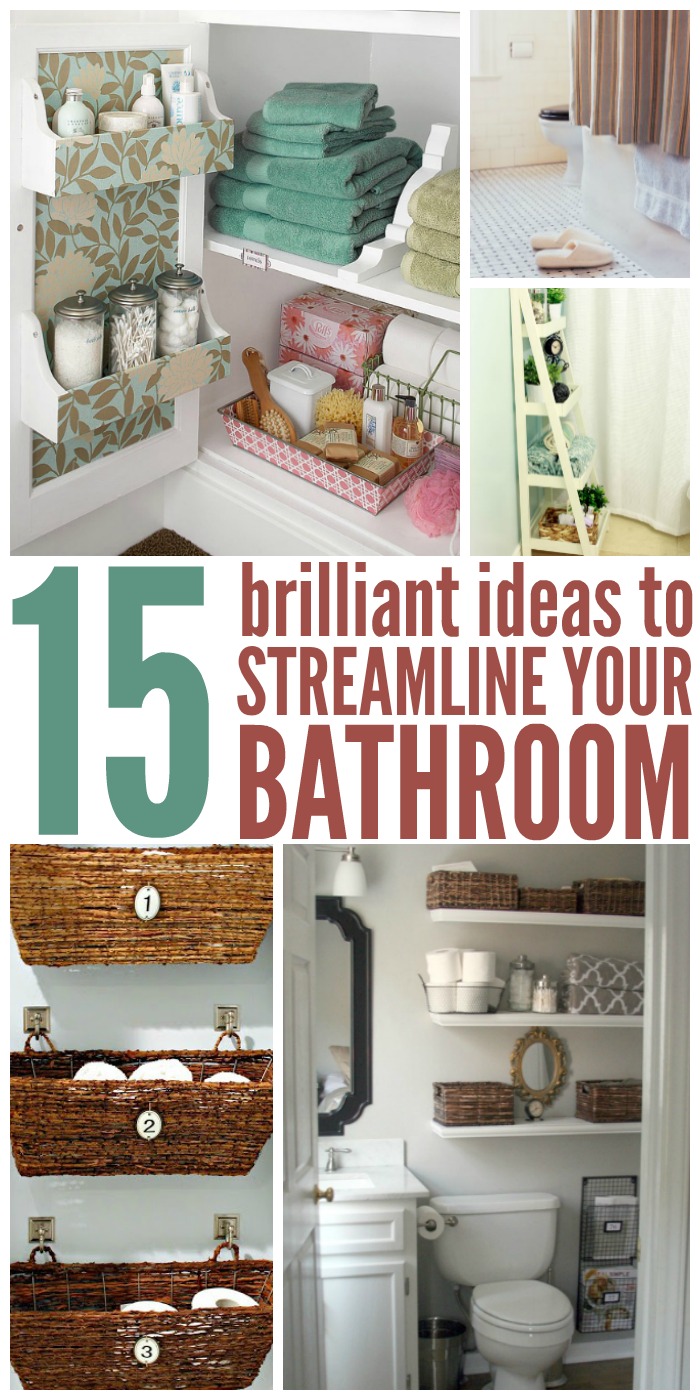 Bathroom Organizing Tips for a More Functional Space
Install a trio of towel bars on the back of your bathroom door rather than hanging them on the wall. This not only saves wall space, but is more aesthetically pleasing to boot.
Put toothbrushes out of sight while still keeping them organized with this trick. And it's cheap… you can get several plastic cups at the Dollar Store for next to nothing!
PVC pipe also works well, and you can add extras to hold your curling iron, hair dryer, etc. See more pvc pipe projects here!
Shower curtains that are too long trap dirt and moisture. Want to avoid that moldy mess? Trim it by a couple of inches before you hang it.
Store extra washcloths, hand towels and toilet paper in these cute wicker window boxes. They'll fit into the narrowest of spaces!
Install a shoe organizer under the bathroom sink to hold products and hair styling tools. And don't miss our tips on other ways to use shoe organizers!
Need more drawers in the bathroom? You'll love this dresser to vanity to conversion! The top two drawers can only be used on the sides (organizers can keep things in place) but the bottom two drawers are functional. Neat!
For shared kid bathrooms, try this trick. Give each child his or her own monogrammed towels and their own medicine cabinets! Here, the medicine cabinets are hidden by picture frames. So pretty and clever!
Or, if you all use white towels, color code them so you never get your towels mixed up between washes.
Add storage near the shower with a ladder shelf. You'll be surprised at how much it can hold!
Love the idea of the kids' bathroom having two sinks, two hand towels, etc. If you have the space, this will definitely make the morning teeth brushing and hair styling routine go a lot faster!
This is more of a decorating tip than a streamlining tip, but if you're not a fan of hooks, try decorative knobs instead. Here's a gorgeous example that blends right in with the bathroom decor. Hang accessories, hair tools and towels from them.
The back of the cabinet door is often neglected, but if you need extra storage space, you may want to look into utilizing them. Look how much you can fit in an under-the-sink cabinet if only you maximize the space you're working with.
Open shelving looks beautiful if done right, and it adds lots of storage to small bathrooms. Here's a beautiful example. Love the magazine rack on the wall, too. Hey, sometimes you just need something to read!
This idea for a kid-friendly vanity is genius! The bottom "drawer" is really a step, so you'll save space by not adding a stool to an already crowded space. You can get the plans here.