I may be a coffee-aholic but, to this day I struggle with coffee pod storage.  Around here, we can't get enough coffee (we admit to being K-cup addicts). We live on the magic brew from the tiny magic K-cup pods… It's safe to say we are definitely coffee addicts! I mean it's so bad that sometimes I tease that I need to be hooked up to a coffee  – common where is the central line for the coffee?
I have tried every type of coffee pod storage that is humanly possible to imagine…and still, my coffee pod is out of control and my coffee pod storage game needs to be taken up a notch.
Coffee first. Schemes later.

-Leanna Renee Hieber
I really hate is making a huge pot of coffee and then letting it get cold. Reheated microwaved coffee just isn't the same the second (or third, or fourth….) time around. I think I've probably owed a Keurig since the moment they hit the shelves. We are such coffee addicts I can't even count the number of Kuerigs I've had to replace. Speaking of that, I think our current one is on its last leg….
Best DIY Coffee Pod Storage Ideas
I mean seriously, Coffee pod storage has got to be the most annoying side effect of a coffee station. So if you have a collection of K-cups (or other coffee pods) and don't know how to organize or sort them, we've found some terrific ideas for you to help explore the world of coffee pod storage!
This post contains affiliate links.
1. Pod Storage in a Jar
Add a chalkboard label to a pretty jar for your coffee pod storage. You may want to consider a jar consider a jar for each of your favorite flavors of coffee pods. This is an especially nice coffee pod storage option if you have seasonal favorites. You can change the labels to "Coffee of the Month" and easily swap out your favorite flavors of coffee pods. (I don't know about you, but I am unable to drink Pumpkin Spice past December 15th; at that point, we need a Winter Flavor – did someone say "Holiday Blend"?.) These chalkboard labels are both attractive and functional! You can find a chalkboard marker – this is less messy than actual chalk. It's also more permanent so it's not smudged by fingers and if you need to change it, to update the flavor of the coffee pod, most will wipe off with a damp cloth.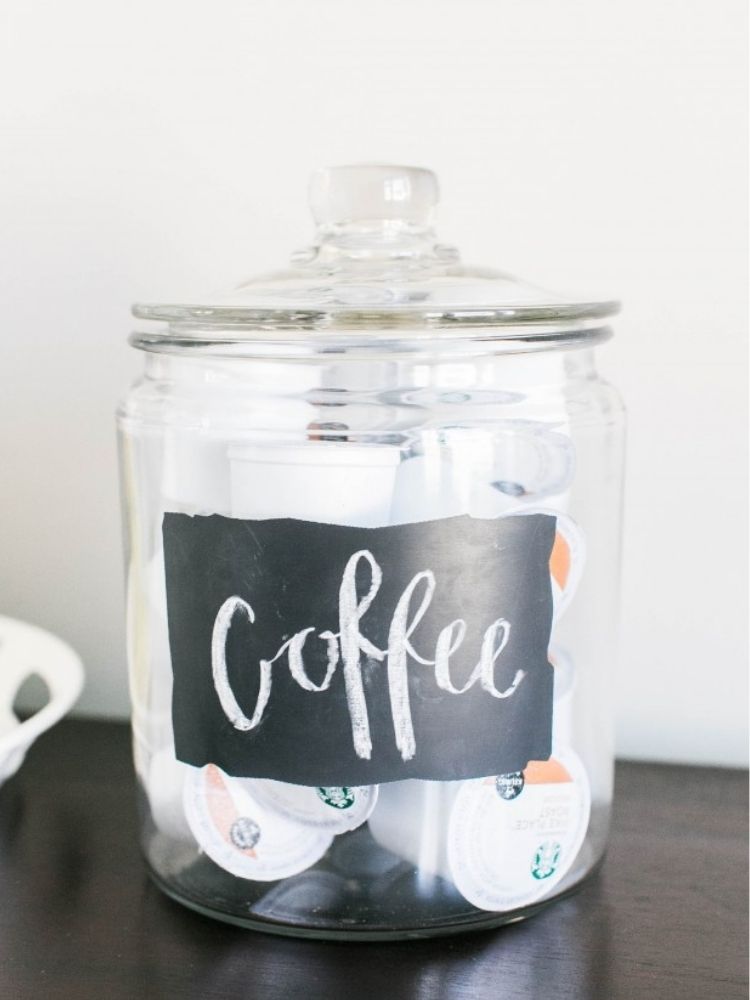 2.  Coffee Storage Using a Tier Stand
This DIY tiered stand was made using old cake pans and a stool leg. If you don't have old cake pans to use for your coffee pod storage then another option would be a quick trip to the dollar store for some inexpensive pans. This will be just the trick to get your coffee pod storage neat and organized. It's also a perfect way to make the most of a small amount of space. You could also jazz up any tier stand by adding a few decorative elements such as lace or ribbon.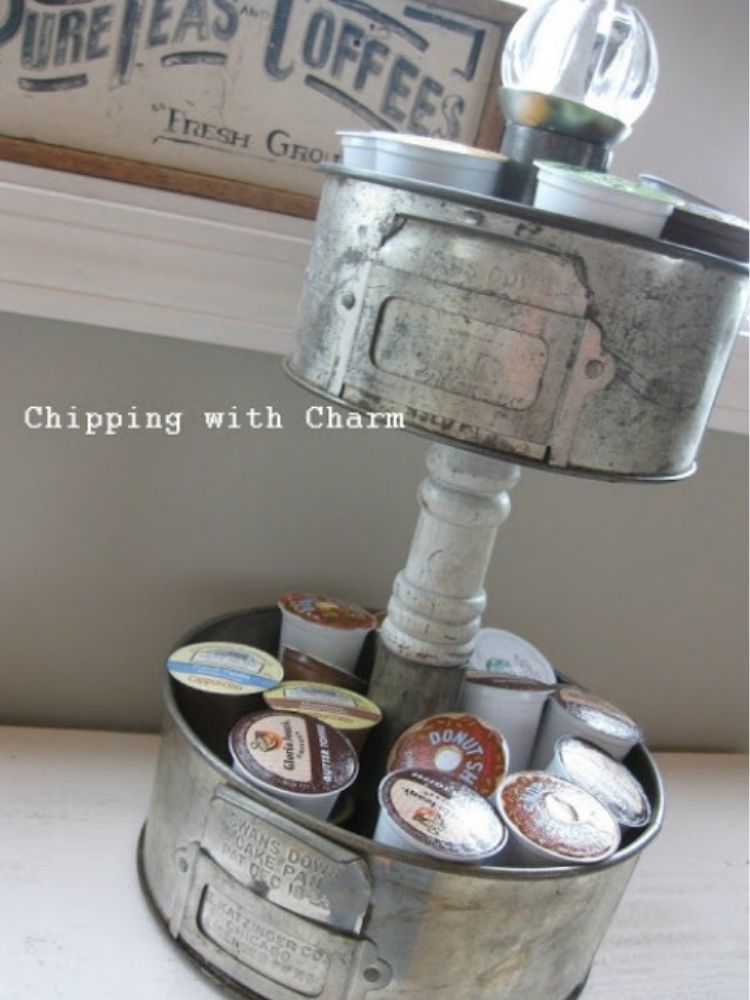 3. Use a Lazy Susan for Storage
Put dry erase mini buckets on a lazy susan to have a variety of flavors at your fingertips. The perfect coffee pod storage option for those of you who like to rotate through several flavors regularly. The lazy susan can help you utilize all the space on your coffee bar, or where ever it is that you have set up your coffee station, and need to have coffee pod storage.
Speaking of lazy susan's why not use two or even find one that has two shelves. If you do use a double-decker lazy susan, you can put all your coffee condiments on the top shelf. You know that collection of the sugar bowl, honey, stir sticks (or if you're like me, and use washable straws as stir sticks, then a cup of straws), your favorite syrups…and whatever else that finds its home on your coffee bar. There you have it – coffee pod storage and the condiment bar all in one place.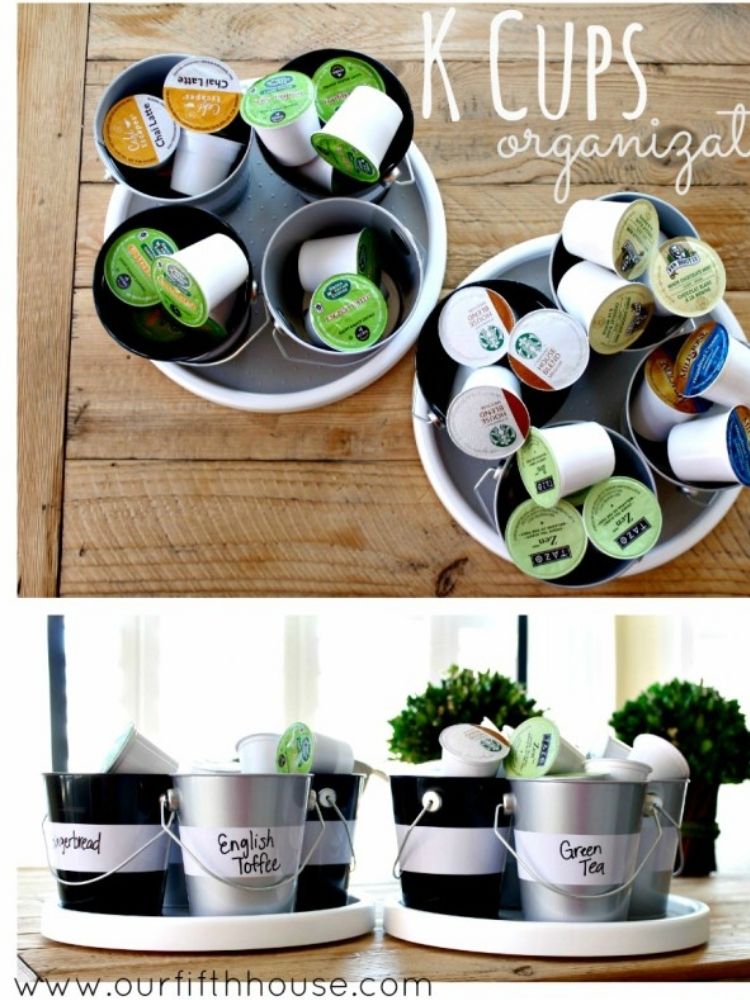 Creative Coffee Pod Storage
4. Store K Cups on the Fridge
This fast coffee pod storage has a cork board on top, you can stick reminders up there when you run out of your favorite flavors.
Honestly, I think that I have Nospressophobia – the fear of running out of coffee – I have not one but TWO coffee subscription services. One is the "everyday" coffee and the other the "special" coffee. About every 60 days I get a delivery. They like to throw in samples. This actually helps me (and them) because I get to try new flavors without having to commit to a full-on relationship with that flavor. I think of this as an audition with a possible call back. If I like the flavor I pull the top off the K Cup and push pin it to the cork board so I remember to add it to my next delivery.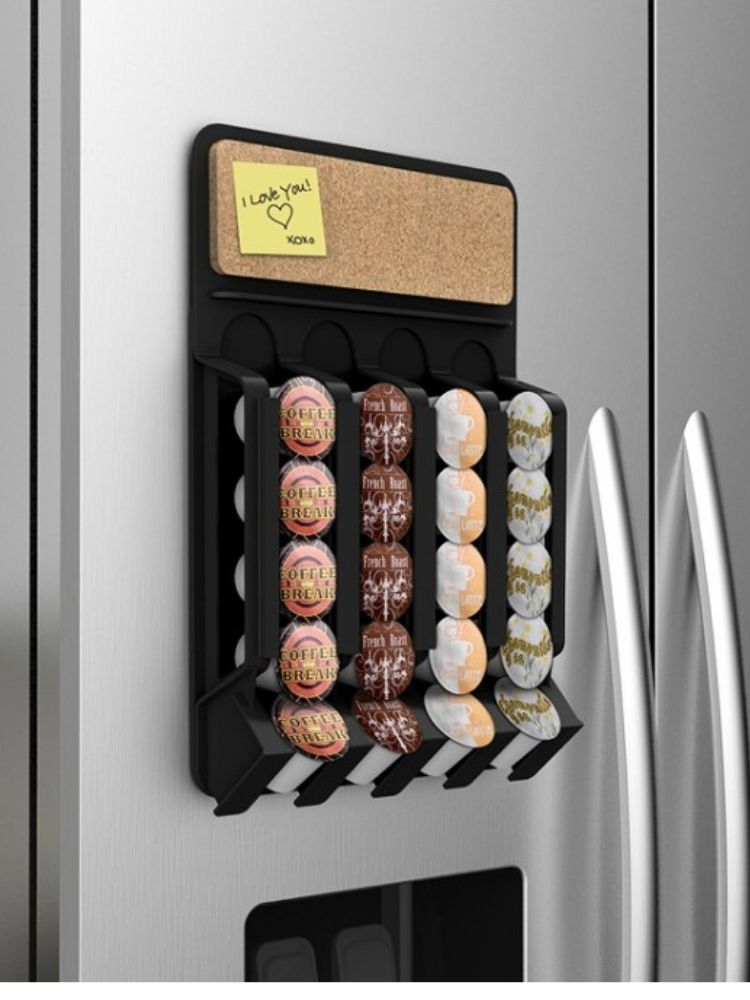 5. Coffee Pod Storage That's of Sight
Keep a small stash of coffee pods in the drawer near your Keurig. By using a cutlery divider; you keep them neat and tidy. This is a great idea if you have an extra drawer under your coffee station or want to tuck the coffee pod storage out of sight.
You can put the rest of the coffee pods in a plastic bin in the pantry. This is the perfect coffee pod storage option for those that don't have many coffee drinkers in the house. (Or if you want to squirrel away your favorite flavors – out of sight, out of mind.)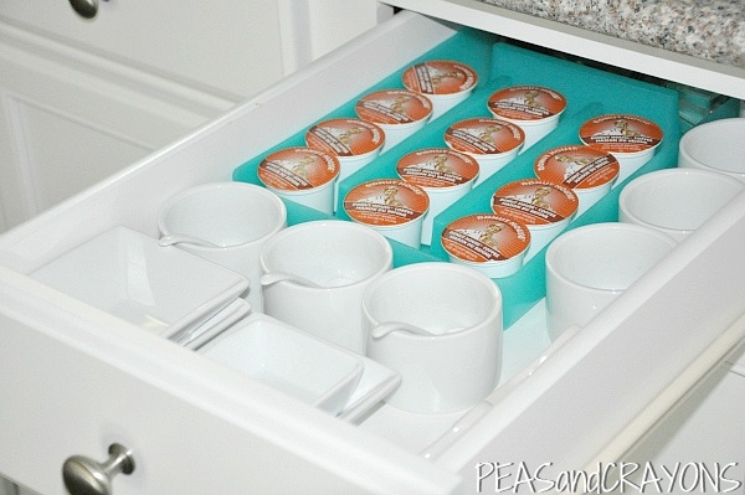 6. Use Dowels to Organize Coffee Pods
Another in-drawer coffee pod storage option is to use dowels to keep the k-cups in a nice, tidy row. Hot glue the dowels in, and then place your coffee pods. Easy peasy.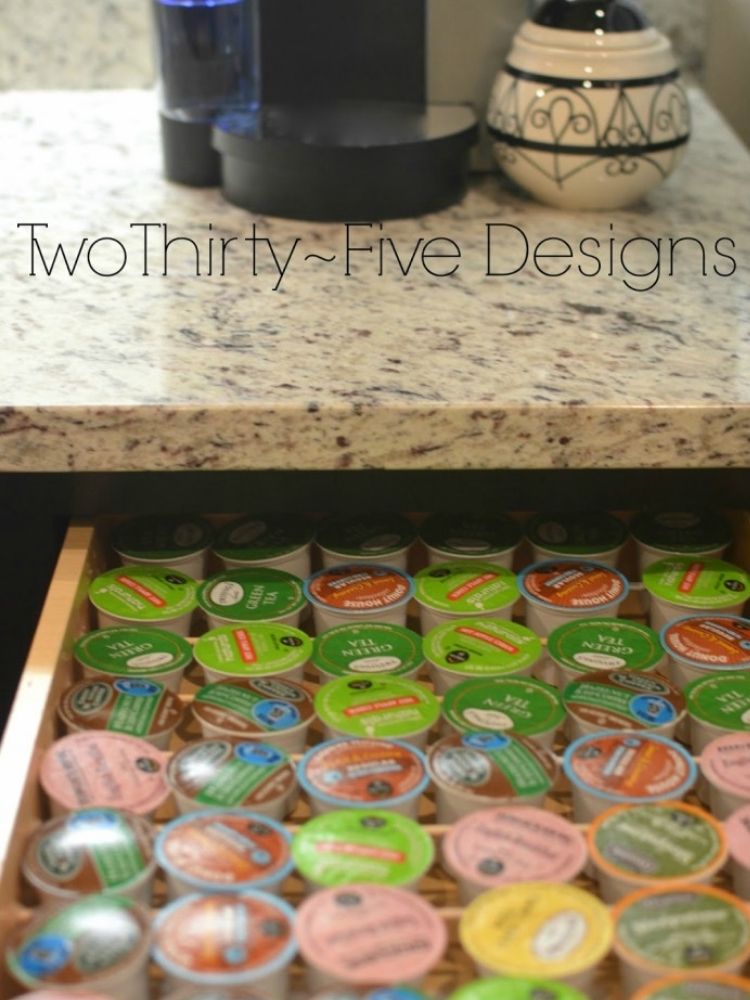 7. Create a Coffee Nook and Incorporate Coffee Pod Storage
Make a coffee corner with all your coffee mugs to maximize your space with clever storage idea. They used hooks and rails from IKEA and added baskets at the bottom for the pod storage.
8. Another DIY Coffee Pod Storage Idea
This DIY organization idea can be easily customized to be bigger or smaller. You can even add a slot or two for your favorite creamers. We love the adaptability of this storage idea.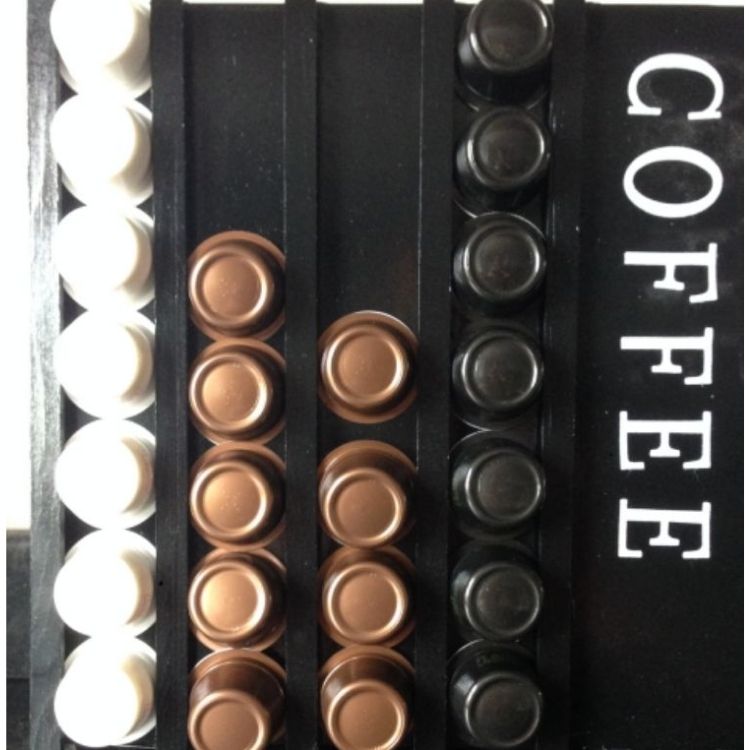 Budget-Friendly Coffee Pod Storage
9. Storage Inside the Cabinets
Get some of these coffee pod pads to install inside a cabinet door. This frees up drawer and counter space for things other than storage.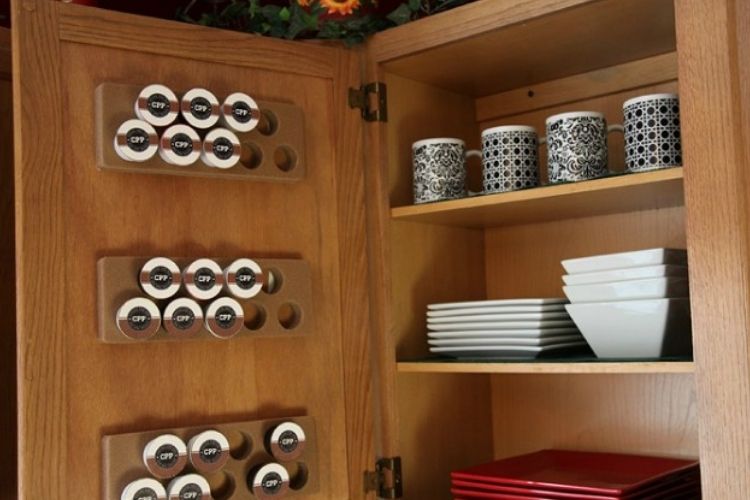 10. Custom Built Storage
If you're building your dream kitchen, go ahead and spring for these cabinets with built-in custom storage; storage at its finest. They're gorgeous!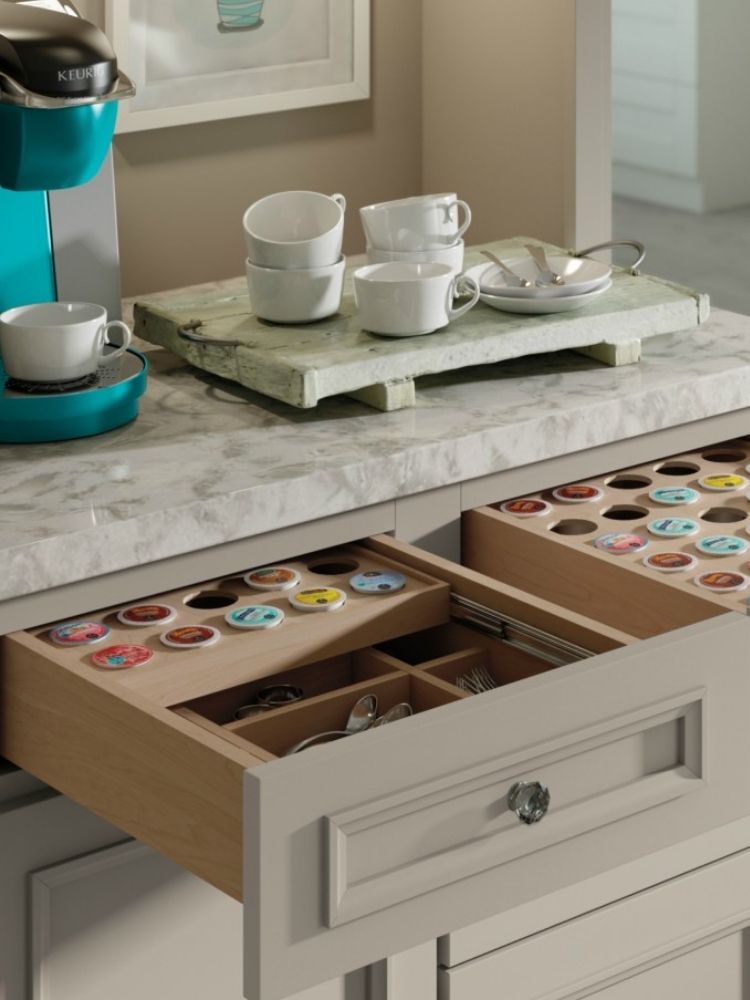 11. Use PVC Pipe for Coffee Pod Organization
Install PVC pipe under the cabinet for this storage idea. Just slide your favorite flavors into the PVC. What a clever use of piping!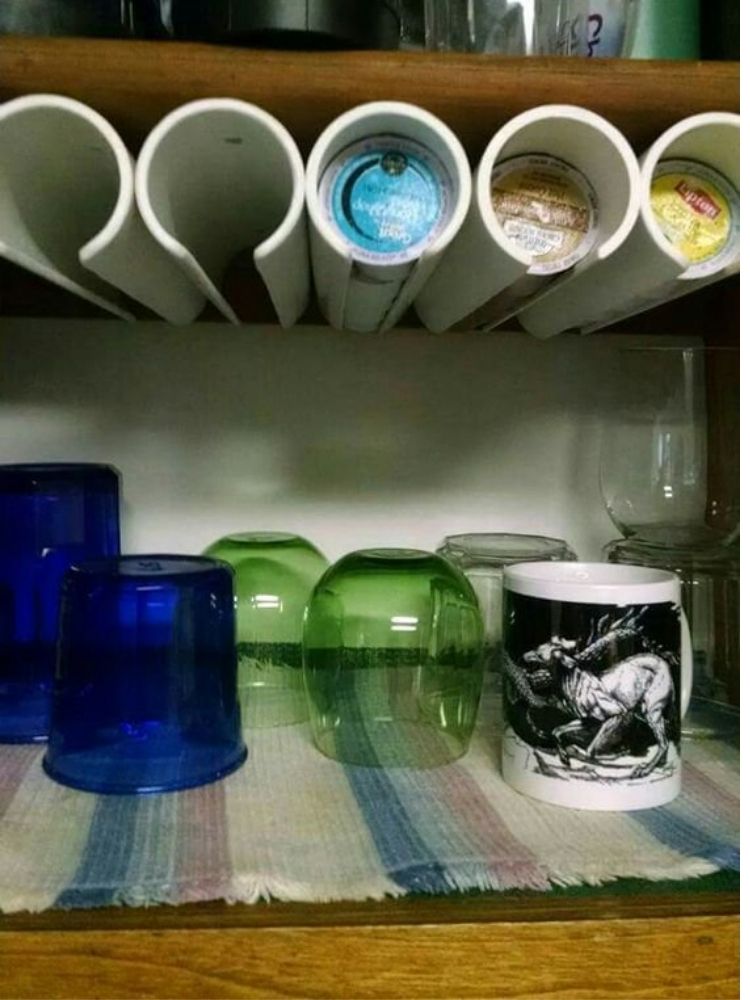 12. A Handy Carousel
This carousel is one of my favorite storage ideas. Set it on the counter or tuck it away in a cabinet if you want to keep your countertops clutter-free.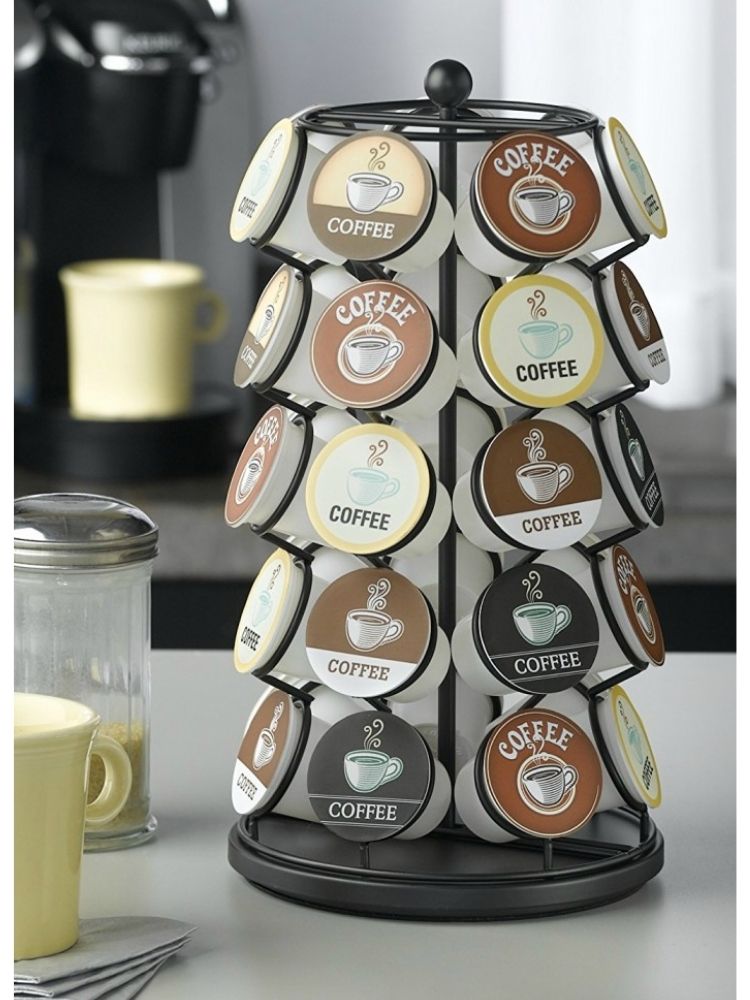 13. Use a Basket to Store Coffee Pods
Of course, you can't ignore the practicality of coffee pod storage in a basket. Put them under your kitchen island, or anywhere else in your kitchen, to hold all your coffee pods, stir sticks, powder creamers, sugars, sweetener's and whatever other coffee goodies you accumulate. (Unsure of the original source. If it's yours, please let us know so we can credit you.)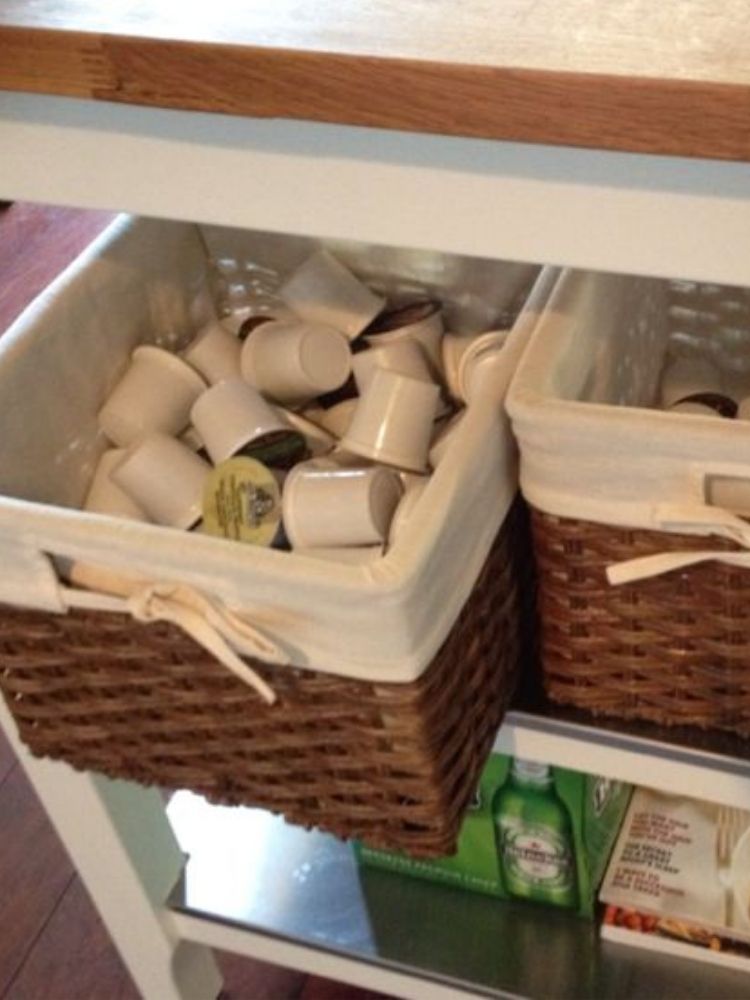 14. Storage them on the Wall
This coffee pod storage cafe wall caddy that goes around an outlet was one of the more unusual ideas we found. You could even jazz it up or use the top for extra coffee pod storage. This may be the most unusual of the coffee pod storage ideas but, you know what… we kind of dig it!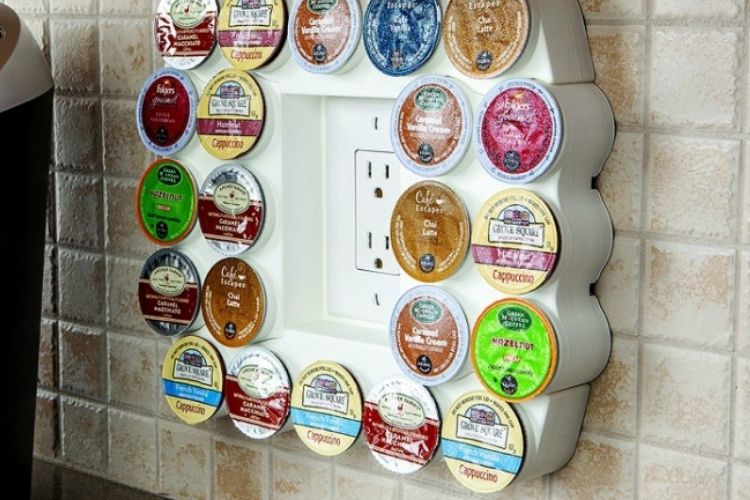 15. Use a Plastic Shoe Box for Storage
If you are setting a coffee station up for a women's group, office, church even or even a shower these storage ideas may not be practical. If you know that you are going to go through a large number of pods or if there are one or two flavors that just get a lotta "love" you may want to consider using a plastic shoe box as storage.
The plastic shoe boxes stack nicely on a cabinet top or in that coffee nook and you will always be able to easily see what needs to be replenished or reordered. For a quick label, you can even cut out the flavor from the box the coffee pods came in and tuck it into the short end of the shoe box.
You can also use them in the pantry for storage overflow. I mean at one point the coffee station for our ladies group had about 20 boxes of different varieties that had been donated. Trying to wrangle in the chaos was quite a feat.
We all have our favorite morning coffee routine, and by morning I mean mid-morning,  or lunch… mid-afternoon, or just anytime. Coffee should be easy –  that pick me up you need, not another source of frustration. Don't let it be the one thing that annoys you the most about your coffee station.
We think we've done a good job with a wide range of storage options, but if none of these quite suit your fancy, then leave us a comment. Tell us your favorite storage method or idea.
If you liked these coffee pod storage ideas, you may also enjoy: