Did you know dirty carpets and surroundings can pose a threat to your health as well as that one of your loved ones? If you or someone in your home struggles with allergies, you know it can be a chore trying to stay on top of managing the cleaning around the home. Carpets can contain dirt, pollen, dust, and more substances that can potentially cause allergic reactions. These substances are quite harmless to a lot of people but can be a nuisance to others especially those with allergies.
Potential allergens can appear almost anywhere in the house, on surfaces such as tables, which can be easily seen and dealt with. But some may lie hidden in carpet fleece making them easily unnoticeable. So making sure to schedule deep carpet cleaning regularly can help reduce allergy symptoms.
Best Carpet Cleaning Tips to Combat Allergies
Some cleaning products can be an irritant, and mimic the symptoms of your allergies. So if you are wondering what to do to avoid sudden upsurges of allergies, then you just landed at the right place. We as One Crazy House, absolutely care for your health and that is why we have decided to come up with these life-saving tips for cleaning your carpets if you or your family member, it may be even a guest, suffers from allergies. Here are some carpet cleaning tips to help reduce those allergies. It's like having upholstery cleaning services at reach!
1. "Green" Carpet Cleaning Tip
If you suffer from allergies, using non-toxic "Green" cleaning products is best. They won't contain harsh chemicals that can irritate you, and mimic allergies, unlike their conventional counterparts. So you won't in any case feel like you are skeptical about them posing danger to you or your loved ones. Baking soda and vinegar are amazing cleaning products that are non-toxic compared to harsh detergents, for cleaning up stains. You can kill two birds with one stone while using these "green" carpet cleaners since they remove spots, stains, and odors effectively. Some really good news here! You can easily and simply make these products all by yourself at home with vinegar, baking soda, castile soaps, or any other ingredients such as lemon.
Do you have some time to spare, make this your do-it-yourself project, But if DIY projects aren't your thing, then there are some ready-made, eco-friendly, and health wisely safe to use products you can get from the store. Not only can you use them to clean carpets, but also any other surface in your home. These green carpet cleaners leave you with a clean, fresh-smelling, soft carpet, and above all, one that is free of potential allergens that flare of allergic reactions, which is our major win here in this post!
2. Vacuum Regularly
Is bad odor in your carpet creeping you out, preventing you from having those comfortable moments in your living space? Then you shouldn't worry any longer. Instead of worrying about it, do something about it. You can easily and effectively take action against these odors, and more with just making sure you vacuum your carpets often using a double bag or a HEPA filter vacuum. Carpet odor can arise from food particles, animal waste, soil, and pollens ( which are potential allergens) when they get stuck for quite some time in carpet fibers.
Pollen and dust from soil can be dangerous especially to people suffering from allergies. Therefore carpets should be cleaned more frequently by employing effective carpet cleaning tips and vacuuming with HEPA filters is efficient and can help protect your loved ones. These filters capture the smallest particles of smoke, molds, bacteria, and pollen that cause allergies as well as odors. You can also sprinkle baking soda on your carpet and let it sit for 15-30 minutes, and then vacuum it up. These carpet cleaning tips will help draw out any odors and fibers of your carpet. It's time to save lives!
3. Vapor Steam Clean Carpets
Are you looking for carpet cleaning tips to rid yourself of the deadly microorganisms causing allergies and diseases in your home? The best route for cleaning your whole carpet is getting it to be vapor steamed. The reason why this method is best is that it heats the water to 221 degrees, and the hot steam destroys allergens, dust mites, and bacteria not just on carpets but also on your area rugs and sofa. It will help remove almost all allergens in the carpet and ultimately get your carpet clean. It cleans and sanitizes in one single sweep. Using the water type of carpet cleaners can flare up allergies. Did you know that mold can begin to grow within 12 hours?  Okay, everyone knows pretty much well what steam cleaning is and the way it works but what many people don't know is the difference between steam cleaning and vapor steam cleaning.
We as One Crazy House are here to make you aware of the differences between these two. First things first, vapor steam cleaners are the modern forms of the old, standard steam cleaners. Vapor cleaners produce low water content that is quick in drying as opposed to their counterparts. In order to vapor steam clean your carpet, you can buy a machine to use, or hire a professional to come in and clean your carpets. But while it is also within your choice to hire a pro to clean your carpets, it is certainly not a difficult task to do it all by yourself, altogether. Well, what you just need is to know how to steam clean your carpet in the proper manner. The results are extremely impressive if you just know how to do that. You'll find out that it's one chore that is very rewarding!
4. Spot Cleaning Stains
Let us be frank and just admit to this; it is bound to happen to anyone at one time or another. You've fallen in love with the brightly colored carpet that you just bought the other day. You take maximum precautions as much as possible to protect your carpet hoping that it won't get stained by the blood during an accident or just any other stain that will ever occur to spoil its beautiful appearance, and all of a sudden, you slip and pour your hot creamy cup of coffee over it.
Well, it is to your advantage if you are up to terms with carpet cleaning tips that are effective enough to save your carpet is beautiful looks, amidst so many other ways that can be used to remove stains. You just know how stubborn stains are! Hectic, right? Then you should combat them immediately, with the proper care when they occur. Spot cleaning the stains using the right household chemicals, and cleaners, is the best technique to apply.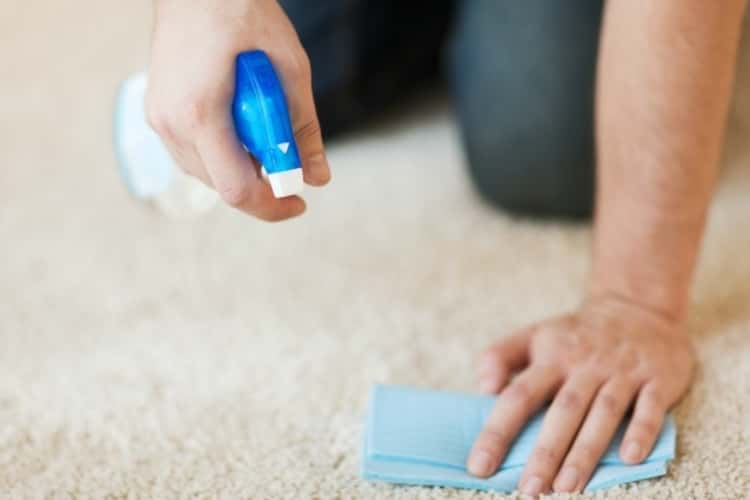 First off I recommend testing this on an area before you jump in, to ensure it won't hurt your carpet. This works great for pet urine, spilled drinks, and other stains. Simply add some vinegar to the area that needs to be cleaned. Then sprinkle a little baking soda over the area that the vinegar was poured. It will start to foam, and just allow it to bubble on the floor and work at pulling out the stain. Wait a few minutes, and then start to blot and wipe up the stain. Continue blotting and wiping until it is clean. Then after it dries vacuum up any of the leftover baking soda that is on the carpet.
5. Hire Professional Carpet Cleaning Service
Well, once in a while, it is advisable to hire the services of professional carpet cleaners or a technician, especially when you want to keep your house clean, and a safe place for you and your loved ones, if struggling with allergies. It is a good move! Some allergens may be deeply embedded into your carpet making them tough to remove, or maybe, you may be giving Your carpet a clean-up but not well enough to get rid of the allergens.
With professionals, they know pretty well how to tackle accumulated dust, stubborn stains, and microbes living on your carpet,  with the paraphernalia and set of skills at their disposal while doing an excellent job! Well, it may be a little bit costly but then it is always a good idea. But if you have the technical know-how and of course the time to clean up your carpet efficiently, you can always do it by yourself and spare the extra cost that would have been spent elsewhere.
6. Additional Carpet Cleaning Tips to Rid Your Home Of Allergens
Always ensure windows and doors are shut to keep pollen out.
Set rules to ensure that people do not enter with shoes into the house to avoid a lot of dirt finding its way in your house.
Always keep your pets clean by giving them regular baths and wiping them after the baths and outdoor trips.
Regularly clean your beddings and dust off surfaces to reduce the number of dust mites in your home.
Make sure to check out our carpet cleaning hacks too! I hope these carpet cleaning tips can help you to keep your carpet as clean as possible and help reduce the allergens in your home.
Wow, honey, the house is so clean! Was the internet down for a while today?  Hahaha…
Did you like these carpet cleaning tips? Check out for more cleaning tips below: