Have you taken a good look at your kitchen cabinets lately? You might find that an up and close look, might show that you have some grease and grime building up, especially around the handles and knobs! You spot clean your kitchen and clean up spills and drips daily. Finding the time for deep cleaning wood cabinets in the kitchen is harder to come by. Those cabinets get touched multiple times a day, and grime can build up quick. I will share different options for you to do, that will work great.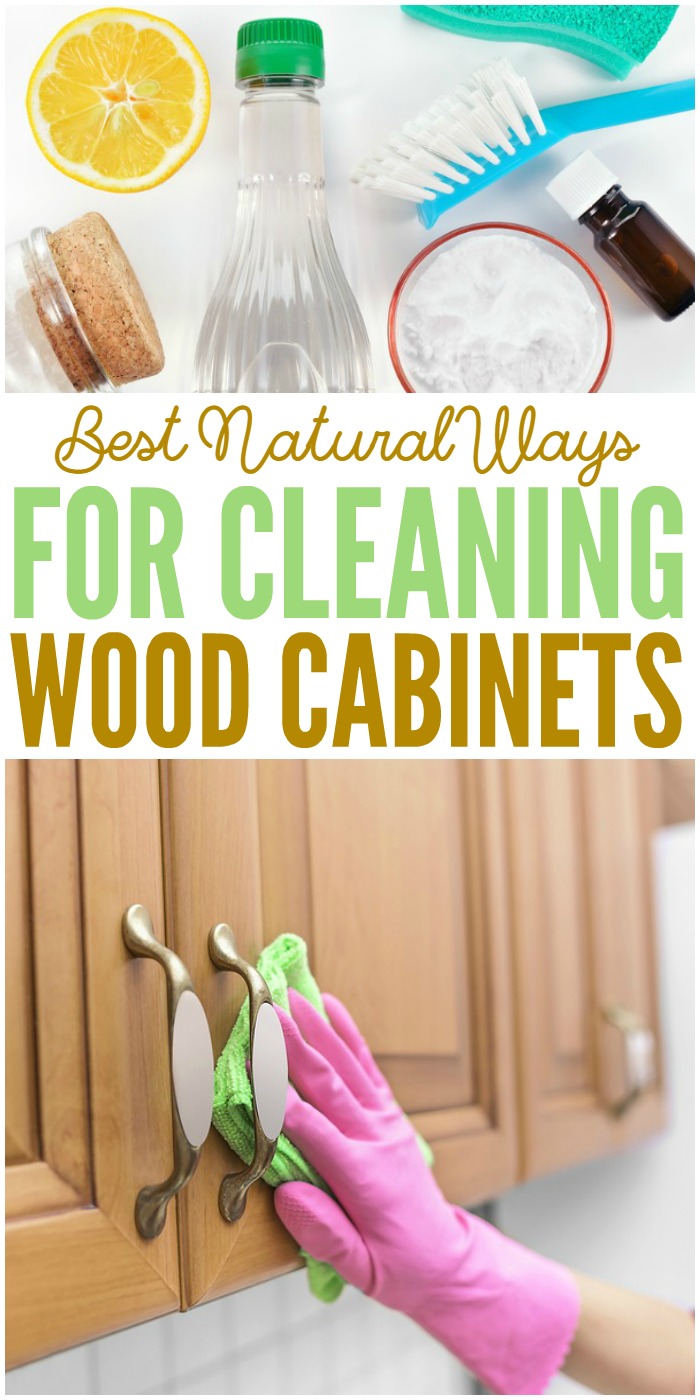 Best Natural Ways for Cleaning Wood Cabinets
I always recommend testing an area on the cabinet to ensure your cabinets do not react to the cleaners. Test a small area that isn't readily visible. Spot clean the area, wait an hour or two and go back to check to ensure it didn't cause any damage. These shouldn't cause damage but it is better to be safe!
How to Tackle Grease and Grime from Wood Kitchen Cabinets
Recipe #1: Vinegar, Oil, Water
In a spray bottle, add 2 tablespoons of olive oil, 5 tablespoons white vinegar, and 2 cups of warm water.
Shake the bottle really well, and then spray onto the doors and handles. With a soft rag, start to wipe and scrub the gunk away. This will work great at removing any buildup and leave a nice shine to the cabinets. Just make sure to shake the bottle in between each use, to keep the oil mixed up.
Recipe #2: Vinegar and Water
Vinegar is a natural cleaner and works great on breaking down grease.
In a spray bottle mix a 50/50 solution of vinegar and warm water.
Shake up the bottle and spray onto cabinets.
Let it sit for 3-5 minutes, and then with a soft cloth wipe down the cabinets. If this isn't working to break down all the grease and grime, add a teaspoon of dish soap into the bottle. Shake well and then spray down cabinets again. This is a more powerful cleaner with the dish soap, let it sit for five minutes before you wipe it off.
Recipe #3: Baking Soda, Vegetable Oil
Take 1/2 cup of vegetable oil and 1 cup of baking soda, and put into a bowl and mix it up.
It will form a nice thick paste if it seems a little runny add more baking soda to the mix. Apply the mix to the cabinets and handles, let it sit for 4 minutes. Then with a wet soft rag wipe away the dirt and grime.
Recipe #4: Vinegar and Salt
If you have stubborn stains that just don't want to play nice, try this paste.
Mix a paste of 50/50 vinegar and salt.
You can do 1 cup of each in a bowl, and stir well.
Then apply the paste to the troubled area and let it sit for a few minutes. With a soft bristle toothbrush, scrub the stained or stuck-on area. Be careful not to scrub too hard, as you could scratch the wood. Rinse paste off with a wet cloth and dry clean with a towel.