Have you taken a good look at your kitchen cabinets lately? You might find that an up and close look, might show that you have some grease and grime building up, especially around the handles and knobs! You spot clean your kitchen and clean up spills and drips daily.
Finding the time for deep cleaning wood kitchen cabinets is harder to come by. Those cabinets get touched multiple times a day, and grime can build up quickly. I will share different options for you to do that will work great.
Best Natural Ways for Cleaning Wood Cabinets
I always recommend testing an area on the cabinet to ensure your cabinets do not react to the cleaners. Test a small area that isn't readily visible. Spot clean the area, wait an hour or two and go back to check to ensure it didn't cause any damage. These shouldn't cause damage but it is always better to be safe!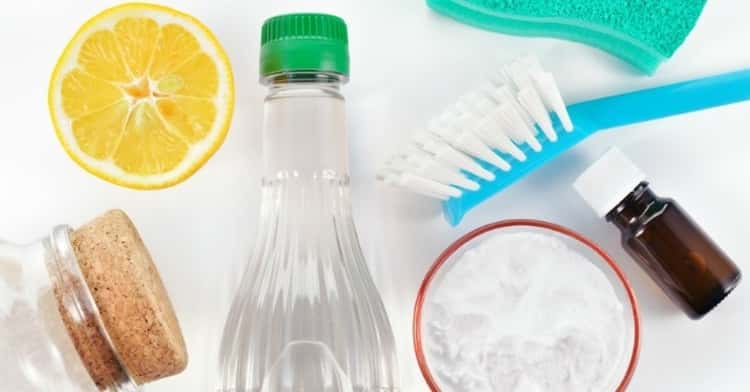 Why Is Cleaning Wood Cabinets Important?
Cleaning your home's wood cabinets is a huge part of having a clean home. If cleaned and well maintained, wood cabinets will last a really long time, say up to 50 years. Our kitchens are some of the most hard-working rooms in our homes, and if we can have our wood cabinets last for 50 years, that would be amazing!
Did you know that this is a longer lifespan than most of the stuff we find in the kitchen such as appliances, some types of countertops, and sinks? I sometimes feel old and I'm not even close to 50 yet 🙂
On the flip side, wood cabinets that aren't well maintained will betray your cleaning habits and will need replacement in about 20 years. A kitchen cabinet replacement is approximately 60-70% of the cost of a full-scale kitchen renovation. According to HomeAdvisor, the average full kitchen renovation runs about $24,000 for $150 per square foot. Using those numbers, means up to $17,000 of that $24,000 budget will go to your kitchen cabinets.
My Personal Incentive For Cleaning Wood Cabinets
I don't know about you but unless you're rolling in dough, this cost is nothing to sneeze at. Personally, that's all the motivation I need to keep my kitchen wood cabinets well cleaned and regularly maintained.
Back then when I was house hunting, kitchens were the make or breaking point for me and they were the first rooms I walked into when viewing a new house. As soon as I walked into a kitchen, I knew right away this would or wouldn't be my future home.
Now that I'm settled, my kitchen hasn't had an easy time. While I'm not a messy cook, I have my kiddos to create all the messes my kitchen ever needed. They're always eager to turn on the blender even before I've put on the lid. Don't even get me started on baking days. We do have an amazing time because we end up with all sorts of yummy pastries but the kitchen wood cabinets bear the brunt of it all. Talk about grease, grime, sticky fingerprints, raw dough, and oil spills.
But since I have my personal motivation to maintain grease and grime-free wood cabinets, I've gotten the cleaning of my wood cabinets nailed down to a tee.
How do you handle your cleaning of wood cabinets, in the kitchen, and everywhere else?
PS: I know we've referred to kitchens a lot but these tips will work perfectly for all wood cabinets in your home.
How to Remove Grease and Grime from Wood Kitchen Cabinets
Vinegar is always the go-to natural cleaner and disinfectant when you need to tackle greasy and grime from wood cabinets and so we share with you the 3 ways you can use vinegar. Plus other wood cabinet cleaning solutions don't call for vinegar or water.
1. First Stop – Vinegar, Oil, and Water For Cleaning Wood Cabinets
We know that most people would naturally go for the 50/50 mix of vinegar and water but we start our grease and grime fighting recipes with a mixture of vinegar, oil, and water.
It's a recipe with mixed reactions because some say the vinegar will strip the paint, remove the wood vanish, and destroy the coatings on other surfaces such as the cabinet hardware. It's also thought that vinegar slowly melts away furniture finishes and creates a thinner surface.
On the other hand, olive oil is what's referred to as a non-drying oil and so when applied to surfaces, it stays in liquid form. It's been said to eventually create a stench and attract bacteria to the surfaces it's been used on.
That said and out of the way, feel free to try out this recipe and find out if it works for your kitchen cabinets or otherwise.
Our Favorite DIY Wood Cabinet Cleaner Recipe
2 tablespoons of olive oil
5 tablespoons of white vinegar
2 cups of warm water
Combine all the ingredients in a spray bottle.
Using the Homemade Wood Cabinet Cleaner Recipe Effectively
Shake the bottle really well.
Spray onto the doors and handles.
With a soft rag, start to wipe and scrub the gunk away. The vinegar works great at removing any buildup while the olive oil will leave a nice shine to the cabinets.
End with a rinse of warm water and dry it off with a clean rag.
Shake the bottle in between each use, to keep the oil mixed up.
2. The Go-To 50/50 Vinegar and Water Mix For Cleaning Wood Cabinets
Vinegar is a natural cleaner and works great on breaking down grease. And although it's such a fantastic natural disinfectant,  it is an acid and if you use it undiluted, it will ruin your wood's finish. No one wants that to be the outcome of their cleaning efforts and so here's what you'll do:
In a spray bottle mix a 50/50 solution of vinegar and warm water.
Shake up the bottle and spray the solution onto your wood kitchen cabinets.
Let it sit for 3-5 minutes, and then with a soft cloth wipe down the cabinets. This should do the hard work of breaking all the grease and grime but if this isn't working, add a teaspoon of dish soap into the bottle. Shake well and then spray down cabinets again. This is a more powerful cleaner with the dish soap, let it sit for five minutes before you wipe it off. Do not forget to rinse with warm water and dry with a clean rag.
3. DIY Heavy-Duty Cleaner For Wood Cabinets – Baking Soda & Vegetable Oil
This might come as a surprise to many but regular vegetable oil works well to soften and lift stubborn stains.
For improved cleaning of your wood cabinets, take 1/2 cup of vegetable oil and 1 cup of baking soda, put into a bowl, and mix it up. This will form a nice thick paste but if it seems a little runny, add more baking soda to the mix.
Apply the mix to the cabinets and handles, let it sit for 4 minutes. With a wet soft rag, wipe away the dirt and grime and finish cleaning wood cabinets by washing them with warm water and some dish soap. Finally, rinse and dry.
The paste can also be used to restore the shine to grimy hinges, handles and cabinet pulls.
4. Use Vinegar and Salt For Cleaning Stubborn Wood Cabinet Stains
Sometimes you'll come across stubborn stains that just don't want to play nice but worry not, there's always a cleaning trick that will deal with it. To make this unstoppable cleaning machine:
Mix a paste of 50/50 vinegar and salt.
You can do 1 cup of each in a bowl, and stir well.
Then apply the paste to the troubled area and let it sit for a few minutes. With a soft-bristle toothbrush, scrub the stained or stuck-on area. Be careful not to scrub too hard, as you could scratch the wood. Rinse the paste off with a wet cloth and dry clean with a towel.
5. How About Regular Toothpaste For Cleaning Wood Cabinets?
We love our toothpaste when it comes to getting fresh breath and clean teeth but this ain't all a toothpaste can do. It can also be used to remove the grease in cabinets too.
Remember the grease and grime aren't limited to our kitchens, so feel free to use this for all cleaning wood cabinets in the rest of your home too.
However, on its own, toothpaste isn't enough. You'll need to add baking soda as well. To make this wood cabinet cleaning mixture:
Mix a cup of water, a teaspoon of white toothpaste, and 2 tablespoons of baking soda.
Mix well using your finger or a spoon.
Dip a sponge in the mixture and give your cabinets a good gentle scrub down.
Rinse with a damp cloth until all residue is gone.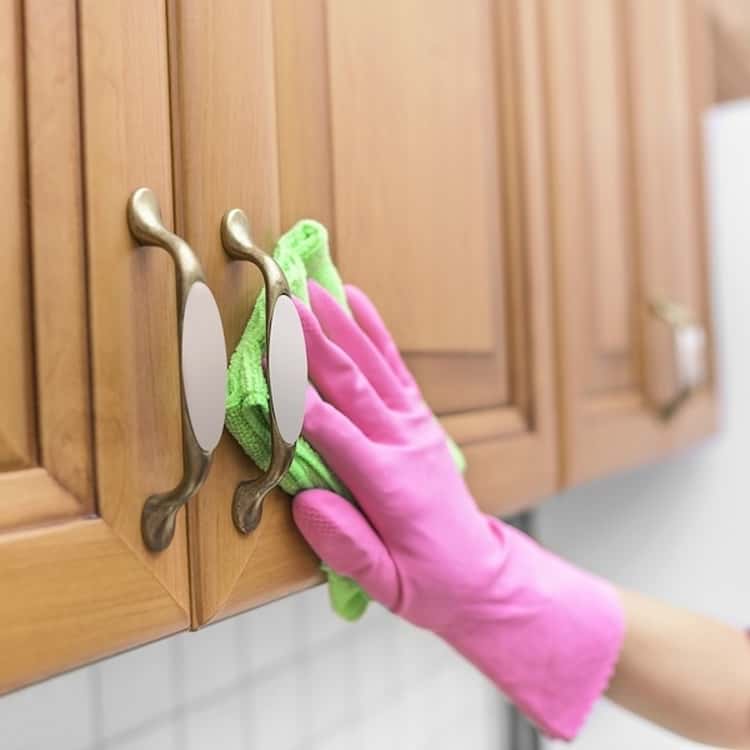 If you had an easy time tackling grease and grime with these  recipes for cleaning wood cabinets, here's a selection of other cleaning tips you might enjoy trying out: