So, I bet you are just like me… You want to know how to clean the carpet – in a big way, on short notice. Carpets have a magical way of managing to get dirty even in the cleanest of houses. If you have kids around, they're like the 'carpet-stain accelerators' and this can be really frustrating – and costly.
No matter what time of the year it is — the holidays, summer, spring, fall, back to school…well, you get it…you always want fresh and clean carpet! You find out that folks are coming over and you scurry around your house realizing all the imperfections that you were totally oblivious to before? Right? And that stained carpet, you totally did not realize it was gross… until now…
Rent a Carpet Cleaning Machine
Back in 2016, this post was originally written as part of a sponsorship with Rug Doctor. They had me pick up a rental unit to test as well as a couple of bottles of cleaner. Boy, did my carpets need it!  As you can see from my "after" the floor could probably use a second treatment, but wowsers!! SO much cleaner. We do not want our floors to get this bad ever again.
And here is the best part… cleaning my carpets took half an hour of my time, another day for them to fully air out, and viola! My upstairs living areas are guest-ready! Most rooms can be cleaned in 20 minutes. Don't you just love stuff that saves you time AND makes you the best host EVER?!!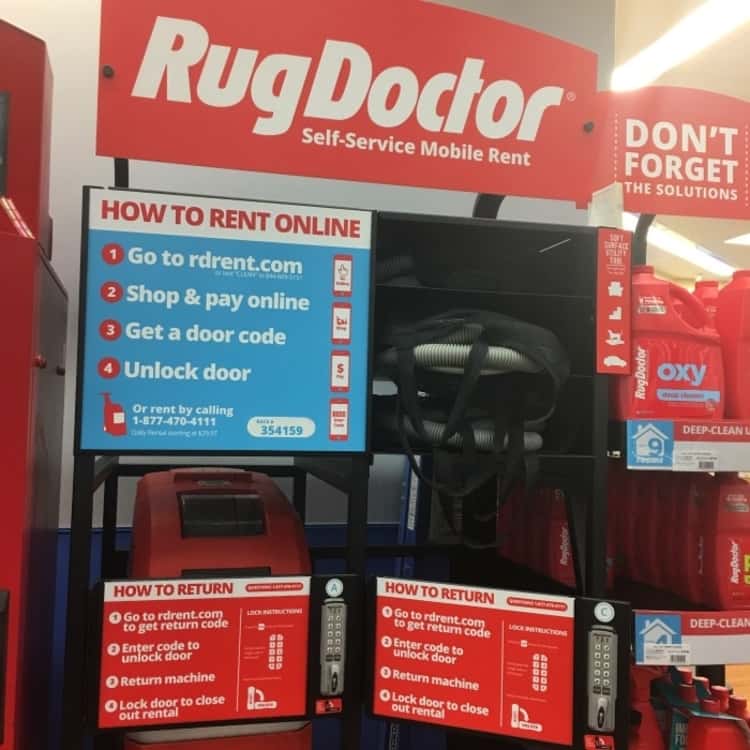 Steps for Renting a Carpet Cleaner
There are carpet cleaning kiosks in more places than you expect once you start observing!  The grocery store, the local big box store and the home improvement store are all good places to check.
Follow the directions on the kiosk and grab the corresponding cleaners you might need.
How to Clean Your Carpets Yourself
I just love that I don't need a stranger or the sales strangers to get a professionally cleaned carpet.  The results can be professional quality without the price.  If you've ever hired those professional cleaning companies for your carpets, you probably never bothered to know how your carpets are cleaned. This is important because if you don't know how carpets are cleaned, how are you sure they've done a good job?
How to Clean Carpets with Rental Carpet Cleaning Machine
Take your cleaner home. Follow the directions on your cleaner. Mine told me to take the top reservoir off to reveal the tank where you fill the machine with water.  This is the steps I took to clean our home carpets.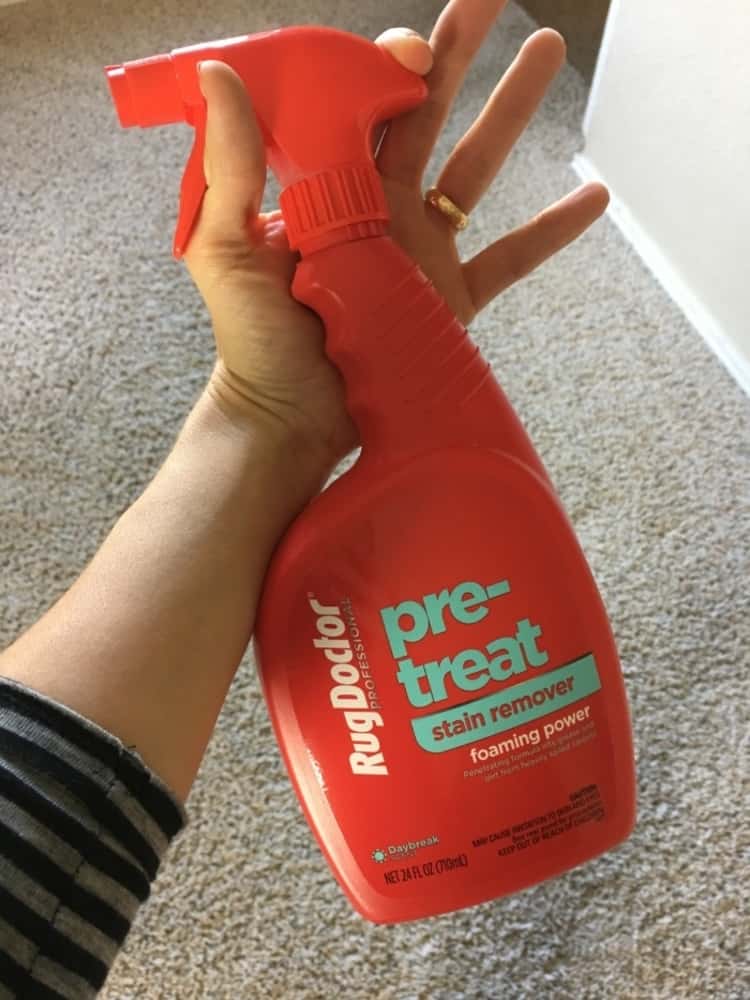 Step 1 – Pre-treat the carpet
Pre-treat any super stained areas with a pre-treatment spray cleaner, allow it to really soak in… let the foaming action do its job as you get the cleaner prepared. Shown is The Rug Doctor carpet cleaner I used as part of their deep cleaning system. I know you might be a bit skeptical of detergents you've not personally bought, especially where kids and pets are involved. Just check the package to see if the products you are using are are kid and pet-safe.
Step 2 – Fill the tank with hot water
Fill the tank of your cleaner with hot tap water, along with whatever cleaning solution you are going to use. We used the Oxy Deep Cleaner as I knew our carpets were a mess. Be sure to not overfill the machine as that can cause problems.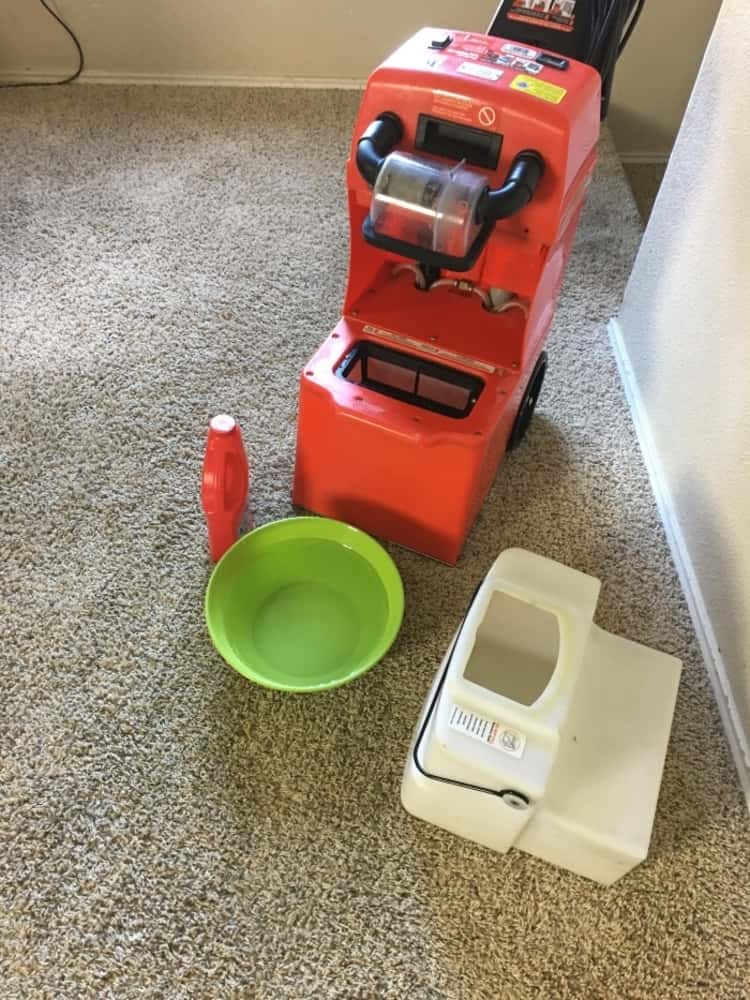 Step 3 – Let's Get Cleaning!
Then, turn your carpet cleaner on and start the process of covering your entire room or spot cleaning high traffic areas.
Step 4 – Making Carpet Stripes
To clean your carpets you will want to walk in "stripes". Push the cleaner to the top of the stripe. Turn the machine on. Then look for the button that is for spraying the cleaning solution. Push that down as you slowly (VERY SLOWLY) pull the cleaner backward. The cleaning machine is said to walk backward at a pace of one foot every second (Most machines will have instructions on how to walk to get an effective clean). As my floors were gross we walked one foot every two seconds, and really I think we would have had even better results if I was even slower.
Step 5 – Changing Out the Water
Look at the top of your machine as you go. It should have water funneling through the "cap" – BUT NO FOAM. If it runs out of water this means you need to dump the dirty water reservoir and refill your machine with clean hot tap water and the cleaning solution. If there are lots of bubbles and foam up in the top this means that you need to dump the unit and rinse it out, before continuing to clean your floors.
Step 6 – Drying Your Carpet
After you've gone through all the "stripes" of your carpet (stripes, that is totally a thing, right??), while pushing the spray for the solution you're using to clean the carpet, now go back over your carpet twice (or more, as needed), without the solution. This time it's to pull up any residual moisture from your flooring.
We put a fan on in the rooms while we cleaned to help the carpets dry even faster. You can put them out to dry if the sun is out when you clean. They were a bit damp after the process… but look at that!! Clean carpets!!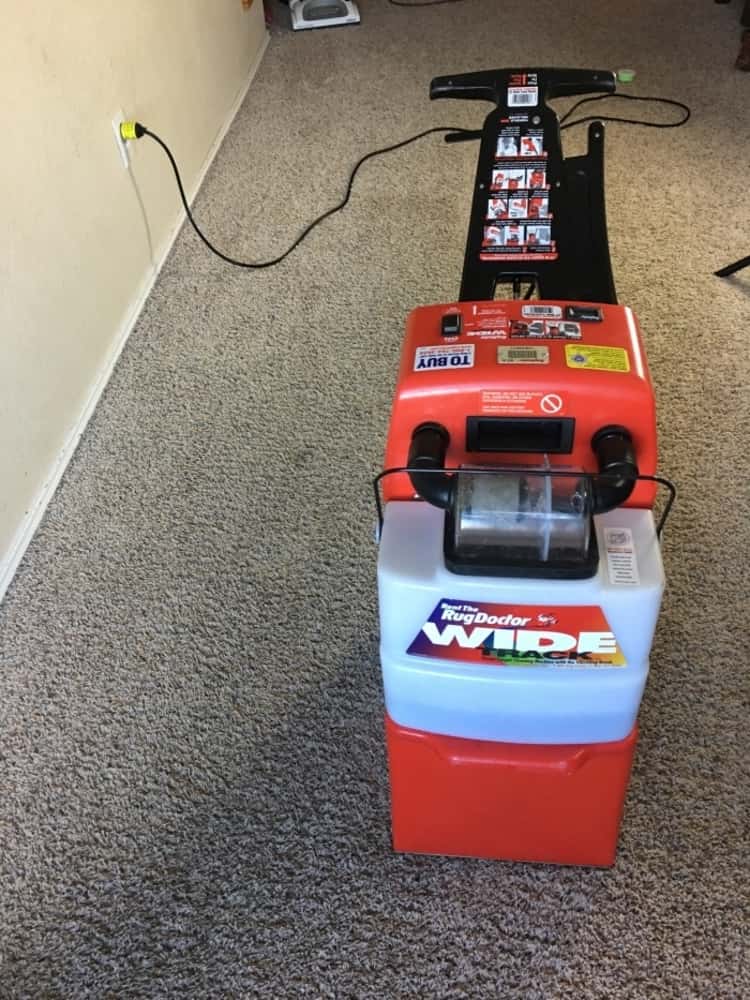 Step 7 – Clean the Cleaner
Be sure to dump the unit out before returning it – and you are done!!  Boy, I love the peace of mind that comes with a deep-cleaned home!
You're Done Cleaning. Now What?
It's nice to professionally clean your carpets but let's be honest – we don't always have the money to have it professionally cleaned, or even to rent one of these babies. So, with kids running around the house and pets that are constantly dragging in the mud, how do we keep our carpets fairly clean?
Carpet Cleaning Tips & Hacks
1. How to Get Rid of Carpet Stains
2. What To Do For Allergies
Finally, if you or someone at home has allergies, carpet cleaning can be a bit of a nasty chore. Worry not, with this simple trick, you can save yourself the anti-histamines and have a clean carpet! Here's how to clean your carpet if you have allergies.

Use 'green' cleaning solutions. They don't contain any harmful products or pollutants that could mimic allergy triggers and make the allergies worse. The best cleaning solution is a simple mixture of vinegar and baking soda.
Vacuum regularly. Vacuuming is one of the best ways to get pollen, dust, and other irritants from carpets. And vacuum cleaners don't cost an arm and a leg!
Loved This Post On How To Professionally Clean Your Carpets? You'll Love These Cleaning Hacks Even More!