One room that always seems a little too cluttered is the bathroom. Whether your space is super small or you just don't know what to do with everything, we've come up with some bathroom hacks and organization ideas to make your bathroom sparkle. And don't miss our post on bath toy storage ideas to get the kids' bathroom in order while you're at it!
Smart Storage Ideas for the Bathroom
Keep your hair styling tools out of sight with their own storage cabinet. Or you can use a file box if you don't have designated cabinet space.
Sharing a bathroom with the whole family? Give each person a basket under the vanity.
A mason jar organizer can come in handy in ANY room. In the bathroom, use it for cotton balls, q-tips, hair accessories and more.
We like these tilted baskets above the toilet. You could store towels, toilet paper, magazines and more in those.
Put your makeup brushes and bobby pins on the inside of your medicine cabinet door.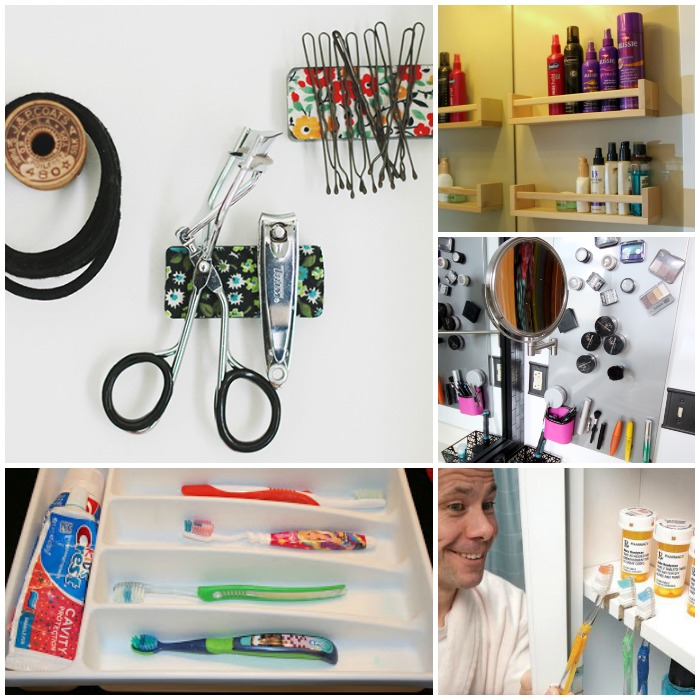 Get Rid of Bathroom Clutter
Small bathrooms often lack drawers. Install some spice racks to hold your hair styling products and makeup instead.
Don't let your makeup clutter up your sink. Put them on a magnetic makeup board.
In fact, magnets can be used to organize all sorts of things in your medicine cabinet.
Put a few notches in your medicine cabinet to hold your toothbrushes upright.
Or, if you prefer to keep them in a drawer, a utensil organizer can give everyone their own space.
Bathroom Organization Tips
You could make your own hair tool organizer out of a board, some metal flashing and pipe straps. It's an easy DIY that will only take a couple of hours.
Use small containers or baskets to group like items together in your drawers.
Keep items that you use daily together in a shower caddy. Put all the occasional items away in your cabinets and drawers.
Use suction cups and hair ties to hold your shampoos, conditioners and body washes.
Bathroom Hacks
You can put some painted mason jars on your sink to hold your toothbrushes, too.
Free up limited cabinet space by putting your towels in wall baskets. It looks pretty to boot!
A tiered tray is ideal for holding those odds and ends that you put on and take off at the beginning and end of your day.
Extend your bathroom faucet for the kids to avoid messes when hand washing.
Get even more bathroom hacks for your organization inspiration.