These cleaning tips are so genius I can't believe I hadn't thought of them already! It's great to find simple fixes to get things cleaner, faster. I like to get my cleaning done QUICK! If you're looking to save some time, energy and money, you are going to love these time saving tips.
Cleaning Tips to Make Life Easier
This homemade dishwasher cleaner could not be more easy! If you've got stuck on food, try this to get your dishwasher smelling great again.
Is your mattress filthy but you don't have any idea how to clean it? Find out how to do it simply and effectively.
To get your kids involved in tidying the house, let them do the super fun job of sock mopping! They will love it and burn off some energy.
If you have a little boy or two in your home you might notice the smell of urine in your bathroom. To get that smell gone for good try these awesome tips.

Hard water stains can be really hard to get rid of, but this DIY miracle cleaner makes it easy.
If you have a set in carpet stain then try this immediately! There are only two ingredients and it works so good.
Learn how to make your bathtub sparkle with this DIY cleaner – you've got all the ingredients in your house right now!
Fed up with a stinky vacuum filter? Toss it in the dishwasher! Don't put any dishes in with it, though.
Club soda, white vinegar and Dawn can get water spots and stains out of upholstery. Finally… your car seats can be clean again!
Grout cleaner not doing the job? Opt for toilet cleaner instead! Just fill this in the grout lines, let it sit 10-15 minutes, scrub it, and then clean it up. You'll be amazed at the difference!
Zap sponges in the microwave for 2 minutes on high to kill 99% of germs.
Genius cleaning tip
This idea is fantastic for cleaning your plastic cutting boards that are stained and dingy. So smart.
If your garbage disposal needs a good cleaning, make these disposal cubes that will do all the work for you!
Ever wonder how to clean your dirty curling irons? Here is the secret.
I'm sure your slow cooker looks like mine and the inside is covered in gunk. If so, here is how to clean it!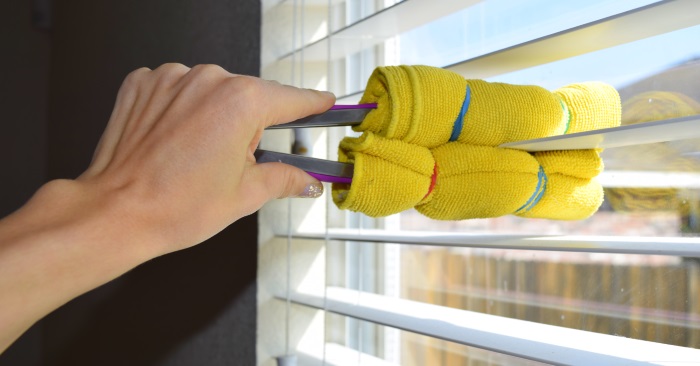 Salad tongs and some rags!! You won't believe how easy it is to clean your blinds with this lovely hack!
Keep this idea in mind for the next time you paint your nails – this is the way to get nail polish off you're carpet.
If you're tired of cleaning your George Forman grill each time you use it – stop! All you have to do is cover it with aluminum foil and toss it out after you cook. Here are more kitchen cleaning hacks.
Get your Dyson sucking the way it did when you first bought it with these instructions.
Here is the quickest way to wash the walls in your house – something I always do after an illness has run through our home.
Why do extra work if you don't have too?? Use your shoes as your mop! Or even your vacuum head! These mop socks cover over your shoes and pretty much anything else to help you trap dust and floor yuckies!