Love your clean home but resent how much time it takes to get it clean? These hacks for home cleaning are genius for doing the heavy lifting in a fraction of the time. Use these genius house cleaning hacks to help you save time next time you clean!
They're easy to clean everything in your home, from appliances, carpet, stainless steel stuff, toilet bowl, shower door, and many more! Check and try them all out and make cleaning a breeze.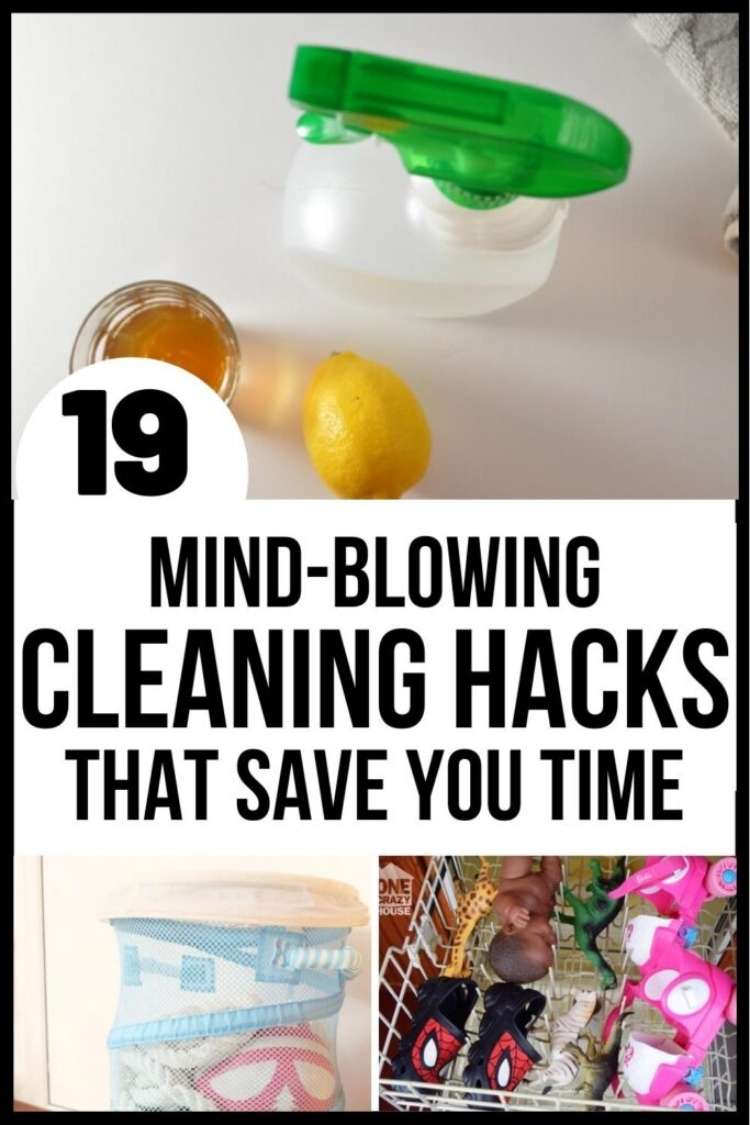 Sometimes I feel like my cleaning chores never end!
Do you ever feel that way? Do you love a clean home, but maybe not the time it takes to get it looking fresh and clean? 
I feel ya!
My grandmother cleaned every. single. day. She loved cleaning for the sake of cleaning because she loved having that spotless home.
Me? I don't happen to consider scrubbing oven racks or microwave or washing baseboards to be a particularly enjoyable activity. I love the results, but honestly, I'd rather be spending my time doing more enjoyable activities!
Genius Time-Saving Cleaning Hacks For Your Home
Over the past few years, I've been working to learn cleaning tips to help me achieve that just-cleaned look and feel without the major time commitment.
Give me some house cleaning hacks and I'm all in! And now, you get to benefit from my time spent researching and experimenting with the hacks I'm going to share with you today. Reclaim your precious time with some pretty mind-blowing hacks for home cleaning that the pros don't like to share. From the dishes to garbage disposal, I got you!
Your home will be spic-'n-span in a fraction of the time it takes you right now. These time-saving house cleaning hacks are SO good, you'll wonder how you ever made do without them! 
1. Hacks for Cleaning: Never Clean your Fridge Shelf Liner Again
Tired of sprinkling stuff and soft cloth to clean your fridge? You don't even need to purchase a new or expensive product. Simply use some wax paper or even the 'Press and Seal' saran wrap!
Just lay it down on your shelves, toss it out when it gets dirty, and repeat the process. No more cleaning refrigerator shelves! 
2. Hacks for Cleaning: Give It a Soak 
Start your cleaning adventure off by spraying down your bathtubs, shower head, sinks, and toilets. Let the cleaner soak and break down any soap scum buildup. 
It's like magic eraser! You can move on to a different area while these areas soak to avoid spending unnecessary time excessively scrubbing.
3. Cleaning Hacks: Use Dryer Sheets for Dusting
Did you know you can use dryer sheets to dust? 
This hack for home cleaning does wonders at picking up any dust that is collecting! Use old (used) dryer sheets to dust and throw them away when you're done! 
4. Crown molding No-Ladder-Needed Cleaning Hack
You don't even need a ladder when you can just grab your broom to clean your crown molding.
Wrap a rag around the bristles and secure with clips or a rubber band. Now, you can quickly wipe the dust off without going to the trouble of pulling out a ladder.
5. Ultimate Toy Cleaning Hack: Wash Toys in Dishwasher or Washing Machine
Place toys, like baby dolls, in the dishwasher, and in a mesh bag (on the top shelf). Then run on a light heat cycle to clean. A drop of dish soap or your favorite cleaner will do the trick. RInse the toys without a sweat. Make sure not to use a sanitize setting (hot water) because it could melt the toys. This works for all kinds of toys including building:
Building Blocks

Dolls

Larger toys like plastic roller skates

Smaller toys in a mesh bag like doll accessories

The dishwasher can also be used for other plastic kid things like shoes!

Stuffed animals can also be washed, but throw those in a mesh bag in the washing machine, not the dishwasher.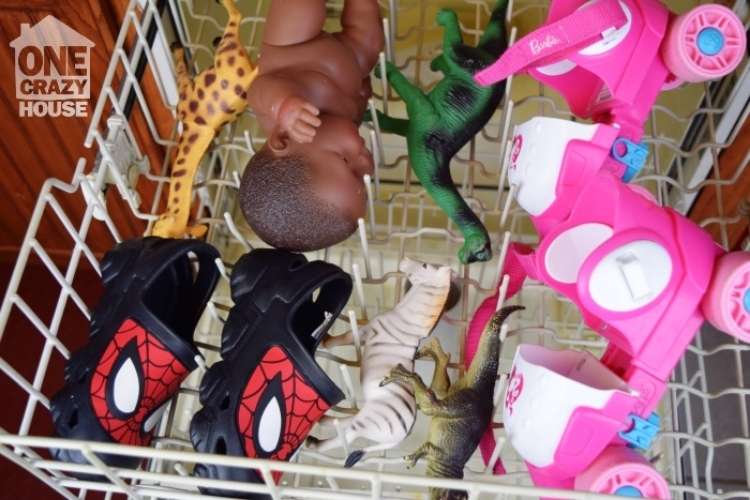 6. Hack for Cleaning Lamp Shades
Say good bye to spray bottle and cloth! Use a lint roller to wipe dirt off of lampshades. All the dust will stick to the roller and come off easily.
This is one of my favorite hacks for home cleaning since it's so quick and easy! (My kids find this to be fun so sometimes I get them to help ?)
7. Ceiling Fans- The Best Cleaning Hack You've Seen Yet
For this cleaning hack, take an old pillowcase, hang it over each fan blade and wipe off the blade as you pull the pillowcase off.
The dust falls into the pillowcase instead of on the floor; then you can shake out the pillowcase in the trashcan or outside. Genius! I would use an old pillowcase that is designated for this purpose. If you don't have one available, you can always get an inexpensive one at a local thrift store just for cleaning. I wouldn't want anyone using the dusty pillowcase near their faces. 
8. Room to Room: Cleaning Efficiency Hack
Save time by cleaning one full room at a time.
By focusing on cleaning one room at a time, you will save time from running back and forth between rooms – it's so much more efficient! Get those old toothbrush, old socks, and even dried coffee filters from underneath the bed! Make sure that you use the next hack to still get out all the things that don't belong in that room. 
9. Organizing Hack: Carry a Basket
Take a basket or bin along with you as you clean and toss in items that belong to different rooms. As you make it to different rooms, simply put items from your basket away. It could also be a good idea to leave a basket in a high traffic area of the house to collect things during the week so they don't go on the floor. On cleaning day, grab this basket, put away the things that are in there, and then collect things in each room that don't belong there as you go. Make sure the basket is cleared out when you are done cleaning!
I love doing hack for home cleaning – it saves so much time. I also do this with a trash bag. You can combine the two for ultimate cleaning efficiency. That way you don't have to keep making trips to the trashcan or leaving piles of trash to be taken out everywhere.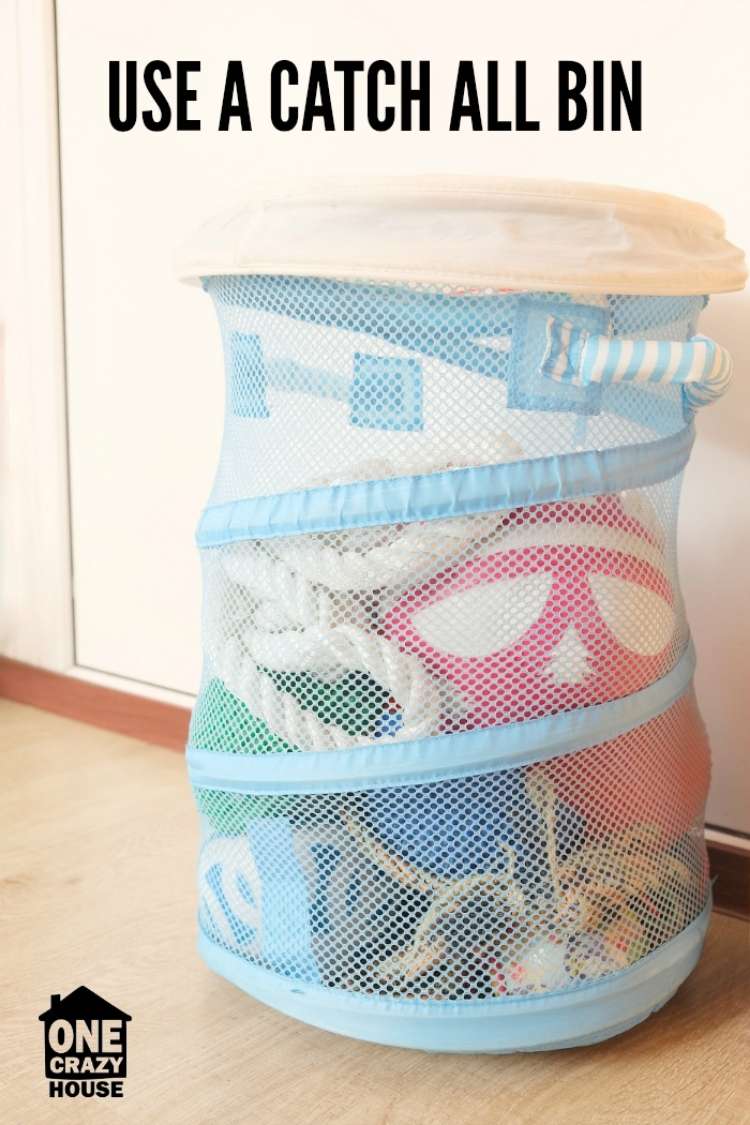 10. Create a Cleaning Bin That's Easy To Bring to Each Room
Consider carrying a bin with cleaning supplies, gloves, old rags, brushes, and anything else you might need with you. That way you have all the items you need handy in the room you are cleaning so that you don't have to spend time grabbing them each time you move to a new room! 
11. Set Daily Timer for 15 Minutes and Spot Clean 
Throughout the week, take time to spot clean in the main rooms of the house. It may take a short 10-15 minutes each day, but it will save you so a huge amount of time overall.
12. Hack for Cleaning: Work your Way Down and Vacuum Last
As you make your way through the house cleaning, you're bound to find some dust bunnies. Sweeping and vacuuming last keeps you from having to do those tasks twice!
13. Simplify Cleaners or Make Your Own
Consider simplifying your cleaners! Use more multi-purpose cleaners so you are carrying fewer items around to each room. It saves time and money!
Or you can make your own cleaners if you want.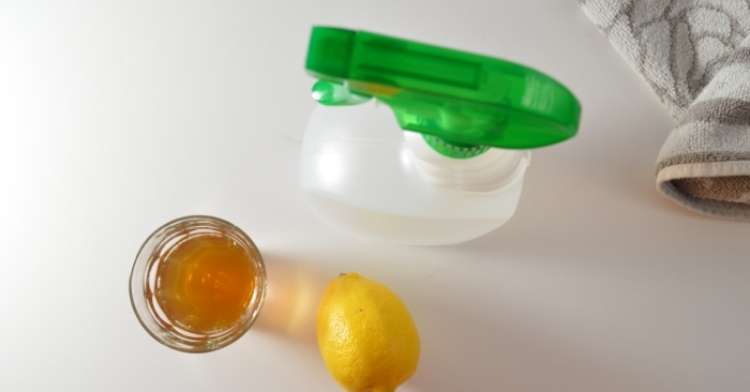 14. Cleaning Hack: Wash Light Fixtures in the Dishwasher
Anytime you can put items in the dishwasher, it saves time and water over handwashing. Many light fixtures are glass and able to go through the dishwasher. Run a dry cycle too to reduce spots.
15. Get Rid of Water Rings With Toothpaste
For this cleaning hack, take a little bit of toothpaste onto a dishrag and gently rub/scrub the water ring off the surface.
I had no idea you could use toothpaste to clean around your home!
16. Use Vinegar To Clean Out Your Coffee Maker
Do you remember the last time you cleaned out your coffee maker? I'll admit- I don't! Over time, the residue from the water and the ground coffee beans starts to build and eventually affects the taste of your coffee.
Check out these 3 natural clean tips to quickly (and safely) clean out your coffee maker!
17. Clean Drapes in a Flash
What takes longer than taking down your drapes, washing them, ironing them, and hanging them back up? Not much.
Save a bunch of your time by vacuuming them while they are still hanging!
Use the upholstery attachment and vacuum from top to bottom.
18. Soak Hard Water Stains in Vinegar
Gone are the days of vigorously scrubbing hard water stains- thanks to this home cleaning hack!
Drench paper towels with undiluted white vinegar and place them on your hard water stains. Leave them overnight, then remove and paper towels and wipe the stains off in the morning.
That's it!
19. Clean and Sanitize Your Cutting Board
Plastic cutting boards are affordable and durable, but they absorb odors and stains easily. Wash it with hot soapy water then rub a lemon (cut in half) over the cutting board surface.
Now you have a clean and fresh cutting board!
I hope that these hacks for home cleaning will help you save time so you can get back to doing the things you LOVE doing!
More From One Crazy House: