The IKEA Raskog cart is a basic storage and organization piece that is so versatile you'll want more than one. Take it from us, you need one of these Ikea cart ideas in every single room of your home. From holding extra toiletries in the bathroom to organizing your nursery, there's nothing this little cart on wheels can't do.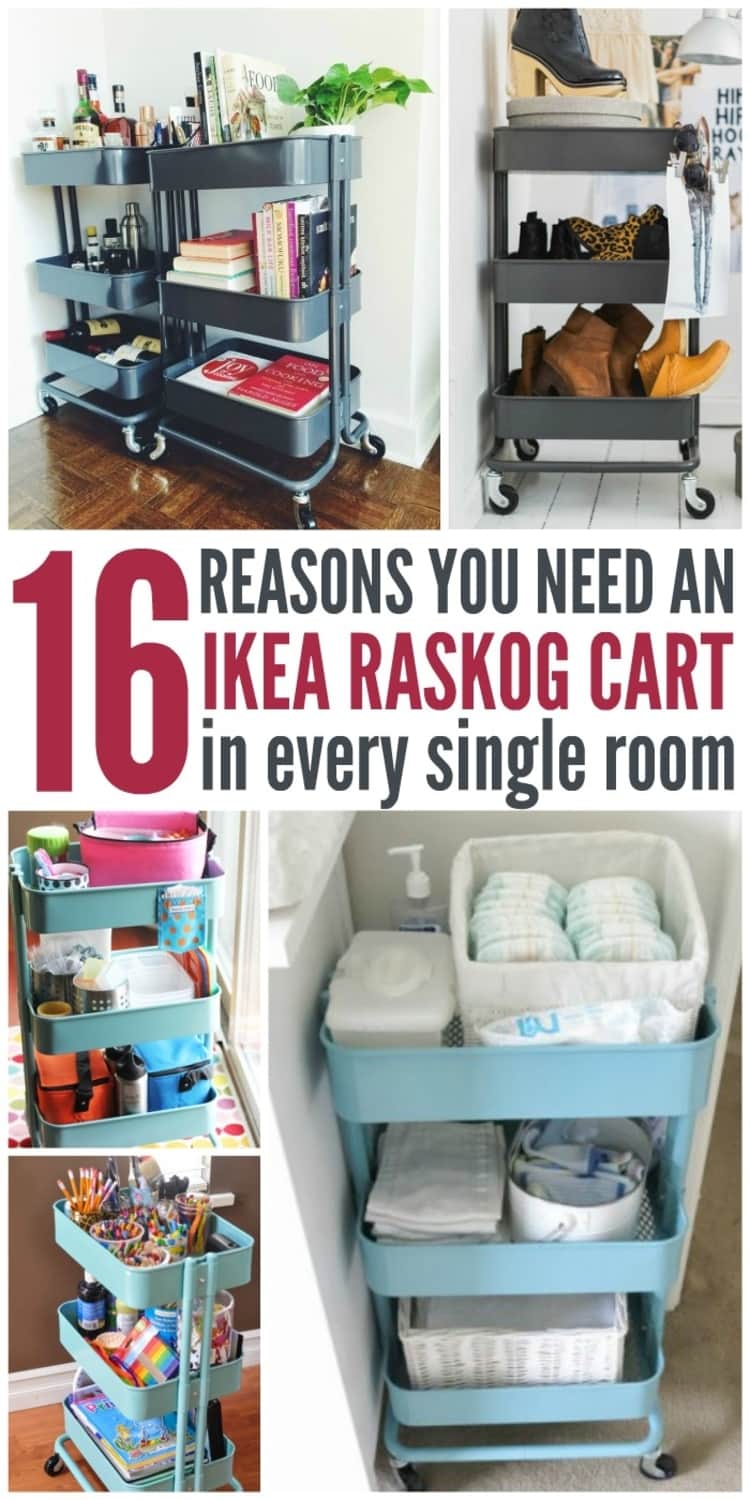 Brilliant IKEA Cart Ideas in Every Room of the House
IKEA's three-tier Raskog cart ($29.99) is beyond useful. The compact, rolling device is ideal for creating makeshift storage in small spaces like bathrooms and studio apartments — but people also find highly specific ways to hack the Raskog to fit their lives.
I have scoured the web to find 16 amazing ideas for you to use the Ikea Raskog cart that you will absolutely love. Let's take a look at these creative ideas for every room of your home.
Don't have an IKEA near you? Get the Raskog cart here (affiliate). In fact, get several. You'll wonder how you ever lived without this thing!
1) Glam It Up To Hold All Your Beauty Supplies
Create a rolling vanity with plenty of room to hold all your beauty supplies. This is perfect for a teen girl's room or to take to your dorm room when you move on campus. Add the metal utensil holder from Ikea for a smart way to safely hold hot styling tools as they cool off without cluttering countertops. It's so convenient to have all your makeup, toiletries, and hair tools all in one place!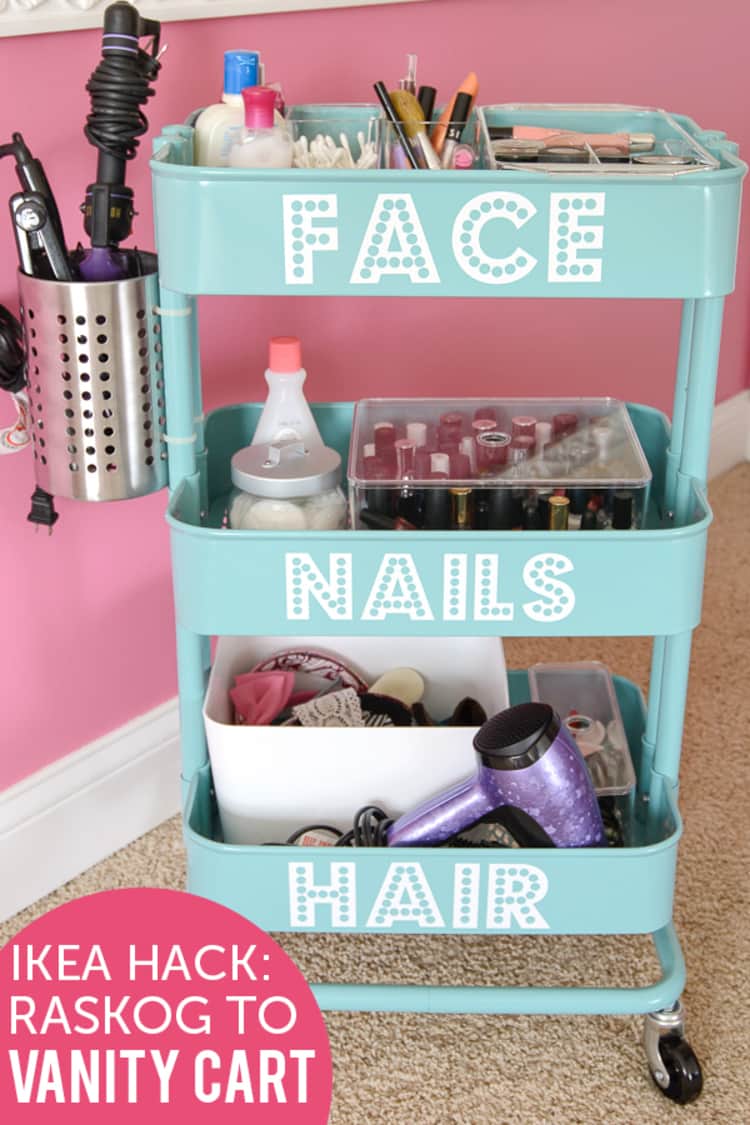 2) Create a Swanky Rolling Bar
Bar carts can sometimes be an expensive investment, but this budget alternative is perfect, especially for a smaller space. Set up a rolling bar cart for your next get-together. You can move it inside or outside, depending on where the party's at!
Your bar accessories to have a well-appointed cart might include…
Liquor
Selection of glassware
Cocktail shaker and stirrer
Wine opener
Bar knife
Citrus fruit such as lemons and limes
Fresh herbs such as mint and basil
Ice bucket
Straws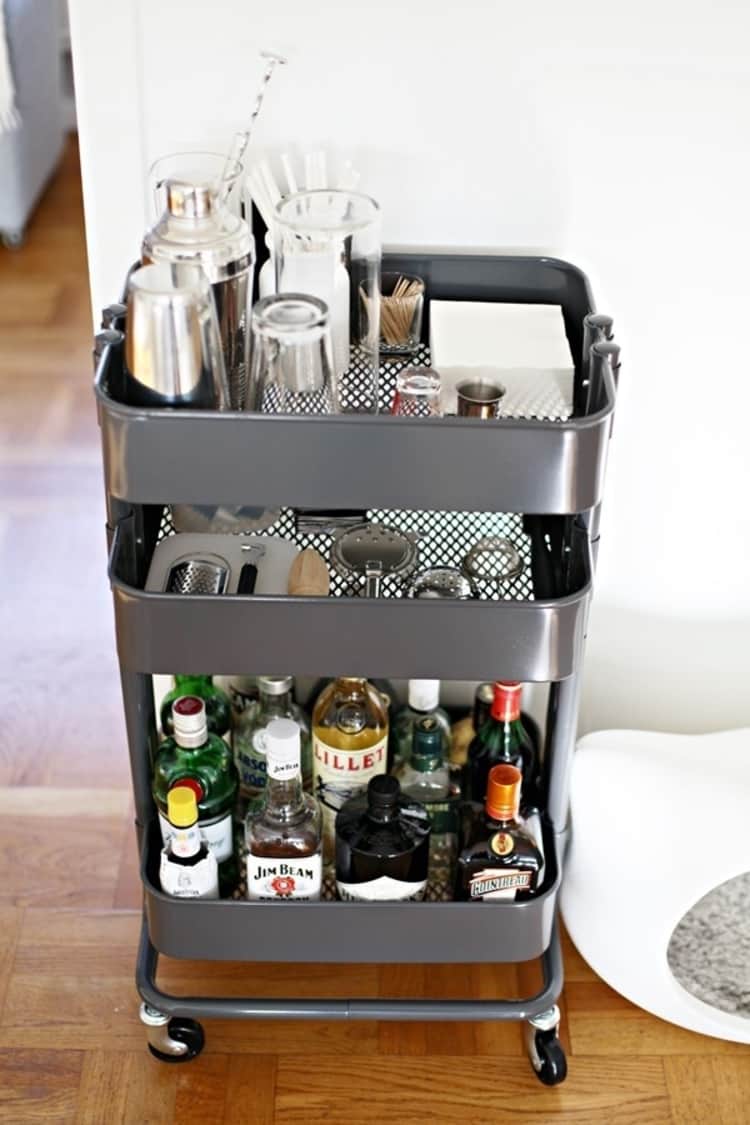 3) Devise a Moveable Lunch Cart
Getting school lunches in the morning can sometimes be crazy, especially if you have multiple kids who all have different needs as I do. One great idea is to put all your kids' lunch supplies in the cart to make putting together their lunches way easier. It's so much easier to find the thermos or the small container for dips and dressings. No more "I can't find my lunchbox!" excuses now.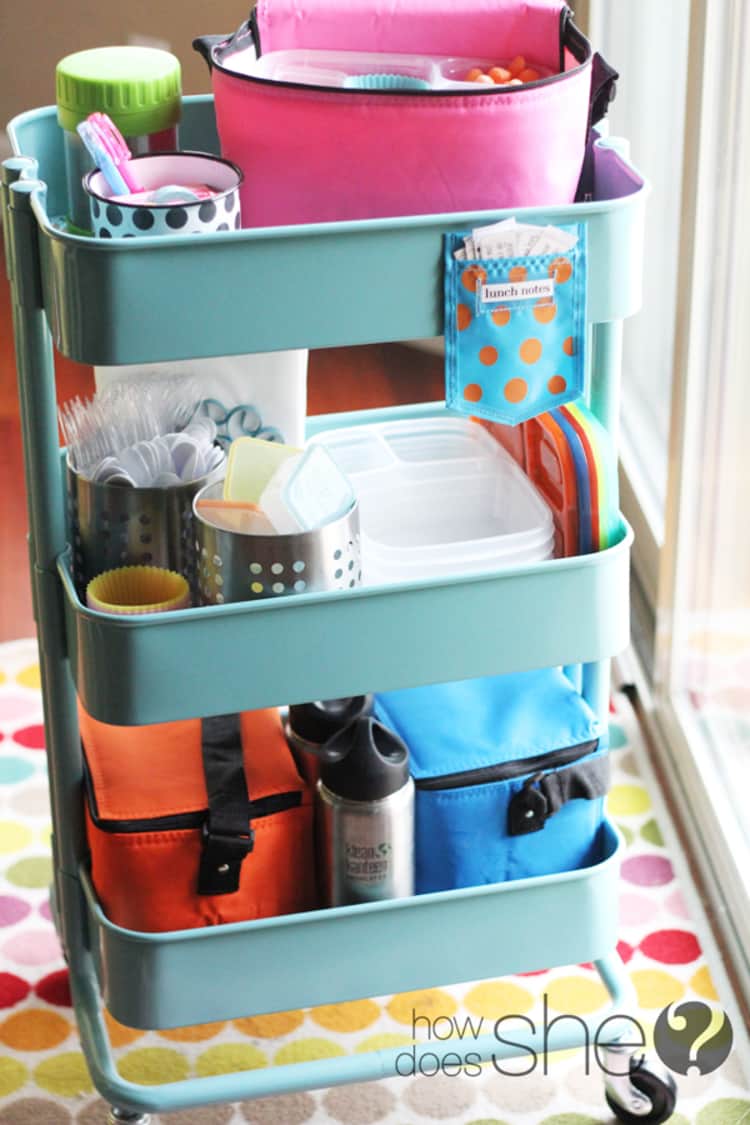 4) Create a Might Mobile Cleaning Cart
Use an Ikea Raskog cart to put together the perfect cleaning cart. Put paper towels and trash bags on the bottom shelf and stock the other shelves with disinfecting wipes, rubber gloves, and dusting cloths. Add a few hooks to the side to hang the dustpan, hand vacuum, or a Swiffer. Then you can push the cart around as you move from room to room. And when you are done, the cart slides into a small space for out-of-the-way storage. You'll always be able to know when you are running low on cleaning supplies too. Get one for each floor of your home!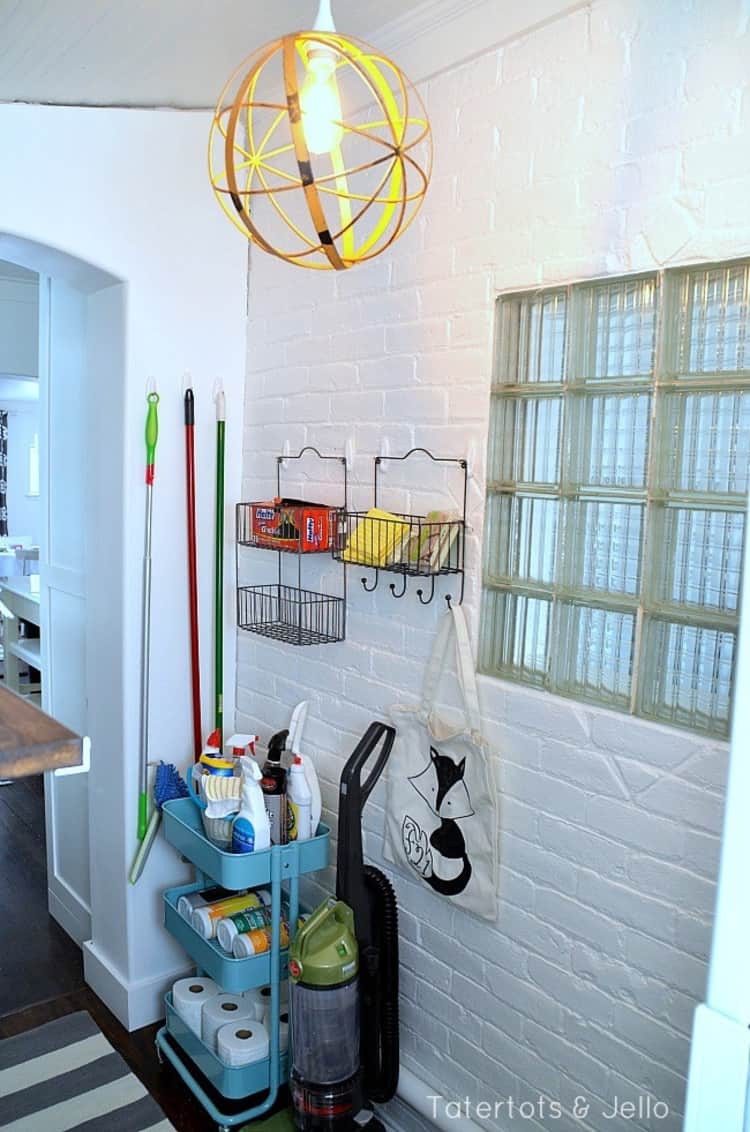 5) Fashion a Fun Art Cart for the Kids
Sometimes you need to put art supplies in an easy-to-get-to spot so that kids can see what's available when they are in a creative mood. Or your dining room or kitchen does double-duty when it comes to art time. Put together an art cart for the kids with crayons, paints, coloring books, and crafting supplies. Whenever they need a creative activity to do, they can fetch their own supplies and make something beautiful. And then when they are done, it makes cleanup a breeze.
This is a great solution for homeschoolers. Check out these other insanely useful home school organization ideas.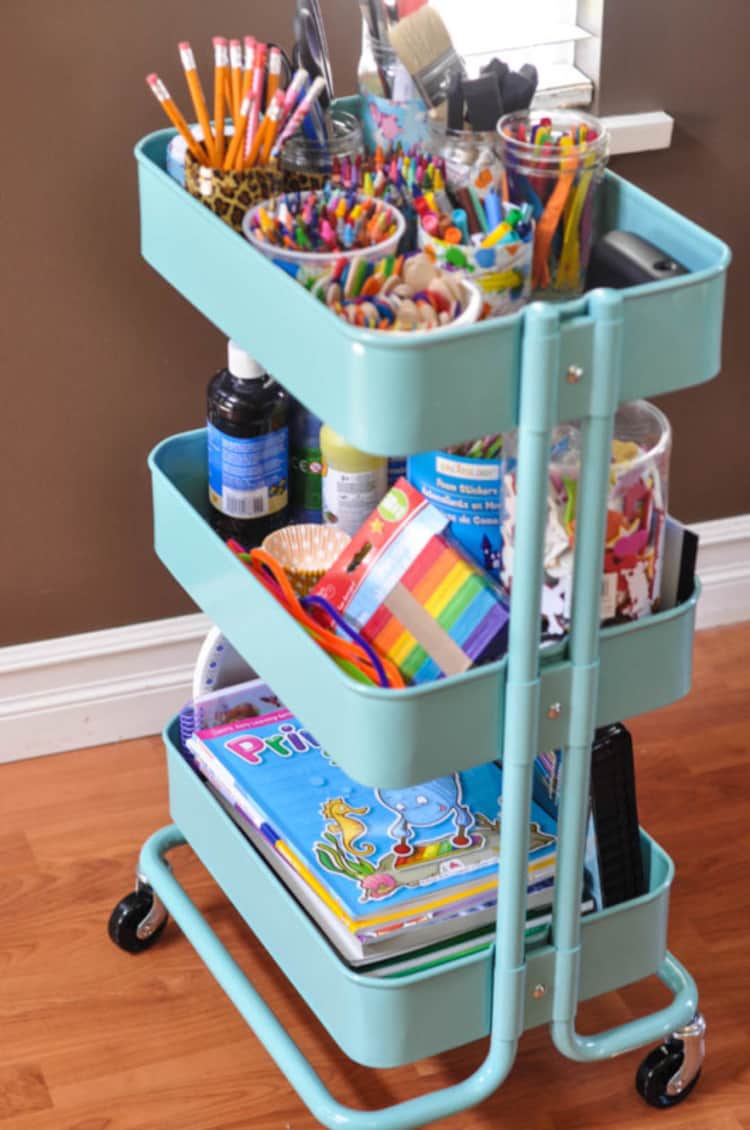 6) Set Up Your Ikea Raskog Cart as an Infant Dresser
Is the baby sleeping in your room? Keep some of the baby's things in there without letting them take over your drawers and closet. It's also a great nursery shelf.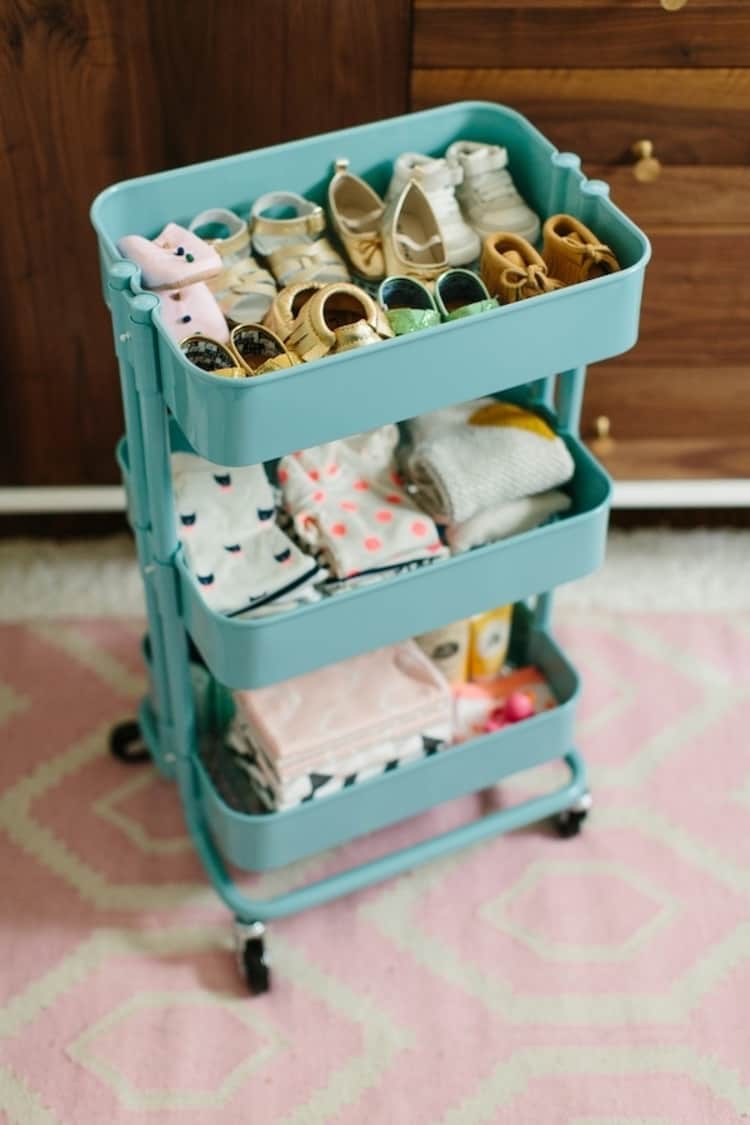 7) Devise a Mobile Nursery Storage Station
One of the more practical applications of the Raskog is to put it in a nursery, where storage needs are constantly changing. This rolling diaper station can be moved from room to room which can be useful. Because, honestly, how often are you really going to carry your baby to the changing table to change him or her? Make it even handier by adding extra bottles, formula, and burp cloths so you can do double duty.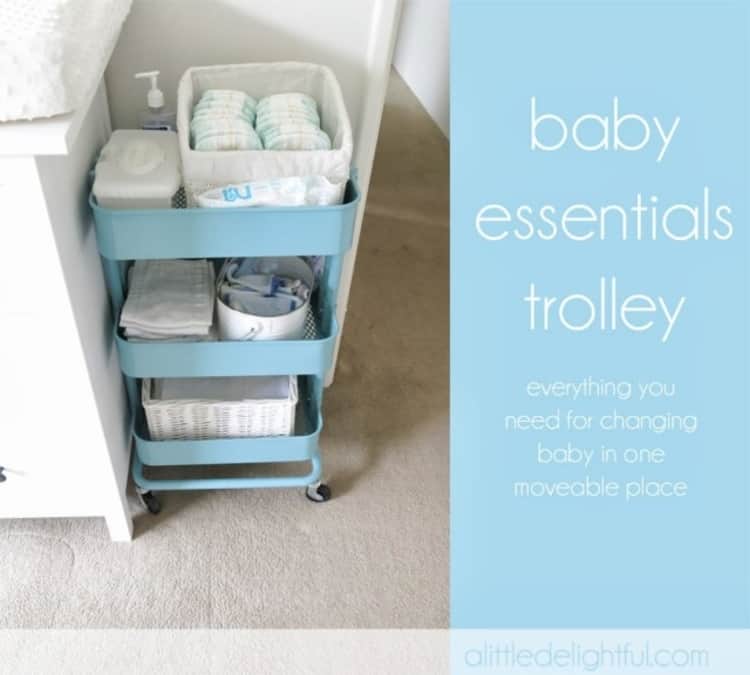 8) Double Your Bathroom Storage Space
Add extra storage to a small bathroom. Stash toilet paper, extra towels, and anything else you need in the utility cart. This is a great idea if there is no cabinet under the sink or if the counter space in the bathroom is non-existent.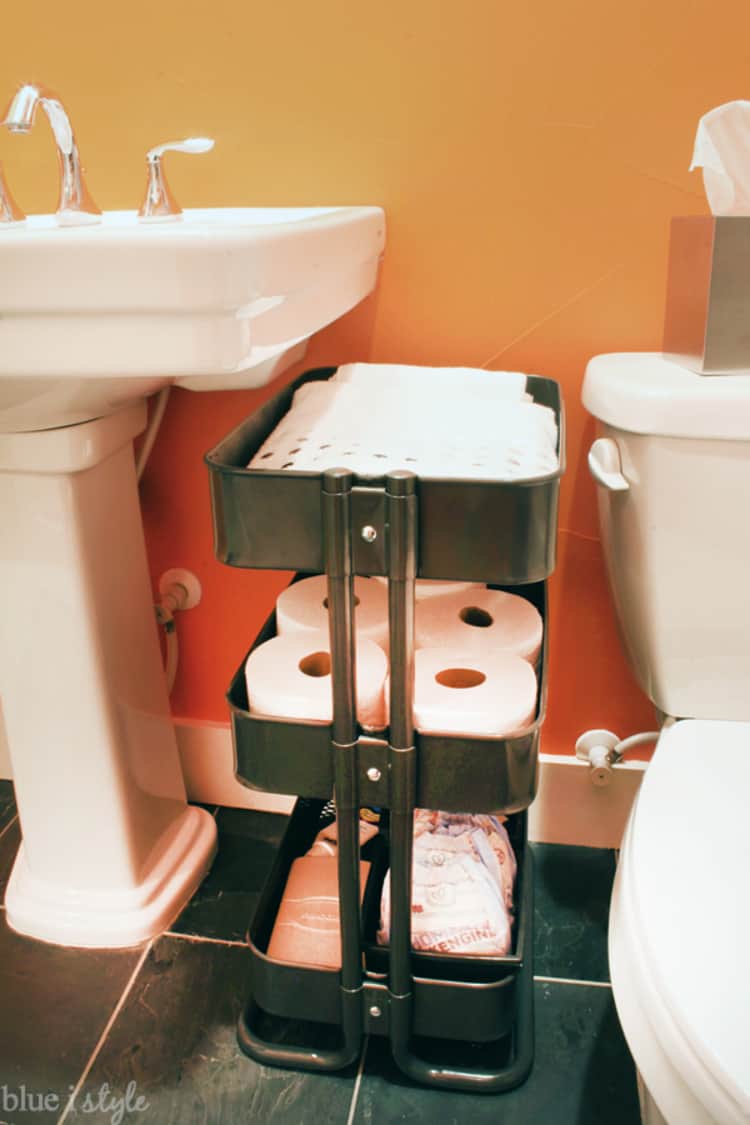 9) Put Your Green Thumb on Wheels
A succulent cart is a fun way to decorate with succulents. Isn't it gorgeous? This would look perfect in a sunroom or on a patio. You could also fill the cart with herbs or other small plants and move the cart to catch the best sunlight.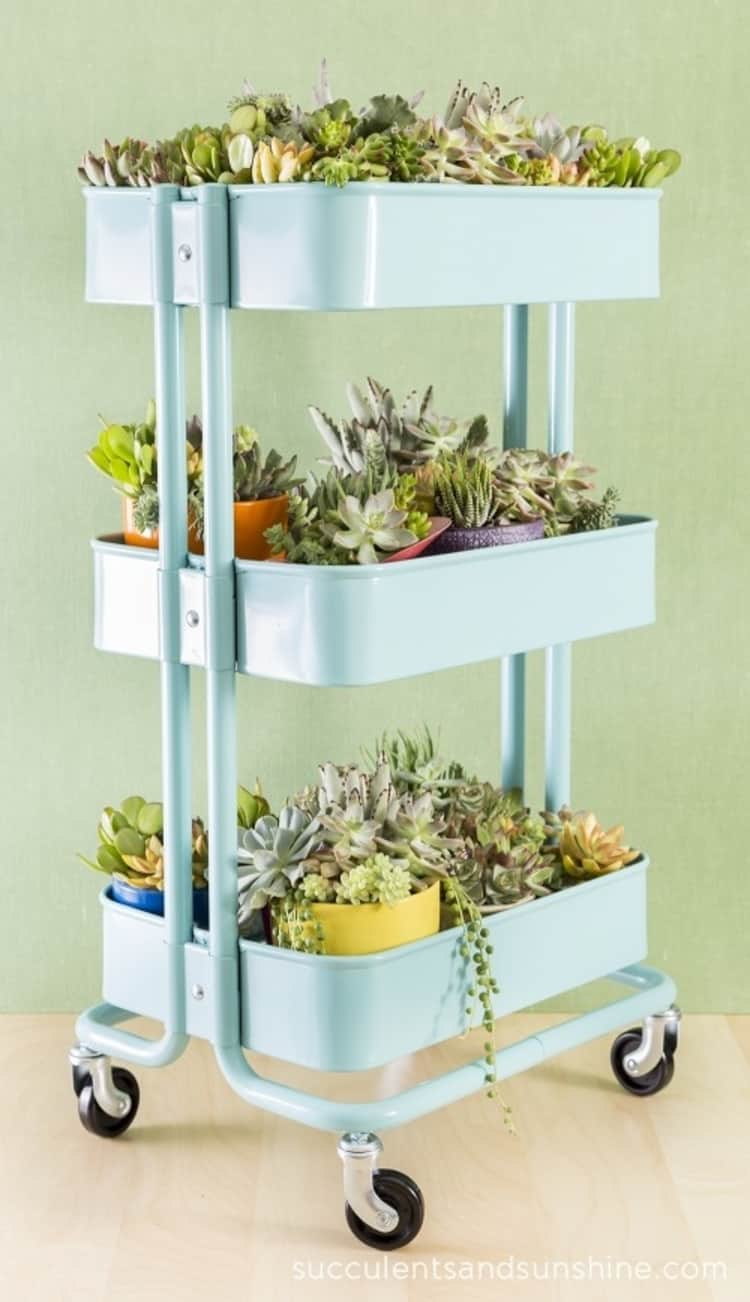 10) Ikea Raskog Cart Makes a Versatile Nightstand
Forego the typical nightstand beside your bed, and opt for an IKEA cart instead. You can even clip on a small light for reading in bed. This is also a great idea for a dorm room or small apartment. It is portable, small, and can fit anywhere!  A great bedside table one that you can fit just about anything you would need.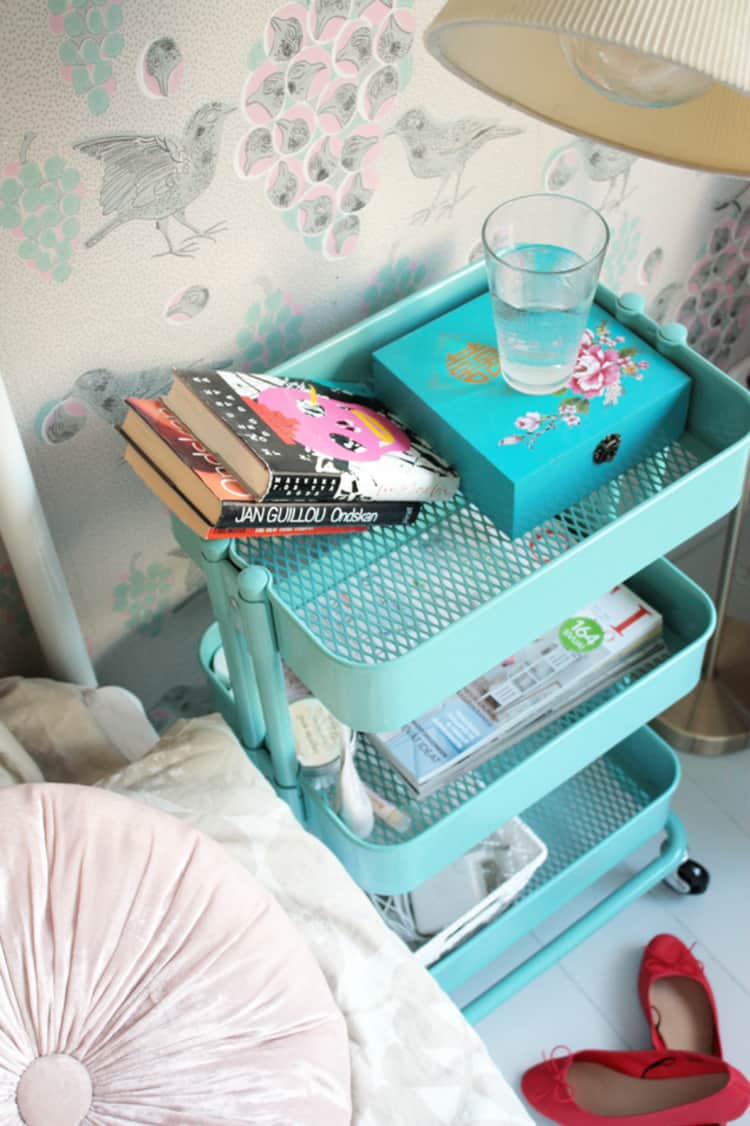 11) Set Up A Nifty Crafting Cart
Isn't that a beautiful display? This would be perfect for my mother-in-law! I love how the light blue color of the cart provides a colorful but neutral base for all the crazy colors of the different yarns and patterned fabric. Keep crochet and knitting supplies organized in your craft room. You won't have to look twice for the color yarn you want to use and all of your needles will be in one space along with all the other goodies you need to make those blankets, scarves, mittens, and sweaters.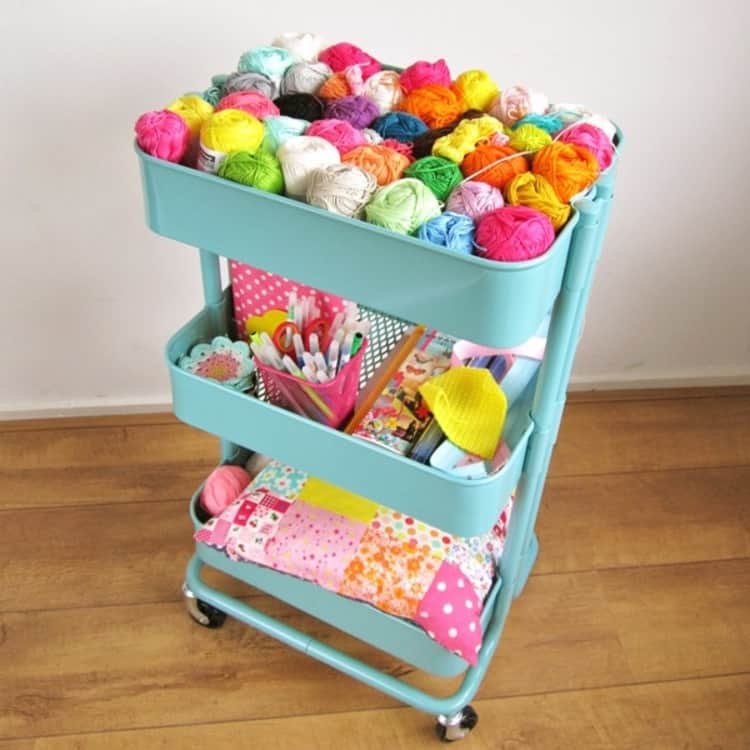 12) Conveniently Store All Your Laundry Supplies in the Ikea Raskog Cart
A laundry cart in your laundry room is a must. It keeps all your products organized without them getting in the way. You could even make some space so it could slide right up next to the washer or dryer. This is wonderful if you're working with a laundry closet like I am, instead of a full room.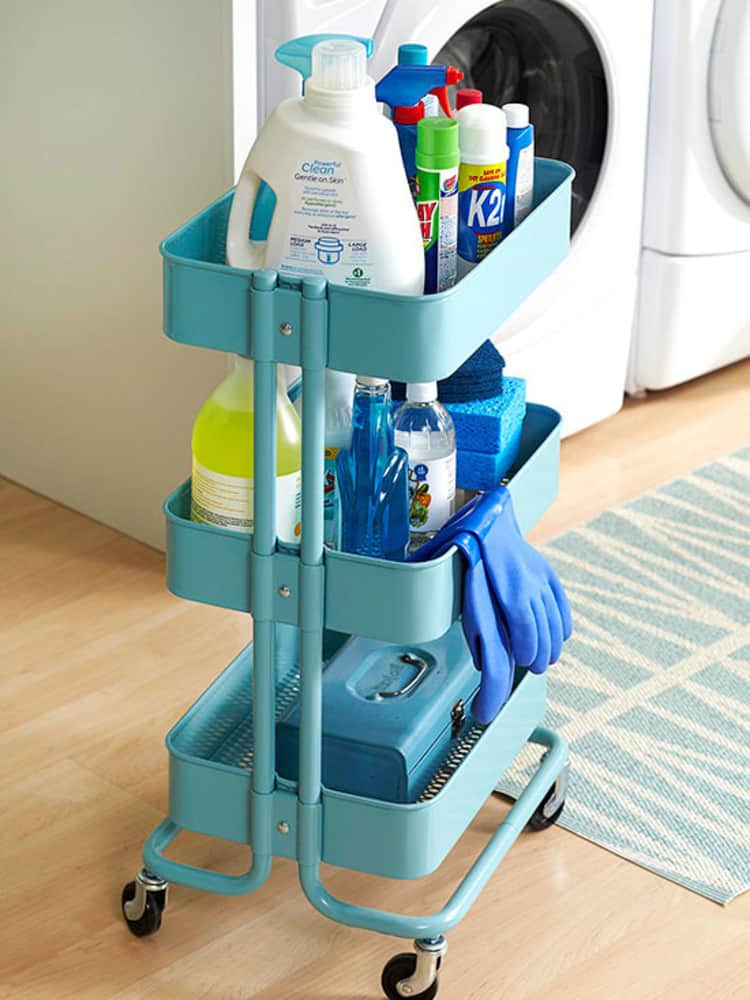 13) Set Up A Stylish Sewing Cart
Keep all your sewing supplies together in one place, especially if you're at a loss at where to store that bulky sewing machine. You can also increase storage space by adding hanging buckets, hooks, or magnetic containers for small items like pins and buttons. This idea works well in a room that has multiple functions like a sewing room that turns into an office or guest room.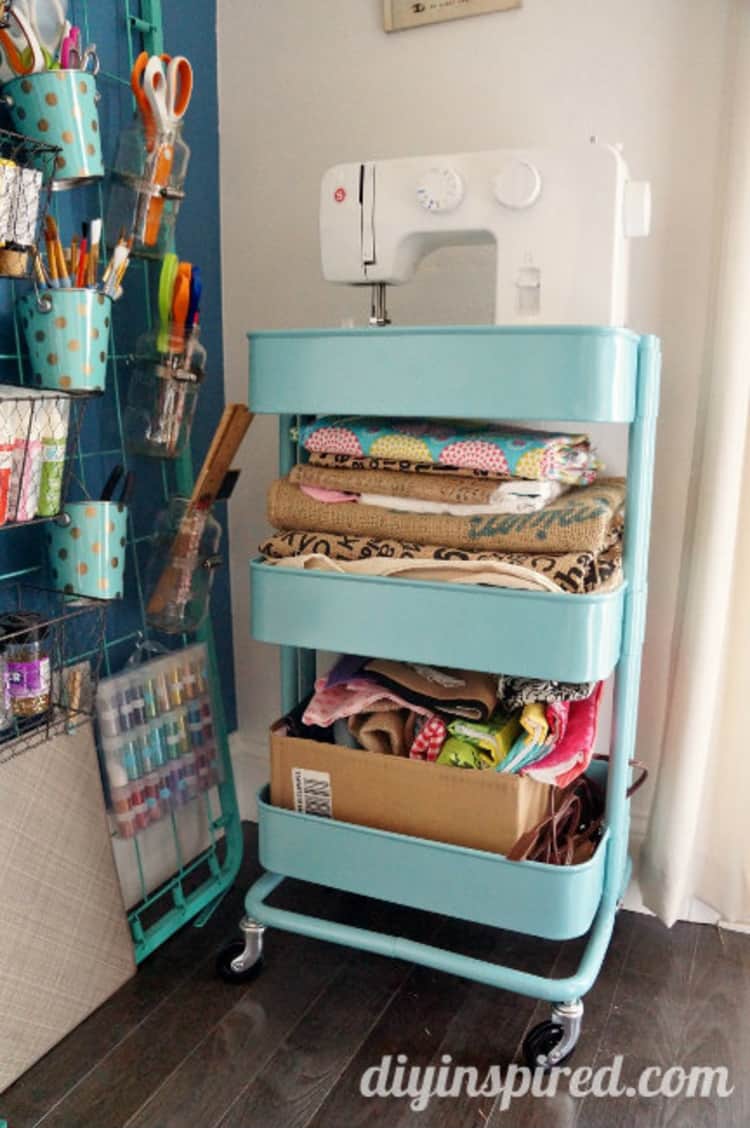 14) More Space For Your Shoes
A girl can never have too many shoes, but you may not always have room to store them all. Why not add a shoe cart to your closet?! You can also use it for handbags, scarves, belts, and other miscellaneous items that just don't seem to fit anywhere else.
The other thing about this trendy little rolling cart is that it can be personalized with your favorite can of Spray Paint. Style it up to match or compliment a favorite pattern or color in your wardrobe.
15) Get Extra Storage Space In Your Kitchen
You can use the Ikea Raskog cart in so many different ways in the kitchen. I love the idea to corral your cookbooks. I so need this. They're taking up multiple shelves on my bookshelf right now, and they're never where I need them (in the kitchen). You can have an entire basic pantry and a few items you use every day at your fingertips. It fits everything from baking supplies to spices and flavored oils to bottles of wine. Plus you can wheel it anywhere for easy use. When you are not using it, it simply looks amazing sitting there.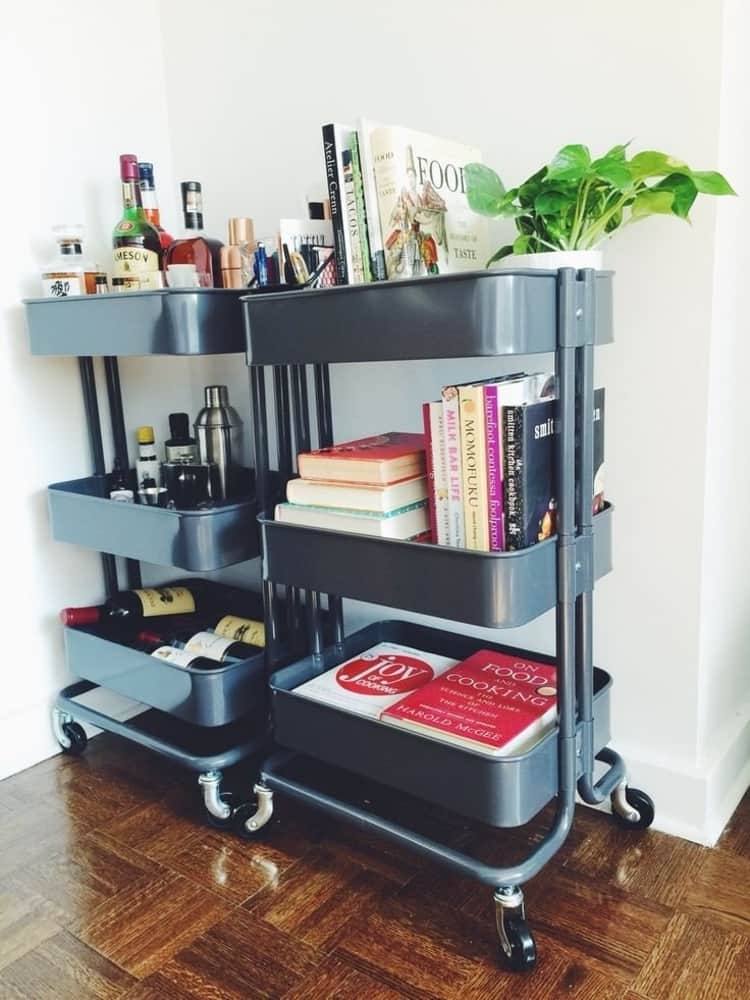 16) Organize All Your Planner Paraphernalia in an Ikea Raskog Cart
And, finally, as a self-professed planner geek, I totally love this planning station idea. It'll hold your planners, pens, markers, stickers, washi tapes, and all the other things planner geeks dream of. When it comes time to plan your week or do your monthly review, you'll have everything you need in one convenient and super organized location.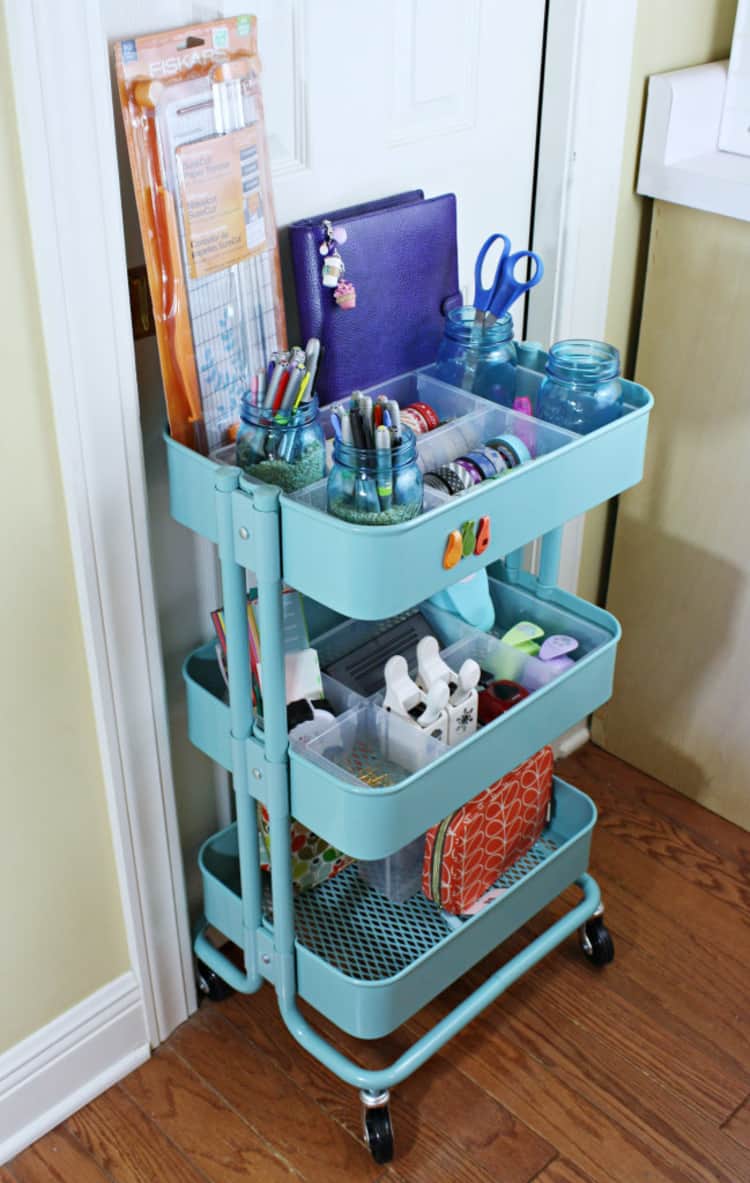 More Hacks for Ikea Products
This mighty utility cart is one of my most favorite products to use in all different rooms of the house. But there are plenty of other hacks for decorating and storage that you can do with different items from Ikea. The beauty of these ideas is that you can take the plain furniture base Ikea provides and make some simple changes or upgrades to make it fit your style perfectly. The possibilities are endless. Check out these brilliant ideas:
Which of these Ikea cart ideas suits you the most? Let us know in the comments!