So, you're in а crafty mood, huh? Let's try some PVC pipe projects! Or maybe you need something to meet a need around your home and want to make it yourself rather than buy it from a store? But what materials can you use that will make your creation sturdy, unique, and also (potentially) beautiful?
The solution is PVC Pipe. Not only is it available at pretty much any hardware store, but it's also durable so whatever you do with it will last. Yes, PVC pipe is a secret weapon of DIY projects and can be used by anyone to complete at least 25 PVC Projects in just a short amount of time. Need some convincing? Keep reading!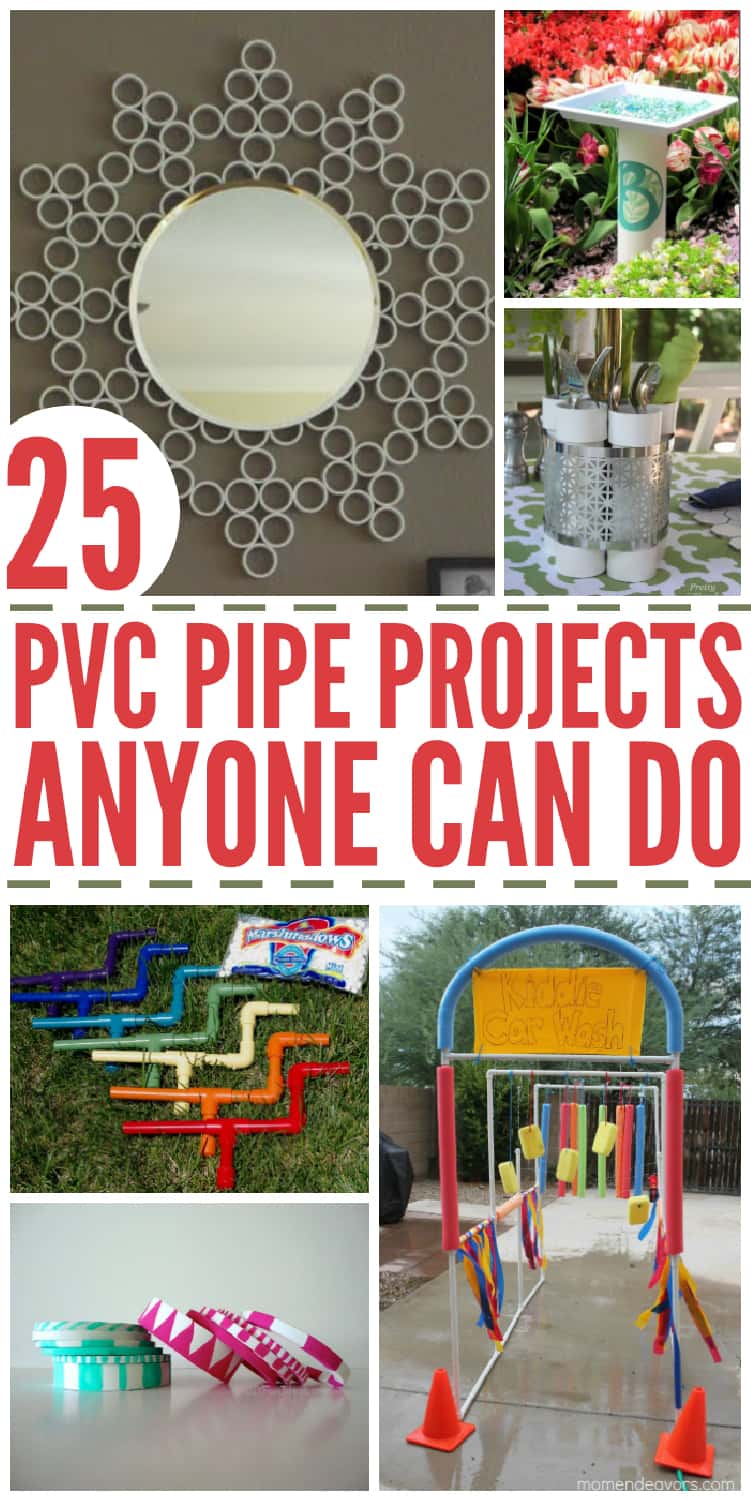 Easy PVC Pipe Projects at Home
1. Toddler Chair PVC Pipe Project
Toddlers are a special breed. They go through a period in which they love moving chairs around. It's funny and because they are little, keeping them safe at all times is a priority.
That's why I loved this toddler chair out of PVC pipes tutorial as soon as I saw it! If you use waterproof fabric, it's a great choice for outdoor seating for kids, too.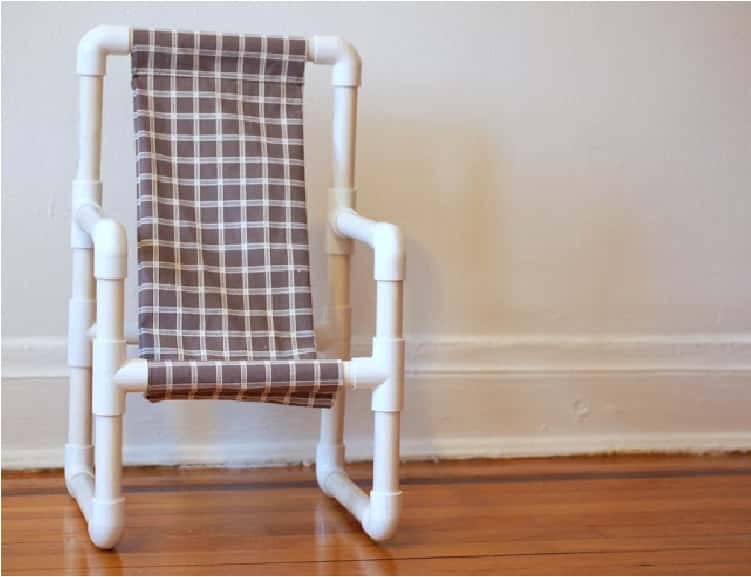 via Pink Stripey Socks
2. Making Your Own PVC Pipe Slingshot Kids Toy
Water balloons are so much fun in the summer! So, why not create a piece of PVC pipe slingshot for the kids (or for yourself) and just have tons of fun together? You'll have hours of fun target practicing and you'll cool yourselves!
3. Organize Your Craft Tape Wit a Dispenser From PVC Pipes
Are you a craftaholic? If so, you most likely have a huge collection of different craft materials, including colorful tape. And everyone who's ever done tape crafts knows that tape is hard to keep organized in a way to fit in your shelf or small spaces and be easy to use. Then, I stumbled on this brilliant solution!
Build a custom tape dispenser out of PVC pipe to hold it all. The best part – all of your tapes are easily reached and beautifully displayed. An easy-to-make DIY project that will help you with clutter.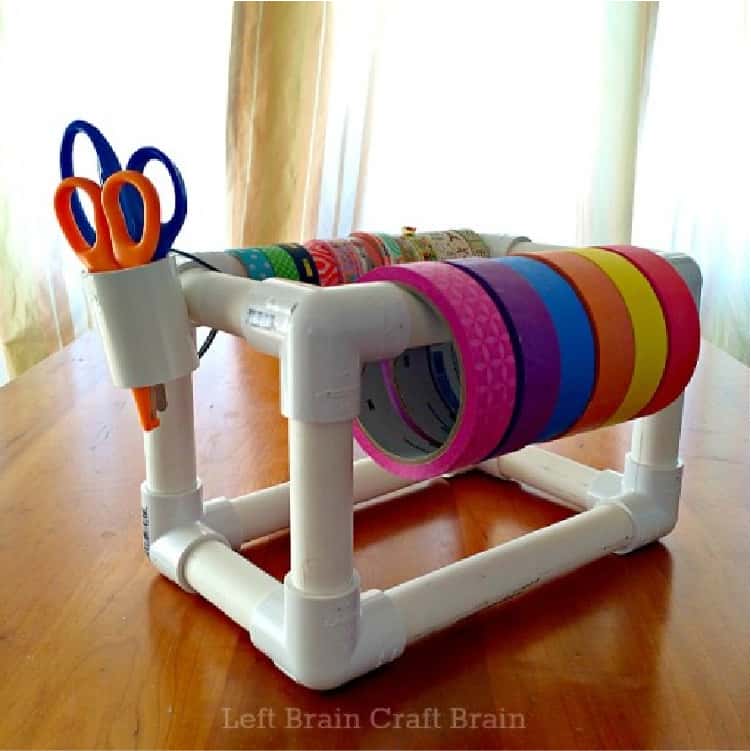 via Left Brain Craft Brain
4. DIY Laptop Stand from PVC Pipes
Are you finding yourself leaning towards your laptop screen a bit too much? Do you need more space on your desk to fit the extra keyboard, mouse, notepad, pencils, accessories, and a cup of coffee? Is your computer heating up a bit too much, while you work?
There's a simple solution! Build a colorful laptop stand to add height to your screen and improve your posture while you work. What a great PVC pipe project!

via Mashable
5. DIY Ball Pit for Your House
Win over your kids with a DIY ball and toys pit right in your playroom. If your kids are very small, you may want to add foam pipe insulation (like this) to reduce the likelihood of bumps and bruises.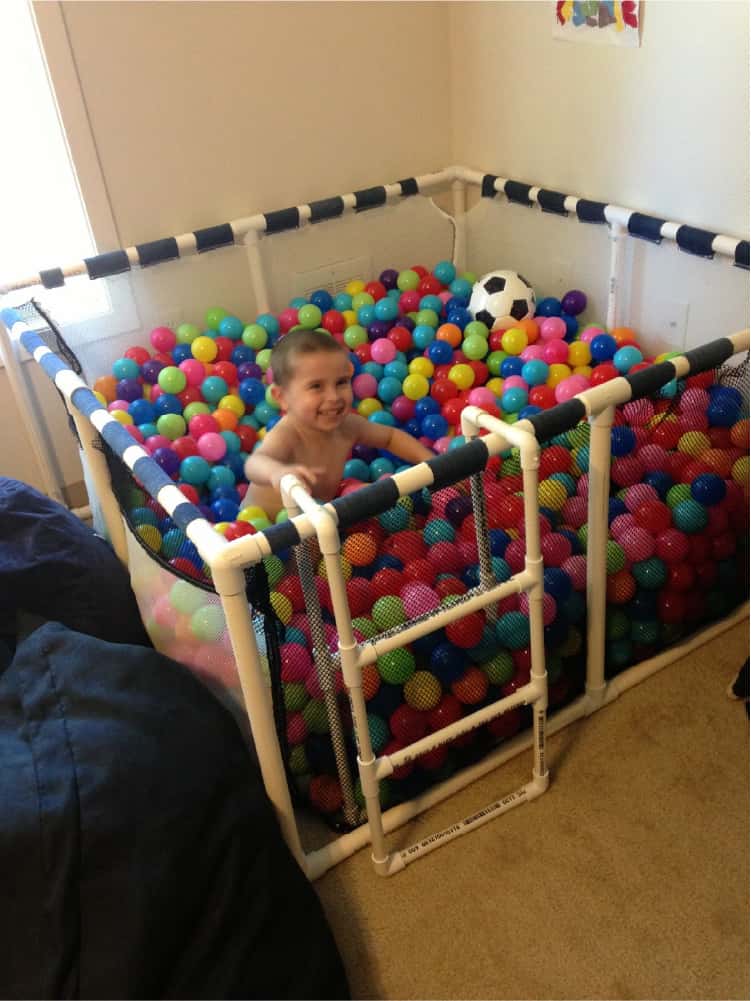 via Cup of Autism
6. Brilliant PVC Pipe Projects – DIY Bike Rack
If you're a mom of many, you definitely have multiple bikes in different sizes in your garage. They are everywhere! It looks like you can never figure out how to store them in a way that every kid could take their bike out and put it back.
What if I tell you there's a simple way to organize ALL of the bikes in your garage in a way they are easy to reach by the kids, too? Build your own PVC bike rack! Seriously… it's worth the work to not trip over 4 bikes on the way to your car.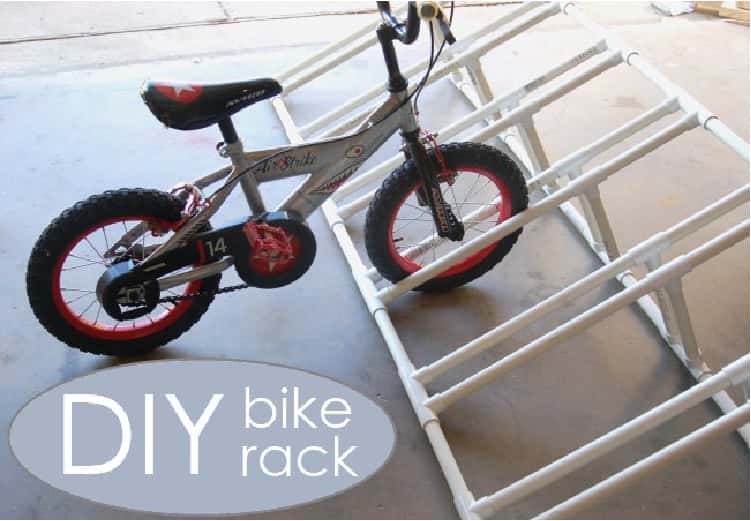 via Kids Activities Blog
7. Simple To Do PVC Pipe Shoe Organizer
Make a shoe rack organizer for every family member's closet. You can easily spray paint it in different patterns and colors to fit the style of any home. And they are easy to clean!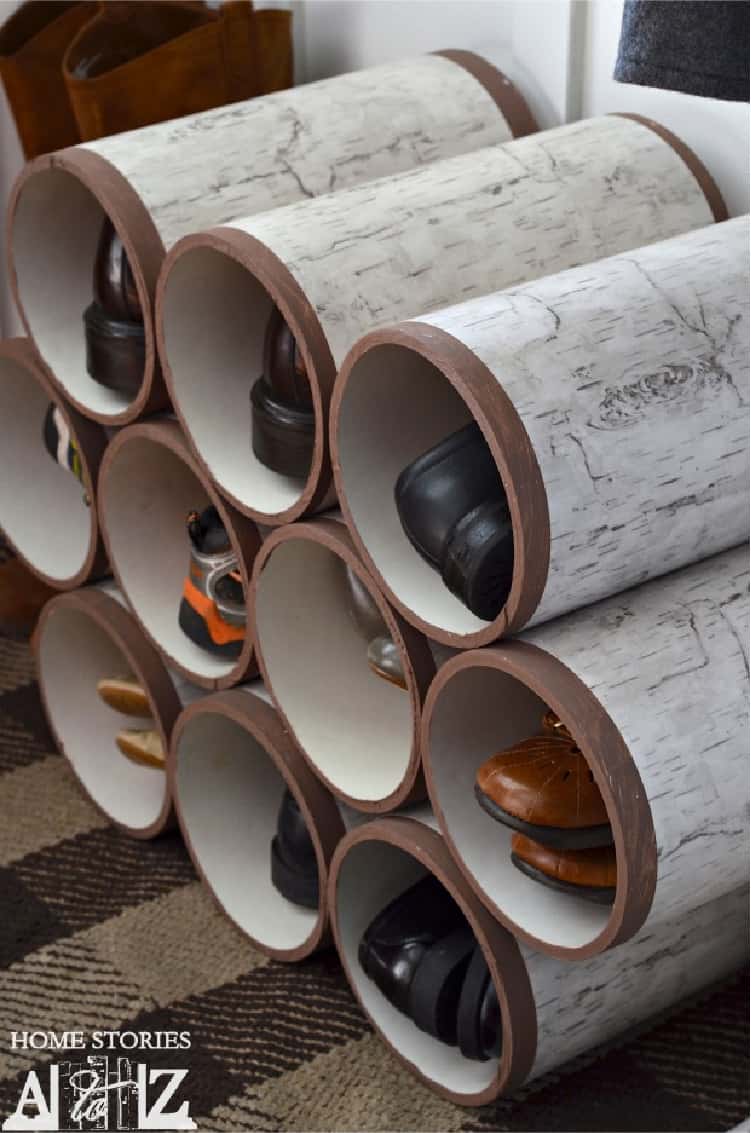 via Home Stories A to Z
8. DIY Photography Backdrop Stand on a Budget with PVC Pipes
Want to make some fun photos with your kids? What a great idea! And it was going to be so awesome if you had a backdrop. But wait! You CAN! Photographers, there's no need to break the bank for fancy photo equipment!
Build a photography backdrop stand on the cheap with PVC pipes. You'll find the exact sizes in diameter and pieces you'll need here!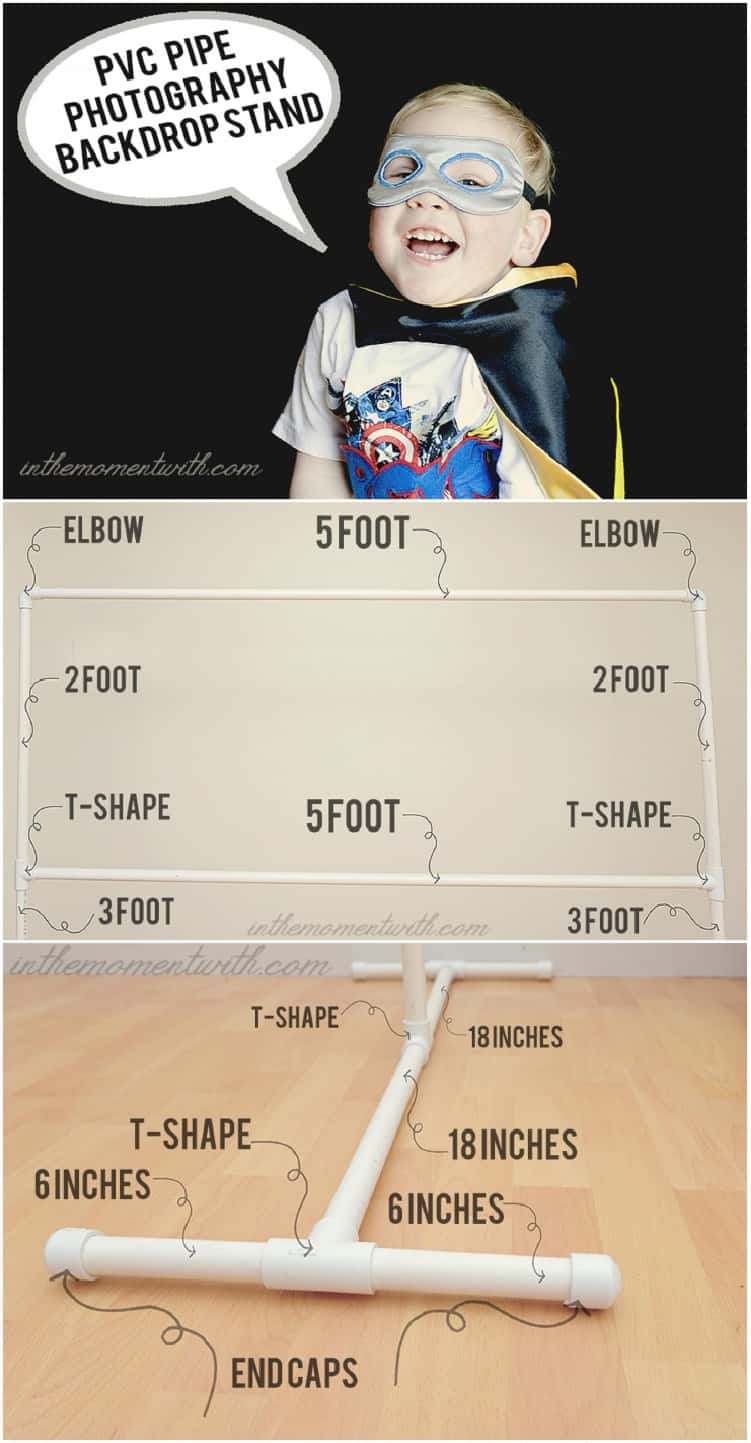 via Sarah Halstead
9. "Fall" Wall for Kids From PVC Pipes for Fun Sensory Play
Tubes + Kids = Hours of play!!
Build a "fall" wall for the kids. Tube play is a surefire way to get a few hours of peace and quiet when you need it. Plus, sensory play is very beneficial for kids and you can experiment with different fillers like corn, beans, rice, beads, sand, noodles, or pretty much anything you can think of!
What do you need?
PVC pipe connectors & joints
Suction cups
Drill
Cups / Spoons
Some type of filler for the play
It's easy to make and it gives you precious quiet time!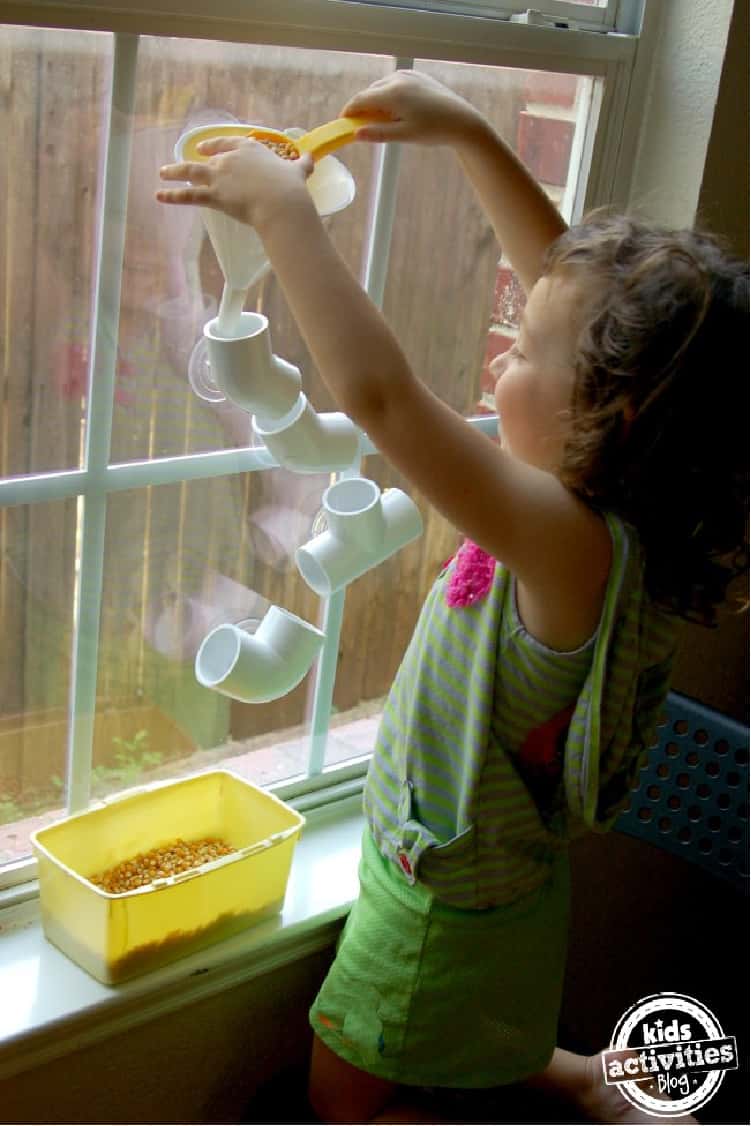 via Kids Activities Blog
10. DIY PVC Cabana from PVC Pipes and Curtains
Have you ever wanted to turn your backyard or greenhouses into an outdoor oasis? You can now easily make your dream come true with a DIY cabana made out of PVC pipes and curtains. These diy pvc pipe projects are totally worth the time!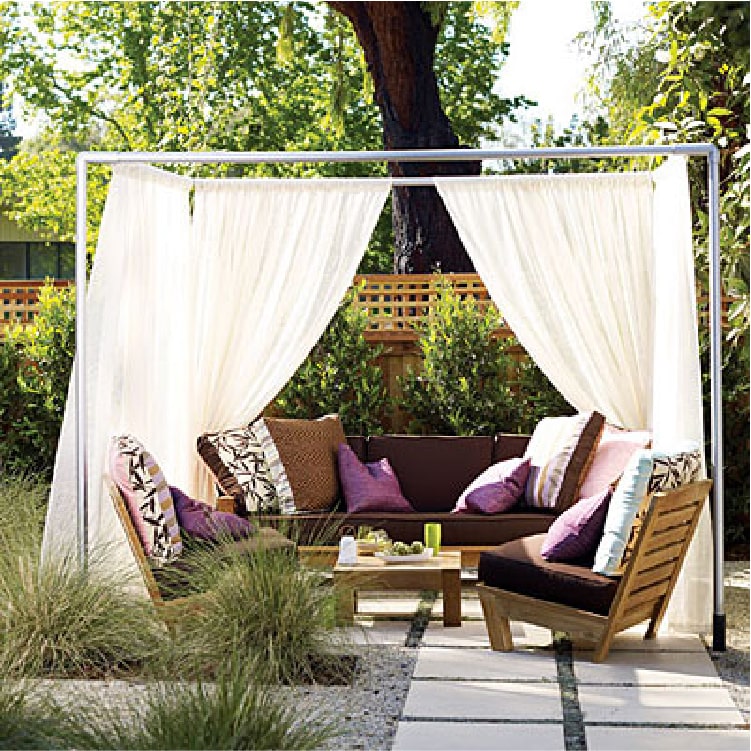 via Sunset
11. Simple PVC Pipe Projects to Blow Your Mind: Kids Mini Field Goal Post for Kids
Do you have football or soccer fans at home? Are they throwing the football everywhere and creating chaos? Here's how to easily handle the situation.
Try your hand at a mini field goal post for a sports-themed party or for a fun football or soccer goal set up in your kid's room or backyard. It works so well!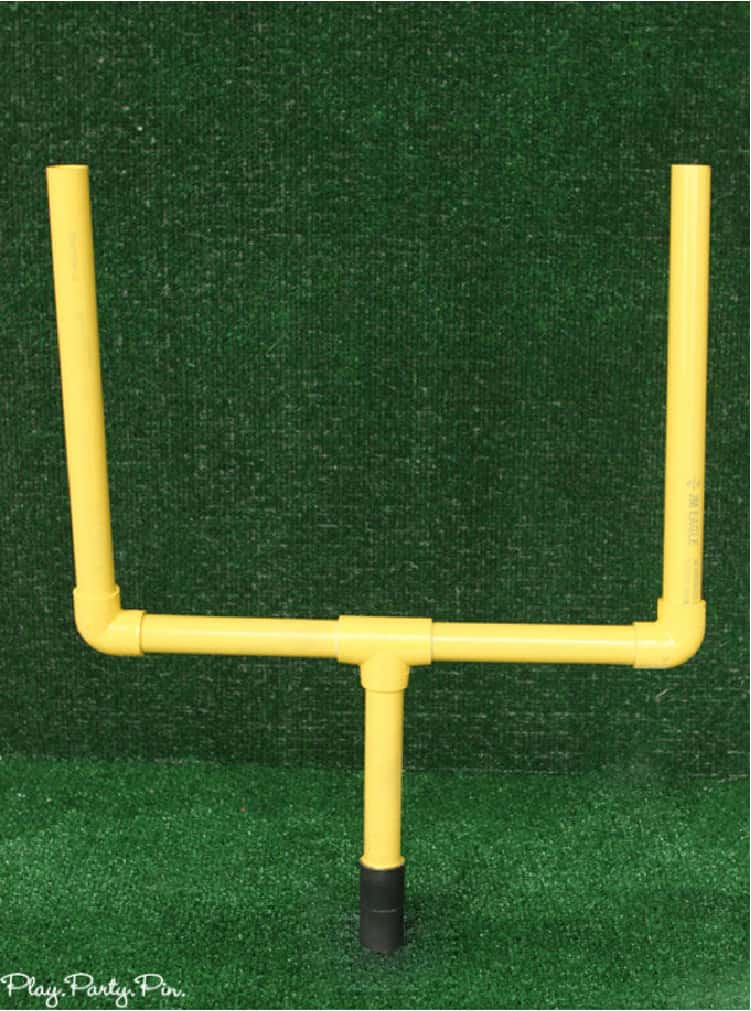 via Sugar Bee Crafts
12. DIY PVC Bangle Bracelets
Make as many PVC bangle bracelets as you want for pennies. Just cut out a PVC pipe into pieces, smooth the edges and paint them!
And if your painting skills aren't the best, you can always use a pretty washi tape to create a fun pattern. Or even just write an inspiring message with a sharpie. So many possibilities!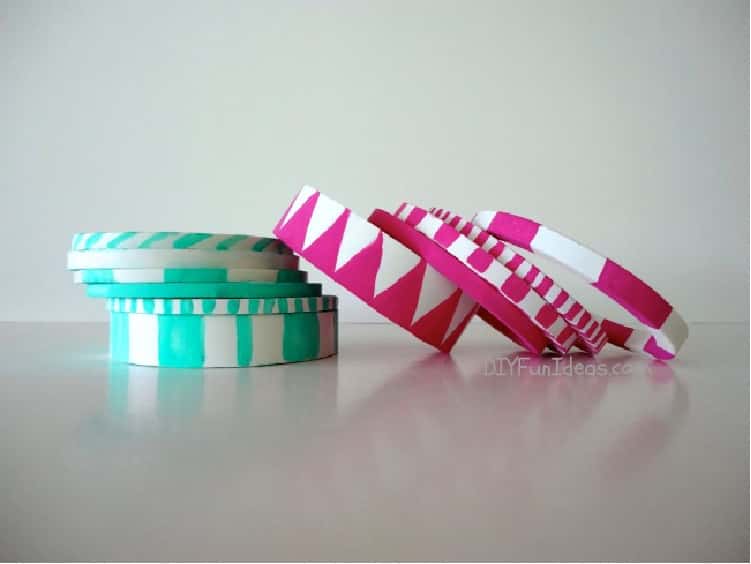 via DIY Fun Ideas
13. DIY Marshmallow Shooters To Play With Your Kids Today
It's the weekend, the weather is sunny and the kids want to play. Here's a fun thing to do together – have a marshmallow war!
Marshmallow shooters are easy to make, and they're loads of fun to play with. You'll create amazing memories with this PVC pipe project!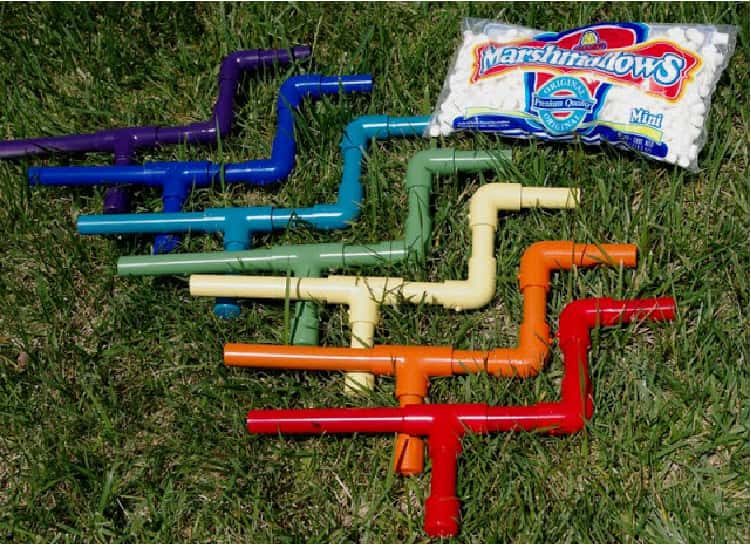 via Happiness is Homemade
14. A PVC Starburst Pattern for The Mirror? Yes, Please!
Do you own one of those plain, circular mirrors? The symbol of simplicity? Give that mirror a revamp inspiration with a starburst pattern made out of PVC pipes.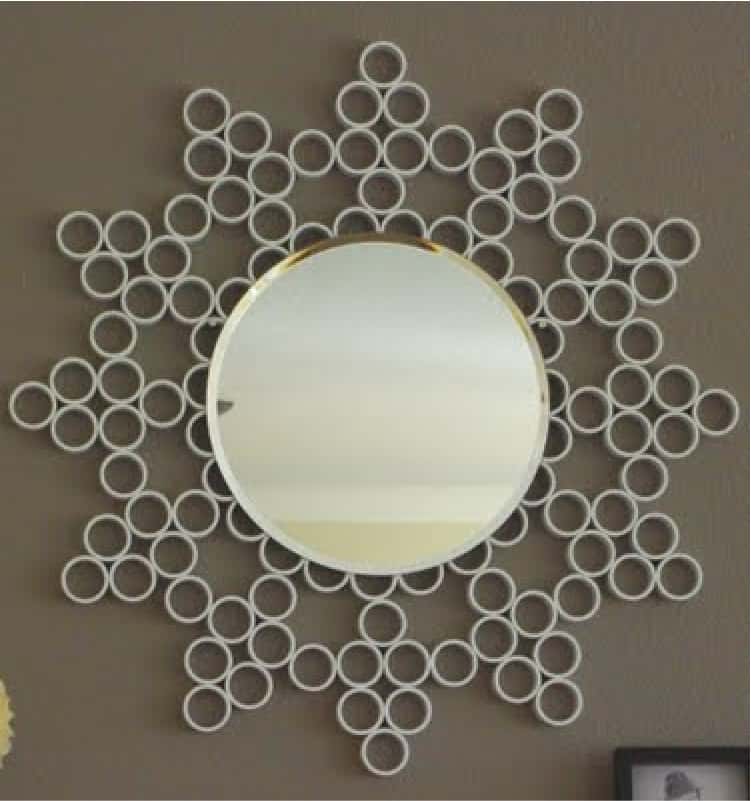 via Happiness is Homemade
15. A Kiddie Sprinkler – a Summer DIY PVC Pipe Project You Need For Your Backyard
Build a kiddie sprinkler out of pvc pipes or pool noodles to ensure the kids stay cool (and busy) this summer. It's always great to be able to keep them playing outside, isn't it?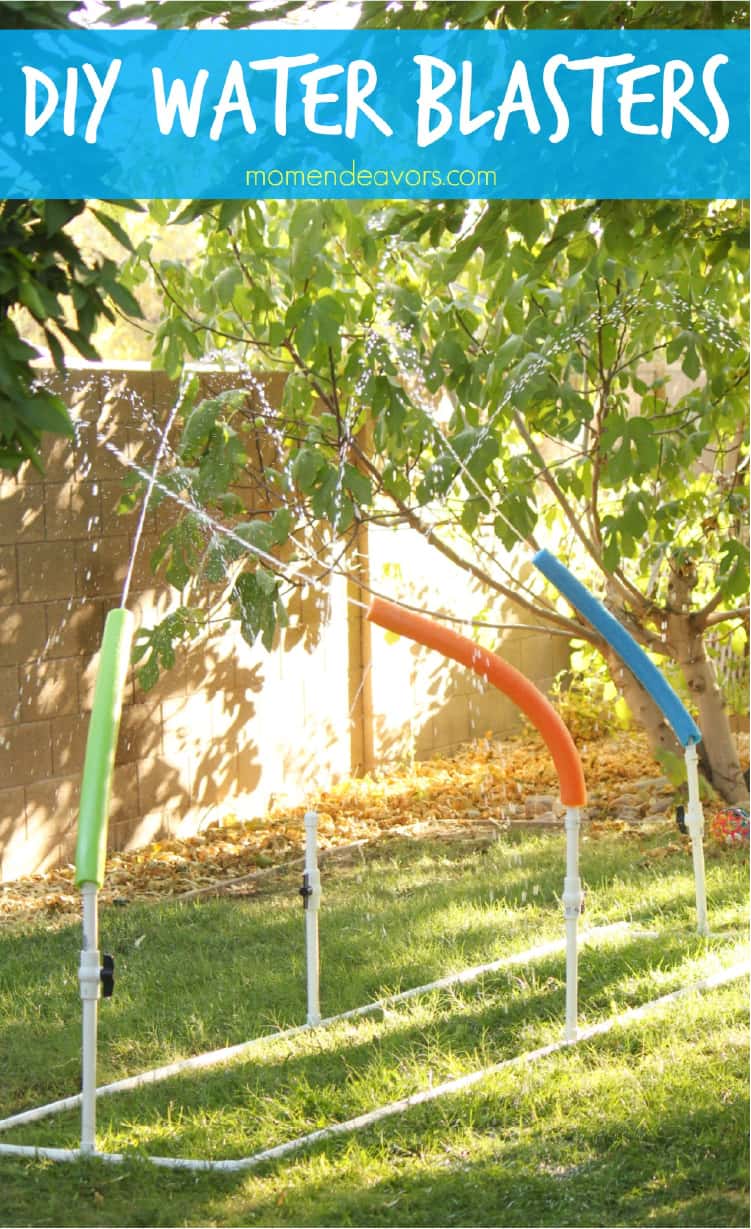 via Mom Endeavors
16. DIY PVC Pipe Kiddie Carwash
Clean up your kids' cozy coupes with this sweet DIY kiddie carwash. What a wonderful idea to use lengths of PVC pipes!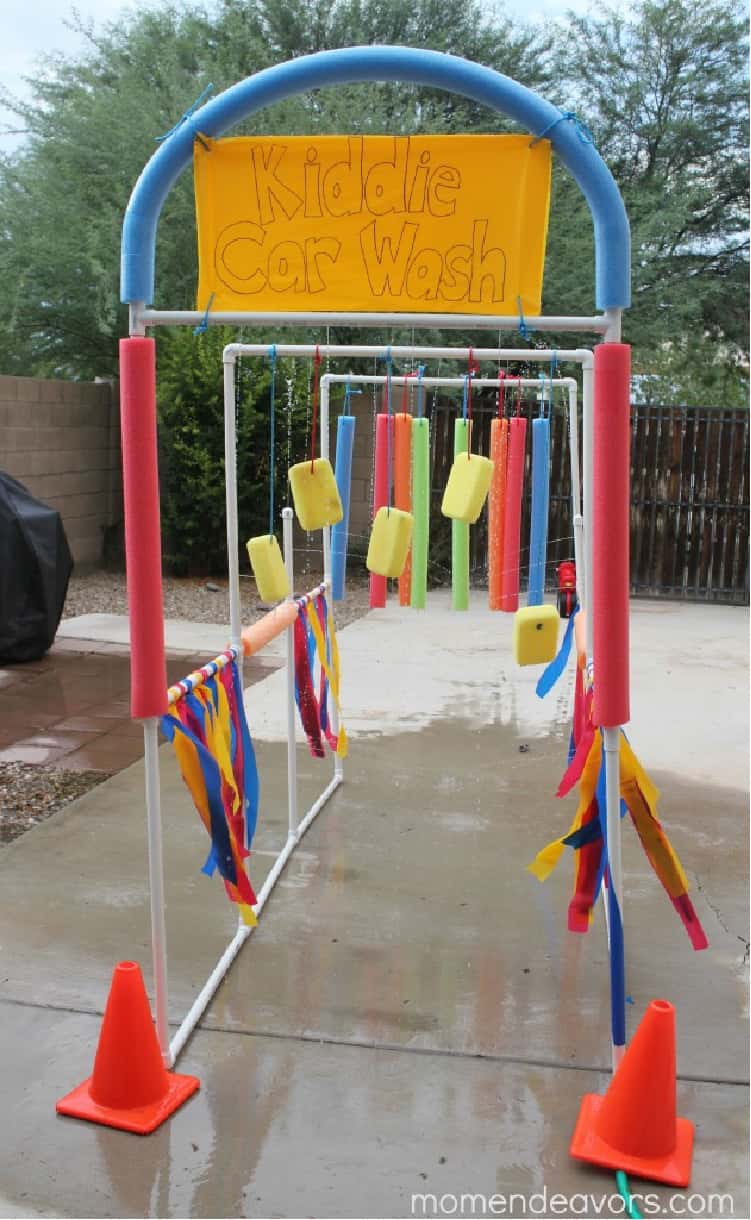 via Mom Endeavors
17. DIY PVC Pipe Bookshelf
If you're like me, you LOVE reading to your kids and you own A LOT of children's books. And if your kids are like mine, they need a designated place to store the books, or they end up everywhere.
To handle this, use pvc pipe and make a little bookshelf. It's the perfect height for a nursery or kid's room. Heck, I'd even love one in the living room. You can paint it a metallic or black color for an industrial look.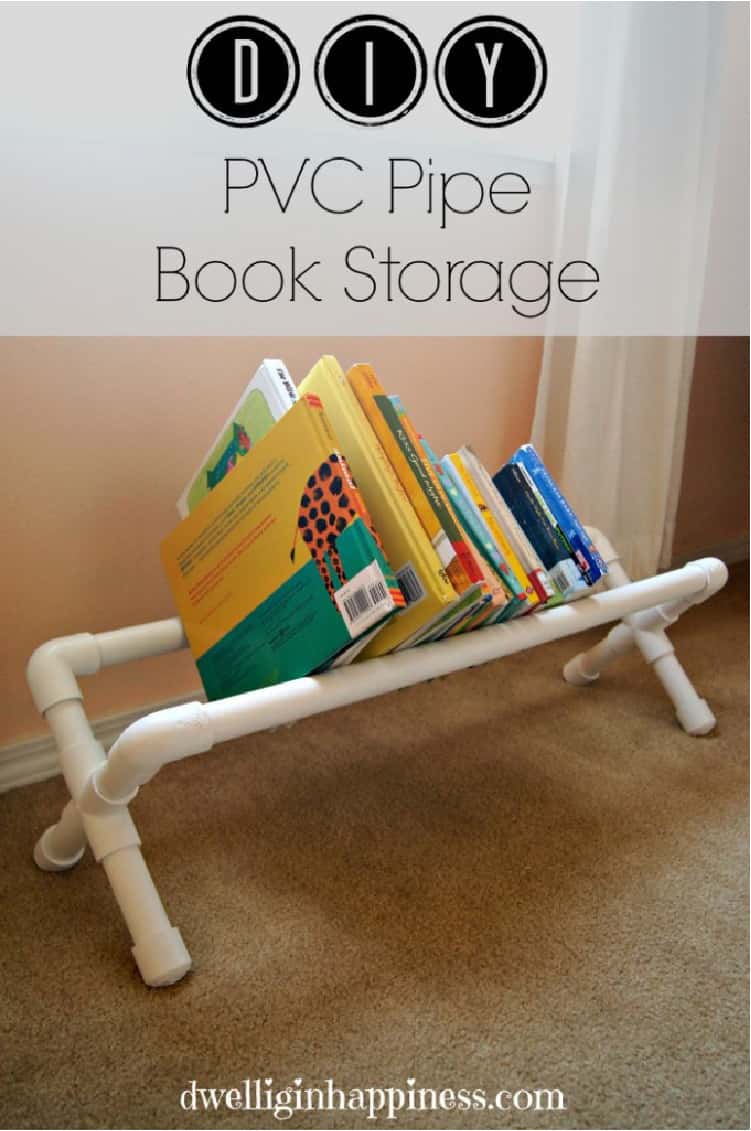 via Dwelling in Happiness
18. PVC Pipe Birdbath
During the hot summer days, the pets in our backyard constantly look for water. If you want to keep the birds out of your plants or swimming pool and help them stay happy and hydrated, make a birdbath made out of PVC pipe and a plastic serving tray!
It's always fun to watch the birds taking a bath or playing in the backyard.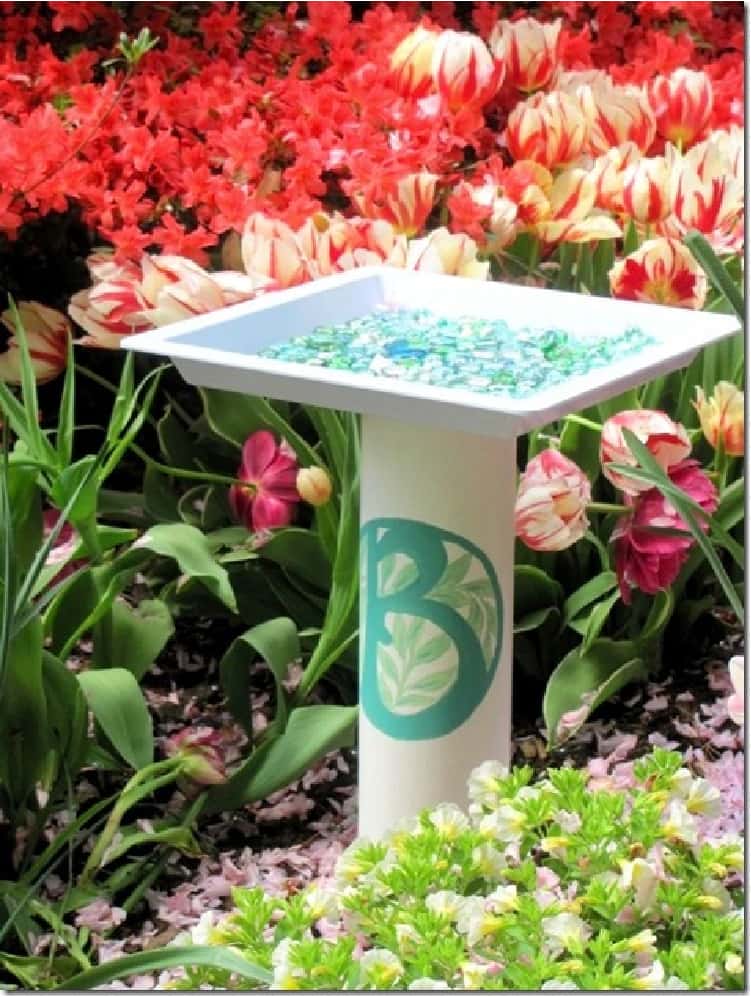 via Crafts a la Mode
19. DIY PVC Overhead Camera Mount
Take overhead shots a little easier now with an overhead camera mount. There's no need for a huge investment, just a trip to the hardware store. Bloggers and crafters, you know how awesome this is!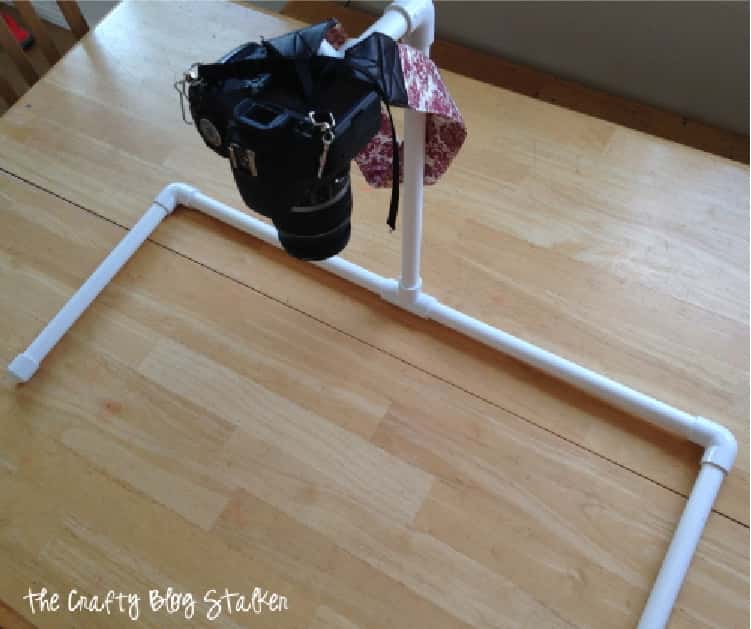 via The Crafty Blog Stalker
20. Genius DIY PVC Pipe Wine Rack Drawer to Store Your Precious Drinks
Fancy up some PVC pipes by turning them into a modern wine rack.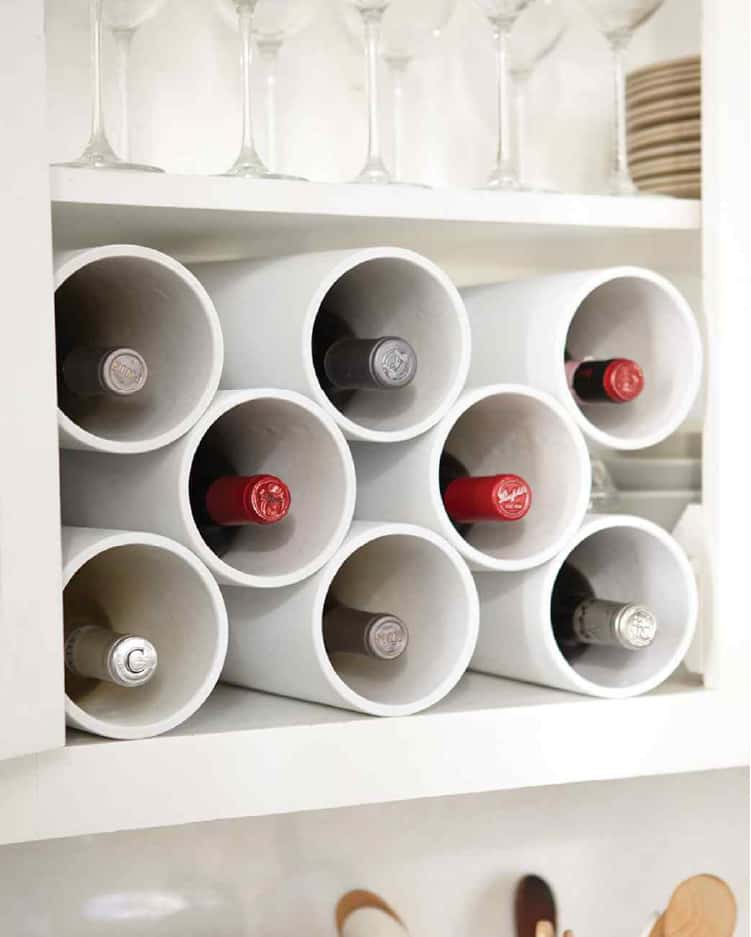 via Martha Stewart
21. Organize Your Craft Room With… PVC Pipes!
Create a tool organizer for your craft room, scarves, socks, undies, knick-knacks, glue, sisters stuff, bathroom stuff… anything really.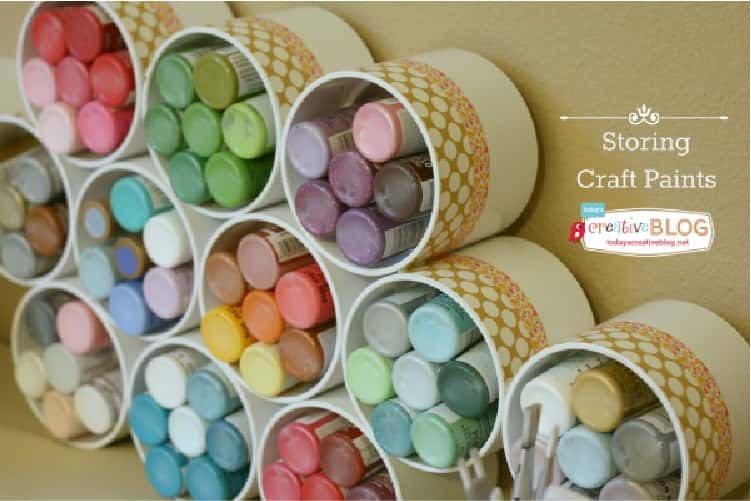 via Today's Creative Life
22. PVC Pipe Flower Vase
Make your mama proud with a PVC pipe bud vase planter personalized with pictures of the two of you. Best gift on the budget for Mother's day!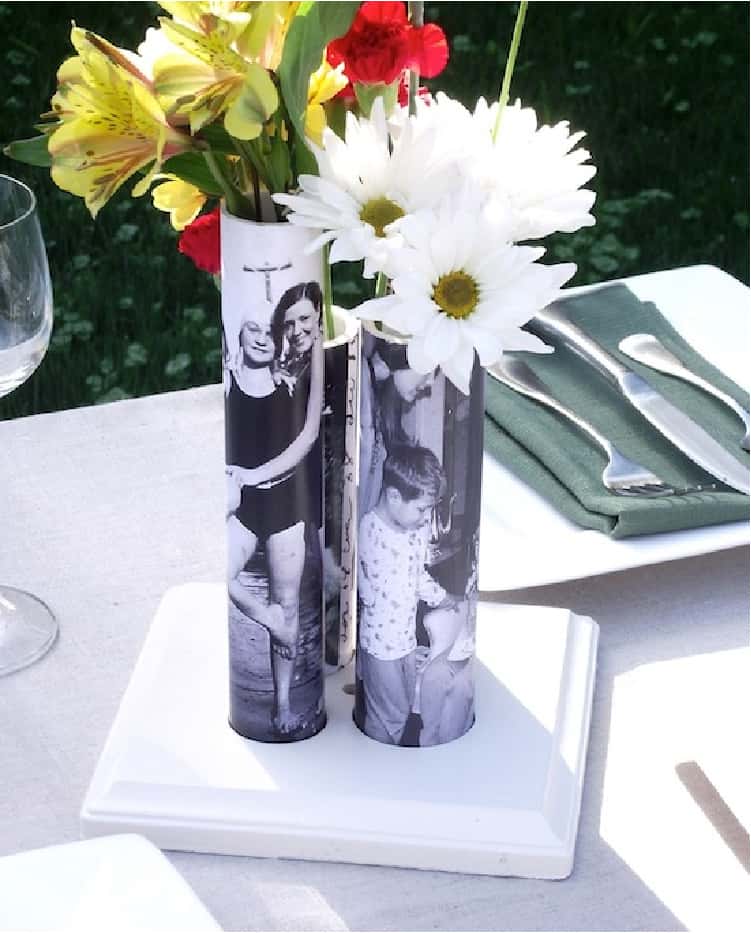 via Mod Podge Rocks
23. PVC Pipe Playhouse for The Magical Playtime With The Kiddos
Be officially declared the coolest parent ever when you build this PVC pipe playhouse.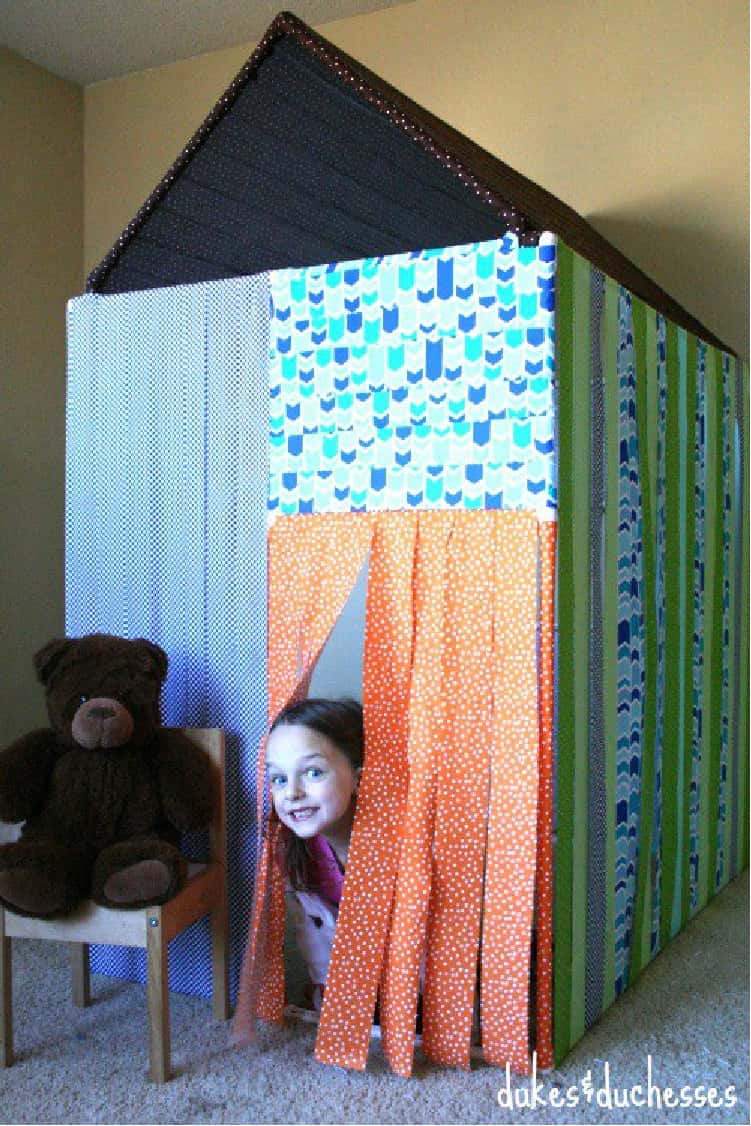 via Dukes and Duchesses
24. PVC Pipe Serving Station
Make a serving station to use when you're entertaining guests outdoors. The best part – they're super easy to clean!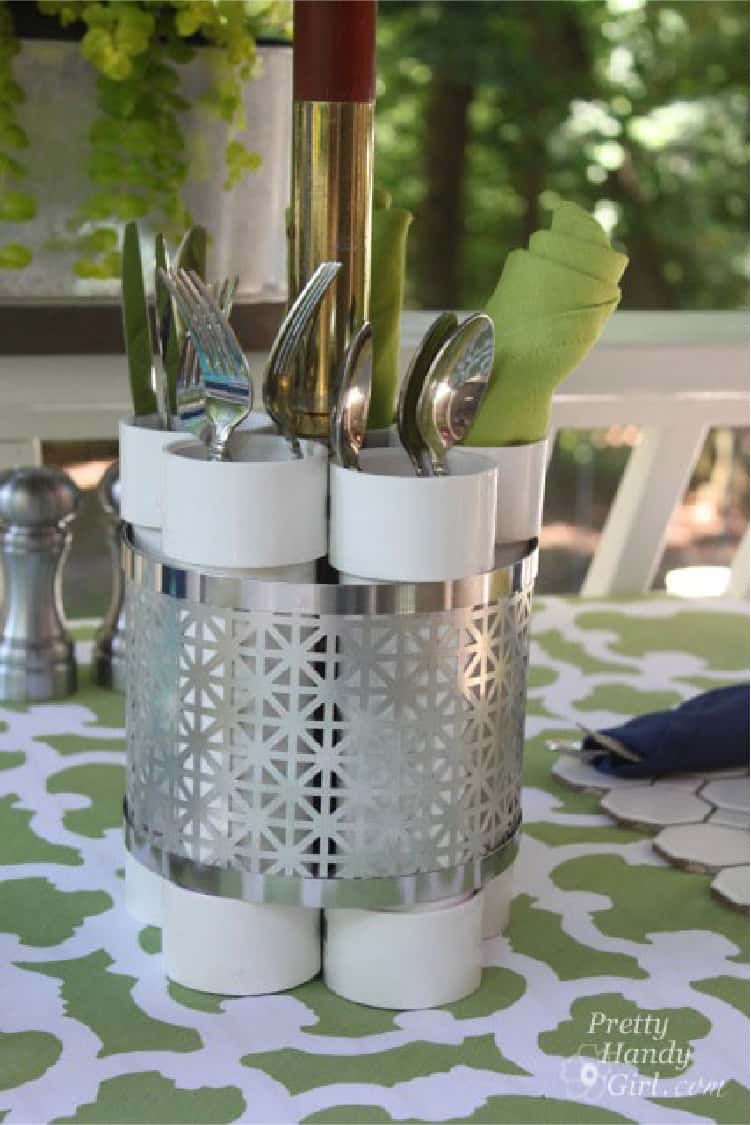 via Pretty Handy Girl
25. Genius PVC Hair Dryer Stand
Keep your hair styling tools handy with a PVC hair dryer stand.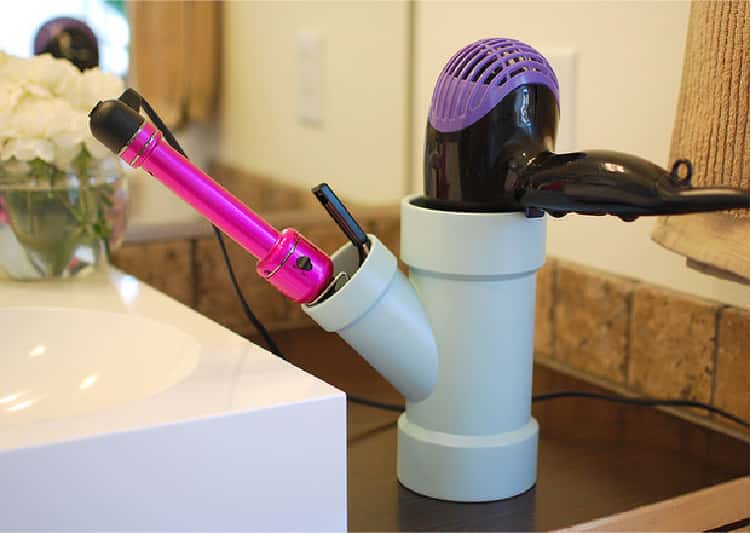 via Decorating Your Small Space
Whether it's for your kids, home, table, yard, or wine storage. PVC pipe is a versatile solution with great potential.
More Fun PVC pipe projects from One Crazy House: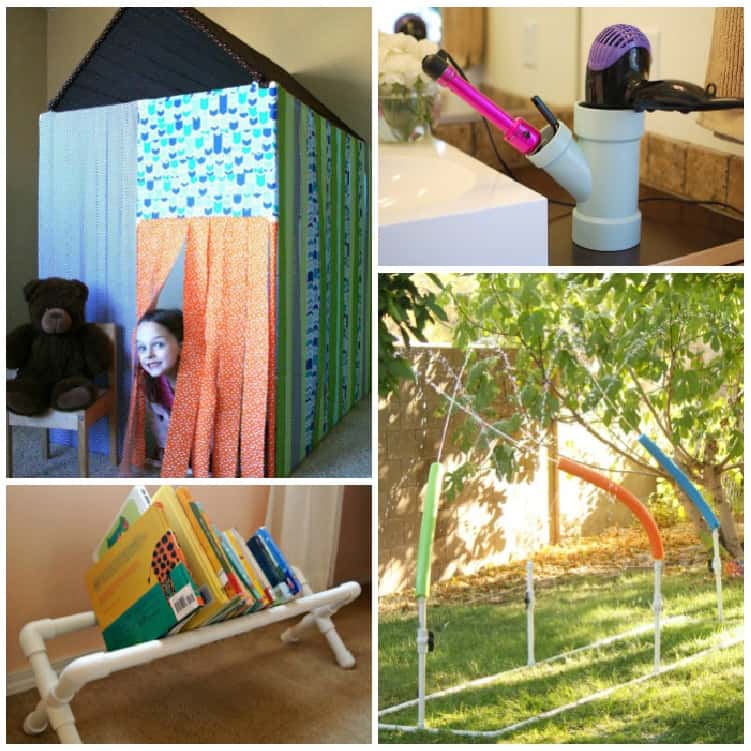 Which of these pvc pipe projects do you like the most? Let us know in the comments!