Love having a clean house? Use these ingenious house cleaning tips to make the job quick, easy, and effective!
Cleaning a house and keeping it clean is a hard job on its own. But, if you add on the pressure of being a cleaning perfectionist (AKA neat freak), you multiply the difficulty of the job by at least 10.
Thankfully, I'm not the only one who struggles with this! If you can relate, you'll love this list of genius house cleaning tips to help you enjoy a neat and tidy home (even if it's only for a few minutes!).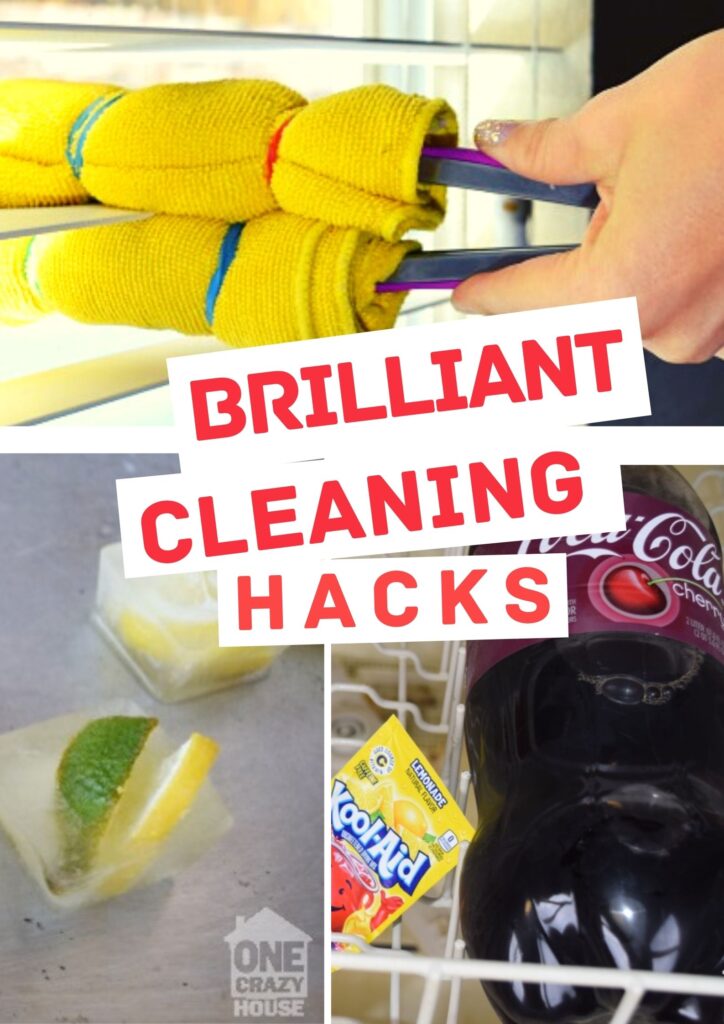 Ingenious House Cleaning Tips Anyone Can Use
As anyone who manages a household can tell you, cleaning CAN take all day- But it doesn't need to.
Here are some brilliant tips on how to clean house quickly – and thoroughly.
1. Get Your Dishwasher to Sparkle with Coke and Kool-Aid
Your dishwasher cleans all your dishes…do you need to clean your dishwasher? Yes, and you'll never believe the best way to do it.
Clean your dishwasher with soda and Kool-Aid. Yep, you read that correctly! This dishwasher cleaning hack WORKS!
A mix or Coke/Pepsi and a packet of lemon Kool-Aid is the best way I've found to scrub down my dishwasher. The phosphoric and citric acid in the drinks will bubble and help break down the deposits from your hard water. Simply mix it up, dip a brush in and scrub! Get the full dishwasher cleaning tutorial here.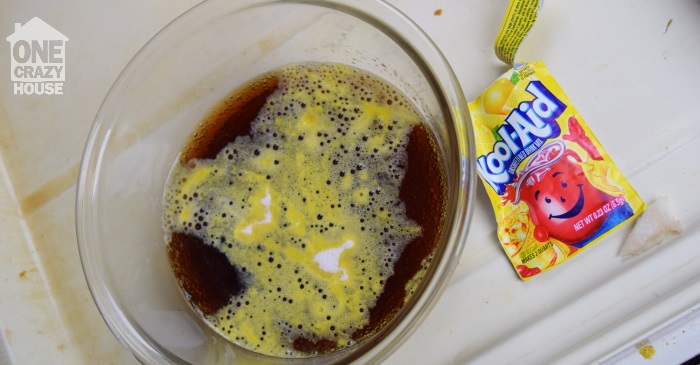 2. Disinfect Sponges in the Microwave
Believe it or not, sponges are one of the grossest items in your kitchen. Zap sponges in the microwave for 2 minutes on high to kill 99% of germs. Easy-peasy!
3. Making Cleaning Window Blinds Nearly Effortless
Use tongs and microfiber cloths to clean your blinds. Seriously, you'll wonder why you ever tried it any other way! This genius method for cleaning blinds really works!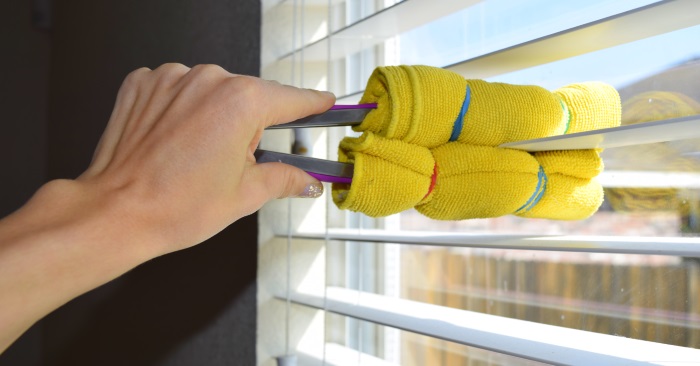 4. Make A Glass Top Stove Look New
My glass stovetop used to drive me CRAZY but I finally figured out the solution to get it gleaming again – and it's so simple! All you need is baking soda and some hot soapy water.
Sprinkle the baking soda over your stovetop, then dip rags in hot soapy water. Ring out the rag a bit so it's still wet but not dripping, and place the rags over the baking soda. Let it sit for 10 minutes or so, and wipe your shiny stovetop clean!
5. Get the Cleanest Grout You'll Ever Have
Grout cleaner not doing the job? Opt for toilet cleaner instead! Just fill this in the grout lines, let it sit 10-15 minutes, scrub it, and then clean it up. You'll be amazed at the difference!
6. Say Goodbye To Your Stinky Disposal
Clean and deodorize the garbage disposal with this DIY cleaner to make it smell AMAZING! We tried this after leaving fish in the disposal overnight (pew!), and it worked like a charm.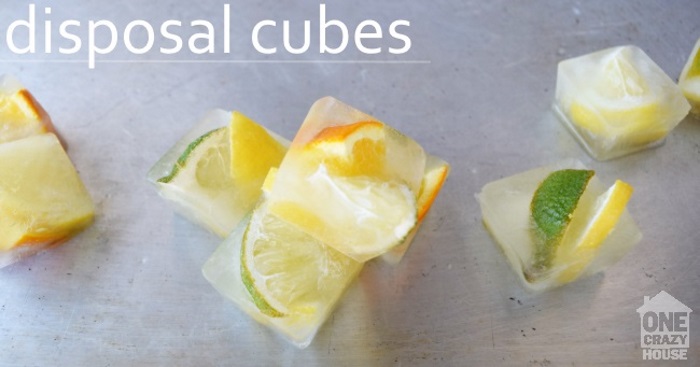 7. Degrease Those Kitchen Cabinets
Over time, kitchen cabinets collect grease and grime from cooking and food in the kitchen. And it can be a nightmare to clean off. Thankfully, I've figured out the way to get it done fast!
Clean grease off of wood cabinets easily with this mixture of vinegar, olive oil, and water. This post shows you exactly how to degrease your kitchen cabinets and make them look new.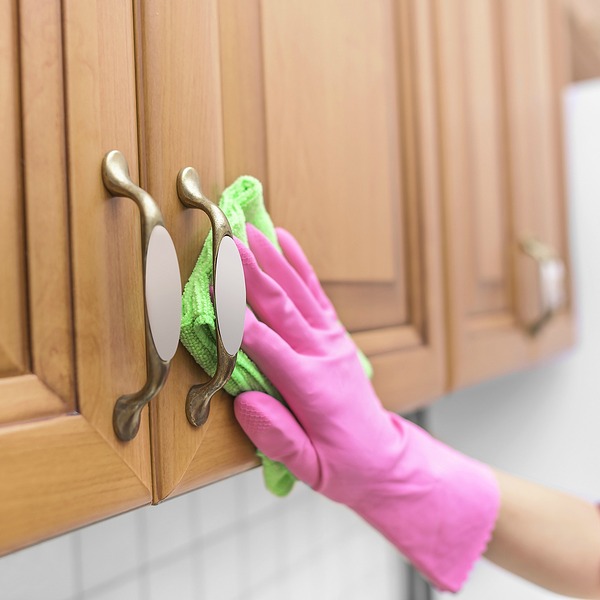 8. Make Stainless Steel Sparkle with Cream of Tartar
Believe it or not, a mix of cream of tartar and water is by far the most effective solution I've found to make stainless steel appliances gleam.
Mix cream of tartar with water until it has a milk-like consistency. Then, dip in your sponge and wipe down your appliances.
If you are looking for more tips on cleaning your kitchen, check out this post on how to clean your kitchen in 22 steps.
9. Utilize Common Items You Already Have
You won't believe how powerful common kitchen ingredients can be for cleaning. Baking Soda and Vinegar can get SO much done with little effort and is one of my favorite tips for cleaning house.
10. Clean That Nasty Vacuum Filter
Fed up with a stinky vacuum filter? Toss it in the dishwasher to get it nice and clean! Make sure not to put any dishes in with it, though (eeeeew).
11. Make a DIY Shower Cleaner Wand
Fill a dish wand with dawn and vinegar to clean your shower. You can even clean it while you're in the shower… What could be easier than that?
12. Shiny Faucets Galore with Wax Paper
Want your faucets to gleam? Simply rub wax paper over your chrome faucets after you've cleaned them to make the shiny surface more resistant to water stains.
Wax paper is seriously underrated – it can do all kinds of neat things! Here are 16 brilliant ways to use wax paper!
13. Don't Let Mold Grow on Your Toilet Brush
Pour a small amount of disinfecting cleaner into your toilet brush holder to keep it smelling nice and to help keep germs at bay. Plus, it makes grabbing the toilet brush for a quick swipe that much easier since the cleaner is already loaded!
14. Squeaky Clean Window Tracks
Clean window tracks like a pro with this technique. You'll need an old toothbrush, baking soda, vinegar and a butter knife!
15. Clean The Buildup Off of Your Shower Head
Use a rubber band to tie a baggie of white distilled vinegar around your shower head. Allow it to sit overnight. It'll get rid of all that gunky buildup by morning! Make sure to run the shower for a minute or two once you remove the bag to remove any excess vinegar.
16. DIY Natural Upholstery Cleaner Recipe that Works
Mix 2 tbsp each of laundry detergent, white vinegar, and baking soda. Add 2 cups of warm water, then use a microfiber rag dipped in the solution to clean your furniture with a circular motion. Learn more at DIY Natural.
17. Clean Out Your Window Tracks
Sprinkle some baking soda into the window tracks. Pour in a bit of white vinegar and let it bubble. Then, grab a toothbrush and scrub. Use a butter knife covered in microfiber if you need to get the corners better!" – all the secrets can be found here. 
18. How to Clean Glass Shower Doors
All you'll need to get the doors sparkly clean are a pair of old pantyhose and a Magic Eraser! First, scrub at old scum using a pair of balled up pantyhose. Then, follow with a magic eraser and your shower glass will shine like new!
19. How To Clean A Top Loading Washing Machine
Run your washing machine on a hot cycle with bleach, but stop it part of the way through so the drum is filled with hot water and bleach. Let it sit a few hours, then a cycle of hot water. Drain, and follow with a hot water and vinegar cycle.
20. How to Clean Your Dryer Ducts
To clean your dryer vents, you'll need to pull it away from the wall, and disconnect the duct tube. Then, use a vacuum with a long hose to clean out the piece connected to the dryer and the piece connected to the wall.
Even if you aren't a self-proclaimed neat freak, these house cleaning ideas will help you clean at least a few areas of your home in ways you never thought of before. Give them a try!
Did any of these tips surprise you? If so, which ones?