This Crock Pot rotisserie style chicken can be made any day of the week, including your beloved weekends. You can cook nice and slow all day long, or do a quicker cook time and have it ready in around four hours. This Crock Pot rotisserie style chicken is very moist and flavorful, and is great for a no-fuss meal.
As a busy mom, I don't always have the time to spend an hour cooking each night, so I reach for my Crock Pot and whip up a dinner option like this. I served mine with some homemade dinner rolls and a side of green beans. For dessert, I just pulled out some mini drumstick ice cream cones out of the freezer, and my whole family was happy.
I chose to cook mine for 8 hours over the course of the day as I knew I would have time to do it first thing in the morning. Then as I tackled my day I began to smell that amazing bird cooking away. It really added a scrumptious aroma to our entire home. My tummy began growling as it got closer to being done.
Crock Pot Rotisserie Style Chicken a Perfect Meal for Busy Weeknights
I will say using your Crock Pot for a roasted chicken really leaves you with a tender and juicy whole chicken. Add whatever side dishes you want, and your dinner is fit for a king! I did wad up 4 aluminum foil balls for my bird to sit on. This helps it from completely soaking in the liquids it will create as it cooks. My bird was a bit too big for my Crock Pot but I made it work, and in the end, I had a super flavorful and moist chicken to serve my family.
 Ingredients For Your Crock Pot Rotisserie Whole Chicken
1 whole chicken
1/2 tsp of Himalayan Pink Salt (Can substitute regular table salt)
1 tsp dried parsley flakes
2 tablespoons Greek Seasoning
1 tsp Paprika
Tin Foil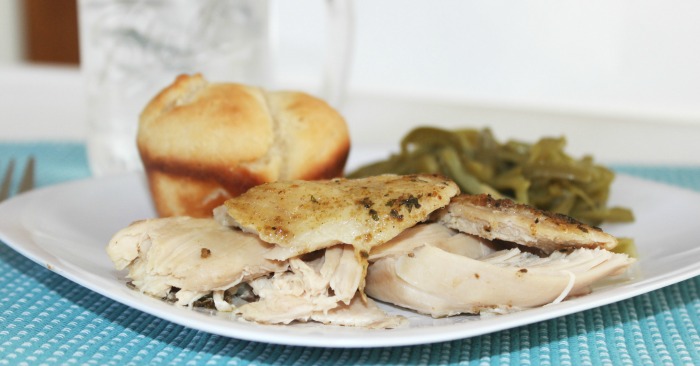 How to Make Crock Pot Rotisserie Style Chicken
First, you want to clean out your bird if it has anything inside, and pat it dry. Then set it aside.
In a small bowl mix all of your seasonings together.
Grab your tin foil and roll up 4 small balls and place it in the bottom of the Crock Pot. You will use this for your bird to sit on.
Then take your seasonings and lather your chicken up all over and really rub those seasonings in. You can even do the inside of your bird for added flavor. Now, depending on the size of your bird, you might need to make another batch of seasoning, in case what you have isn't enough.
Then put your whole, seasoned chicken into the Crock Pot and turn on low for 6-8 hours or on high for 4-5 hours. Make sure the internal temperature reaches 180 degrees. Then slice it up and serve to the family and/or guests.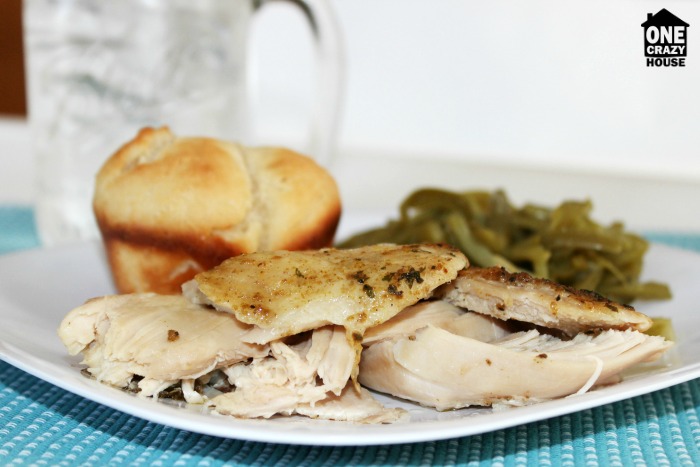 As you can see this Crock Pot rotisserie style chicken recipe was a breeze to make, and you can come home after a long day at work to supper ready. I have loved using the leftovers for chicken salads, chicken quesadillas and tonight on the menu is a chicken noodle soup. You can use the chicken in a variety of ways so it doesn't seem like you are eating the same meal over and over again, which I love. Plus it saves me time from having to cook an entirely new meal each night! Happy cooking and enjoy!