Tips to stay cool this summer, because by the time the "dog days" of summer roll around, you probably want nothing more than to jump headfirst into a cold pool, right? But… what to do if you don't have one, or don't have access to one? There are plenty of ways to get wet and stay cooled off that don't require a pool and help in preventing heat exhaustion, heat stroke or any heat-related illness.
Check out our collection of some of the best ways to stay cool in the heat of summer without a pool – you'll feel cooler just thinking about these ideas! If you're lucky enough to have one, check out our can't-miss post on pool hacks.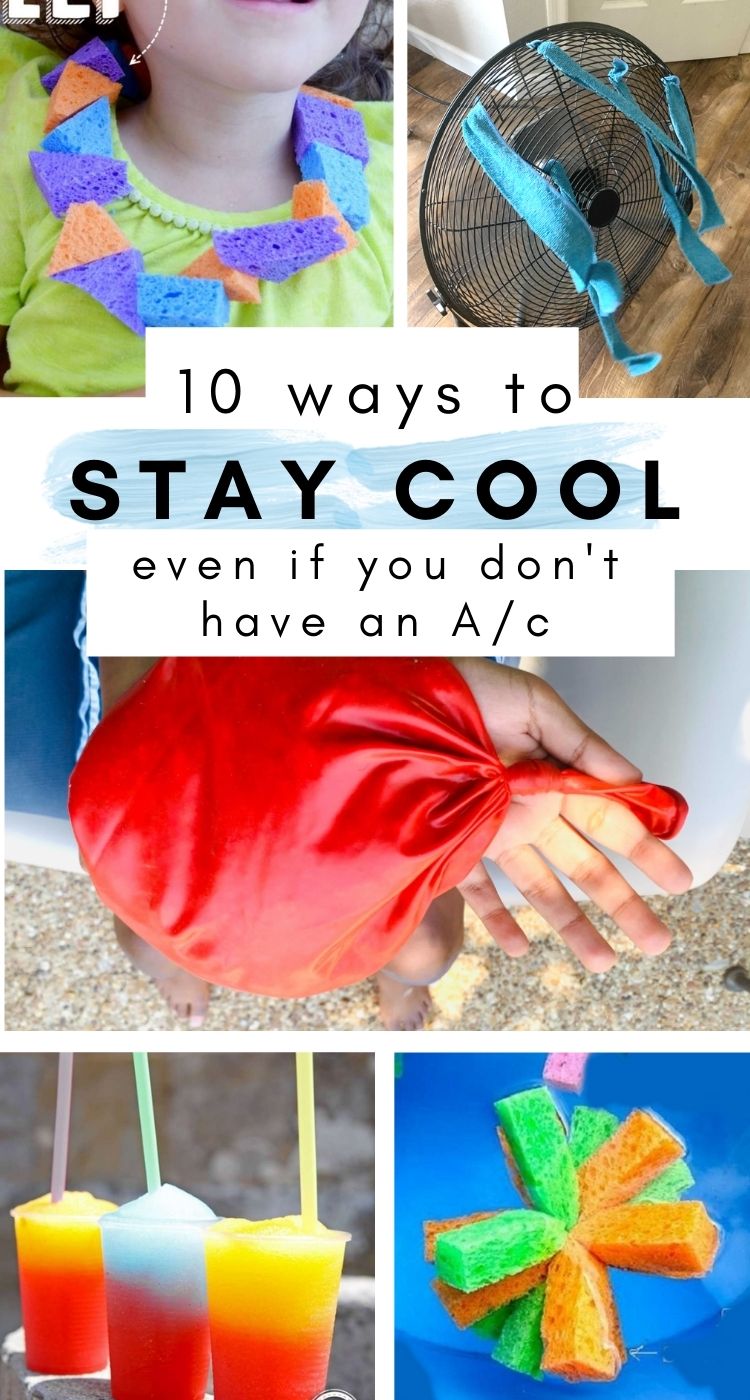 Brilliant Ways to Stay Cool This Summer
1. Create a Fan Cooler to Stay Cool This Summer
If your AC units or exhaust fan just can't keep up with cooling the house in the heat, or even if your air conditioner is broken, this hack REALLY works and will lower the temps in your room.  So what do you need to create your own fan swamp cooler??
An absorbent rag.
Large Fan
Bowl of Water
Peppermint Essential Oils (optional but feels oh. so. fresh!)
Cut the rag into strips. Fill your bowl with cool water and add a few drops of peppermint oil. Soak the rags and then affix them to the front of a fan – when you turn the fan on the air will cause evaporation to happen in the strips, lowering the temperature in the room. When your fan strips are dry, wet them again to keep the cooling process alive and well. You will be shocked at how well this works! Give it a try on your ceiling fans too!
I am in Texas and we have even survived days without an AC using this hack! Placing a bowl of ice in front of your fan does the trick too!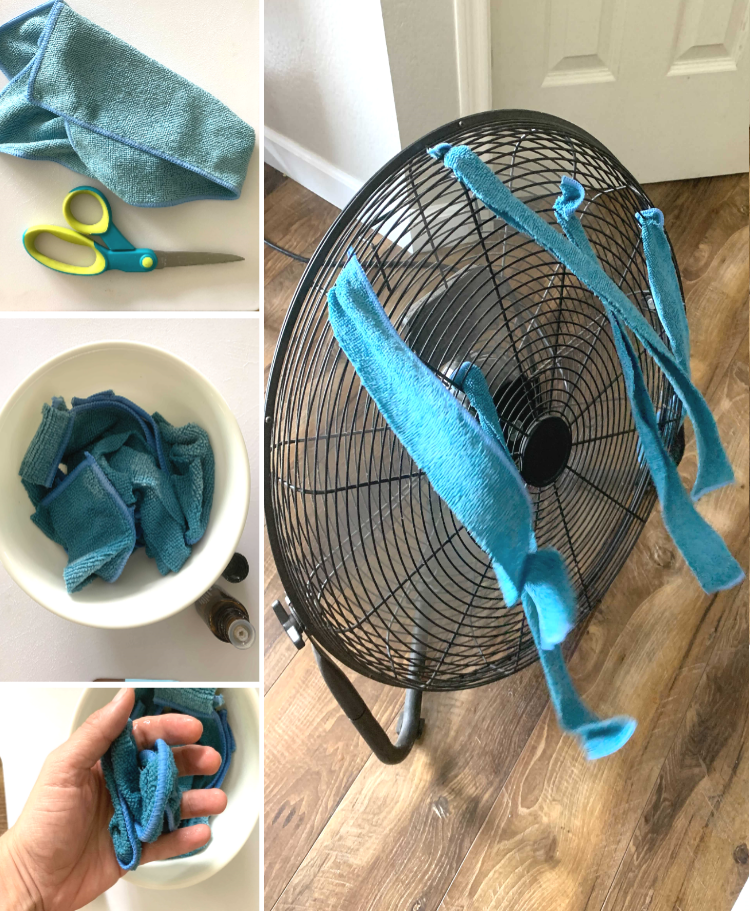 2. Make a Sponge Lei to Help Kids Stay Cool this Summer
Don't sweat the summer away! Stay nice and cool with this easy DIY sponge lei. Simply cut up a sponge, run some string through it, and wet it as needed to wear around your neck and keep you cool. Genius! This is great for hot summer parties as well as playground afternoons. Don't forget to stay hydrated while you are out in the summer sun having fun!
Use different colored sponges for each member of your family, or mix up the colors of the sponges on each necklace! Remember to dip the sponges in water and wring them out. If you leave the sponges soaked, your kids will end up soaked. Just a bit of dampness on the sponge is what you need to get this hack to work!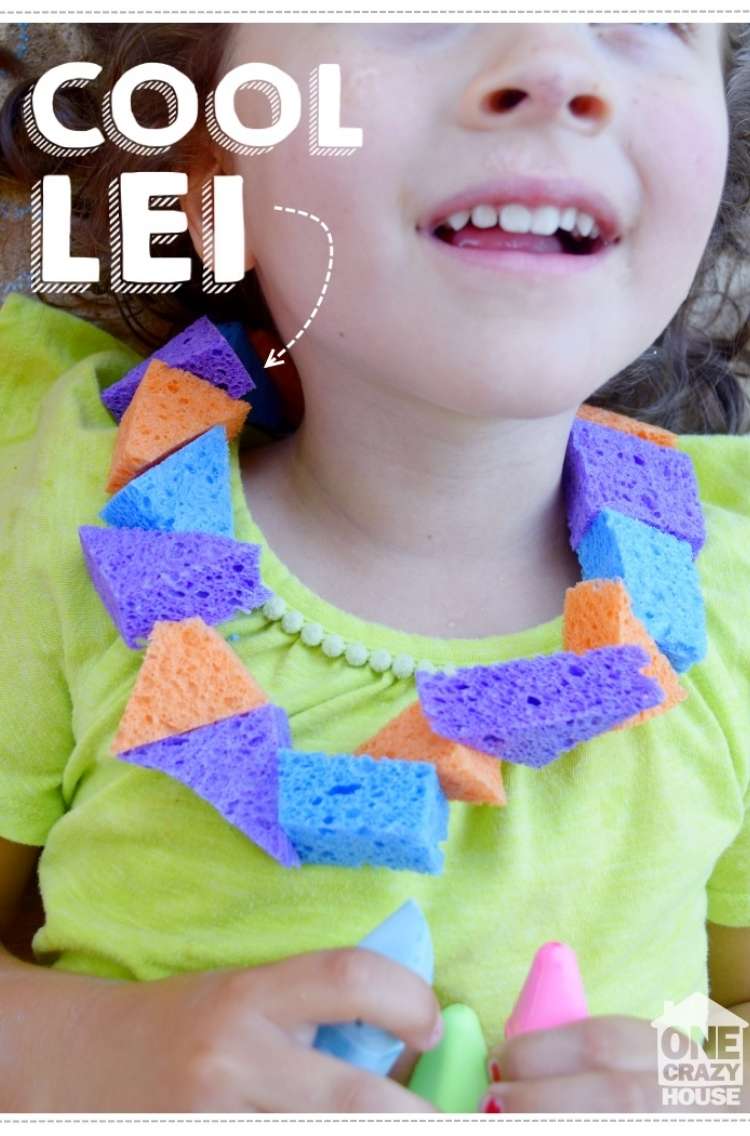 3. Create a Homemade Ice Pack to Stay Cool this Summer
Make your own homemade slushy ice-pack to carry with you on hot days, especially with higher temperatures. When needed, pull it out and place it around the back of your neck, temples, wrists, knees, ankles and other pulse points or even just hold it for a while! You can make different sizes with different sized balloons or even Ziploc-style bags (snack, sandwich, quart, gallon, etc.). When it melts, just throw it back in the freezer and it's ready to use again in a few hours. This is a great hack for the cooler at the beach, too, or to use for camping. The bigger blocks of ice can stay colder, longer than regular ice cubes, and there's no mess to clean up since the water is contained.  We prefer balloons as they do not easily burst and they expand and contract along with the ice pack, making it more leak-proof.
How do you make it "slush" and not a solid block of ice??
Fill your balloon with goop – yup, slime.  Then stick it in the fridge. You don't need it to even freeze for it to work!!  And it retains cool temperatures for a long time!!
Don't have goop handy?? Mix water with rubbing alcohol. It will not fully freeze due to the alcohol content.  Meaning your package will be more moldable.
OR!!  Try soap.  Yup.  Regular handsoap also has a consistency that makes it perfect for homemade ice packs.
4. Stay Cool this Summer with Homemade Slurpees
Slurpees, slushies… call them what you like, but summer just isn't summer without a fruity, icy Slurpee. Here are 5 homemade Slurpees to try when the heat starts to rise. But the fun part of this is getting creative with your add-ins!
Kool-Aid Slushee
Slushee with Ice Cream (yum!)
Healthy Strawberry Lemonade Slushee
Strawberry Lemonade Slurpee (Use a packet of lemonade Kool-Aid instead of fresh lemonade)
To make your Slurpee, grab your favorite flavor and add that to 2 cups of Club Soda, along with 1/2 a cup of sugar and 2/5 cups of ice. In your blender, mix the sugar, Kool-Aid (or whatever you are mixing in), and half of the club soda. Then add the ice and blend, and finish off with the last cup of club soda and mix. If you would like to make it thicker, put it in the freezer for about 30 minutes.
Is it just me, or do these sound like they would make amazing adult beverages, too? Hey, adults gotta keep cool, too, right? Don't these just look like they would make you feel like your on vacation holding it?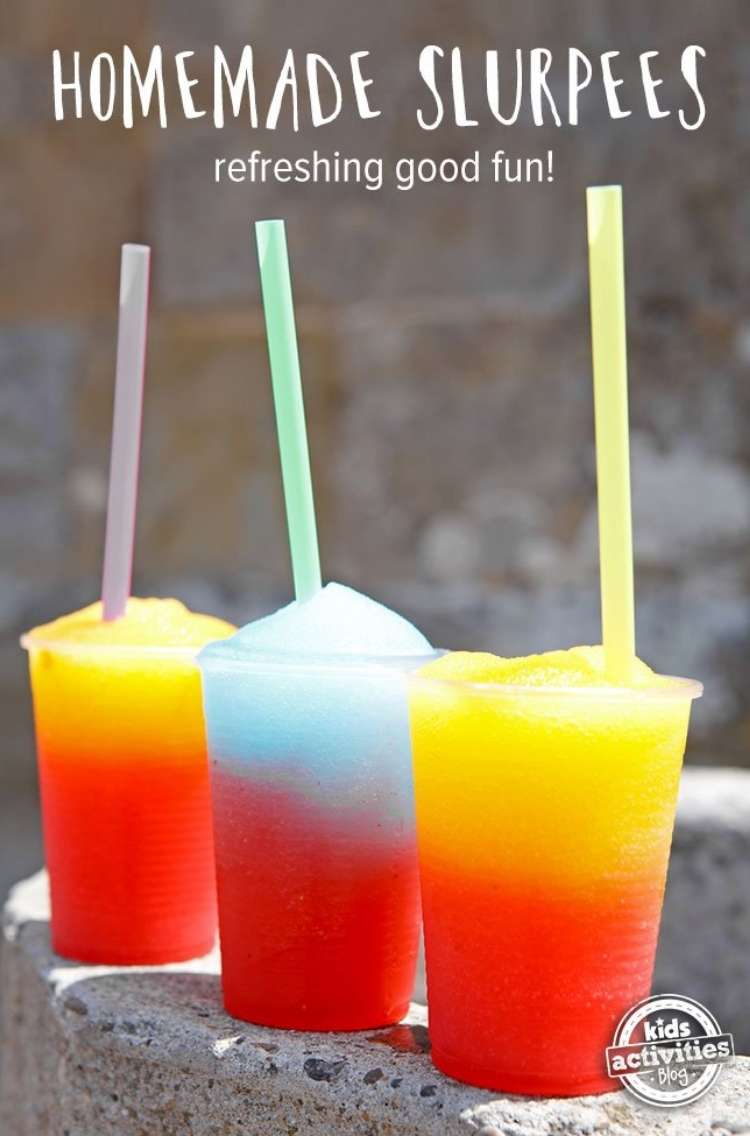 5. Make Sponge Water Bombs to Have Fun Staying Cool this Summer
These sponge water bombs are colorful, hold tons of water, and just scream summer. Make a good handful and toss them around with the kiddos, or just use them to cool yourself off while hanging out outside.
Simply grab some sponges from your favorite dollar store, cut them into strips, and then tie them together in the middle! Make sure you buy the sponges WITHOUT the scratchy side to keep things light and fun.
Source: positivelysplendid
6.Stay Cool this Summer with Delicious and Cool Fruit-Infused Water
We all know that good hydration and keeping electrolytes level in summer is absolutely imperative, but if you get bored at the thought of plain old water, give fruit water a try. You can really create any recipe you like – anything that sounds good, throw in a cold water bottle and go! The longer the fruit soaks, the more infused your water will taste. You could even freeze some in a water bottle and let it thaw as you go throughout your day.
While drinking this thirst-quenching infused water, pair it up by eating fruits that have high water content such as grapes and melons.
Here are a few combination ideas, but the fun part about this is getting creative with your fruit combinations, so have fun!
Water with Lime slices, Raspberries, and Mint Leaves
Diced Strawberries in water
Water with Sliced Cucumber and Lemon
Raspberries and Lemon Slices in water
Water with Orange Slices, Mint leaves, and Blueberries
Source: popsugar
7. Stay Cool this Summer and Have Fun by Making Your Own Splashpad
The perfect solution for your little ones, or even you and your big ones that you don't want to get covered in grass, this homemade splash pad is a breeze to set up and gives cold shower, and just as easy to clean up when you're done! Make sure you clear the area you will use for the splash mat of any rocks or other sharp objects.
Use the pool noodle sprinkler hack below to create a super splash pad!
Source: 1littledudeand3littleladies
8. DIY Your Own Sprinkler From a Pool Noodle (or four!) to Stay Cool this Summer
This idea is about as easy as it gets, and has a huge wow factor. Your kid will love it, and you can enjoy a cool sprinkling of freshwater anytime by just jumping through it or turning it in your direction.
Use duct tape to connect more than one pool noodle to create different shapes. You can use a simple skewer or an ice pick to make the holes in the pool noodles. When hanging your new sprinkler, make sure you use a very steady branch as the water flowing throw it will make it very heavy, especially when you attach several pool noodles together.
Source: ziggityzoom
9. Stay Cool this Summer with Sweet and Tart Summer Inspired Popsicles
There are TONS of ideas for popsicles out there that just SCREAM summer! Give these a try – the combination of tart lemonade and sweet berries is the perfect summer treat, and they look as refreshing as they taste!
Another option for a refreshing treat to help keep you cool this summer is to create these with yogurt instead of lemonade. And don't forget to get creative with your fruit choices!
Source: thefirstyearblog
10. Make Water Balloon Pinatas to Help the Kids Have Fun while Staying Cool this Summer
With just a few water balloons and some heavy-duty string, you can have a super fun piñata set up in no time. Take turns swinging at it like you would a traditional piñata, and enjoy the cool, refreshing "prize" inside when you break it! Keep in mind that the more you fill them, the easier they will be to pop.
And after you fill them, make sure that you lay them on a soft surface to keep them from bursting too soon.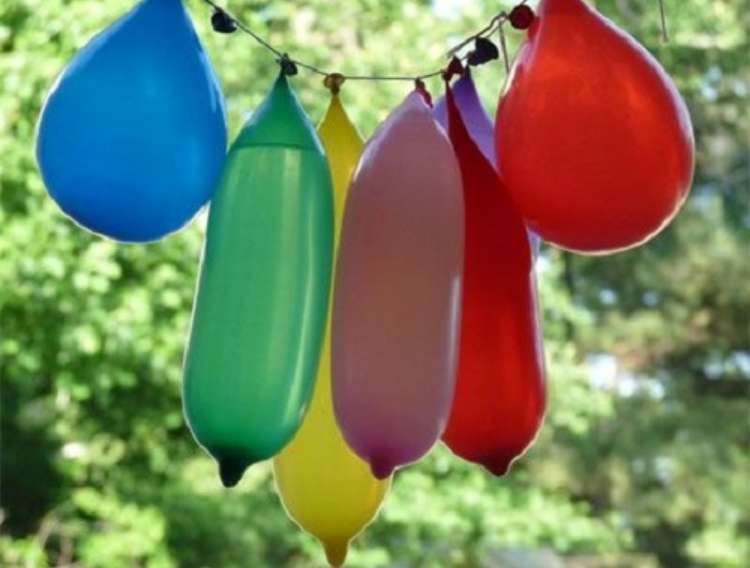 Source: ziggityzoom
11. Create Your Own Spritz, an All-Natural Mist to Stay Cool this Summer
You can make your own all-natural mists by filling an empty spray bottle with water and your favorite essential oils or herbs. Just mist it on and feel refreshed in an instant! You will need about a tbsp of vodka or witch hazel, along with your favorite essential oils and some distilled water.
Source: marthastewart
12. Sew a Reversible Sun Hat to Stay Cool this Summer
One of the best ways to keep the heat at bay is to have a summer hat. Make your own with this reversible, floppy sun hat pattern. The perfect addition to your summer wardrobe!
For this piece, you will need fabric as well as an interface. You cut that out in the shape of the templates and then sew it all together. This is a simple and easy project. I absolutely love the items in my wardrobe that I made myself, don't you?
Source: creativebug
13. Stay Cool this Summer with Fruit Infused Water Bottle Ice Cubes
What better way to stay hydrated and cooled off in the heat than with fruit-infused ice cubes, right in your water bottle? Use a water bottle ice cube tray, fill with fruit and water, then freeze. Slip them cubes easily into your water bottle after they've frozen and you're ready to go!
Source: savoringthegood
As you can see, you don't have to have a pool to get (and stay) cooled off this summer. Which one of these ideas looks the most fun to you?
You will love these other summer tips and tricks:
Which of these ideas do you love the most to help you stay cool this summer?