Appetizers help set your entertaining off on the right foot! If you are planning any parties or summer entertaining consider some of these tasty and easy Italian appetizers. I have gathered 15 recipes that you guys might like to try!
One of my favorites to whip up are toasted ravioli and you can never go wrong with a Caprese salad. If you need some help coming up with appetizers to serve your guest, this list below might help. Don't stop there, here are also 17 more Italian appetizers to look over to whip up.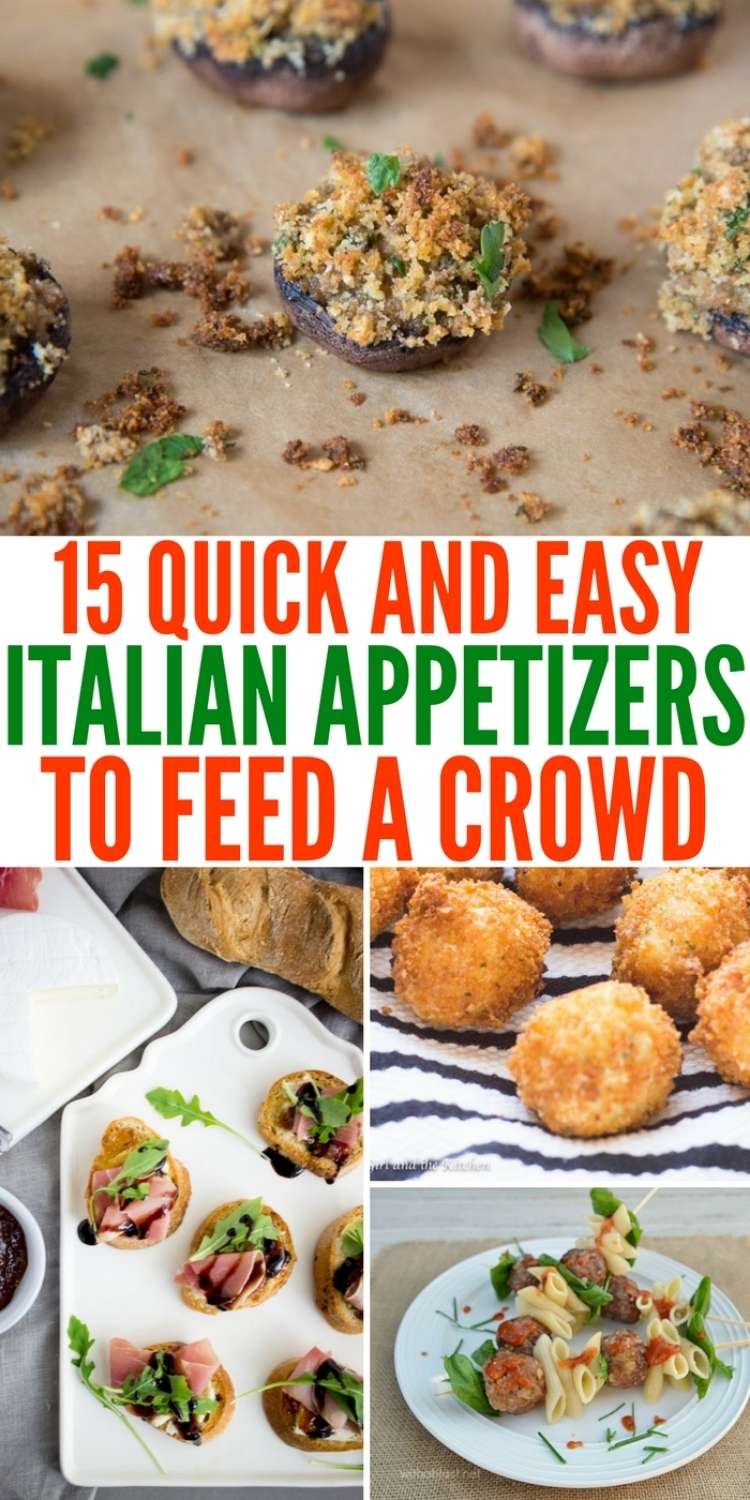 I know for us we entertain throughout the year, but in the summertime, we do a lot more entertaining. With the kids out of school, warmer weather leads us to more time outdoors hosting summer barbeques, pool parties, and more. I always like to have a few appetizers on hand, because when you are having fun and lose track of time, your tummy lets you know, especially with hungry kids around. With these Italian appetizers, I prep ahead of time and then simply pull them out of the fridge and they are ready to be served, easy and quick!
Savory and Easy Italian Appetizers
1. Authentic Italian Appetizers: Tomato Bruschetta
One savory and delicious appetizer is this authentic Italian tomato bruschetta, it is a great way to use up some fresh tomatoes from your garden and create a decadent appetizer to wow your guests. All you need for this simple and impressive appetizer is some tomatoes, fresh basil leaves, extra virgin olive oil, salt and pepper, balsamic vinegar, a clove of garlic, and some Italian Bread. Slice the bread and toast, if desired, then top with the remaining ingredients. You can also add tiny shrimp, fresh herbs, and olives to these to take them to the next level.
2. Apple Polenta Gorgonzola Bites
If you are looking for an affordable option these apple polenta gorgonzola bites are a great option for starters. You get that savory from the gorgonzola and a hint of sweetness from that crisp apple. All you need for this new twist on some classic ingredients is a tube of pre-made polenta, apples, and some crumbled gorgonzola cheese. These delicious bites are inexpensive to make and taste fresh and crisp and delicious. To create the polenta circle bases, simply refrigerate the roll of polenta for about 30 minutes, and then cut slices to create the wheels. These aren't great for making too far ahead of time, but you can make them the same day you will use them and put them in the fridge covered in plastic wrap.
3. Caprese Salad Avocado Toast
You take Caprese salad and up the wow factor with this Caprese salad avocado toast. It is seriously one of my favorite Italian appetizers to make. Two favorites wrapped into one delicious and adorable appetizer with just the right spices!
Toasted baguette bread, avocado, cherry tomatoes, basil and fresh mozzarella make up these bite-sized appetizers.  Drizzle with a little balsamic reduction glaze that you can easily make yourself or you can pick up a bottle at the store, like I did!

Kasey, AllThingsMomma.com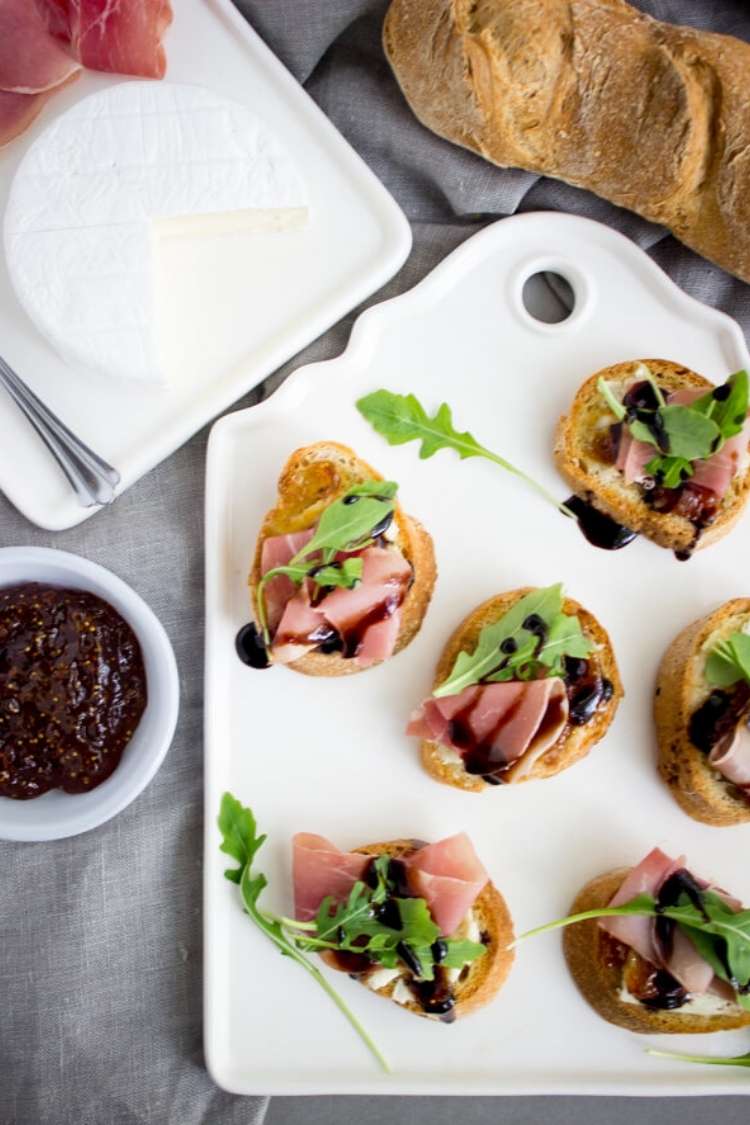 4. Crostini with Fig and Prosciutto
These Crostini with Fig and Prosciutto are truly scrumptious down the last crumb. The crunch factor from the baguette is amazing and these take literally 15 minutes to make. The crunchy bread with hints of sweetness and hints of savory are sure to please any crowd. There's nothing better than a delicious and easy recipe! The contrasting flavors of the sweet figs and the savory prosciutto, and the crunchiness of the toast mixed with the creaminess of the cheese make this the ultimate appetizer.
5. Italian Aperitivo- Platter with Fresh Fruits, Meats, Cheeses, and More
Or if you want to learn how to make an Italian Aperivito you can learn here. This is a platter full of fresh fruit, meats, cheese, and more. You can check if you can add a twist with mozzarella balls, Italian green beans, or Italian roasted cauliflower in there! A great way for guest to create their flavor pairings and it takes 15 minutes to make. This is also a great dish since it can be made ahead of time and stored in the fridge. And you can get as creative as you like with the meats, cheeses, and fruits that you include on your platter!
6. 4-ingredient Caprese Salad Skewers Italian Appetizers
Another really easy Italian appetizer recipes in the menu is these 4 ingredient Caprese salad skewers. Tomato, fresh mozzarella, and basil, and a vinegarette glaze. You can prepare the skewers ahead of time, just make sure that you don't drizzle with the balsamic glaze until ready to serve. You can try if you can serve these as caprese skewers too.
7. Cheesy Vegetarian Stuffed Mushrooms
Stuffed mushrooms are always a huge party favorite! These delicious Italian appetizer stuffed mushrooms have breadcrumbs, cheese, garlic, and seasonings. You can also make this vegan by omitting the cheese. If you prefer to make something with meat, you can also make crab or sausage stuffed mushrooms. You can even reduce the breadcrumbs and add cheddar cheese for a lower carb option. Another tip for the stuffed mushrooms is to use the stems of the mushroom in the filling. This way you don't waste the stems, and it adds extra flavor to your filling.
8. Gluten-free Italian Appetizer: Breadstick Dippers
Here are some gluten-free breadstick dippers (one of the best Italian appetizers, I'd say) that you can serve up with a variety of sauces so you can give everyone a flavor combination they might want. The secret to these gluten-free breadsticks is using gluten-free corn mix! Another option is to use gluten-free pancake batter, which can make more of a biscuit consistency.
9. Easy Garlic Bread Italian Appetizer
I love good loaves of garlic bread, and this easy garlic crusty bread toast is a very creative and tasty appetizer. Serve alone or with a marinara sauce for dipping and you have a simple appetizer. Make the garlic spread by mixing garlic, basil, oregano, parsley, and salt, then sprinkle over buttered bread. You can also mix your seasoning blend into a portion of softened butter and spread it on your toast as needed. Tasty than your regular pizza or pesto to the crust!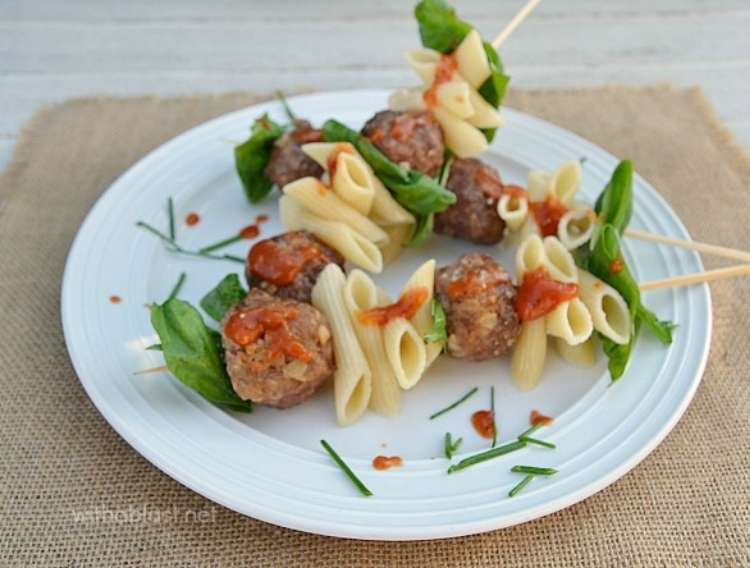 Tasty Italian Appetizers to Spice Up Your Party
10. Italian Appetizers: Meatball and Pasta Sticks
Italian meatball and pasta sticks are a really fun way to serve up an appetizer. They get all the components of a pasta dish without the heavy feeling after. Prepare some penne pasta and meatballs, and then simply put on a stick. Add a meatball, a basil leaf, and 4 penne pasta, then top with sauce and cheese (you can try Italian cheese or goat cheese for a twist). These are adorable and a new and fun way of serving up something we are already used to.
11. Homemade Oven-Dried Tomatoes
Take tomatoes and transform them into homemade oven-dried tomatoes. Use this to top your appetizers or serve as an appetizer as its own for tomato lovers. This is a great way to create your own faux sun-dried tomatoes for snacking or your favorite recipes. This is a perfect partner to zucchini garlic bites or antipasto skewers!
12. Italian Appetizer Tomato Sandwiches
These Italian tomato sandwiches are a perfect bite-size treat to serve up. You have a garlic parmesan spread with tomatoes and parsley on top. The creamy garlic parmesan spread is made from cream cheese mixed with garlic, sour cream, Italian Seasoning, and Cheeses. Refrigerate that for about an hour, then spread on some toasts and cover with tomatoes and parsley. These are great for a light lunch or an appetizer and are super easy to put together and eat.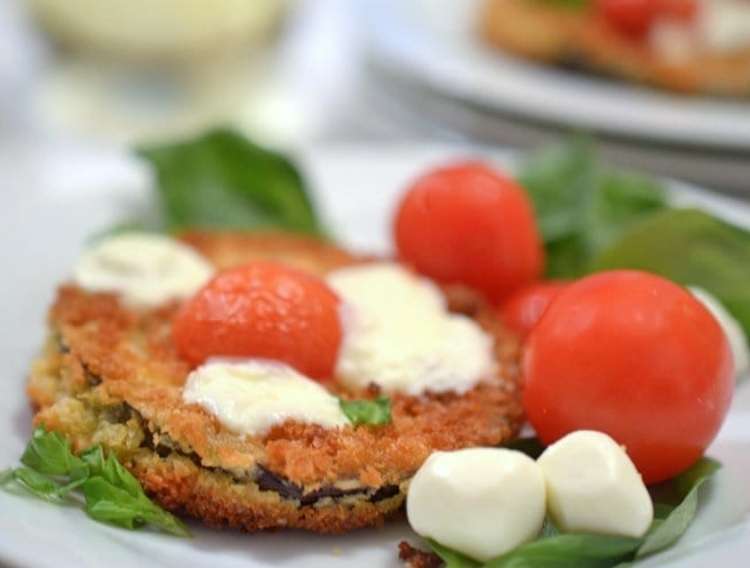 13. Eggplant Bruschetta Sans Bread Italian Appetizer
Eggplant Bruschetta Sans Bread is another great one. You get to incorporate some vegetable into your appetizers and leaves guest reaching for seconds. This appetizer helps cut down on the bread since you use a slice of eggplant instead of bread as the base of the bruschetta. You still use breadcrumbs so it's not totally carb-free, but it's definitely lower carb than the bread version! You bread the slices of eggplants as normal, dipping each slice in egg and then in the flour, and then fry. Then you top that with some cherry tomatoes, fresh mozzarella cheese, and basil leaves for a sweet and refreshing appetizer!
14. CopyCat Olive Garden Italian Appetizer: Toasted Ravioli
Looking for a pasta appetizer, check out this Copycat Olive Garden toasted ravioli. It gives you that crunch when you bite into a filled pasta that is perfect for dipping. It's super easy to make since you start off with a bag of thawed ravioli. Dip them in egg wash and then seasoned flour and fry for a crunch and delicious appetizer. Don't forget the marinara sauce for dipping.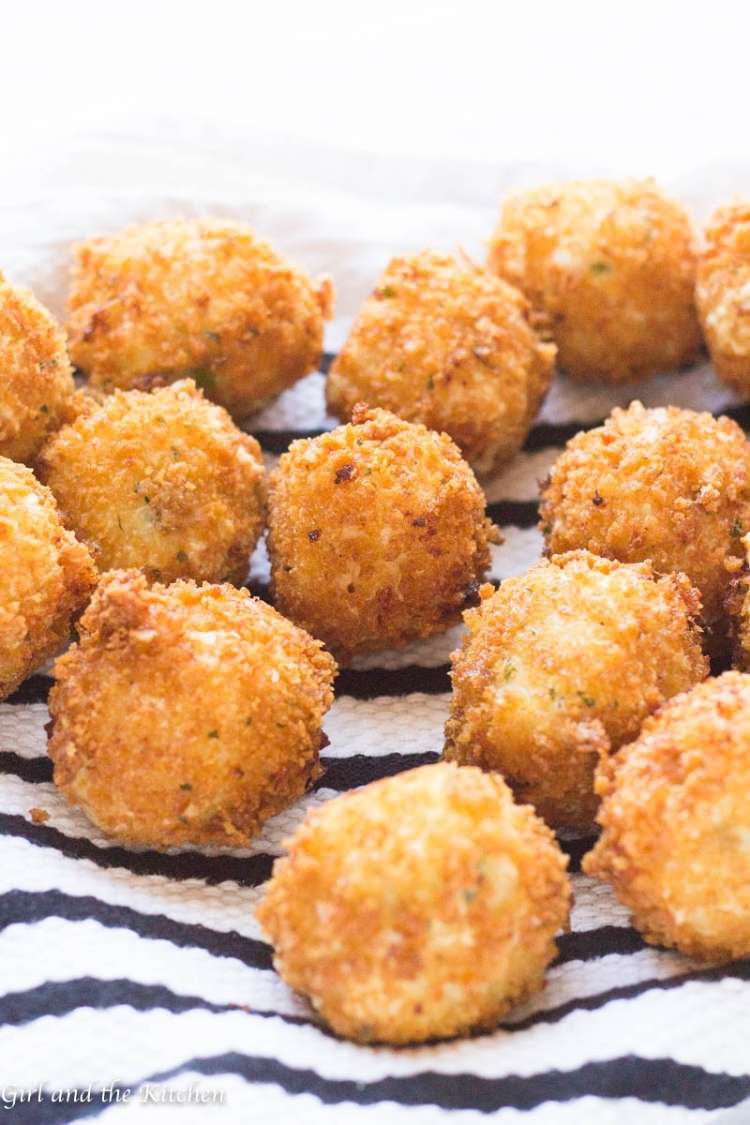 15. Cheesy Italian Appetizer Rice Balls
Italian rice balls are crispy rice balls that are loaded with cheese and perfect for dipping. They are absolutely delicious, make sure to try these out. They are very easy to make ahead, and they also taste great reheated, so have at it! The base of these heavenly cheeseballs is made from super creamy Parmesan Risotto mixed with mozzarella and parmesan cheeses, as well as an egg, parsley, flour salt, and pepper. Once the balls are made, bread them with egg and breadcrumbs and fry until crisp. Serve with plenty of dipping sauces, like marinara and chipotle aioli.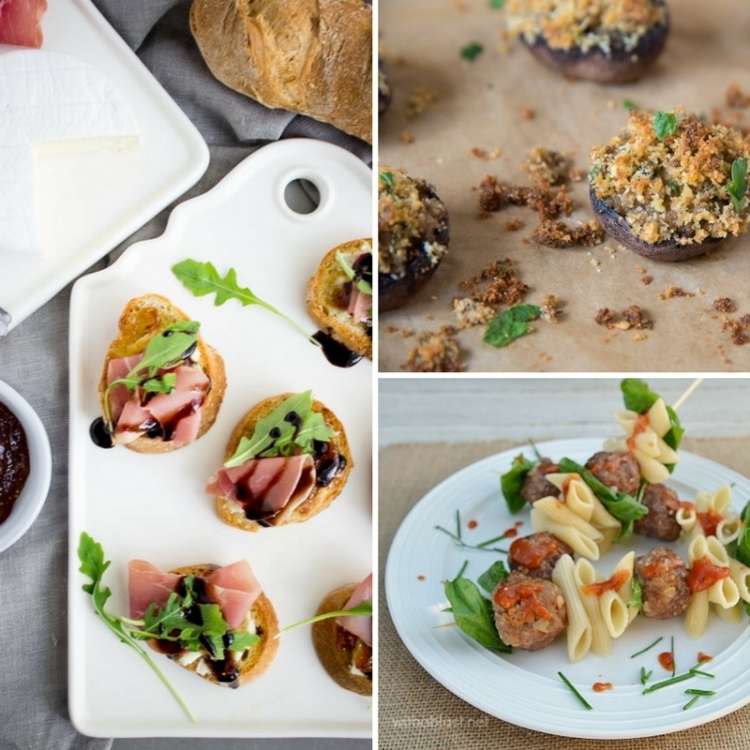 We love appetizers! These Italian appetizers are easy to make and are sure to wow any crowd!
If you loved these Italian Appetizers, be sure to check out these other recipes as well:
What is your all-time favorite appetizer?