Dinner on the grill is great – or even better is eating around a campfire when you are camping, what's even better is when you can get sides on the grill at the same time! These dozen grilled sides can be cooked right along side your chicken or steak. Less dishes and no mess in the kitchen!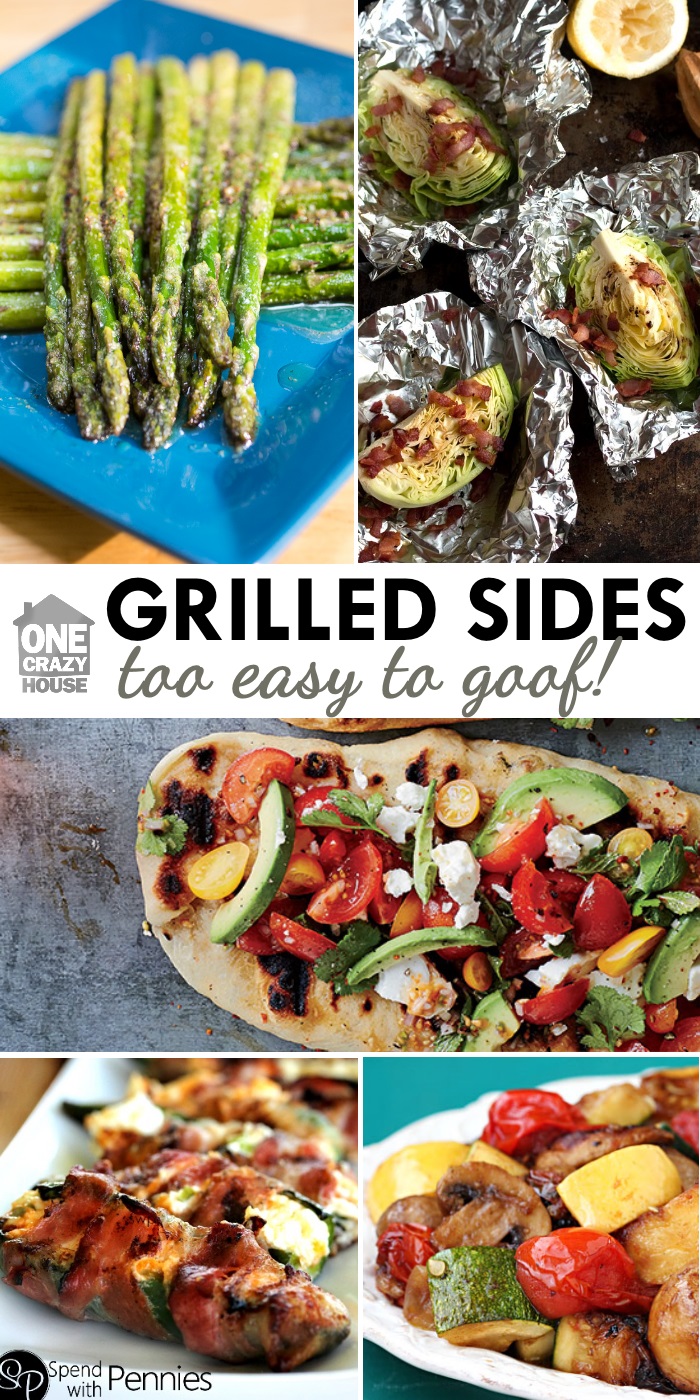 Grilled Veggies
Grilled vegetables are quick, easy, and the grill gives them that nice smokey flavor and pretty grill marks. This is definitely our favorite way of doing veggies at my house.
Grilled asparagus is one of my favorites! It only takes a few minutes to cook and even the kids will eat it.
If you're looking for a little variety, try this medley of fresh veggies tossed in an herb-oil mix and then quickly grilled to perfection.
Flatbread is a super easy grilled appetizer – load it up with all your favorite veggies!
Going camping soon?? This pull-up bread is a win whenever we are looking for camping food that is easy to grill!

Next time you're craving a blooming onion, try grilling it instead. You won't be disappointed!
Okay, who doesn't love potato wedges, especially when they're grilled up with a buttery garlic sauce!
The great thing about this roasted cabbage is that it can be baked or grilled depending on what you are already making.
My family cannot get enough of these garlic grilled tomatoes. Even the ones who say the "don't like tomatoes" will eat these delicious little guys.
Simple Grilled Sides
If you're looking for something a little more complex in flavor than a simple grilled veggie, try one of these simple grilled sides instead.
Cheesy, bacon-y, and spicy all describe these awesome jalapeno poppers.
If spicy isn't your thing, check out these blue cheese stuffed mushrooms wrapped up in bacon.
If you're looking for a quick and easy veggie that packs a punch with both nutrition and flavor then you've come to the right place. These sweet potato skewers are phenomenal!
What's better than deep fried onion rings? Bacon wrapped onion rings fresh off the grill, of course.
Ever thought of popping popcorn on the grill? It's easy and the kids can even help out with this one.
Ah, corn on the cob… This recipe includes a delicious herb butter that really takes this grilled corn to the next level!
Ideas of things to Grill
Now that summer is almost here it's time to fire up that grill and give one of these veggies a try. Be sure to also check out our list of grilled desserts and easy grilled entrees. Forget the kitchen, this summer the grill is where it's at!